"On Monday August 2, 2021, a day A day before Ebrahim Raisi assumes the office of presidency in Iran, several hundred Iranian Americans, including relatives of victims and witnesses, gathered on Capitol grounds and called for the prosecution of Raisi for crimes against humanity. Participants will express support for pro-democracy protesters in Iran.
Displaying elaborate street photo exhibition and in holding the accompanying rally, Iranian Americans recorded four decades of systemic human rights violation in Iran, particularly Raisi's role in the 1988 massacre of 30,000 political prisoners, the November 2019 murder of 1,500 protesters, and the assassination of dozens of political dissidents abroad. Among the speakers were former Chairman of the House Foreign Affairs Committee, Rep. Elliot Engel (D-NY), Ambassador Lincoln Bloomfield, Ambassador Mark Ginsberg, and former Senator Joseph Lieberman (D-CT)."
---
---
2nd August 2021 Rally and Photo Exhibition Report
Iranian-Americans hold opposition rally in Washington as Iran's Raisi is inaugurated
Speakers urge support for Iranian diaspora and condemn human rights abuses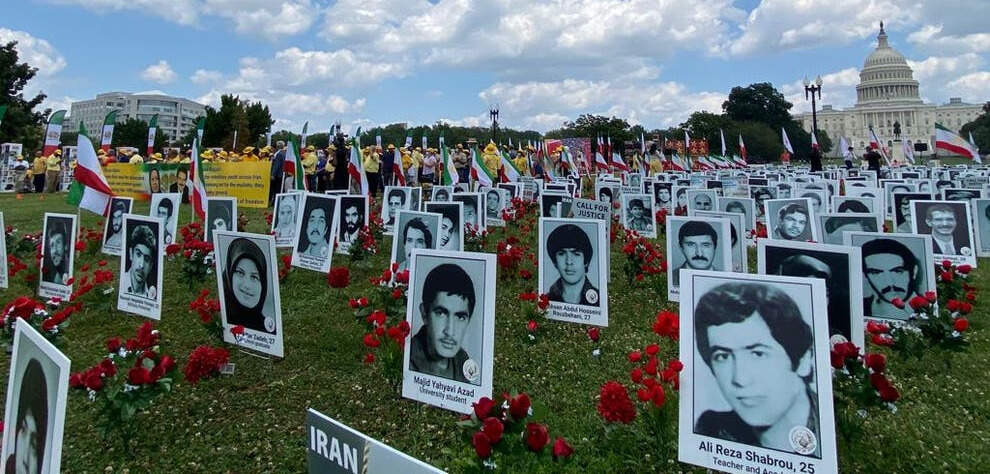 Iranian-Americans including members of the National Council of Resistance of Iran (NCRI) held a rally on Capitol Hill, where speakers including members of Congress condemned Iran's incoming president, Ebrahim Raisi.
At a gathering in Union Square on Monday, Iranian-Americans who had seen family members killed by Iran's government for various alleged crimes erected a memorial showing the faces of hundreds of those killed.
In fiery statements to the crowd, speakers including both Iranian-Americans and prominent figures from Congress and the US political sphere condemned Mr Raisi and called for him to face international human rights charges.
Of the current and former members of Congress and other US dignitaries who attended, most hailed from the establishment wing of US foreign policy – speakers included former Sen Joe Lieberman as well as former Rep Eliot Engel, who chaired the House Foreign Affairs Committee until his ouster in a Justice Democrats-backed primary challenge.
"The UN Security Council should take immediate action to arrange for the international trial of the leaders of the regime, especially [Ayatollah] Khamenei, Raisi, and its Judiciary Chief [Gholamhossein] Ejeii, for committing genocide and crimes against humanity," said Maryam Rajavi, president-elect of the NCRI, addressing the crowd via video message.
"I urge the U.S. Congress to continue its bipartisan firm policy against the Iranian regime and underscore human rights and democracy as a central element of policy regarding Iran," she added.
Mr Lieberman called for Iran's incoming president to go before the Hague and face charges of crimes against humanity, and rejected the legitimacy of his election, which other attendees stressed to The Independent was the target of widespread boycotts.
"We cannot remain silent on these crimes against humanity," Mr Lieberman said of killings of dissidents linked to Mr Raisi and other figures in Iran's government.
Mr Raisi's election, he added, was a "sham" and should not be viewed as a legitimate expression of the Iranian people's will.
Others, such as former Assistant Secretary of State Lincoln Bloomfield, urged a UN human rights investigation backed by the US into Mr Raisi and allegations that dissidents were massacred in the country as recently as 2019.
Many at the rally urged President Joe Biden, who during his campaign pledged to steer the US towards rejoining the Iran nuclear accord that the US exited during the Trump administration, to keep up the pressure on top officials and Iran's economy resulting from US sanctions.
Some, such as Texas Sen Ted Cruz, even called for those sanctions to be increased, the opposite of what Iran's government has said would be necessary for it to return to compliance.
"We will stand with the families of those massacred and strenuously urge the Biden administration to hold Raisi and [Ayatollah] Khamenei accountable through sanctions and pressing for Raisi's prosecution for crimes against humanity," said Mr Cruz in a prepared statement.
In an interview with The Independent, Mr Engel echoed calls for the pressure on Iran's government to be maintained, noting that he was "not a fan" of the 2015 agreement signed under the Obama administration, and urged his "friend" Mr Biden to pursue "a new deal, a better deal, one that brings Iran closer to democracy".
Iranian Americans, US foreign-policy figures rally in DC in protest against Raisi presidency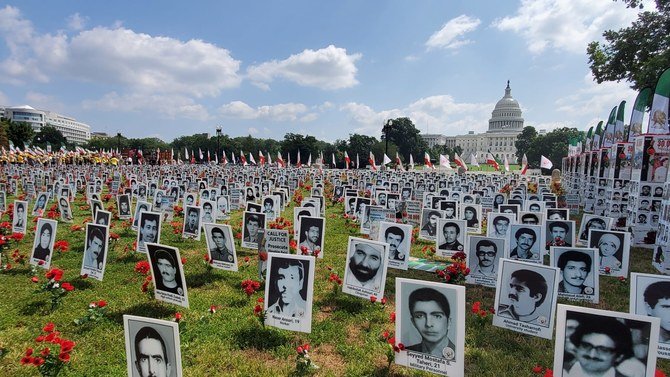 Hundreds of Iranian Americans whose relatives were put to death by incoming Iranian President Ebrahim Raisi have rallied in DC to call on the US and its allies to hold him accountable.
Ebrahim Raisi, who takes office in Tehran on Tuesday, is accused of crimes against humanity for his part in the execution of thousands of political prisoners
As far is Tehran is concerned, 'sanctions relief is the only game in town,' former diplomat Marc Ginsberg told Arab News
LONDON: Hundreds of Iranian Americans whose relatives were executed more than three decades ago following sham trials involving new Iranian President Ebrahim Raisi took part in a rally in Washington on Monday. They were calling on the US and its allies to hold him accountable for his crimes against humanity.
A number of current and former officials involved in US foreign policy spoke during the rally, at which Arab News was present. They expressed their support for the demonstrators, adding their voices to the calls for justice and for the Iranian regime to be held accountable for its actions.
The rally, hosted in the grounds of the Capitol Building by the Organization of Iranian American Communities, took place the day before Raisi was due to be officially inaugurated as the president of Iran.
The participants had a clear message for the Biden administration and the wider international community: Raisi is not a leader but an international war criminal, and should be treated as such.
Texas Senator Ted Cruz told the crowd: "For too long the Iranian people have suffered at the hands of (Supreme Leader) Ali Khamenei and Ebrahim Raisi. Their cries for freedom and justice ring across the world and have the support of freedom-loving Americans.
"We will stand with the families of those massacred, and strenuously encourage the Biden administration to hold Raisi and Khamenei accountable through sanctions and pressing for Raisi's prosecution for crimes against humanity."
Many people Arab News talked to during the event said their loved ones were killed in the late 1980s while Raisi, at the time a prosecutor for Tehran, presided over what Amnesty International dubbed "death commissions" — sham trials of political prisoners following the Iran-Iraq war. Thousands were executed for their affiliation with or support for Mujahedin-e Khalq (MEK), an Iranian revolutionary opposition group that fell out of favor with the regime and was violently crushed. Everyone Arab News spoke to during the rally said they continue to support the MEK.
Eshrat Dehghan said that she lost three of her sons to the death commissions. For these crimes and thousands of others, she said Raisi "should not be allowed into the UN."
"The Biden administration should support the people of Iran and the MEK in their struggle against the regime," said Dehghan, who was herself tortured by the regime, as a result of which she has to use a stick to help her walk.
Listed for many years as a terrorist organization, the MEK was removed from the US and European terror lists in 2012. This was a victory for Lincoln Bloomfield, who had served as assistant secretary of state for political-military affairs in the Bush Administration and exhaustively investigated the claims of terrorism leveled against the MEK.
He told Arab News that his investigation found no evidence that the group had targeted the US or its allies with terrorism.
"If there had been any indication of targeting civilians, children or innocent people that would be different — but this is legitimate resistance to tyranny," he said.
Marc Ginsberg, a former adviser on the Middle East to the White House, and a long-time US diplomat, told Arab News that a lethal drone attack on an Israeli-owned cargo tanker on Saturday was "just one more reason" to hold Raisi and the Iranian regime to account.
"I'm in favor of doing everything possible to undermine this regime and its ability to continue to repress, to instigate violence and incite terrorism in the Middle East," he said. "Even if (the regime) agrees to roll back their violations of the Iran nuclear agreement, that's still never going to accomplish the objective of preventing them from developing a nuclear weapon."
The former ambassador also said that aside from its nuclear activity, Tehran continues to refuse to halt its other destabilizing activities throughout the Middle East, and would use the "lifeline" of sanctions relief to further those activities.
"They will not agree to constraints on their ballistic-missile program and they certainly are not going to give up their support for Hezbollah (in Lebanon), Hamas (in Palestine), the Houthi rebels (in Yemen) or Syria's Assad regime," said Ginsberg.
"All they want is sanctions relief. Their question is: how little can we give up in exchange for sanctions relief? For them, sanctions relief is the only game in town."
---
---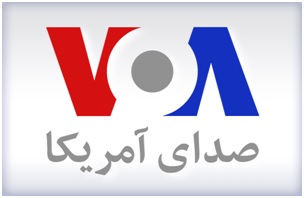 https://ir.voanews.com/persiannews/protest-washington-dc-against-iran-new-president-raisi