Iran Regime's Next President Is A Blacklisted Mass Murderer: Policy Implications?
OIAC     |     June 25, 2021
The rise of Ebrahim Raisi as Iran's regime next president exposes the irrefutable ruthlessness of a regime with a fragile grip on power. As documented by Amnesty International, Raisi ordered the massacre of thousands of political prisoners in summer of 1988, and must be investigated for his crimes against humanity. Members of OIAC's Advisory Board are coming together to hear directly from victims and their relatives, and to discuss the Iran policy implications.
Time:    Jun 25, 2021 12:00 PM in Eastern Time (US and Canada)
To watch the entire event, please click on the following picture: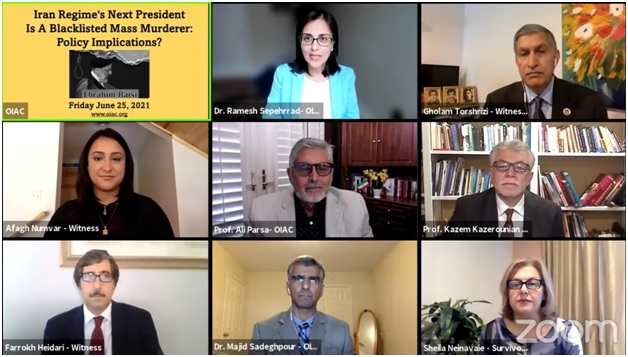 Survivors & OIAC Advisory Board Members Call for Raisi to be held Accountable for 1988 Iran Massacre
On Friday June 25, 2021, the Organization of Iranian American Communities (OIAC) Advisory Board Members joined 1988 Iran Massacre victims and family members at a virtual briefing to discuss Ibrahim Raisi's selection in Iran's sham Presidential election as well as his role in the 1988 forced disappearances in Iran.
Nicknamed "The Henchman," Raisi was a member of the "death committee" set up by then supreme leader Rohullah Khomeini to carry out the massacre of over 30,000 political prisoners.  Raisi also had a key role in the killing of more than 1,500 peaceful protesters during the 2019 nationwide uprising in Iran.
In her opening remarks, OIAC Advisory Board Member, Dr. Ramesh Sepehrad said the following 3 considerations are highly relevant to Raisi's record and the ongoing policy discourse on Iran:
  "Raisi's crimes are well documented by Amnesty International who is calling for criminal investigationagainst him for his role in multiple massacres of political prisoners including the killing of peaceful protesters in 2019.   Multiple former UN human rights officials have also raised concern that Raisi was a member of the "death committee" responsible for the 1988 massacre of 30,000 political prisoners – many of whom were sympathizers or members of the Mujahedin-e-Khalq (MEK/PMOI).  So, now we have a mass murder as Iran's president who is also sanctione by the US for his human rights record.
The sham election was vastly boycotted by the people of Iran as reported by the  international media reporting from inside Iran and admission by the regime who announced the turnout was the lowest since the 1979 revolution.  More notably, according to the regime's own tallies and report, which we all know is not grossly engineered, the blank ballots were the second runner up to  Raisi. Meaning even those who came to the ballot box to preserve their privileges with the regime couldn't bring themselves to write any names on the ballot. This is a rejection of all Khameinie who called in days leading to the election that casting empty ballots amounts to committing a sin in the Islamic Republic. Clearly this regime is neither Islamic nor Republic but it tells us how weak and fragile the regime has become.
"Popular rejection of Ebrahim Raisi, favored by Iran's supreme leader, is now evidenced by the massive boycott. If we deconstruct the figures released by the regime, they claim 48% participation which includes 13% empty ballots. This means only 36% could bring themselves to vote for a candidate. This also means 64% of Iran's eligible voters reject this regime no matter who is on the ballot. We all know how Khameini narrowed his inner circle in favor of Raisi. The regime is immensely unpopular, unwanted and therefore fragile. We witnessed the fall of reformists and moderates like a house of cards. The house of oppression is now front and center but as we all know when oppression grows so does the resistance. This is where the role of the organized opposition comes in and the rise of resistance units will be defining the path ahead for Iran."
Mrs. Sheila Neynavai, from the Iranian American community of California and one of a few remaining survivors of the massacre recalled her experiences from the painful summer of 1988 and said, "I was arrested at age 15 because I was a supporter of the MEK…I was in prison from age 15 to 23, for 8 years. What I experienced is unspeakable. But I am here now because of the pressure of the international community that stopped the killings in the last days of Raisi's campaign to kill all of us. I was among the last group. I am here now speaking because I owe it the people of Iran to make sure Raisi is held accountable for his crimes. I owe it to my cellmates who lost their lives in 1988. I owe it to the families. I am prepared to share detailed testimony in any court that is willing to hold Raisi accountable for his crimes against humanity."
Mr. Goham Torshizi of the Iranian American Community of Maryland detailed the horrific period in his family's life, particularly between September 24, 1981 to August 24, 1988 during which the clerical regime abducted, tortured, and executed his 3 brothers in addition to imprisoning and torturing his mother. "I am the only surviving of four sons of Torshizi family, he said. "Three of my brothers, Behrooz, Bahman, and Reza have been killed by the regime. There has been lots of discussions about the massacre of 1988, but since there is no statute of limitations for mass murders and crimes against humanity, the pursuit of justice will go on until those responsible for these crimes are brought to justice in proper courts of law."
In his closing remarks, Mr. Torshizi outlined several important facts about his family's case against Ebrahim Raisi (as follows):
   " He is directly responsible for the execution of one of my brothers, Reza. I am willing to provide evidence and testimony in any court against him. Reza was among the last 200 prisoners from Evin. There is a recorded voice of Ebrahim Raisi in his conversation with Montazeri requesting a fatwa to kill the last 200 in the holy month of Moharam. In this audio recording, Montazeri refuses to issue the fatwa. Nevertheless, the execution was carried out during that holy month and my brother Reza was among them.
    Montazeri had asked the death committee not to kill more than one in a family. Yet, three people in my family were killed.
    Montazeri had asked the death committee not to kill those who have served their sentences, yet, they killed my brother Reza who had already completed his 7 years sentence.
    Raisi is also potentially responsible for disappearance, torture, and execution of my brothers Behrooz and Bahman because he was the appointed prosecutor during the time of my brothers arrests in 1981 and 1982."
Ms. Afagh Numvar, from Iranian American community of Virginia and family member of 1988 victims shared her family's tragic experience, including the loss of her father and uncle.  She said, "I have lost my father and my uncle under the supervision of Ebrahim Raisi during the 1988 massacre."  They "tortured my father broke his legs blinded him and took him to the notorious Evin prison where they executed him and my uncle," she recalled. Her father, then only 28 years old, had last saw his infant daughter (Afagh) when she was only 3 months old.
In his remarks, Mr. Farrokh Heidari, a researcher, a member of the Iranian American community of Arizona and a former political prisoner detailed his memories and subsequent research on the 1988 victims from the Esfahan province in Iran.  Mr. Heidari revealed that, the Death Committee in Tehran, which Raisi was a member of, was the most notorious among, "a couple of dozen Death Committees in major cities of Iran, per Khomeini's fatwa or religious decree." In Esfahan, the second largest city of Iran, the Death Committee had,"ordered and secretly executed almost all the political prisoners affiliated to the MEK in summer 1988."   Displaying images from cemetery tombstones, Mr. Heidari listed specific examples of how the clerical regime is attempting to hide or erase evidence of the mass executions in Isfahan.  An astonishing anomaly he noted, is that, "in the archived database of Esfahan cemetery, the birthdate of all the massacre victims is March 20th of 1988. In addition, "The tombstone of all the victims do not have birthdate. Maybe he added, "the killers wouldn't want any passing by people in the cemetery to get suspicious and ask: how come so many young people passed away in a short period of time in summer 1988."
OIAC Political Director, Dr. Majid Sadeghpour referenced Congressional efforts and particularly highlighted House Resolution 118 and said, "I think US Congress is already on the record on what the expectations are. With H.Res.118, majority bipartisan members of Congress are saying US should be involved in establishment of an international investigation into the 1988 extrajudicial killings in Iran." He called on the administration to seize the moral high ground and in-step with U.S. Congress, shift its Iran policy to align, "with the realities of today where Iran's president is a mass murderer who is despised by the Iranian people and sanctioned by the U.S. and the EU."
"The international community, and specifically the U.S. must lean on America's democratic virtues, human rights gains, and civil rights achievements as guides and a framework in dealing with Iran," Dr. Sadeghpour said. The lack of voter turnout and the selection of Raisi he added, is another reminder, "that the regime in Iran is moving in the opposite direction and is setting the framework for escalation of its war with the Iranian people and the international community – through international terrorism and increased repression."
Professor Ali Parsa pointed to Raisi's dark history and said, "He's been working in the most oppressive arms of this regime with a direct role in torture, kidnapping, disappearance and killings of opponents who are mainly affiliated with Iran's main opposition, the MEK. He is also tied to the most financially corrupt families in the city of Mashhad that are responsible for multiple Ponzi schemes, robbing people from their pensions, wealth and financial resources." On the topic of accountability, Dr. Parsa added, "the lines are drawn now both legally and morally inside Iran and outside of Iran. Holding Raisi accountable has now become the core conflict between the people of Iran and the regime. Amnesty International, Human Rights Watch have added their voice to this conflict. More than 150 former UN officials and renowned international human rights and legal experts have written to the UN High Commissioner for Human Rights, Michelle Bachelet, calling for an international Commission of Inquiry into the 1988 massacre."
In His remarks, OIAC Advisory Board Member, Dr. Kazem Kazeronian reminded the audience that, "Media has a critical role in any massacre, war crime, or genocide committed by a dictator – or a totalitarian regime.  They have a role before such crimes against humanity, during it and afterwards."  Relative to the 1988 mass executions in Iran, Professor Kazeronian called on the media to play a constructive role and added, "it is media's responsibility and in fact their historic opportunity to set the facts right, and to memorialize a horrible crime and an atrocious criminal, Ibrahim Raisi in history."
Citing specific examples, Professor Kazeronian also pointed to Iranian regime's extensive misinformation and lobbying campaign and said, "Inside Iran, the regime uses its various suppression forces such as revolutionary guards (IRGC), and Ministry of Intelligence and Security (MOIS) and its subsidiary organizations for censorship and propaganda. Outside Iran, and in particular in the West, including the United States, Iran controls and feeds a web of advocates and lobbyists who vigorously advance the goal of the theocratic regime.  Their mission is to reduce external pressure on the Iranian regime and to promote regime friendly policies.   Their strategy is to camouflage themselves as academicians, think tankers, independent analysts, or even government and legislative staffers; and their ploy is to infiltrate American institutions, universities, media and government."
This virtual program's message was clearly heard across all speakers, however. A page has turned for the regime in Iran, for the people of Iran, and their movement for democracy. The solution to this regime will come from within Iran and the organized movement that stands for a free, non-nuclear, and secular republic.  As for Washington, the current approach is clearly  insufficient.  A U.S. foreign policy based on arms control and singular focus on nuclear threat is no longer effective. It is time to rethink the approach on Iran to one that places the call for democracy and human rights at the center of U.S. policy.