Organization of Iranian American Communities Presents:
Brief On IRAN Newsletter (BOI)
News on Iran & Related
Protests continue in Iran
Special Report | How Iran Spreads disinformation around the World | Special Report
Reuters, November 30, 2018
LONDON/WASHINGTON A Tehran-based agency has quietly fed propaganda through at least 70 websites to countries from Afghanistan to Russia. And American firms have helped.
Website Nile Net Online promises Egyptians "true news" from its offices in the heart of Cairo's Tahrir Square, "to expand the scope of freedom of expression in the Arab world."
Its views on America do not chime with those of Egypt's state media, which celebrate Donald Trump's warm relations with Cairo. In one recent article, Nile Net Online derided the American president as a "low-level theater actor" who "turned America into a laughing stock" after he attacked Iran in a speech at the United Nations.
Until recently, Nile Net Online had more than 115,000 page-followers across Facebook, Twitter and Instagram. But its contact telephone numbers, including one listed as 0123456789, don't work. A Facebook map showing its location dropped a pin onto the middle of the street, rather than any building. And regulars at the square, including a newspaper stallholder and a policeman, say they have never heard of the website.
The reason: Nile Net Online is part of an influence operation based in Tehran.
It's one of more than 70 websites found by Reuters which push Iranian propaganda to 15 countries, in an operation that cybersecurity experts, social media firms and journalists are only starting to uncover. The sites found by Reuters are visited by more than half a million people a month, and have been promoted by social media accounts with more than a million followers.
The sites underline how political actors worldwide are increasingly circulating distorted or false information online to influence public opinion. The discoveries follow allegations that Russian disinformation campaigns have swayed voters in the United States and Europe. Advisers to Saudi Arabia's crown prince, and the army in Myanmar, are also among those using social media to distribute propaganda and attack their enemies. Moscow has denied the charges; Riyadh and Yangon have not commented.
[mks_separator style="solid" height="2″]
THOUSANDS of Iranians stage 'DEATH TO ROUHANI' protests in defiance of 'ROTTEN' regime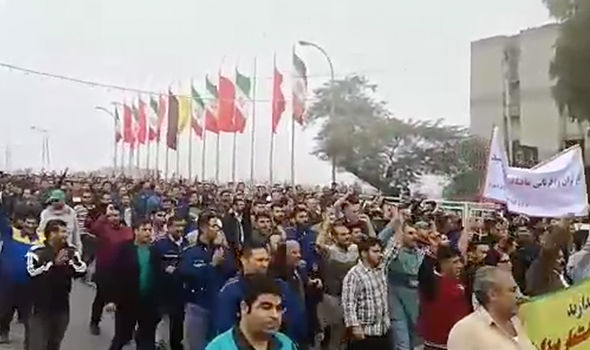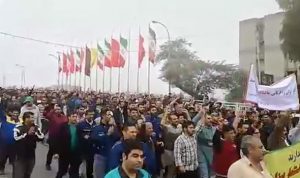 Express, November 30, 2018
EXASPERATED Iranians have taken to the streets as thousands of teachers and factory workers stage mass demonstrations in defiance of Hassan Rouhani's callous regime.
Massive demonstrations of steel and sugar cane workers began two weeks ago. Teachers joined them in solidarity last week chanting anti-regime slogans such as "death to Rouhani" in nationwide walkouts. The workers demanded their unpaid salaries, better working conditions and the release of their imprisoned colleagues.
He said: "The Iranian people believe the regime is rotten in its entirety."During the protests, people have been shouting 'down with Khamenei' and 'death to Rouhani'."Iran is now in a very explosive situation.
There have been mass protests and strikes going on all over the country. What started in December last year has expanded to the whole country." The protestors, who are risking their lives by simply exercising freedom of speech, have been chanting: "Even if we die, we will get our rights."
The strike action of the Haft Tappeh sugarcane mill and Ahvaz Steelworks prompted Sadegh Larijani, the head of the regime's judiciary, to arrive on the scene.
Mr Larijani attempted to intimate the strikers, saying: "We must deal with those who want to disrupt the order of the country, under the pretext of pursuing the demands of workers.
"Workers should not allow their demands to be an excuse for the use of enemies and to create disorder."
The repressive forces of the regime tried to prevent the demonstrations, but despite the intensive presence of state security forces, anti-riot guards and plainclothes officers, the workers continued their strike for the third week.
The disenchanted Iranians gathered in front of regime buildings in the southwestern city of Ahvaz, broke the blockade of repressive forces and rallied in the streets.
[mks_separator style="solid" height="2″]
Iranian activist speaks out about CRISIS as dozens are ARRESTED in protests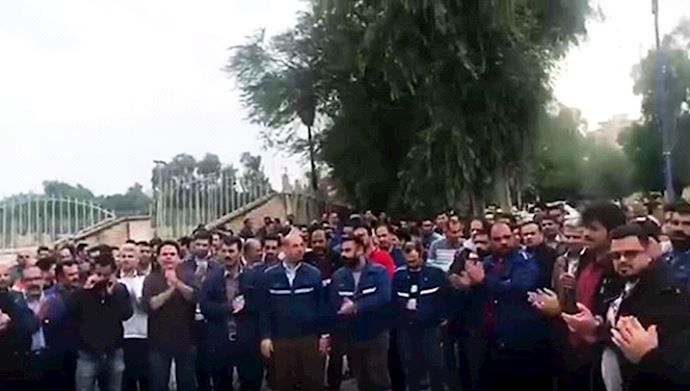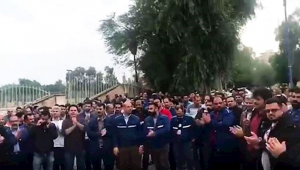 Express, December 2, 2018
DOZENS have been arrested in protests spreading throughout Iran, as thousands of people in over 40 cities take to the streets to demand job security and unpaid salaries from the government.
A source in Iran, who asked not to be named for security reasons, explained that workers have been struggling for years since the government took over their steel factory. They said they are currently focusing on receiving at least part of their unpaid salaries. The source explained that without this money, they cannot provide and protect their family which has many of those on strike worried.
They said: "All our efforts are for the safety and security of our families. When we do not get any salary, it means our families will not have any safety and security either. We are struggling for our job and our right and salary." Since the start of the rallies, over dozens of people have been arrested with even more being taken in for interrogation.
In November alone, 31 people were arrested and another 30 being summoned and interrogated.During the third week of November, 12 teachers were arrested and 30 others were interrogated during a nation-wide teachers' strike that took place that week.
On November 15, the Teacher's Trade Organisation's Coordination Council published a statement saying: "Activists were summoned to the Intelligence Agency, Revolutionary Guards Corps Intelligence Department, Protection Agencies and Security Police in almost all the provinces that participated in the strikes.
"At least 30 activists, including Eskandar Lofti, a member of the Iran Teachers' Coordination Council, were summoned and interrogated, while more than 50 threatening messages were received by activists."
[mks_separator style="solid" height="2″]
US displays weapons it says Iran provided to militants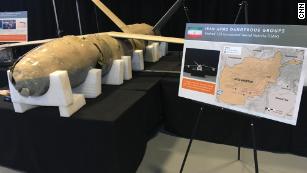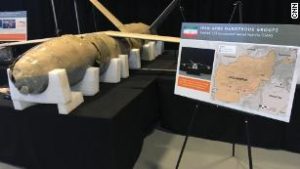 CNN, November 29, 2018
Washington (CNN)As some of the most senior members of the Trump Administration sought to fend off a Congressional effort to stop US support for the Saudi-led coalition fighting the Houthis in Yemen, the administration is showcasing evidence of what it says is Iranian support to the Houthis and other militant groups in the region.
On Wednesday, defense officials showed CNN missiles and drones it says were supplied by Iran to Houthi rebels fighting the Saudi-led coalition in Yemen.
The latest display of what the US government says are Iranian-supplied weapons and materials follows a similar exhibition last year which also took place at Joint Base Anacostia-Bolling in Washington near the Defense Intelligence Agency headquarters.
Last year's event included a speech by the US Ambassador to the UN Nikki Haley, who slammed Iranand the Houthis for firing missiles into Saudi Arabia.
The Trump administration has been continuing to increase pressure on the Iranian government and, earlier this month, officially reimposed all penalties that had been lifted as part of the Iranian nuclear deal agreed under President Obama.
It was a decision that put the US at odds with traditional allies like Britain, France, Germany and the European Union as well as China and Russia who signed the agreement in 2015.
On Wednesday, defense officials told CNN that the firing of missiles into Saudi Arabia continued, showing one such Iranian-supplied short range ballistic missile, known as a Qiam-1, which was fired just five days after Haley's speech.
[mks_separator style="solid" height="2″]
Victims look to punish Iran for attacks against US troops in Iraq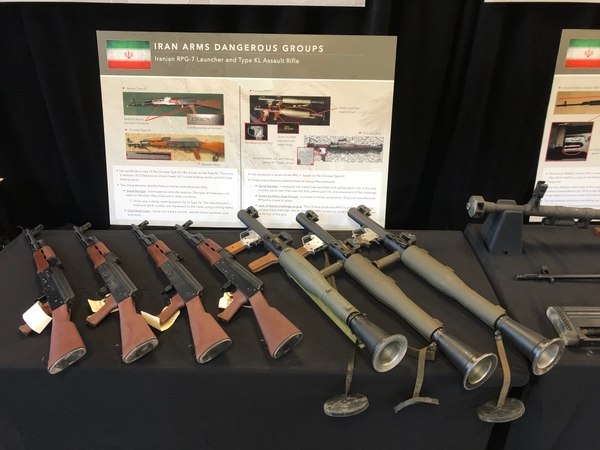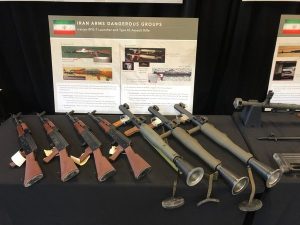 Military Times, December 2, 2018
They read in simple, repetitive sentences with a date, location, name, age and cause of death. It is a seemingly endless list of those killed and maimed in Iraq by weapons supplied by Iran and used in attacks on the U.S. military.
On April 4, 2004, in Baghdad, Army Spc. Robert Arsiaga, 25, was killed in a combined attack in which members of the Mahdi Army hit his unit with rocket-propelled grenades and small arms fire.
On Sept. 8, 2009, in Tikrit, Army Spc. Zachary Myers, 21, was killed when an EFP detonated near his vehicle.
On Nov. 14, 2011, in Baghdad, Army Spc. David Emanuel Hickman, 23, was killed when an EFP detonated near his vehicle. These are only a sample of the deaths. There are more than 100 pages in the federal court documents, full of details of wounds, surgeries and trauma.
Their words carry legalistic accounts of 90 attacks that caused internal bleeding, collapsed lungs, severed heads, missing hands, arms and legs, brain injuries, third-degree burns on necks, faces and hands, suffering that persists in the victims and reverberates beyond those struck in the blasts, cascading waves of pain into the lives of wives, husbands, parents and children.
Those attacks are the subject of a three-day trial in federal court that begins Monday. It is a trial in which a small New Jersey law firm and a lawyer out of Arkansas are trying to hold the Islamic Republic of Iran accountable to the tune of $10 billion for weapons, materials, training and other support that led directly to the death or mutilation of more than 1,000 U.S. troops from 2004 to 2011.
[mks_separator style="solid" height="2″]
12 Detained and 30 Interrogated During Iran Teachers Strike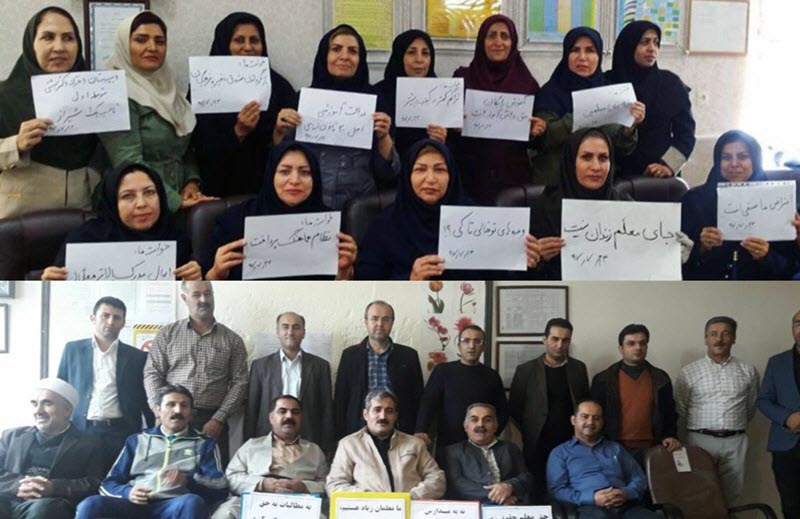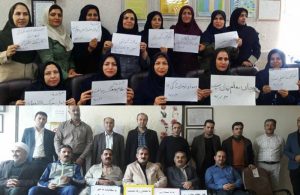 NCRI, November 16, 2018
At least 12 teachers have been detained, while 30 more were summoned and interrogated, during the nationwide Iranian teachers' strike that took place on this week.
On Thursday, November 15, the Teachers' Trade Organizations' Coordination Council published a statement on their Telegram account reporting the arrests.
The statement read: "Activists were summoned to the Intelligence Agency, Revolutionary Guards Corps Intelligence Department, Protection Agencies and Security Police in almost all the provinces that participated in the strikes. At least 30 activists, including Eskandar Lotfi, a member of the Iran Teachers' Coordination Council, were summoned and interrogated, while more than 50 threatening messages were received by activists."
The Council and other education activists report that the following protesters have been arrested:
• Mohammad Reza Ramezanzadeh, the Secretary of the Iran Teachers' Trade Association in North Khorasan Province, who was arrested following a raid on his home on Monday. He had previously been detained following October strike and had only recently been released
• Saied Hagh Parast, Ali Forotan, Hamidreza Rajaie, and Hossein Ramezanpour, all members of the Managing Board of the North Khorasan Teachers' Association.
• Activists Pirouz Nami and Ali Korushat were detained in Khuzestan Province. The Iranian authorities confiscated Nami's phone and sent fake messages to other teachers cancelling the strike.
• Mohammad Robati and Ms. Vaezi, were arrested in Shirvan, northeast Iran.
• Mohammad Ali Zahmatkesh, Mohammad Kord and Fatemeh Bahmani were arrested in Fars and Arak.
In their statement, the Teachers' Trade Organizations' Coordination Council condemned the crackdown and arrests, while warning the Regime about the consequences of these arrests. They then urged the authorities to release the detainees immediately and unconditionally, as well as end the crackdown on trade unionists and the subsequent framing of them for crimes.
Click to Read More
[mks_separator style="solid" height="2″]
A new book published this week by the Iranian opposition (NCRI) offers details on how and why the Iranian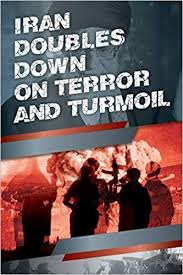 regime has escalated its global terror operations. "This book examines the motivation behind the regime's political and economic strategy by considering three areas: terrorism including in Europe and the United States, incitement of regional conflicts, and the ballistic missile threat. Failing to quell growing popular protests against their rule, the mullahs have opted to bolster domestic suppression with blatant terrorism and intimidation."
We think you will find the book an informative read.
[mks_separator style="solid" height="2″]
Bipartisan U.S. House Resolution Holds Iran Accountable for Plotting to Bomb Iranian Opposition Gathering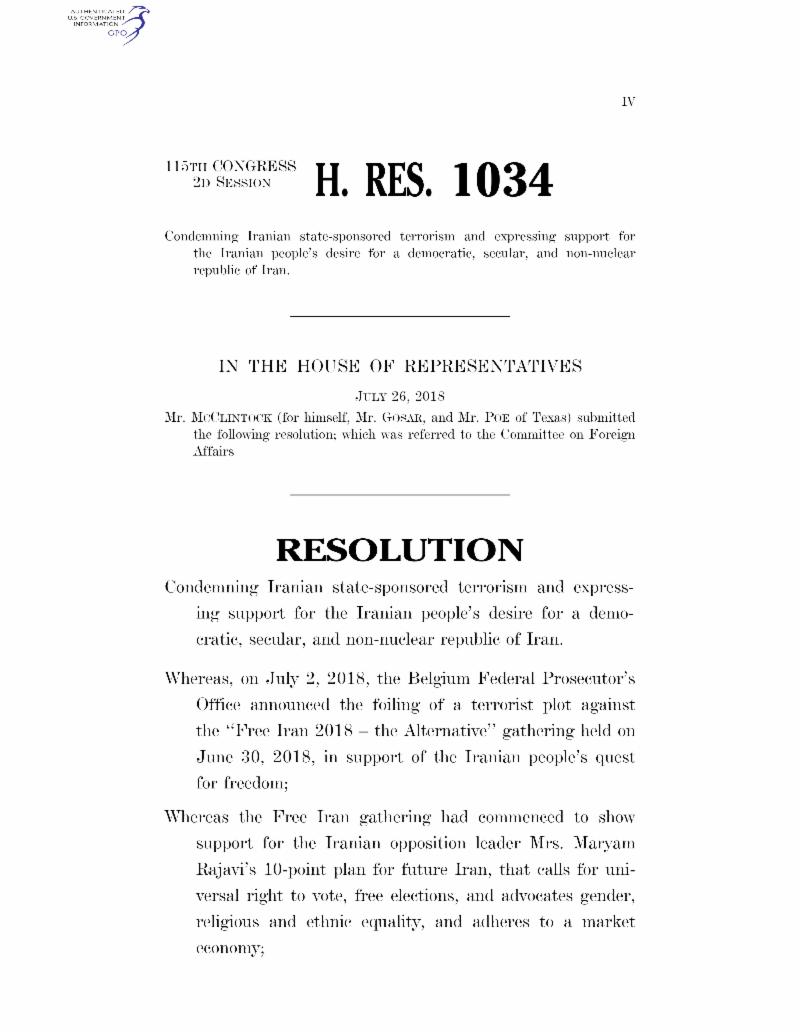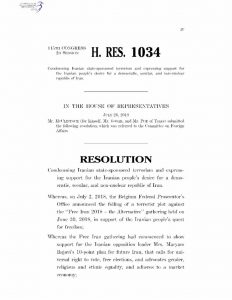 In June 2018, a Belgium, French and German security forces arrested 2 Iranians and a senior Iranian diplomat named Asadollah Assadi,for plotting to bomb the Free Iran 2018 rally in Paris. Given the increase in anti-government protests and international pressure, Iran has clearly ramped up its terror network in Europe.
The Iranian regime's targeting of the pro-democracy rally in the heart of Europe is a clear indication that the mullahs are willing to do anything with enormous risks to deliver blow to the viable alternative to the Iranian regime as its very survival is being threatened by the Iranian people and their organized opposition.
Tehran's desperate stepped up terrorism must be confronted decisively. It is time for the U.S. to urge all its European counterparts to close the Iranian regime's embassies as they act as centers for plotting terrorism.
Join us in condemning Iranian regime state sponsored terrorism and in expressing support for the desire of the Iranian people for a democratic, secular, and non-nuclear republic in Iran.
Donation
501 (c)(3) Tax deductible
Please,
Donate to Organization Of Iranian American Communities U.S
Your donation will help OIAC advocates for a democratic, secular and non-nuclear government in Iran. Founded on the respect for human rights, gender equality, religious and ethnic tolerance, as wells as social, economic justice, and security for America. Our goal is to organize Iranian-American communities in the United States to promote these values.
Thank You,
http://www.oiac-us.com/donation/