Organization of Iranian American Communities Presents:
Brief On IRAN Newsletter (BOI)
News on Iran & Related
Protests by Iran Sugar Mill workers continue; other workers join
https://www.youtube.com/watch?v=cAHHoSw_FRk
Continued Protests Of Workers And Farmers Across Iran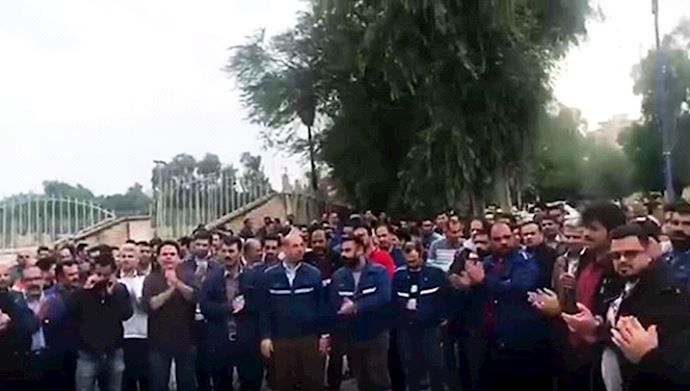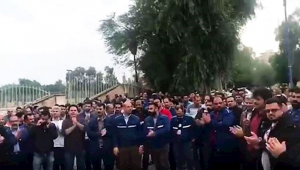 Tsarizm, November 24, 2018
"We are the workers of Ahvaz steel. We will fight against tyranny," the workers were chanting.
The workers of Iran National Steel Industrial Group in Ahvaz gathered for the 15th day of their strikes and protest On Saturday, Nov 23, 2018, demanding their unpaid salaries.
The workers began their demonstration in front of the Khuzestan governorate. The workers were chanting, "Shame on a government that deceives the people." During their march, the protesters stopped in front of the Bank-e Meli (National Bank) for another round of slogans and speeches, in which they addressing the government, saying, "Congratulations on your bondage with the mafia," a reference to the widespread government corruption that is taking its toll on the livelihoods of the workers and their families.
In the meantime according to reports, frustration with water shortages in Iran's central city Esfahan is growing, with farmers seen wearing white vest symbolizing the grave shrouds, a sign that they will be standing for their rights to the ultimate cost.
[mks_separator style="solid" height="2″]
Iran's Rouhani Calls Israel a 'Cancer,' Urges Muslims to Unite Against US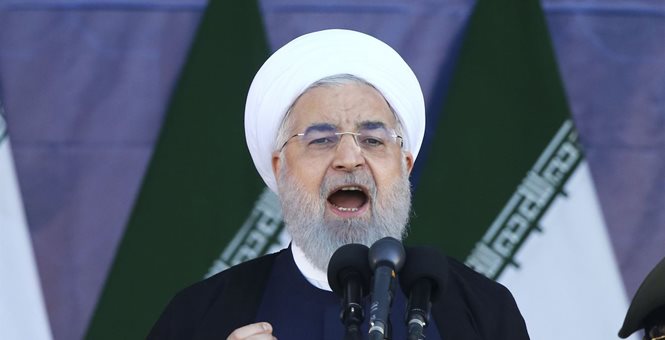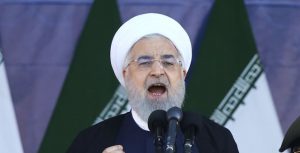 VOA, November 24, 2018
Iranian President Hassan Rouhani on Saturday called on Muslims including those in Saudi Arabia, Iran's regional rival to oppose the United States. He also labeled Israel a "fake regime" created by Western nations, and likened its formation following World War II to "a cancerous tumor in the region."
Speaking at the annual Islamic Unity Conference in Tehran, Rouhani said the U.S. wants to enslave the Middle East. He said regional Muslim nations should stop "rolling out the red carpet for criminals," a thinly-veiled criticism of Saudi Arabia and other regional nations that have close ties to the U.S.
Shiite-dominated Iran and Saudi Arabia, ruled by a Sunni king, are often on opposite sides of conflicts in the Middle East. Most notably, Iran backs the Houthi rebels in the ongoing civil war in Yemen, while Saudi Arabia leads a coalition of Sunni nations supporting the Yemeni government. The two nations haven't had diplomatic ties in nearly three years, following Iran's execution of a Shi'ite cleric.
Despite those differences, Rouhani said Iran considers the Saudis "brothers."
"We do consider the people of Mecca and Media [Islam's holiest cities, located in Saudi Arabia] our brothers," Rouhani said. He added that Iran is prepared to defend Saudi Arabia and other countries in the region from "terrorism and superpowers."
[mks_separator style="solid" height="2″]
EU open to Iran sanctions after foiled France, Denmark plots: diplomats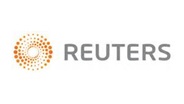 November 19, 2018
BRUSSELS (Reuters) – European Union foreign ministers showed cautious support on Monday for possible new economic sanctions on Iran in a shift of policy after accusations of Iranian attack plots in France and Denmark, diplomats said. Denmark and France briefed their EU counterparts at a meeting in Brussels on the alleged plots and ministers agreed to consider targeted sanctions on Iranians in response, although no details or names were discussed, five diplomats told Reuters.
Though still at an early stage, the EU's readiness to penalize Iranians would be the first such move in years after months of internal division over how to punish Iranians accused of destabilizing activities in Europe and the Middle East. Until now, the EU has been straining to uphold the 2015 nuclear accord between Iran and world powers that U.S. President Donald Trump pulled out of in May. It has been less willing to consider sanctions, instead seeking talks with Tehran.
Iran has warned it could ditch the nuclear deal if EU powers do not protect its trade and financial benefits.
France has already imposed sanctions on two Iranians and Iran's intelligence service over what it says was a failed plot to carry out a bomb attack at a rally near Paris organized by an exiled Iranian opposition group. One option is to establish those asset freezes at an EU-wide level, diplomats said.
[mks_separator style="solid" height="2″]
US Accuses Iran of Failing to Declare Chemical Weapons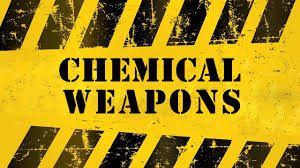 VOA, November 22, 2018
Iran has not declared all its chemical weapons capabilities to the global chemical warfare watchdog in The Hague, in breach of international agreements, the U.S. ambassador to the organization said Thursday.
Ambassador Kenneth Ward told the Organization for the Prohibition of Chemical Weapons (OPCW) that Iran has failed to declare a production facility for the filling of aerial bombs and maintains a program to obtain banned toxic munitions. "The United States has had long-standing concerns that Iran maintains a chemical-weapons program that it failed to declare to the OPCW," Ward said. "The United States is also concerned that Iran is pursuing central nervous system-acting chemicals for offensive purposes," he added.
There was no immediate reaction from Iran to Ward's remarks, which add to tensions with Washington over Iran's nuclear program, terrorism and the war in Syria.
Ward said Iran had failed to declare the transfer of chemical weapons to Libya in the 1980s, even after Libya declared them to the OPCW in 2011. He cited the discovery of chemical-filled artillery projectiles, mortars and aerial bombs of Iranian origin as proof that Iran did not fully disclose its capabilities.
Ward's allegations come amid growing pressure on Iran from President Donald Trump, who has withdrawn from the 2015 Iran nuclear deal and introduced several rounds of unilateral U.S. sanctions.
[mks_separator style="solid" height="2″]
Iran: Three Executions in Public in Shiraz Simultaneously With the Rise of Popular Protests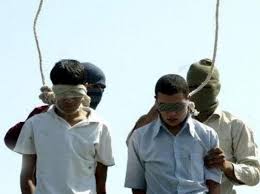 NCRI, November 22, 2018
On Wednesday morning of November 21, the inhumane clerical regime, in a brutal act, hanged three prisoners collectively in public in Shiraz on the mullah-made charge of moharebeh (fighting with God).
While in spite of arbitrary arrests and all kinds of suppressive measures, protests by the various strata of the population, including the strikes and demonstrations of brave workers of Ahvaz Steel and Haft Tappeh Sugacane, have been spreading, the clerical regime has resorted to public executions in order to step up the atmosphere of terror and to prevent an outbreak of people's anger.
The Iranian Resistance calls on the all international human rights advocates, in particular the High Commissioner for Human Rights, the Special Rapporteur on the situation of human rights in Iran and the rapporteur on arbitrary executions, to condemn these brutal executions and to take immediate action to stop this medieval sentencing. Any relation with the regime of Velayat-e faqih should be contingent upon improving the human rights situation.
[mks_separator style="solid" height="2″]
Hundreds wounded in western Iran earthquake, no fatalities: TV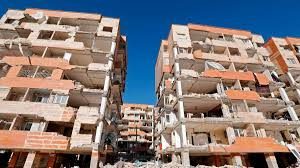 Reuters, November 25, 2018
DUBAI (Reuters) – Iran said on Sunday that no fatalities had been reported but that more than 400 people were injured after an earthquake of magnitude 6.3 struck near its western border with Iraq, Iranian state TV reported.
The tremor was also felt in the Iraqi capital Baghdad and in Kuwait. "We have had 411 injured, 80 percent of whom have been treated and released … No fatalities have been reported," Houshang Bazvand, governor of the western province of Kermanshah, told state TV.
Fears of aftershocks sent people in several cities in Kermanshah province out onto the streets and parks in cold weather, Iranian media reported. Rescue teams were immediately deployed to the quake-hit area.
"No reports of any fatalities yet and most of the injured were hurt while fleeing, not due to quake damage," Pirhossein Koulivand, head of Iran's emergency services, told state TV.
State TV reported minor damage at some buildings in the area. The quake triggered landslides but officials said all the roads in the area remained open to traffic and that electricity had been restored in most of areas hit by the tremor. The U.S. Geological Survey (USGS) said the earthquake occurred at a depth of 65 km (40 miles) and struck 114 km northwest of the city of Ilam, close to Iran's border with Iraq.
[mks_separator style="solid" height="2″]
A new book published this week by the Iranian opposition (NCRI) offers details on how and why the Iranian
regime has escalated its global terror operations. "This book examines the motivation behind the regime's political and economic strategy by considering three areas: terrorism including in Europe and the United States, incitement of regional conflicts, and the ballistic missile threat. Failing to quell growing popular protests against their rule, the mullahs have opted to bolster domestic suppression with blatant terrorism and intimidation."
We think you will find the book an informative read.
[mks_separator style="solid" height="2″]
Bipartisan U.S. House Resolution Holds Iran Accountable for Plotting to Bomb Iranian Opposition Gathering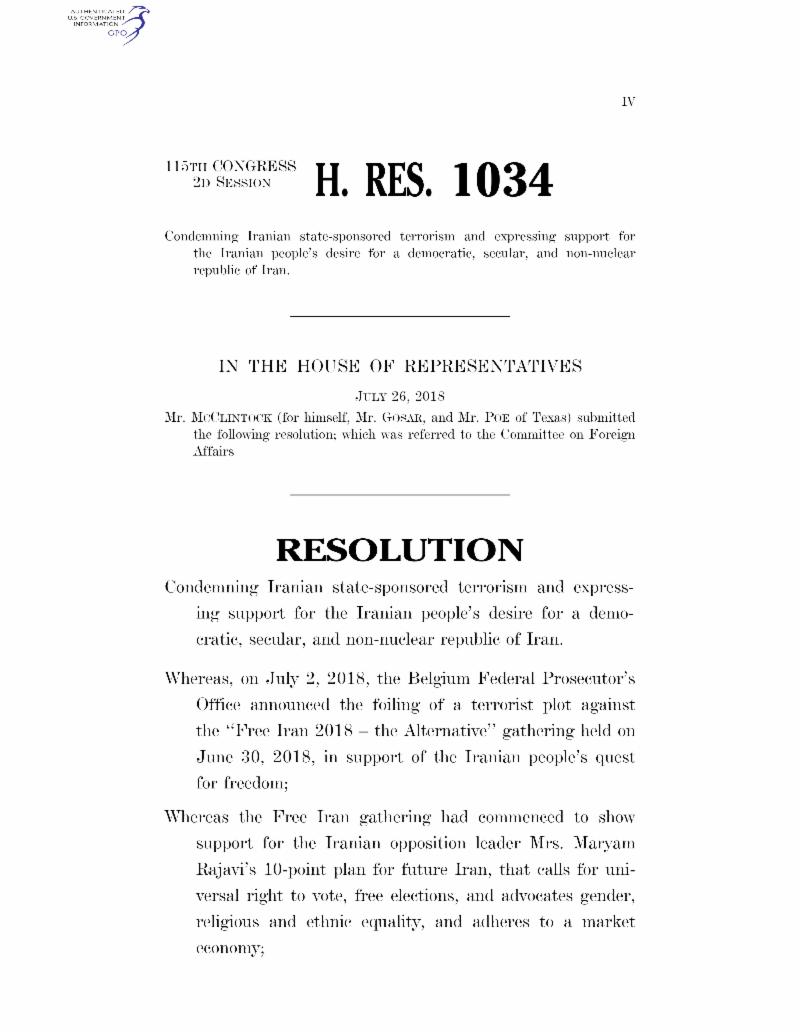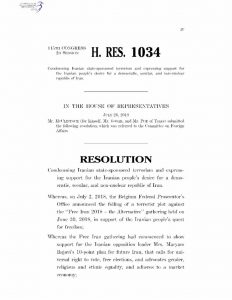 In June 2018, a Belgium, French and German security forces arrested 2 Iranians and a senior Iranian diplomat named Asadollah Assadi,for plotting to bomb the Free Iran 2018 rally in Paris. Given the increase in anti-government protests and international pressure, Iran has clearly ramped up its terror network in Europe.
The Iranian regime's targeting of the pro-democracy rally in the heart of Europe is a clear indication that the mullahs are willing to do anything with enormous risks to deliver blow to the viable alternative to the Iranian regime as its very survival is being threatened by the Iranian people and their organized opposition.
Tehran's desperate stepped up terrorism must be confronted decisively. It is time for the U.S. to urge all its European counterparts to close the Iranian regime's embassies as they act as centers for plotting terrorism.
Join us in condemning Iranian regime state sponsored terrorism and in expressing support for the desire of the Iranian people for a democratic, secular, and non-nuclear republic in Iran.
Donation
501 (c)(3) Tax deductible
Please,
Donate to Organization Of Iranian American Communities U.S
Your donation will help OIAC advocates for a democratic, secular and non-nuclear government in Iran. Founded on the respect for human rights, gender equality, religious and ethnic tolerance, as wells as social, economic justice, and security for America. Our goal is to organize Iranian-American communities in the United States to promote these values.
Thank You,
http://www.oiac-us.com/donation/