Organization of Iranian American Communities Presents:
Brief On IRAN Newsletter (BOI)
News on Iran & Related
Please Join us: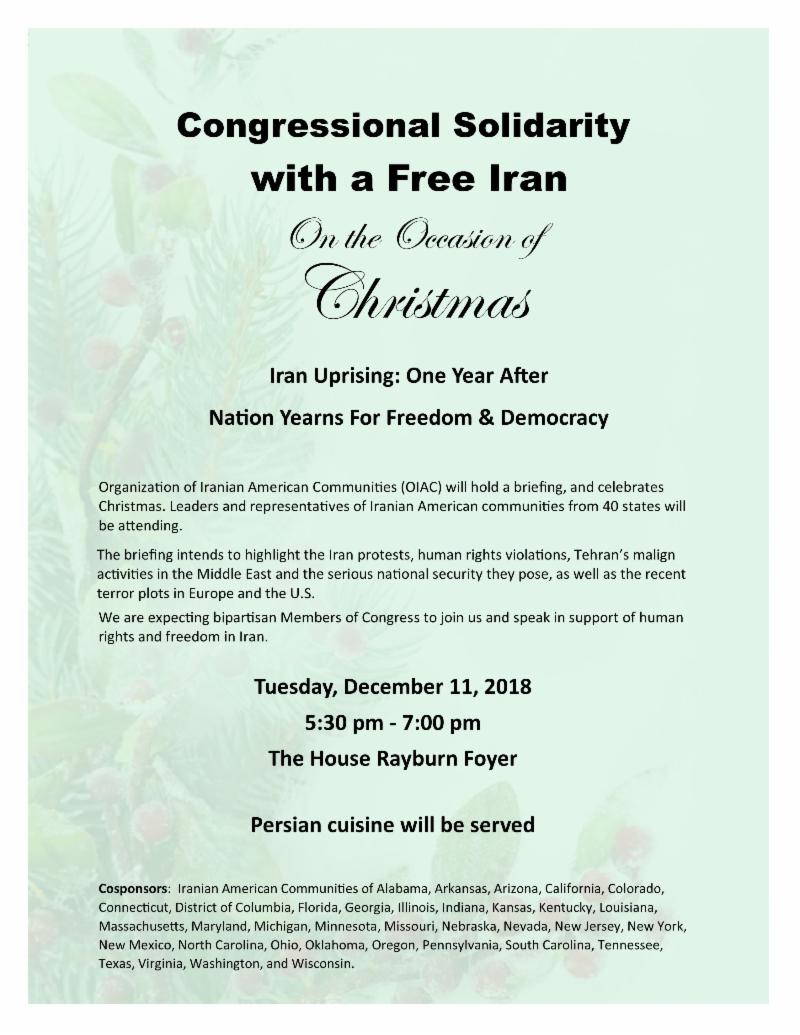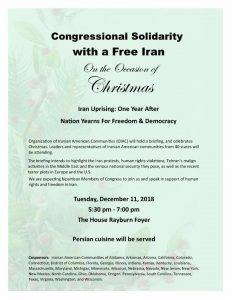 Congressional Solidarity
with a Free Iran
on the Occasion of Christmas
Iran Uprising: One Year After
Tuesday, December 11, 2018
5:30 -7:00 pm
The House Rayburn Foyer
Protests continue in Iran
BLOOD-SOAKED SECRETS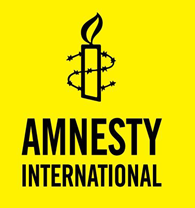 WHY IRAN'S 1988 PRISON MASSACRES ARE ONGOING CRIMES AGAINST HUMANITY
More than a quarter of a century has passed since we began the quest for… truth regarding the fate of our loved ones." Mothers and Families of Khavaran, speaking in 2014. In late July 1988, thousands of political dissidents held in prisons across Iran were forcibly disappeared suddenly. They were mostly young men and women, some just teenagers, unjustly imprisoned because of their political opinions and non-violent political activities. Prisons were put on lockdown across the country and the authorities suspended family visits without giving any reasons. For months, nothing was heard. Gradually, terrifying rumours began to circulate about mass secret executions and the dumping of bodies in unmarked mass graves. Families' worst fears were confirmed from late October 1988 onwards when prison visits resumed and authorities informed many families that their loved ones had been executed. However, over the last 30 years, the authorities have cruelly denied them not only a body to mourn over, but also the truth about when, how and why their loved ones were killed, what happened to them in their last moments and where their remains are hidden. The authorities have treated the killings as state secrets. Three times in the past three decades, the wall of secrecy has been cracked and each time the authorities have responded with reprisals and accused those who have leaked records related to the preparation, planning and co-ordinated implementation of the mass killings of "disclosing state secrets" and "threatening national security". In 1989, letters raising concerns about the executions that were addressed to Supreme Leader Rouhollah Khomeini from his deputy, Hossein Ali Montazeri, were leaked. In 2000, a copy of the secret fatwa by which, in July 1988, Rouhollah Khomeini ordered the mass killings was published. In 2016, an audio recording of a high-level official meeting that took place in August 1988 between Hossein Ali Montazeri and the officials responsible for the mass killings in Tehran was posted online. Building on the sustained campaigning and documentation efforts by survivors, family members of victims and human rights defenders over the last 30 years, Amnesty International has set out to prise open these cracks even further and reveal more of the blood-soaked secrets the authorities have tried to keep with a view to seizing the opportunity of the current renewed debate about these crimes and advance the struggle for truth, justice and reparation.
Click to Read the full report
[mks_separator style="solid" height="2″]
Iran's 'BLOOD-SOAKED' secrets: Regime's HORRIFIC 'ongoing crimes against humanity' EXPOSED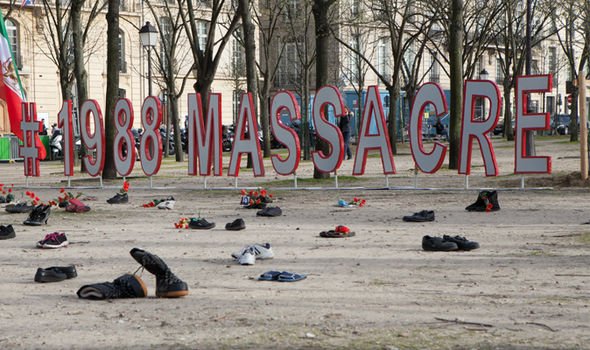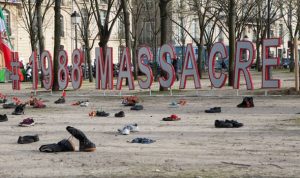 IRAN is complicit in "ongoing crimes against humanity" arising from the 1988 massacre of thousands of political dissidents, a chilling Amnesty International report published last week has claimed.
Express, November 30, 2018
The 1988 executions were a series of state-sponsored executions of political prisoners across Iran. The majority of those killed were supporters of the People's Mujahedin of Iran although supporters of other factions were executed as well. The killings have been described as a political purge.
The exact number of those killed is vastly disputed, with some groups claiming as many as 30,000 were executed, while others – including Amnesty International – put it closer to 4,500.
An explosive new document entitled 'Iran's Blood-Soaked Secrets: Why Iran's 1988 prison massacres are ongoing crimes against humanity' – composed by Amnesty International – has disclosed further details of the massacre, as victims attempt to get justice for their loved ones.
The 201-page report published on December 4 claims: "Between July and September 1988, the Iranian authorities forcibly disappeared and extrajudicially executed thousands of imprisoned political dissidents in secret and dumped their bodies, mostly in unmarked mass graves.
"Since then, the authorities have treated the killings as state secrets, tormenting the relatives by refusing to tell them how and why their loved ones were killed and where they are buried.
[mks_separator style="solid" height="2″]
Canada arrests Huawei CFO for violating Iran sanctions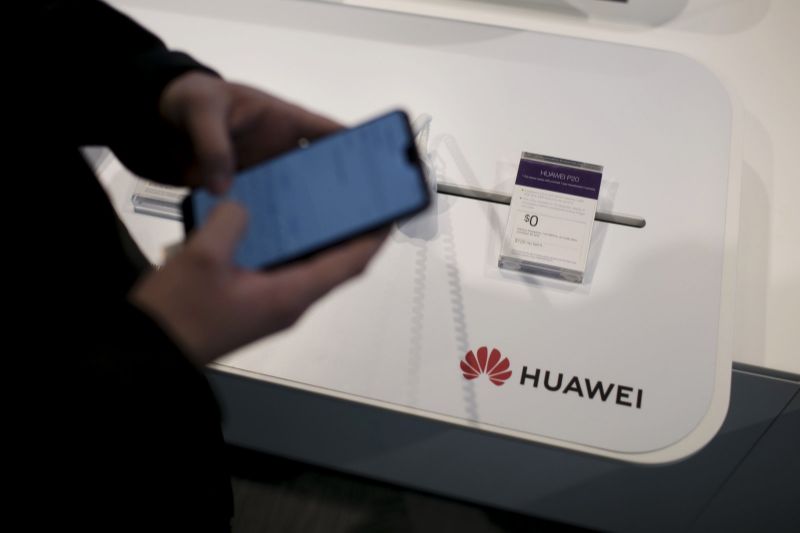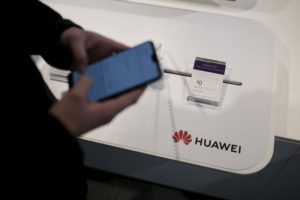 The US wants Wanzhou Meng extradited to face trial, while China demands her release.
Yahoo, December 5, 2018
Huawei's ongoing US troubles just got much worse. Canadian law enforcement has confirmed to the Globe and Mail that it arrested Huawei CFO Wanzhou Meng at the request of the US over claims she violated sanctions against Iran. Most details are under wraps due to a publication ban at Meng's request, but she was arrested on December 1st in Vancouver and will have a bail hearing on December 7th.
We've asked Huawei for comment.
Meng isn't a stranger to issues with sanctions. In 2013, Reuters found that Meng served on the board of Skycom Tech, a company that offered to sell HP equipment to Iran in late 2010 with Huawei's apparent blessing — 13 pages of the proposal were marked as "Huawei confidential." The deal reportedly never went through, but it could have landed at least Huawei and Skycom in trouble. It's unclear if the arrest has a connection to the 2010 sale or is based solely on separate allegations.
Either way, the bust could easily raise tensions between the US and Huawei, if not China at large. American officials have not only banned Huawei devices in government, they've pressured other countries to drop the use of Huawei equipment, with at least some success. Now, the US has arrested one of the highest-ranking executives in the company — that's a serious blow regardless of the merits of the case, and it's doubtful either Huawei or the Chinese government will have kind words in response.
Click to Read More
[mks_separator style="solid" height="2″]
State Department names and shames Iran on global 'Anti-Corruption Day'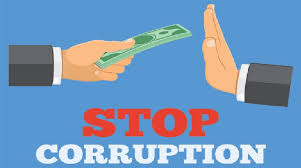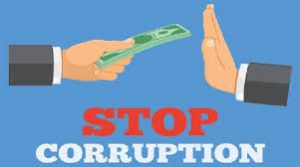 Washington Times, December 10, 2018
The State Department is using Sunday's "International Anti-Corruption Day" as an opening to criticize what it says is rampant corruption in Iran and name and shame numerous government officials, including the Supreme Leader Ayatollah Khamenei.
"Today is #AntiCorruptionDay," the State Department said on Twitter of Sunday's U.N.-sponsored event. "Sadly, for the Iranian people, their government is full of corrupt hypocrites. Take Ayatollah Khamenei, who has a tax-free hedge fund worth billions."
The State Department tweet accused Iran's leader of seizing property from the country's religious minorities and using the proceeds to fund Iran's Islamic Revolutionary Guard Corps."
Despite a stagnant economy and popular protests over government corruption, Tehran has reportedly spent billions of dollars in recent years to support proxy forces and allies across the Middle East, including an estimated $700 million a year to support Hezbollah, the Lebanese-based Shi'a Islamist movement.
Additional examples of Iranian regime officials the State Department named for allegedly profiting from the theft of public money included Gen. Sadegh Mahsouli and Grand Ayatollah Makaram Shirazi.
A former IRGC officer, Gen. Mahsouli served in the government of former President Mahmoud Ahmedinejad, becoming one of Iran's wealthiest citizens along the way. He was sanctioned by the U.S. in 2010. Mr. Shirazi is known as "The Sultan of Sugar" for allegedly flooding local markets with expensive imported sugar.
[mks_separator style="solid" height="2″]
Families of Americans held in Iran ask Trump to pull visas for kids of top Iran officials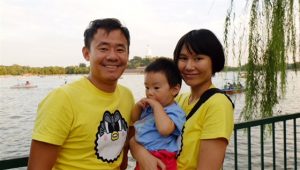 The families gave the Trump admin a list of Iranians in the U.S. alleged to be children or relatives of top Iran officials, including President Rouhani.
NBC News, December 3, 2018
WASHINGTON — Families of Americans detained in Iran have urged the Trump administration to deny U.S. visas to the children of top-ranking officials in the Iranian government, but the White House has yet to take action, two sources close to the families told NBC News.
The families of the imprisoned Americans see the administration's response to their request as part of a broader failure to place a top priority on securing the release of their loved ones, despite a campaign promise from the president to resolve the issue, two family friends and two congressional aides told NBC News.
At least four American citizens and one U.S. legal resident are currently imprisoned in Iran after secretive trials on charges of alleged espionage. Human rights groups say the detentions are arbitrary and baseless.
The families have provided the administration and several lawmakers with a list of Iranian nationals living in the U.S. alleged to be the children or relatives of senior Iranian officials, including President Hassan Rouhani himself.
[mks_separator style="solid" height="2″]
In Iran, at Least 100 Christians Arrested Last Week
Iran Focus, December 8, 2018
London, 8 Dec – Just a few days ago, in various cities across Iran, authorities detained more than 100 Christians and ordered them to have no contact with religious groups such as house churches. The arrests come after approximately 150 detentions last month.
The Head of Advocacy at Open Doors UK, Zoe Smith, described the news as "highly concerning". Open Doors is a charity that speaks out regarding persecution against Christians. Smith said, "It follows an established trend of the Iranian government – as the number of converts to Christianity increase, so the authorities place greater restrictions on churches," and added, "The restrictions are worse for churches seen to be attended by Christians who have converted from Islam. Not only that, but the government is asking unreasonably high bail amounts and seeing longer prison terms for Christians." As the Christianity in Iran continues to grow, Open Doors fears officials will escalate the clampdown.
While most of the detainees were freed fairly quickly, their mobile phones were confiscated. They were told to expect a call from Iran's Ministry of Intelligence.
Long prison sentences are becoming an increasingly common, even for those who have never been arrested before. Smith alleged, "Some Christians disappear from their communities after serving a sentence; church leaders are put under pressure to leave the country or face an arrest; house churches weaken as their members choose to decrease their meeting hours and minimize their activities; some Christians lose the contact with their churches altogether becoming isolated."
Maryam Rajavi, President-elect of the National Council of Resistance of Iran (NCRI), a coalition of some 500 Iranian opposition groups and personalities, committed to a democratic, secular and non-nuclear republic in Iran elaborated in a meeting at the Council of Europe in April 2006, about the Iranian Resistance about the movement's vision for a future Iran. She outlined her 10 Point Plan that includes political freedom, respect for freedom of expression, abolition of death penalty, gender equality in political, social and economic arenas, a judicial system based on the principles of presumption of innocence and not on Sharia law. The plan also calls for commitment to the Universal Declaration of Human Rights, and international covenant and conventions, including the International Covenant on Civil and Political Rights, the Convention against Torture, equal opportunity in employment and in business ventures, protection of the environment, and foreign policy based on peaceful coexistence, international and regional peace and cooperation, and a non-nuclear Iran, free of weapons of mass destruction.
[mks_separator style="solid" height="2″]
A new book published this week by the Iranian opposition (NCRI) offers details on how and why the Iranian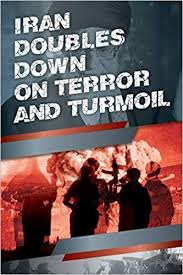 regime has escalated its global terror operations. "This book examines the motivation behind the regime's political and economic strategy by considering three areas: terrorism including in Europe and the United States, incitement of regional conflicts, and the ballistic missile threat. Failing to quell growing popular protests against their rule, the mullahs have opted to bolster domestic suppression with blatant terrorism and intimidation."
We think you will find the book an informative read.
Bipartisan U.S. House Resolution Holds Iran Accountable for Plotting to Bomb Iranian Opposition Gathering
In June 2018, a Belgium, French and German security forces arrested 2 Iranians and a senior Iranian diplomat named Asadollah Assadi,for plotting to bomb the Free Iran 2018 rally in Paris. Given the increase in anti-government protests and international pressure, Iran has clearly ramped up its terror network in Europe.
The Iranian regime's targeting of the pro-democracy rally in the heart of Europe is a clear indication that the mullahs are willing to do anything with enormous risks to deliver blow to the viable alternative to the Iranian regime as its very survival is being threatened by the Iranian people and their organized opposition.
Tehran's desperate stepped up terrorism must be confronted decisively. It is time for the U.S. to urge all its European counterparts to close the Iranian regime's embassies as they act as centers for plotting terrorism.
Join us in condemning Iranian regime state sponsored terrorism and in expressing support for the desire of the Iranian people for a democratic, secular, and non-nuclear republic in Iran.
Donation
501 (c)(3) Tax deductible
Please,
Donate to Organization Of Iranian American Communities U.S
Your donation will help OIAC advocates for a democratic, secular and non-nuclear government in Iran. Founded on the respect for human rights, gender equality, religious and ethnic tolerance, as wells as social, economic justice, and security for America. Our goal is to organize Iranian-American communities in the United States to promote these values.
Thank You,
http://www.oiac-us.com/donation/