I am happy to join with you today in what will go down in history as the greatest demonstration for freedom in the history of our nation.
Five score years ago a great American in whose symbolic shadow we stand today signed the Emancipation Proclamation. This momentous decree came as a great beckoning light of hope to millions of Negro slaves who had been seared in the flames of withering injustice. It came as a joyous daybreak to end the long night of their captivity.
But one hundred years later the Negro is still not free. One hundred years later the life of the Negro is still sadly crippled by the manacles of segregation and the chains of discrimination.
One hundred years later the Negro lives on a lonely island of poverty in the midst of a vast ocean of material prosperity.
One hundred years later the Negro is still languishing in the comers of American society and finds himself in exile in his own land.
We all have come to this hallowed spot to remind America of the fierce urgency of now. Now is the time to rise from the dark and desolate valley of segregation to the sunlit path of racial justice. Now is the time to change racial injustice to the solid rock of brotherhood. Now is the time to make justice ring out for all of God's children.
There will be neither rest nor tranquility in America until the Negro is granted citizenship rights.
We must forever conduct our struggle on the high plane of dignity and discipline. We must not allow our creative protest to degenerate into physical violence. Again and again we must rise to the majestic heights of meeting physical force with soul force.
And the marvelous new militarism which has engulfed the Negro community must not lead us to a distrust of all white people, for many of our white brothers have evidenced by their presence here today that they have come to realize that their destiny is part of our destiny.
So even though we face the difficulties of today and tomorrow I still have a dream. It is a dream deeply rooted in the American dream.
I have a dream that one day this nation will rise up and live out the true meaning of its creed: 'We hold these truths to be self-evident; that all men are created equal."
I have a dream that one day on the red hills of Georgia the sons of former slaves and the sons of former slave owners will be able to sit together at the table of brotherhood.
I have a dream that one day even the state of Mississippi, a state sweltering with the heat of injustice, sweltering with the heat of oppression, will be transformed into an oasis of freedom and justice.
I have a dream that little children will one day live in a nation where they will not be judged by the color of their skin but by the content of their character.
I have a dream today.
I have a dream that one day down in Alabama, with its vicious racists, with its Governor having his lips dripping with the words of interposition and nullification, one day right there in Alabama little black boys and black girls will be able to join hands with little white boys and white girls as sisters and brothers.
I have a dream today.
I have a dream that one day every valley shall be exalted, every hill and mountain shall be made low, the rough places plains, and the crooked places will be made straight, and before the Lord will be revealed, and all flesh shall see it together.
This is our hope. This is the faith that I go back to the mount with. With this faith we will be able to hew out of the mountain of despair a stone of hope. With this faith we will be able to transform the genuine discords of our nation into a beautiful symphony of brotherhood. With this faith we will be able to work together, pray together; to struggle together, to go to jail together, to stand up for freedom forever, )mowing that we will be free one day.
And I say to you today my friends, let freedom ring. From the prodigious hilltops of New Hampshire, let freedom ring. From the mighty mountains of New York, let freedom ring. From the mighty Alleghenies of Pennsylvania!
Let freedom ring from the snow capped Rockies of Colorado!
Let freedom ring from the curvaceous slopes of California!
But not only there; let freedom ring from the Stone Mountain of Georgia!
Let freedom ring from Lookout Mountain in Tennessee!
Let freedom ring from every hill and molehill in Mississippi. From every mountainside, let freedom ring.
And when this happens, when we allow freedom to ring, when we let it ring from every village and hamlet, from every state and every city, we will be able to speed up that day when all of God's children, black men and white men, Jews and Gentiles, Protestants and Catholics, will be able to join hands and sing in the words of the old Negro spiritual, "Free at last! Free at last! Thank God almighty, we're free at last!"
ON THE MARCH FOR PEACE AND JUSTICE
Source: achievement.org
John Lewis was born to a family of sharecroppers outside of Troy, Alabama, at a time when African Americans in the South were subjected to a humiliating segregation in education and all public facilities, and were effectively prevented from voting by systematic discrimination and intimidation.
From an early age, John Lewis was committed to the goal of education for himself, and justice for his people. Inspired by the example of Rosa Parks and Dr. Martin Luther King, Jr. in the Montgomery bus boycott, he corresponded with Dr. King and resolved to join the struggle for civil rights. After attending segregated public schools in Pike County, Alabama, he graduated from the American Baptist Theological Seminary in Nashville, Tennessee and completed a Bachelor's in Religion and Philosophy at Fisk University.
As a student he made a systematic study of the techniques and philosophy of nonviolence, and with his fellow students prepared thoroughly for their first actions. They began with sit-ins at segregated lunch counters. Day after day, Lewis and his fellow students sat silently at lunch counters where they were harassed, spit upon, beaten and finally arrested and held in jail, but they persisted in the sit-ins. In 1961, Lewis joined fellow students on the Freedom Rides, challenging the segregation of interstate buses. In the Montgomery bus terminal he was again attacked by a mob and brutally beaten.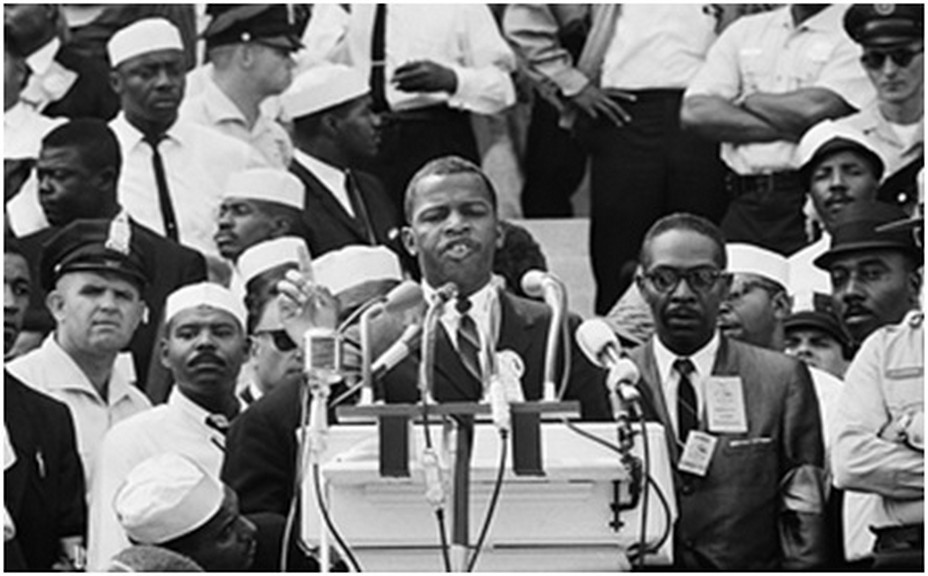 Lewis was one of the founding members of the Student Nonviolent Coordinating Committee (SNCC), and served as its president from 1963 to 1966, when SNCC was at the forefront of the student movement for Civil Rights. By 1963, he was recognized as one of the "Big Six" leaders of the Civil Rights Movement, along with Dr. King, Whitney Young, A. Phillip Randolph, James Farmer and Roy Wilkins. He was one of the planners and keynote speakers of the March on Washington in August 1963, the occasion of Dr. King's celebrated "I Have a Dream" speech.
In 1964, Lewis coordinated SNCC's efforts for "Mississippi Freedom Summer," a campaign to register black voters across the South. The following year, Lewis led one of the most dramatic protests of the era. On March 7, 1965 — a day that would become known as "Bloody Sunday" — Lewis and fellow activist Hosea Williams led over 600 marchers across the Edmund Pettus Bridge in Selma, Alabama. At the end of the bridge, they were met by Alabama State Troopers, who ordered them to disperse. When the marchers stopped to pray, the police discharged tear gas and mounted troopers charged the demonstrators, beating them with night sticks. Lewis's skull was fractured, but he escaped across the bridge, to a church in Selma. Before he could be taken to the hospital, John Lewis appeared before the television cameras calling on President Johnson to intervene in Alabama.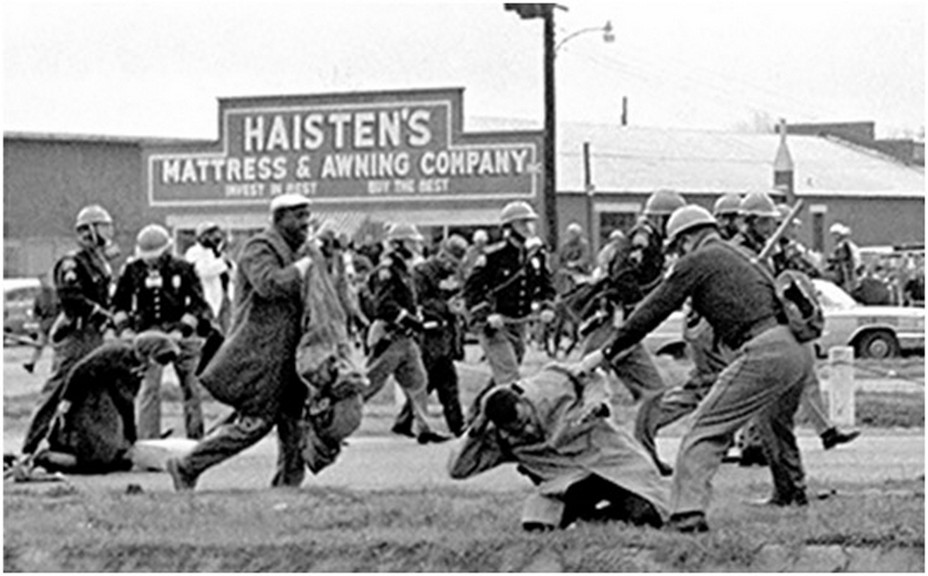 Scenes of the violence, and of the injured John Lewis, were broadcast around the world, and outraged public opinion demanded that the President take action. Two days later, Dr. King led 1,000 members of the clergy on a second march from Selma to Montgomery, with the eyes of the world watching. A week and a day after Bloody Sunday, President Johnson appeared before a joint session of Congress to demand passage of the Voting Rights Act, empowering the federal government to enforce the voting rights of all Americans. The passage of the voting rights act finally brought the federal government into the struggle, squarely on the side of the disenfranchised voters of the South.
The violent deaths of his friends Martin Luther King, Jr. and Senator Robert Kennedy in 1968 were a great blow to John Lewis, but Lewis remained committed as ever to the philosophy of nonviolence. As Director of the Voter Education Project (VEP), he helped bring nearly four million new minority voters into the democratic process. For the first time since Reconstruction, African Americans were running for public office in the South, and winning.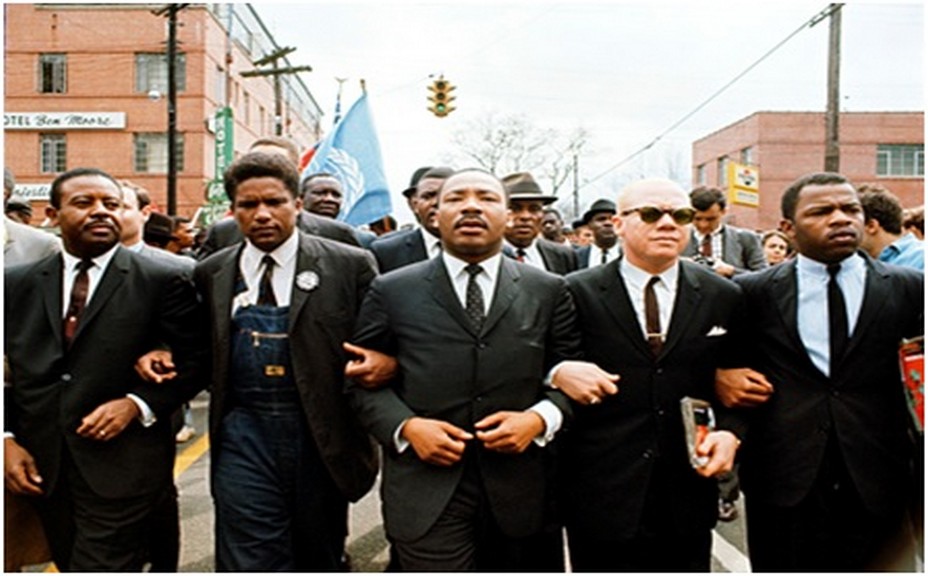 Lewis settled in Atlanta, Georgia, and when the former Governor of Georgia, Jimmy Carter, became President, he tapped John Lewis to head the federal volunteer agency, ACTION. In 1981, after Jimmy Carter had left the White House, John Lewis was elected to the Atlanta City Council, where he became an effective advocate of neighborhood preservation and government reform. In 1986 he ran for Congress, and John Lewis, whose own parents had been prevented from voting, who had been denied access to the schools and libraries of his home town, who had been threatened, jailed and beaten for trying to register voters, was elected to the United States House of Representatives.
Since then he has been re-elected repeatedly by overwhelming margins, on one occasion running unopposed. Today, he represents Georgia's Fifth Congressional District, encompassing the entire city of Atlanta and parts of four surrounding counties. Congressman Lewis sits on the House Budget Committee and House Ways and Means Committee, where he serves on the Subcommittee on Health. He serves as Senior Chief Deputy Democratic Whip, is a member of the Democratic Steering Committee, the Congressional Black Caucus and the Congressional Committee to Support Writers and Journalists. Apart from his service in Congress, he is Co-Chair of the Faith and Politics Institute.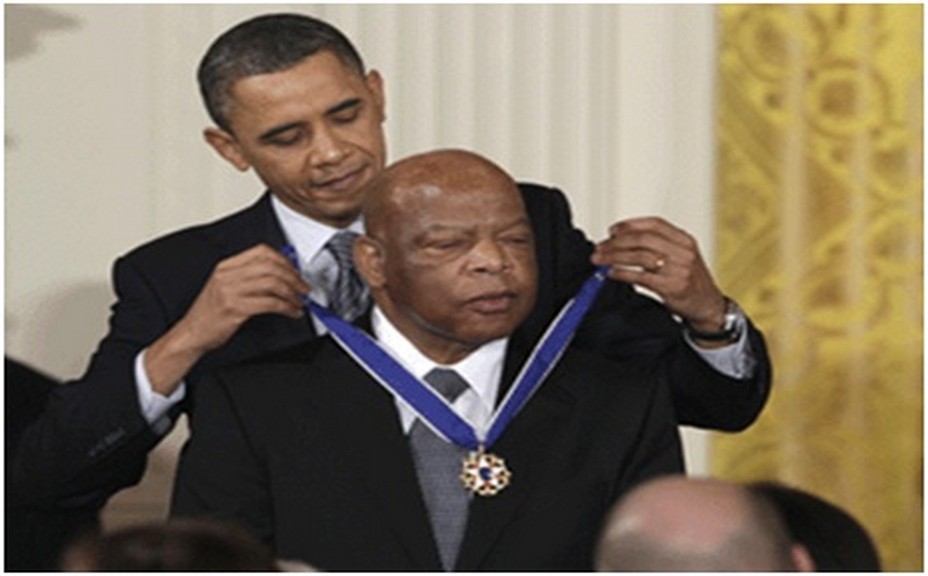 Congressman Lewis has received numerous honorary degrees and awards, including the Martin Luther King, Jr. Non-Violent Peace Prize, the NAACP Spingarn Medal, the Martin Luther King, Jr. Memorial Award of the National Education Association, and the John F. Kennedy "Profile in Courage" award for lifetime achievement. His courage and integrity have won him the admiration of congressional colleagues on both sides of the aisle. Senator John McCain has written a moving tribute to John Lewis in his book, Why Courage Matters. Congressman Lewis gives his own account of his experiences in the Civil Rights era in Walking With The Wind: A Memoir of the Movement, published in 1998.
Congressman Lewis began the 2008 presidential campaign as a supporter of Senator Hillary Rodham Clinton. His decision to switch his support to Senator Barack Obama was considered a major turning point in the campaign. When Lewis appeared at President Obama's inauguration, he was the only surviving speaker from the 1963 March on Washington.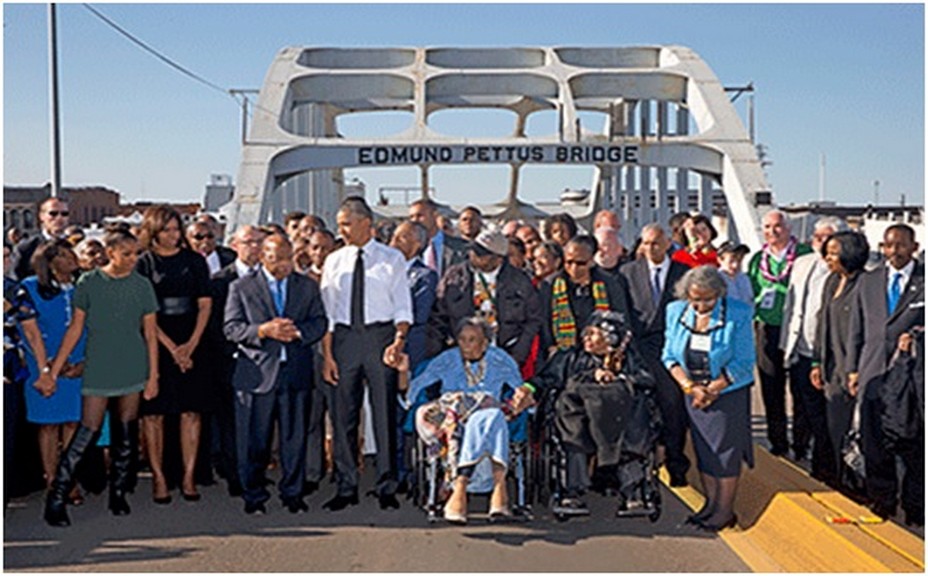 In addition to his advocacy of domestic issues, Congressman Lewis has taken a passionate interest in human rights on the international stage. In 2009, he was arrested, with three other U.S. Representatives, outside the Embassy of Sudan, where they were protesting the obstruction of aid to refugees in Darfur.
The Congressman has long been an ardent supporter of health insurance reform. In an eerie echo of his past struggles, he was subjected to angry catcalls and abusive language by opponents of the 2010 health care bill as he entered the Capitol for a crucial vote. As in years past, his courage was unwavering, and the passage of the Patient Protection and Affordable Care Act remains one of the proudest achievements of his legislative career. The folowing year, in a ceremony at the White House, President Barack Obama awarded him the nation's highest civilian honor, the Presidential Medal of Freedom.
Congressman John Lewis: never ever to give up, never ever to give in, and never ever to lose faith
July 24,  2010
In a Capitol Hill briefing, sponsored by Iranian American Community, Congressman John Lewis, described by the House Speaker Nancy Pelosi as "the conscience of the U.S. Congress," spoke to a number of his colleagues, Iranian-Americans and supporters of Camp Ashraf in solidarity with the Iranian Resistance.
A former colleague of Dr. Martin Luther King Jr., Lewis has been and continues to be one of the most prominent leaders of the civil rights movement in the United States. During the past quarter century, he has been enthusiastically elected by the people of Georgia as one of their representatives in US Congress.
Lewis was also among a majority in the US House of Representatives who co-sponsored House Resolution 704, which called "upon the President to take all necessary and appropriate steps to support the commitments of the United States under international law and treaty obligations to ensure the physical security and protection of Camp Ashraf residents against inhumane treatment and involuntary deportation by Iraqi security forces."
Below is an excerpt of his speech on Capitol Hill
Thank you very much
Let me just take a moment to say welcome to Capital Hill and this briefing. I want you to know that when I first came to Washington many years ago to go on to something called the Freedom Rides; I got arrested, beaten, and jailed. Then I came back here again in 1963 with Dr. Martin Luther King Jr. and others and spoke on the steps of the Lincoln Memorial. There were ten of us as speakers. Dr. King was the 10th speaker and I was the sixth. Out of the 10 people that spoke that day I am the only one still around.
I believe in standing up for what is right, fair and just. I believe in standing up for our freedom and that all people must be free and liberated.
I come here to say to you, never ever to give up, never ever to give in, and never ever to lose faith. I got arrested 40 times, went to jail, beaten, left bloody and unconscious on the Freedom Rides. I had a concussion of the brain during the march from Selma to Montgomery on March 7, 1965. But we didn't give up.
And people who support the people in Iran and those of you who live and reside here in America and around the world must never ever give up. Continue to press forward for your brothers, sisters, uncles and aunts, for your mothers and fathers and grand parents and great grand parents. As long as the people of Iran are denied their basic rights as human beings people all over the world are denied their rights.
When I saw the recent uprising in Iran, it reminded me of some of the non-violent struggle that we had in America for the right to vote and for the right to participate in the democratic process.
So, hang in there.
I supported sanctions [against the Iranian regime] and I will continue to do what I can to help bring the attention of the world, and especially the citizens of America, to the issues that are confronting the people of Iran. You will have supporters and you will have people that will stand up and fight the good fight with you. So, hang in there and keep pushing.
Thank you very much.