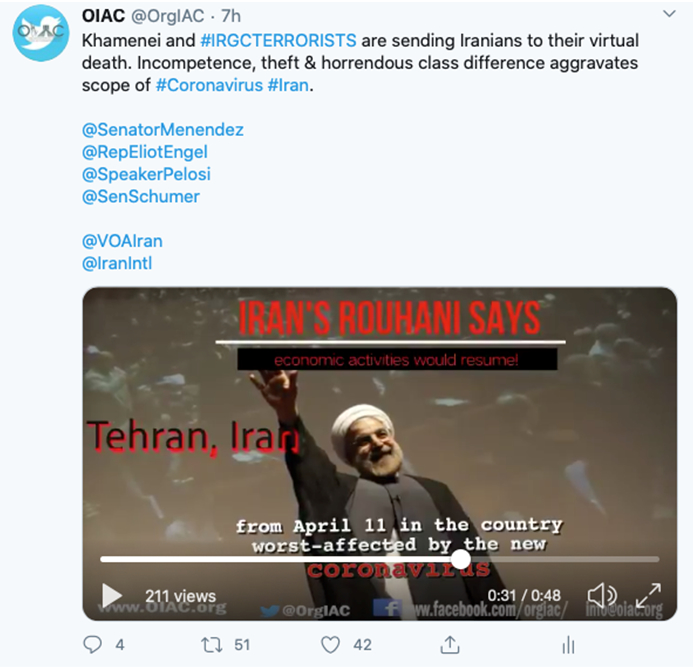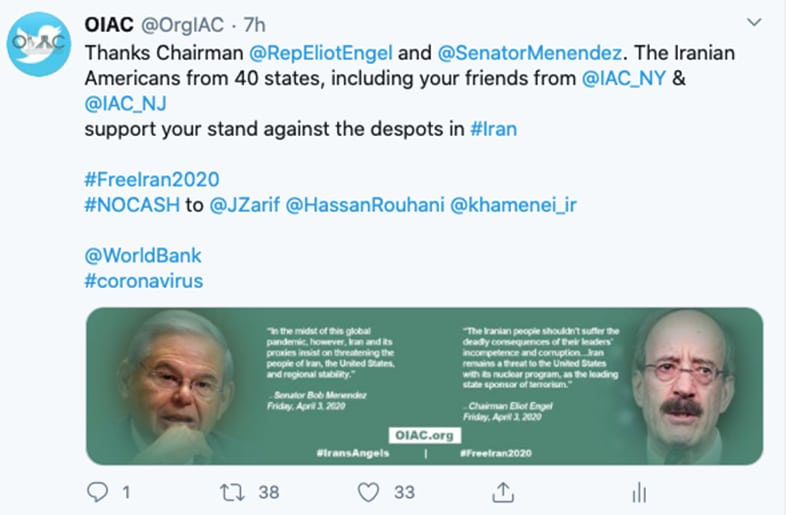 Engel & Menendez Propose Policies for Addressing COVID-19 in Iran
Washington—Representative Eliot L. Engel, Chairman of the House Committee on Foreign Affairs, and Senator Bob Menendez, Ranking Member of the Senate Committee on Foreign Relations, today proposed a series of policies addressing one key part of the global COVID-19 outbreak. The lawmakers' proposals would help ensure humanitarian assistance will be able to flow to Iranian citizens who need it most, while seeking to avoid enriching and empowering the dangerous regime.
"Iran has become one of the countries hardest hit by the novel coronavirus, and the tragedy there is growing by the day. The Iranian regime, however, has diverted medical equipment, declined U.S. and other assistance, and continued to support dangerous terrorists around the world even in the midst of this crisis.  The Iranian people shouldn't suffer the deadly consequences of their leaders' incompetence and corruption," said Chairman Engel. "Iran remains a threat to the United States with its nuclear program, as the leading state sponsor of terrorism, and by backing groups attacking American personnel in the region, and we will not relax efforts to confront these malign policies.  But we also have a shared obligation to combat this deadly pandemic and to help people who are suffering wherever they are."
"The Iranian people have suffered for decades under the Iranian regime's oppression, resource mismanagement, and dangerous propaganda—all of which has been exacerbated by the COVID-19 crisis," said Ranking Member Menendez. "In the midst of this global pandemic, however, Iran and its proxies insist on threatening the people of Iran, the United States, and regional stability. The United States has imposed sanctions on Iran for its nefarious nuclear weapons development, support for terrorism and human rights abuses.  There is no evidence that the regime has stopped its sanctionable behavior. Moreover, simply lifting sanctions that have been imposed for ongoing malign behavior will not provide immediate or meaningful relief for the Iranian people. Congress has made clear through legislation that our sanctions regime should never hinder humanitarian and medical relief. To that end, the Trump Administration has a number of technical and public diplomacy tools it should use to ensure that the United States does not contribute to the Iranian regime's cruelty of preventing humanitarian relief from reaching those most in need."
The United States has taken steps in recent weeks to help the Iranian people in their fight against COVID-19.  On February 27th, the Treasury Department granted broad authority to allow humanitarian transactions with the Central Bank of Iran. On March 6th, the Treasury Department posted a new FAQ on their website with respect to humanitarian transactions. At the same time, the Administration's rhetoric has been chilling to those who want to participate in humanitarian relief in Iran.
Today, Chairman Engel and Ranking Member Menendez proposed that the Trump Administration take the following additional policy steps:
Publicly clarify that U.S. law does not penalize medical or humanitarian transactions meant to fight the COVID-19 pandemic and publicly promote ways that financial institutions and governments around the world can help fight the pandemic in Iran.
Address banks' reluctance to finance sales of medical goods to Iran even though these transactions are exempt from U.S. sanctions. Without such "bank derisking," Iran's ability to import medical items is unnecessarily hampered.
Work quickly with other governments to set up humanitarian channels for companies to provide COVID-19 related assistance to Iran, modeled on the existing Swiss humanitarian channel. Companies should not be penalized or sanctioned if they are legitimately providing humanitarian or medical supplies which will help the Iranian people combat the spread and effects of COVID-19 in that country.
Temporarily raise the ceiling on the amount of funds permitted to be sent to Iran for humanitarian aid under General License Eor specify that COVID-related payments are not counted under that cap.
Additionally, fighting this pandemic will require all of us to commit to global humanitarian relief. The government of Iran should take immediate steps to promote the health and safety of those in Iran by:
Releasing all politically-held dual nationals from prison who may be at increased risk for contracting COVID-19.
Accepting U.S. offers of assistance to support the Iranian people.
https://foreignaffairs.house.gov/2020/4/engel-menendez-propose-policies-for-addressing-covid-19-in-iran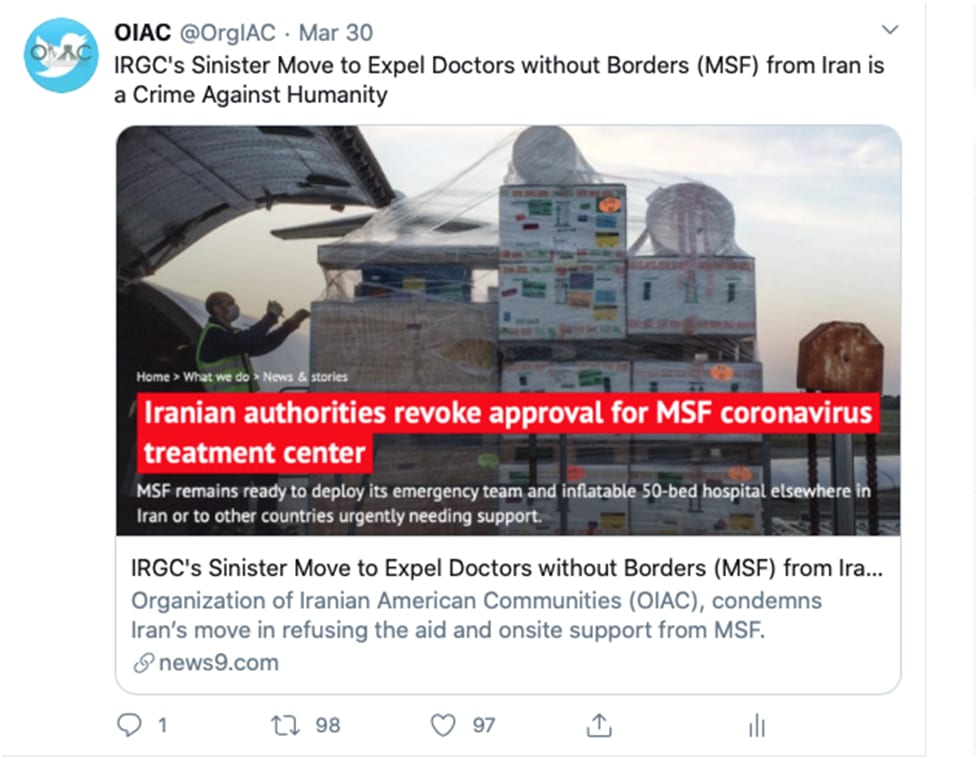 New York, March 24, 2020—The international medical humanitarian organization Doctors Without Borders/Médecins Sans Frontières  (MSF) is shocked by the statement made today by officials of the Iranian Ministry of Health (MoH) revoking its previous approval for MSF's intervention to manage severe COVID-19 cases in Isfahan. MoH officials declared today that the country does not need additional treatment capacity for the management of severe cases.
"We are deeply surprised to learn that the approval for the deployment of our treatment unit has been revoked," said Michel Olivier Lacharité, manager of MSF's emergency programs, who is based in Paris. "The need for this intervention, and the authorizations needed to start it, were discussed and agreed with relevant Iranian authorities during the past weeks. Our teams were ready to start medical activities at the end of this week."
Two cargo planes chartered by MSF, containing the materials needed to build a 50-bed inflatable treatment unit, landed in Tehran on Sunday and Monday, March 22 and 23. MSF also sent a nine-person international emergency team, including two intensive care unit (ICU) specialists, who were welcomed by the local health authorities when they arrived in Isfahan. The site allocated for the treatment unit within the grounds of Amin Hospital had already been prepared—the most time-consuming part of set up that involves leveling and preparing the ground and connecting to water and electricity.
MSF remains ready to re-deploy its emergency team and treatment unit elsewhere in Iran or to move them to other countries in the region, where support to address the massive needs caused by the coronavirus outbreak is urgently needed.
MSF is an international medical humanitarian organization running activities in over 70 countries. For its work in Iran, MSF does not receive funding from any government and relies solely on private donations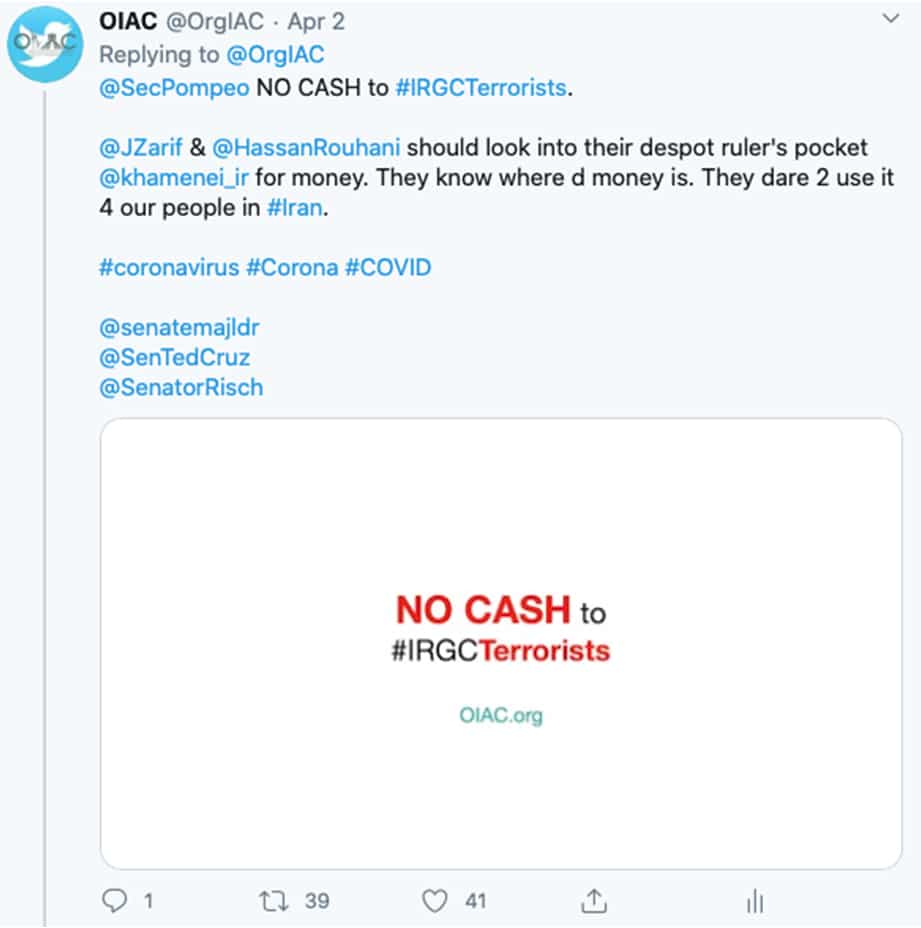 WASHINGTON DC – March 22, 2020
The renowned international non-governmental group, Medecins Sans Frontieres (MSF) or Doctors Without Borders sent a consignment of medical aid to Iran, including one field inflatable hospital, medicines, respiratory masks, and protective clothing. Recognizing how bad Iran has been hit with COVID-19, MSF also sent a 50-bed inflatable hospital and a 9-person emergency team to Isfahan which is the second most affected province in Iran. Within hours, the Islamic Revolutionary Guard Corps (IRGC), designated as a terrorist organization by the United States, acted on the order of Iran's Supreme leader and called for halting of such a vital mission to help critically ill patients in Iran.
Organization of Iranian American Communities (OIAC), condemns Iran's move in refusing the aid and onsite support from MSF. The world community must hold the Supreme Leader, Ali Khamenei, Iran's President, Hassan Rouhani accountable for their crimes against the people of Iran and the global health. For the record, Iran holds the highest number of coronavirus in the world. According to data collected by the National Council of Resistance of Iran, to date, there have been more than 10,500 deaths across 219 cities and towns in Iran.
While the death toll rises in Iran, the regime rejects US humanitarian aid, expels MSF and misappropriated some $1 billion in international aid intended to help ordinary citizens in recent days. Lack of transparency, accountability, supporting the needs of the affected population and refusal to employ best practices such as quarantining hard-hit areas are not just a threat to the people of Iran but the global health.
The sinister regime of Mullahs is working hard to reshape the narratives on the COVID-19 pandemic and portrays as a biological attack that is exacerbated with sanctions. For the record:
1. With the continued hiding of the truth on the COVID-19 death toll in Iran, the international community is operating with missing critical data to combat this global pandemic. For the sake of global health, the United Nations, must hold Iran accountable for lack of transparency and condemn its continued efforts to hide the truth. Examination of mass graves across Iran in recent weeks demonstrates the depth of the tragedy in Iran.
2. The disinformation campaign led by Ali Khamenei, Hassan Rouhani, IRGC, and Javad Zarif is deliberate, purposeful, and shortsighted in order to shift the blame to others. The world community must be diligent and use the example of halting MSF vital mission as a lens to examine the regime's intentions. Mullahs are looking for cash to fund their malign activities and terrorism. Further financial aid to this regime will be used against the people of Iran, global peace and health.
3. For the sake of Iranian people, the World Health Organization and all relevant international bodies must step in to ensure medical aid is reaching the health professionals and the patients in this time of crisis.
4. For the sake of combating terrorism and preventing further info-terrorism on the COVID-19 pandemic in Iran, the United States should add Iran's Ministry of Intelligence and Security (MOIS) and all its related lobbying entities to the Foreign Terrorist Organizations list.