21dec12:00 pm1:15 pmFeatured2022 US Iran PolicyEXAMINING ALTERNATIVES & BRIDGING A PATH FORWARD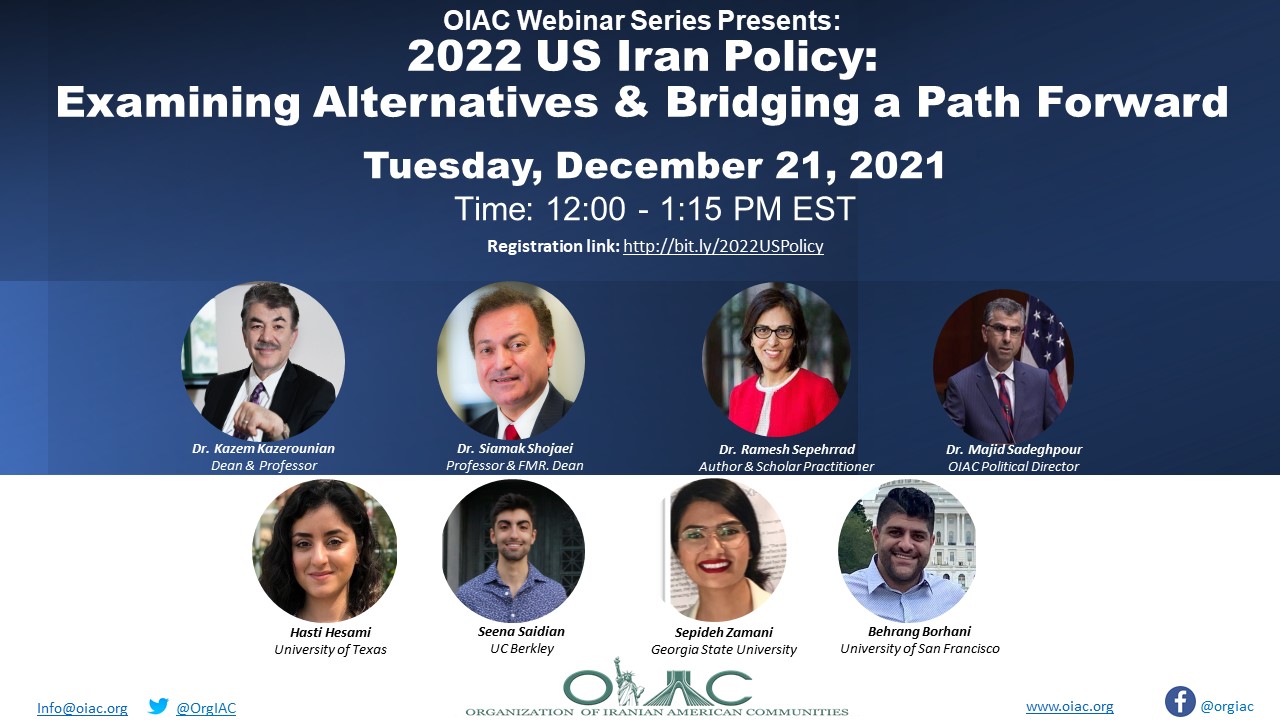 Event Details

OIAC Webinar Series Presents:

 2022 US Iran Policy

EXAMINING ALTERNATIVES & BRIDGING A PATH FORWARD

Tuesday, December 21, 2021 | 12:00 – 1:15pm EST

Registration: http://bit.ly/2022USPolicy
Speakers Panel 1
Dr Kazem Kazerounian  |  Dean & Professor
Dr Siamak Shojaei  |  Professor & FMR. Dean
Dr Ramesh Sepehrrad  |  Author & Scholar Practitioner
Dr Majid Sadeghpour  |  OIAC Political Director
Speakers Panel 2
Hasti Hesami | University Of Texas
Seena Saidian | UC Berkley
Spideh Zamani | Georgia State University
Behrang Borhani | University of San Francisco
Last year, leaders of Iranian Americans outlined a comprehensive bi-partisan Iran Policy for Biden Administration. In preparation for year 2 of Biden Administration, on Tuesday December 21, 2021, the Organization of Iranian American Communities (OIAC) is hosting a virtual policy webinar to focus on a path forward beyond the JCPOA. The virtual event will host two panels featuring academic experts, members of OIAC's Advisory Board, and Young Professionals and Students Chapter.
A key element in OIAC's call for a comprehensive US-Iran policy continues to be based on bipartisanship and to this end, the upcoming panel will offer concrete steps to:
a) Strengthen ties with Congress, which has persistently raised bipartisan concerns about the human rights situation in Iran;
b) Bolster the role US leadership in holding Ebrahim Raisi accountable for his role in the 1988 massacre; and
c) Reinforce American values by standing with the Iranian people's fight for democracy in their everyday form of resistance and protests against theocracy and terror.
Democracy doesn't happen by accident.
We have to defend it, fight for it, strengthen it, renew it.
PRESIDENT JOSEPH R. BIDEN, JR.
FEBRUARY 2021
Organization of Iranian American Communities
Time

(Tuesday) 12:00 pm - 1:15 pm