115TH CONGRESS
1ST SESSION
H. RES. 188
Condemning the Government of the Islamic Republic of Iran for the 1988 massacre of political prisoners and calling for justice for the victims.
________________________________________
IN THE HOUSE OF REPRESENTATIVES
MARCH 9, 2017
Mr. MCCAUL (for himself, Mr. ROYCE of California, Mr. ENGEL, Mrs. COMSTOCK, Mr. MCCLINTOCK, Mr. SESSIONS, Mr. KEATING, Mr. SHERMAN, Mr. YOUNG of Alaska, and Ms. JUDY CHU of California) submitted the following resolution; which was referred to the Committee on Foreign Affairs
________________________________________
RESOLUTION
Condemning the Government of the Islamic Republic of Iran for the 1988 massacre of political prisoners and calling for justice for the victims.
Whereas over a 4-month period in 1988, the Government of the Islamic Republic of Iran carried out the barbaric mass executions of thousands of political prisoners and many unrelated political groups;
Whereas according to a report by the Iran Human Rights Documentation Center, the massacre was carried out pursuant to a fatwa, or religious decree, issued by then-Supreme Leader Ayatollah Ruhollah Khomeini, that targeted the People's Mojahedin of Iran (PMOI), also known as the Mujahedeen-e-Khalq (MEK);
Whereas according to a November 2, 2007, report by Amnesty International, "between 27 July 1988 and the end of that year, thousands of political prisoners [in Iran], including prisoners of conscience, were executed in prisons nationwide";
Whereas the killings were carried out on the orders of a judge, an official from the Ministry of Intelligence, and a state prosecutor, known to the prisoners as "Death Commissions" which undertook proceedings in a manner designed to eliminate the regime's opponents;
Whereas those personally responsible for these mass executions include senior officials serving in the current Government of Iran;
Whereas prisoners were reportedly brought before the commissions and briefly questioned about their political affiliation, and any prisoner who refused to renounce his or her affiliation with groups perceived as enemies by the regime was then taken away for execution;
Whereas the victims included thousands of people, including teenagers and pregnant women, imprisoned merely for participating in peaceful street protests and for possessing political reading material, many of whom had already served or were currently serving prison sentences;
Whereas prisoners were executed in groups, some in mass hangings and others by firing squad, with their bodies disposed of in mass graves;
Whereas according to Amnesty International, "the majority of those killed were supporters of the PMOI, but hundreds of members and supporters of other political groups … were also among the execution victims";
Whereas later waves of executions targeted religious minorities, such as members of the Baha'i faith, many of whom were often subjected to brutal torture before they were killed;
Whereas the families of the executed were denied information about their loved ones and were prohibited from mourning them in public;
Whereas in a recently disclosed audiotape, the late Hussein Ali Montazeri, a grand ayatollah who served as Khomeini's chief deputy, noted the regime's efforts to target the MEK and said that the 1988 mass killings were "the greatest crime committed during the Islamic Republic, for which history will condemn us";
Whereas the current Supreme Leader Ali Khamenei was reportedly aware of, and later publicly condoned the massacre;
Whereas in violation of its international obligations, the Government of Iran continues to systematically perpetrate gross violations of the fundamental human rights of the Iranian people; and
Whereas the November 2, 2007, report from Amnesty International concluded "there should be no impunity for human rights violations, no matter where or when they took place.
The 1988 executions should be subject to an independent impartial investigation, and all those responsible should be brought to justice, and receive appropriate penalties": Now, therefore, be it
Resolved, That the House of Representatives—
(1) condemns the Government of the Islamic Republic of Iran for the 1988 massacre, and for denying the evidence of this manifest set of crimes against humanity;
(2) urges the Administration and United States allies to publicly condemn the massacre, and pressure the Government of Iran to provide detailed information to the families of the victims about their loved ones and their final resting places; and
(3) urges the United Nations Special Rap¬por¬teur on the human rights situation in Iran and the United Nations Human Rights Council to create a Commission of Inquiry to fully investigate the massacre and to gather evidence and identify the names and roles of specific perpetrators with a view towards bringing them to justice.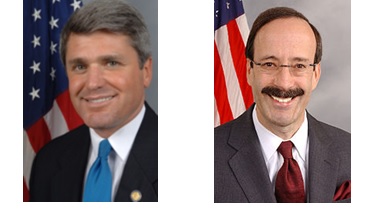 Dear Colleagues,
Please join me in exposing the Iranian regime's state-sponsored massacre of thousands of men, women and children in the summer of 1988 by cosponsoring H.Res.188
In 1988, by order of a religious decree issued by then-Supreme Leader Ayatollah Ruhollah Khomeini, Iran carried out a systematic effort to exterminate those it deemed political opponents of the regime.
Thousands of men, women and children were massacred, including many members of the Mujahedeen-e-Khalq, other opposition groups, and religious minorities.  Many prisoners were briefly questioned by so-called "Death Commissions" — made up of a judge, an official from the Ministry of Intelligence, and a state prosecutor.
If the answers provided by prisoners did not satisfy the Death Commission, they were executed.
Amnesty International estimates that anywhere from 4,000 to 5000 individuals were executed during the summer of 1988, although some human rights organizations estimate the number could be higher.
To this day, Iran has refused to acknowledge the massacre or provide information to the families of the victims regarding their loved ones.
Even more disturbingly, some of those directly responsible for carrying out the massacre still hold senior positions within the current government of Iran.
H.Res.188 is an important step in providing justice and accountability for those in Iran responsible for carrying out this state-sponsored Massacre. This bipartisan resolution condemns the government of Iran for the 1988 Massacre and urges the Administration to also publicly condemn the killings.
More importantly, this resolution urges the President to pressure Iran to provide detailed information to the victim's families regarding their loves ones final resting place.
Lastly, this resolution urges the United Nations (UN) Special Rapporteur to create a commission to fully investigate the massacre and bring those individuals responsible to justice.
If you would like to cosponsor this important resolution, please contact Brandon Batch on my staff at Brandon.batch@mail.house.gov, or Jamie Geller with Rep. Engel's staff at Jamie.geller@mail.house.gov
Sincerely,
Michael T. McCaul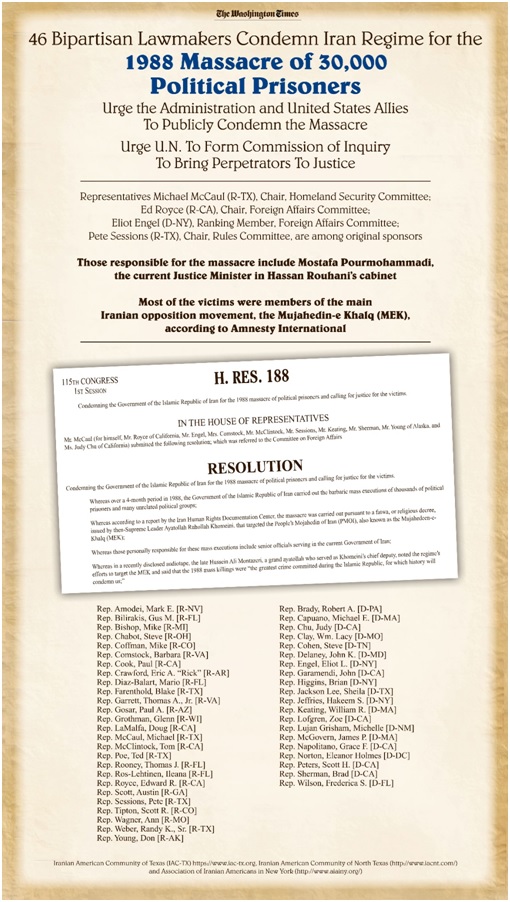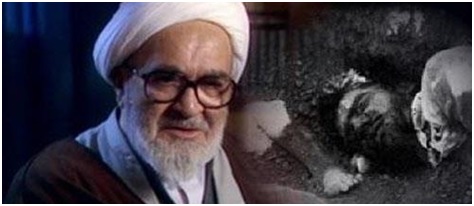 Aug 12, 2016     Brian Murphy Staff Writer  –  Washington, D.C.
"In my opinion, the greatest crime committed during the Islamic Republic, for which history will condemn us, has been committed by you," Montazeri (the heir to then Iran's supreme leader) is recorded as saying on the July 1988 tape to a group of senior judicial and intelligence figures, including a domestic spymaster, Mostafa Pourmohammadi, who now serves as justice minister in the government of President Hassan Rouhani.
In 1988, nearly a decade after Iran's Islamic revolution, the country's leader-in-waiting faced a decision. He could stay silent as Iran stepped up a campaign of mass executions, torture and gulag-style imprisonment against perceived internal opponents.
Or he could follow his conscience and speak out. Ayatollah Hossein Ali Montazeri chose to take a stand.
It came at a high cost. Montazeri was dumped as the hand-picked successor to the revolution's leader, Ayatollah Ruhollah Khomeini. He would be declared a foe of the state and placed under house arrest for six years.
The executions and purges of the late 1980s in Iran are well known and have been examined in books and reports by rights groups such as Amnesty International.
Less clear, however, is what transpired at the highest reaches of power during a pivotal period for Iran and, by extension, for the wider region and Tehran's relations with the West.
An audio file that surfaced this week — posted on a website maintained by supporters of Montazeri, who died in 2009 — purports to offer a new glimpse into his last, desperate attempt to limit the killings and roundups.
 Its importance derives mostly from historical conjecture. Had Montazeri been elevated to power, Iran could have taken a very different course. Montazeri was an unwavering critic of the ambitious reach of Iran's theocratic state. In broad terms, he felt the spirit of the revolution was betrayed as Khomeini and other clerics consolidated control after the Western-backed shah was ousted in 1979.
The clerics, Montazeri believed, should stay on the sidelines as advisers and guides to the nation, while elected officials and hired-on-merit technocrats took the helm.
The break with Khomeini was sealed by Montazeri's opposition to secret political trials and summary executions carried out in the name of protecting the revolution.
It came to a head in the final months of the country's 1980-1988 war with Iraq. Worn down by conflict and nearly bankrupt, Iran lashed back hard at those it deemed domestic enemies.
They included Western-leaning students, ethnic minorities and opposition factions including the Mujahideen-e Khalq, or MEK, which had launched a failed guerrilla offensive.
A full accounting of what's called the "death commission" created by Khomeini has yet to be carried out. But thousands died — by hanging or firing squad or in places such as Tehran's Evin prison.
According to an Amnesty report in 1990, "Thousands of people were executed between 1987 and 1990 including more than 2,000 political prisoners between July 1988 and January 1989." The MEK and other groups place the overall death toll much higher.
"In my opinion, the greatest crime committed during the Islamic Republic, for which history will condemn us, has been committed by you," Montazeri is recorded as saying on the July 1988 tape to a group of senior judicial and intelligence figures, including a domestic spymaster, Mostafa Pourmohammadi, who now serves as justice minister in the government of President Hassan Rouhani.
"Beware of 50 years from now, when people will pass judgment on the leader [Khomeini] and will say he was a bloodthirsty, brutal and murderous leader. … I do not want history to remember him like that," added Montazeri, who was one of Khomeini's most trusted allies for decades before they parted ways.
A translation of the 40-minute recording was provided by an opposition group, the National Council of Resistance of Iran, which has offices in Washington and other cities.
Similar translations were made by various outlets, including the BBC's Persian Service. The authenticity of the recording could not be independently verified.
Montazeri's son, Ahmad, a moderate cleric, said Iranian intelligence officials ordered him Wednesday to remove the audio from the website, news reports said.
Maryam Rajavi, head of the National Council of Resistance of Iran opposition group, urged international prosecutors to use the tape as further evidence that can be used to press charges for the political slayings of the late 1980s.
She noted that some of the officials who helped carry out the purges — such as PourMohammadi and the others who met with Montazeri — "have, from the beginning of this regime to the present day, held posts at the highest levels of the judicial, political and intelligence apparatuses."
Khomeini died in June 1989, less than a year after the claimed date of the recording, and was succeeded by a lower-ranking cleric, Ayatollah Ali Khamenei.
Some detractors say Khamenei was selected as a low-risk leader who would not challenge the powers of the theocracy or its powerful backers such as the Revolutionary Guard Corps.
"Killing is the wrong way to resist against a thought, an idea," Montazeri said in the 1988 meeting, referring to those opposing the Iranian leadership at the time. "They have one thought, one idea. Responding to a process, a logic — even a faulty logic — with killing will solve nothing. It will make it worse."
"We will not be in power forever," he continued. "In the future, history will judge us." Montazeri was placed under house arrest from 1997 until early 2003, leaving him effectively silenced during most of the term of reform-minded President Mohammad Khatami. But Montazeri had one more run left.
He lived long enough to witness — and encourage — the Green Movement protests after the disputed reelection to the presidency of Mahmoud Ahmadinejad in June 2009. Later that year, Montazeri issued a public apology for his participation in the 444-day hostage standoff at the U.S. Embassy that ended in 1981.
Montazeri died in December 2009 as Iranian authorities gained the upper hand in the post-election chaos. At his funeral in Qom, the center of Shiite religious study in Iran, tens of thousands of mourners streamed through the streets. Some pumped their fists in defiant chants against Khamenei and his security forces.
Iran's state-controlled media also got in one last shot. Reports of Montazeri's death ignored his central role in the Islamic revolution, referring to him dismissively as the "rioters' cleric."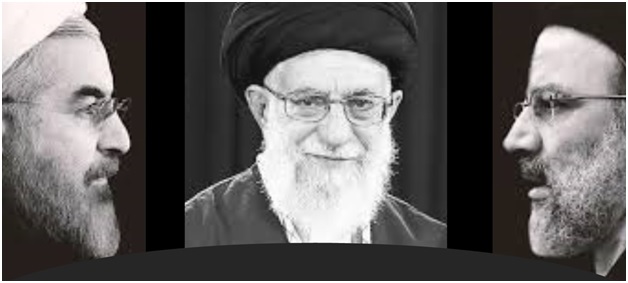 By Carol Morello and Erin Cunningham – April 27, 2017
"Raisi, 56, does not come by populism naturally. He is known to older Iranians as one of four judges on the "Death Commission," a tribunal that oversaw the executions of 30,000 people in 1988, most of them members of the opposition Mujahideen-e Khalq, or MEK. "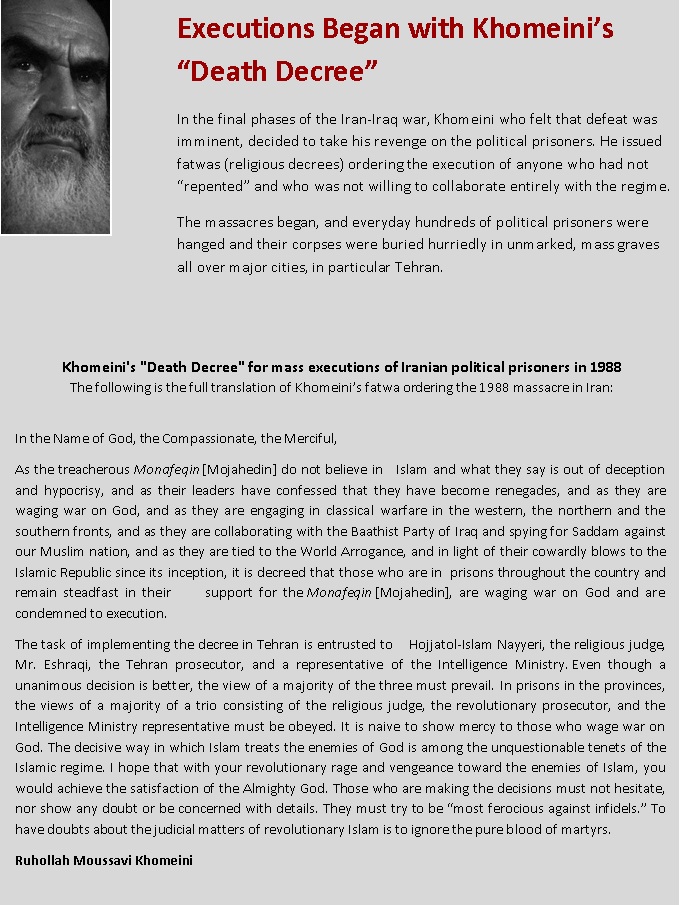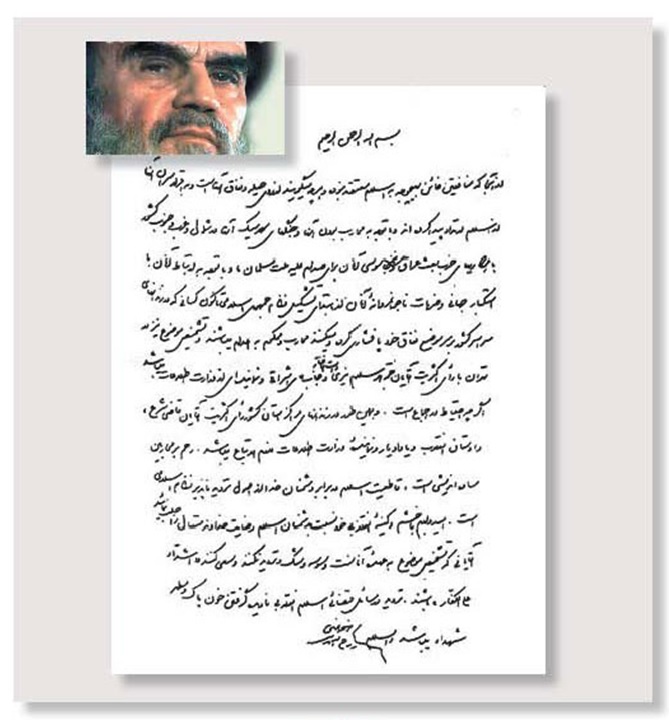 Iran still seeks to erase the "1988 prison massacre"from memories, 25 years on           
29 August 2013
Amnesty International:
In 2008, twenty years after the massacre Amnesty International "renewed its call for those responsible for the 'prison massacre' to be held accountable. There should be no impunity for such gross human rights violations, regardless of when they were committed."
Amnesty added: "Those responsible for the killings – one of the worst abuses to be committed in Iran – should be prosecuted and tried before a regularly and legally constituted court and with all necessary procedural guarantees, in accordance with international fair trial standards."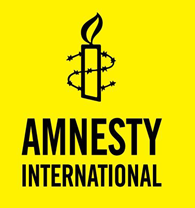 Amnesty International:
Iran: Desecrating mass grave site would destroy crucial forensic evidence
June 2, 2017
The desecration of a mass grave site in Ahvaz, southern Iran that contains the remains of at least 44 people who were extra-judicially executed would destroy vital forensic evidence and scupper opportunities for justice for the mass prisoner killings that took place across the country in 1988, said Amnesty International and Justice for Iran.
Photo and video evidence obtained by the NGO Justice for Iran and reviewed by Amnesty International shows bulldozers working on a construction project directly alongside the mass grave site in Ahvaz, as well as piles of dirt and construction debris surrounding the grave.
Although the Iranian authorities have made no official announcements about Ahvaz, families learned through a construction worker that the plan is to ultimately raze the concrete block marking the grave site and build over the area.