OIAC Statement
Washington, DC, March 24, 2016: Organization of Iranian American Communities applauds United Nations Human Rights Council decision to extend the mandate of Dr. Ahmed Shaheed, the UN Special Rapporteur on the Situation of Human Rights in Iran.
The U.N. decision is significant because it validates Iranian opposition assertion and U.N.'s own findings that Iran regime still executes minors, with at least 16 juveniles killed in 2015 alone. U.N. Special Rapporteur also confirmed that execution rates in Iran have risen to levels not seen in decades.  In his March 14, 2016 report, Dr. Shaheed highlighted fundamental flaws in the administration of criminal justice in Iran with laws that expressly violate the Iranian regime's legal obligations under international law.
U.N. oversight and reporting on Iran rights record should remain critical components of the international community's efforts in holding its leaders accountable.  For over 35 years, these unelected few have run Iranian regime by exercising Sharia law and subjecting the Iranian people to most barbaric and medieval punishments, often without affording the accused access to due process.  The extremist mullahs in Tehran have thus maintained their grip on power within Iran and exported fundamentalist Islam abroad.
We call on U.N. Chartered nations as well as Governmental and Non-Governmental Organizations to support Dr. Shaheed in carrying out his U.N mandate.  We welcome these international efforts and trust that they will promote transparency in Iran and help empower the Iranian people in achieving their democratic aspirations.

U.N. will continue monitoring human rights in Iran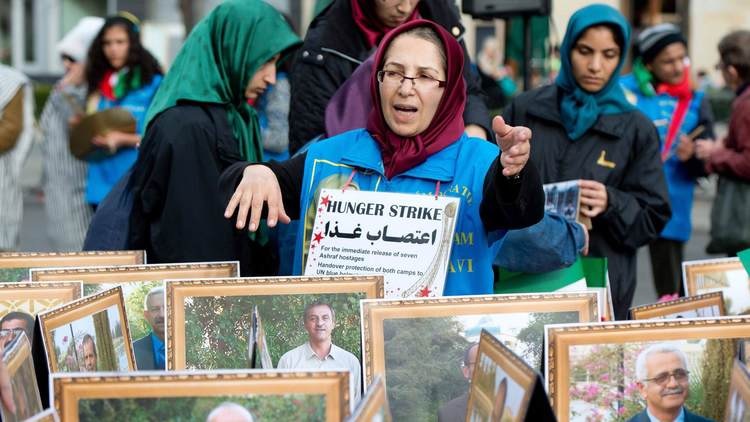 Iranians in exile from the Iranian National Opposition in Germany demonstrate against Iran's human rights violations, in particular against executions, in 2013 in Berlin. (Maurizio Gambarini / European Pressphoto Agency)
  Ann M. SimmonsContact Reporter
March 23, 2016
The United Nations Human Rights Council voted Wednesday to renew its agreement with a special rapporteur to continue monitoring and reporting on the human rights situation in Iran.
The resolution was adopted with 20 countries voting to extend the mandate of Ahmed Shaheed, while 15 nations opposed the mandate, and 11 abstained.
Among the countries that voted against extending the mandate were Russia, China, Cuba and South Africa.
In a statement, UN Watch, a Geneva-based human rights group, called the adoption of the resolution "a concrete sign that the international community recognizes that human rights violations are ongoing in the country and stands in solidarity with the numerous victims in Iran."
The transgressions Iran is accused of include restrictions on freedom of expression and assembly, the arbitrary detention of journalists and political and civic figures, discrimination against ethnic and religious minorities, and violence against women and the suppression of their rights, advocates said. Last year, executions increased to the highest number in
more than two decades, according to Shaheed's most recent report.
"Change won't happen overnight, as the Iranian state is based on principles that discriminate against women, ethnic and religious minorities, gays and numerous others," UN Watch said. "Yet this important step keeps the item prominently on the international agenda and gives hope to oppressed citizens in Iran."
Iran has been critical of the rapporteur's reports, calling them "biased and politically motivated" and suggesting that they were intended to support continued international sanctions against the Islamic Republic.
Javad Larijani, secretary of Iran's own Human Rights Council, was specifically critical of complaints about Iran's administration of the death penalty, and he defended the use of capital punishment for terrorism and drug-related offenses.
"Iran has a clear stance on terrorism and will not tolerate any act of terror," Larijani said in a statement earlier this month quoted by the semi-official FARS news agency.
With respect to drug crimes, he said, "The views of our country are very clear, and the world should reward us for fighting against these convicts, because we are largely paying this price on the behalf of the West."
Shaheed was appointed special rapporteur for human rights in Iran in 2011. Tehran has never allowed him to visit the country.
For more news on global sustainability, go to our Global Development Watch page:
Human rights in Iran are still atrocious
While Iran reopens to the West, repression still prevails at home
Mar 24th 2016 | Middle East and Africa
DESPITE a lessening of tension between Iran's government and the West since last year's agreement over the country's nuclear programme, draconian punishments of criminals and dissidents persist, according to a report by the UN's Human Rights Council. At least 966 executions are said to have been carried out in 2015, one of the highest rates in the world, up from 750 in 2014. Some sources, according to the report, put the figure above 1,000. It notes that 25 people were executed in one day last year in a prison close to Tehran, the capital. It particularly laments the execution of juveniles; at least 16 have been hanged in the past two years for crimes committed when they were under 18; at least 160 young offenders are on death row.
The report also criticises Iran for inflicting corporal punishment on alleged miscreants, with amputations of limbs, floggings (often in public), stoning and blinding. At least 47 executions were carried out in public, says the UN council, often with children present. The report says that "no improvement was observed regarding the situation of religious and ethnic minorities."
The authorities point out that most of the executions were for drug-related crimes, including armed drug-smuggling. But the council's report, presented by Ahmed Shaheed, a former foreign minister of the Maldives who is the UN's special rapporteur for human rights in Iran, notes that the death penalty can be imposed for minor drug-related offences, such as possession of only 30 grams of amphetamines. Moreover, a large number of those executed are foreigners, who sometimes have little chance to defend themselves in court, for instance because they lack proper facilities for translation. Around 1,200 Afghans are said to be on death row, many for drug offences.
At least five instances of amputations were cited and three of blinding; in one instance, a left eye and a right ear were surgically removed under the law of qisas, whereby a person can insist that a tit-for-tat punishment be imposed on a wrongdoer to match the original crime. Under the Islamic Penal Code that came into force in June 2013, the right of the aggrieved to insist on such retribution cannot be overruled by the judiciary.
At least 47 political journalists and social-media activists are said to be behind bars, as of January 2016. Mehdi Mousavi, a poet, was sentenced to 11 years in prison and 99 lashes for "insulting the sacred" in his verses. More than 272 internet cafes were reportedly closed in 2015 for being a "threat to societal norms and values". Mir Hosein Mousavi and Mehdi Karroubi, the two leaders of the Green Movement who led the street protests in 2009 after what they said was a stolen election, have been under house arrest for more than five years.
Among those discriminated against for holding heterodox religious views, the Bahai community continues particularly to suffer. Bahai cemeteries were desecrated and the state-owned media spread false statements about Bahai beliefs and practices. At the end of last year, 80 Bahais were reported to be in prison "solely for their religious beliefs", including seven leaders arrested in 2008 who are serving ten-year sentences on such charges as espionage, "propaganda against the regime" and "spreading corruption on earth". For the same supposed crime, the death penalty was imposed on Muhammad Ali Taheri, the founder of a spiritual movement that promotes alternative medical theories, for establishing a "diversionary cult".
The UN report also bemoans restrictions on women. It cites the head of Tehran's traffic police saying in December last year that in the previous eight months there had been 40,000 cases of women being stopped for "bad hijab"—driving without the required covering of hair. Offenders' vehicles are often seized and their owners taken to court.
On the broad front of women's rights, the document notes that only 3.1% of parliamentarians are women; there are apparently no female judges or members of the two highest bodies in the land, the Guardian Council and the Expediency Council. It laments that the minimum age of marriage is still 13; a bride can be younger if her father or a court gives permission.
Mr Shaheed holds out some hope that the new parliament elected last month will improve Iran's human rights record and "re-examine laws that have contributed to a staggering execution rate". He also applauds "recent amendments to the country's criminal procedure code that expand rights for the accused". But his report notes warily that ten Iranians who helped research the previous Human Rights Council's report suffered reprisals as a consequence.