Monday, 18 January 2016
The "Padideh Shandiz" institute is one of the dozens of financial firms founded in different cities by senior Iranian regime officials in order to plunder the Iranian people's very little savings and assets.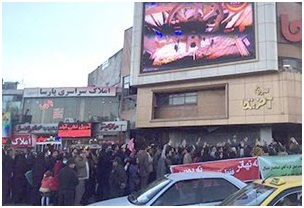 Padideh Shandiz, which has close links to the regime's Islamic Revolutionary Guards Corps, has billed itself as an international tourism development company active in restaurants, tourism and construction and lured investors by promising huge returns on their shares in projects in Shandiz, a suburb of the city of Mashhad, and in the island resort of Kish. Its advertising campaign on state television was taken as reassurance that the regime backed the company.
In January 2015, a huge "fraud" worth $34.3 billion came to light in the company which is believed to have manipulated its shares. Many people who had invested in the company went bankrupt soon after.
Padideh Shandiz is reported to have had a third share in Iranian airports advertisements, as well as paying 5.1% of the state-broadcaster IRIB's income from advertisements.
A large number of victims of a major financial scam by a state-affiliated company in Iran held a protest from 10 am on Monday, January 18th outside the regime's public prosecutor's office in Mashhad, Iran's second largest city, demanding their rights.
The protesters demanded that their money, plundered as part of the Padideh Shandiz investment scam, be returned, saying that the company's officials enjoy the support of the mullahs' judicial and intelligence apparatus.
During the past few weeks a large number of people in Mashhad who have lost their property to this institute have staged numerous rallies and demonstrations. Many protesters have been wounded and arrested by the repressive state security forces.
During the past two weeks in addition to the people of Mashhad thousands of people in the cities of Tehran, Isfahan, Shiraz, Kerman, Yazd, Rasht and Karaj have staged rallies expressing their abhorrence and protests at such plundering and demanding their stolen money and property be returned.