OIAC House Congressional Briefing
Iran Election: Status quo or Change
Rayburn Building-Room 2255
On Tuesday, May 16, 2017, Organization of Iranian American Communities (OIAC), with the help of Congressman Thomas A. Garrett Jr. (VA-05) conducted a panel discussion on the impact of Iran's presidential election and U.S. foreign policy.  Entitled "Iran Presidential Election: Status Quo or Change," lawmakers and scholars rejected Iran's May 19 election as a sham exercise which is neither free nor fair and called on the international community and the U.S. to respect & support the democratic demands of the Iranian people.
Held just days before the Iranian presidential election, the event became part of a greater congressional effort to help inform United States policy towards Iran, irrespective of that country's election results.
House Foreign Affairs Committee Chairman, Rep. Ed Royce (R-CA) issued a blistering indictment of Iranian regime election, saying in a statement, "Ayatollah is offering a choice between his handpicked candidates: a hardliner and a hard hardliner.  Regardless of who is elected, Tehran will continue to oppress its people and advance terror and ballistic missile programs that threaten the world.  Iranians deserve better."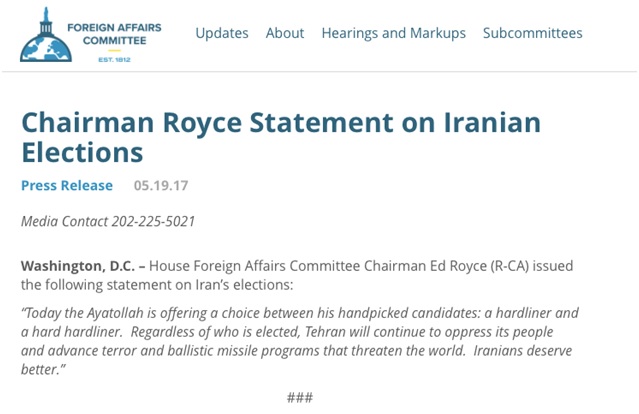 Separately, in a bi-partisan letter to Secretary of State Rex Tillerson, two senior House Foreign Affairs Committee members penned, "Iran's presidential election system is far from free and fair." In the letter, Representative Brad Sherman (D-CA) and Dana Rohrabacher (R-CA) described, "the Iranian people's desire for free elections, freedom of speech, press, and association, the elimination of restrictions based on gender, and the establishment of a non-nuclear and non-belligerent republic in Iran."
At the panel discussion, in addition to Rep. Garrett and congressman Mike Coffman (R-CO), the distinguished policy opinion holders and Iran experts analyzed the Iranian presidential election, the regime's dynamics, and plight of the Iranian people.
OIAC political director, Dr. Majid Sadeghpour thanked Rep. Garrett for facilitating the briefing and welcomed panel participants, the media, and other attendees.  Sadeghpour outlined OIAC mission, goals and said, "Organization of Iranian-American Communities believes democracy and human rights in Iran are imperative to the national security of America and peace in the Middle East and beyond."
In his remarks, Congressman Garrett highlighted the ominous role Iran's Islamic Revolutionary Guards (IRGC) play in the Middle East.  "As I reviewed the JCPOA," said Rep. Garrett, "I recognized what all of you do and that is that obviously the long pole in the tent and maintaining the power of a totalitarian regime, as the IRGC, through which most of, or much of the monies in the Iranian economy funnel."  Congressman Garrett also addressed the Iranian election, lamenting the "lost opportunity" following the 2009 presidential election & related uprisings.  "We can avoid things like the opportunity lost in the 2009…where the United States sat idly by, and perhaps failed to provide the proper encouragement for the Iranian people to take for themselves that which I believe in my very heart they desire most, and that is democracy and self determination," Mr. Garrett said.
Congressman Mike Coffman stressed the need for the United States to promote democratic values and noted, "we want the best for the Iranian people and so we will continue to work in that direction."   Dr. Ivan Sascha Sheehan then spoke of the ultimate & destructive power yielded by Iran's supreme leader Ali Khamenei.  "Without fundamental change in Iran," Dr. Sheehan remarked, "the world will see more terrorism exported abroad and more violence directed at Iranians at home.  The world will get more ballistic missile tests, more covert arms transfers, more elicit nuclear activities, and more human rights abuses."  "Election is a tool designed to achieve the appearance of legitimacy while reinforcing the regime's hold on power," commented Dr. Sheehan who moderated the discussions.
Mr. Alireza Jafarzadeh, the Deputy Director of Washington offices of the National Council of Resistance of Iran (NCRI), underscored the need for an informed United States response to the outcome of the elections in Iran. He characterized Iranian regime, as a mafia like entity in which different factions fight for bigger pieces of the same illegitimate prize. The United States, he said, must "fully understand, especially after 38 years, that we're not talking about different factions with different tendencies."
Dr. Ilan Berman rejected the notion that Iranian elections will result in meaningful change in the clerical regime's domestic or foreign policy posture. "The faces may change, the names may change, and you sort of see that a little bit in the current cycle, but every person, regardless of what they say, is part of a broad continuum of Khamenei's thought."
"The notion that somehow he's a moderate is preposterous," also said Mr. Lee Smith of current Iranian president Hassan Rouhani.  He stressed the need for the United States to consider Iran's deeds, not its words or sham presidential election.  "If people want to know what this regime looks like," he said, "look at Syria, look at Yemen, look at what's happening in the Persian Gulf, look at what's happening in the Red Sea.  Look at how much money the IRGC makes.  Look at what Hezbollah is doing around the world, whether it's Latin American, whether it's North America, whether it's smuggling cigarettes, whether it's pushing drugs, whether it's human trafficking.  That's what the regime looks like."
The event was almost covered in its entirety by the Voice of America Persian Language Television network.  Other media outlets covering the event included the Saudi's Al-Arabia TV network & Iranian Opposition's Iran-TV.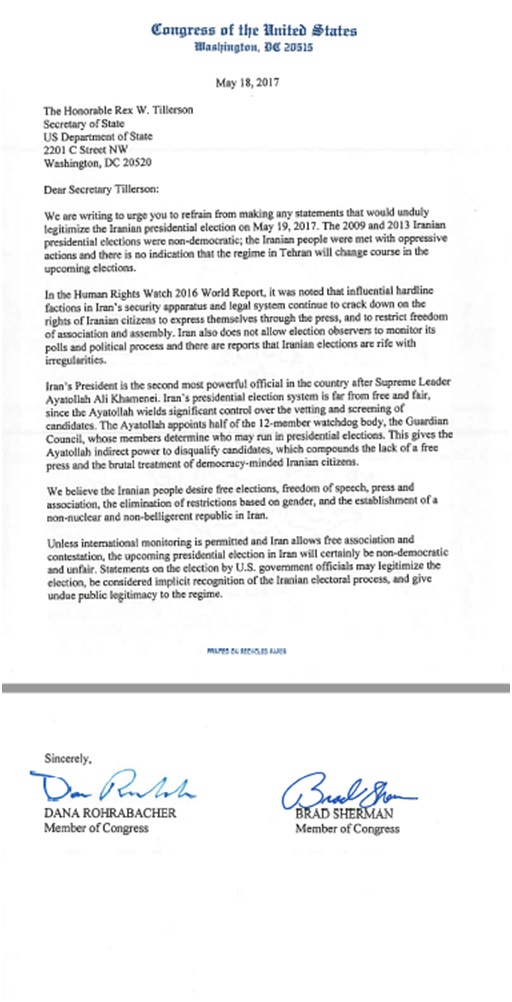 "But real transformation in Iran will require a collapse of the Islamic Republic"
By Editorial Board May 18 at 7:51 PM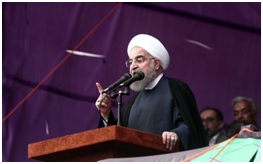 IRAN'S PRESIDENTIAL election on Friday is a familiar contest between a relative moderate, the incumbent Hassan Rouhani, and a hard-line conservative backed by the Revolutionary Guard and, it seems, Supreme Leader Ayatollah Ali Khamenei. It's not correct to say the difference between them is insignificant: Mr. Rouhani, embraced by Iran's educated middle class, favors more relaxed enforcement of Islamic rule at home and engagement with Western investors abroad, while opponent Ebrahim Raisi is a populist who rails against foreign influence and predicts the "Zionist regime" of Israel will be "wiped . . . from Jerusalem."
From the U.S. point of view, however, it's not clear that there's a side to root for in what will be the 12th presidential election since the 1979 revolution. Both candidates have promised to stick with the 2015 deal that froze Iran's production of enriched uranium and other nuclear activities for about a decade. And both appear committed to Iran's aggressive bid for hegemony in the Middle East by other means, including military interventions in Iraq and Syria, support for rebels in Yemen and harassment of U.S. ships in the Persian Gulf.
Mr. Rouhani's bet has been that Iran can wage those wars while simultaneously boosting its economy with lucrative investment and trade deals. So far he's been half-right: Iran has doubled its oil exports since the nuclear deal, boosting economic growth to more than 7 percent. But big Western banks and investors have largely stayed out of Tehran, in part because of lingering U.S. sanctions. The government has consequently been unable to finance big infrastructure projects, and ordinary Iranians have seen few benefits. Unemployment remains stuck at more than 12 percent.
The president has meanwhile had no luck reining in the judiciary or Revolutionary Guard at home. At least four U.S. citizens, along with several other Westerners, are being held as de facto hostages by these factions, further depressing the appetite of would-be investors. Though he has been endorsed by the leaders of the 2009 Green Movement, Mr. Rouhani failed to deliver on his promise to have those leaders released from years of house arrest.
The 2009 uprising was triggered by the apparent ma­nipu­la­tion of a presidential election. This year, Iranians appear unlikely to surge into the streets even if Mr. Khamenei fixes the vote in order to install Mr. Raisi, who is rumored to be a potential successor to the 77-year-old supreme leader. Mr. Rouhani does not offer genuine democratic change and thus lacks the popular support garnered by 2009 candidate Mir Hossein Mousavi or former president Mohammad Khatami.
Some observers of Iran calculate that the West would be better off with a victory by Mr. Raisi, who would likely return Iran to international isolation and fuel domestic discontent. The nuclear deal was essentially a bet by the United States that Iran would change over a decade and lose its appetite to pursue nuclear weapons. The Obama administration supposed that the kind of economic opening promoted by Mr. Rouhani would bring about that change. But real transformation in Iran will require a collapse of the Islamic Republic. A victory by Mr. Raisi would frustrate Iranians hoping for change in the short term, but maybe bring a reckoning for the regime closer.