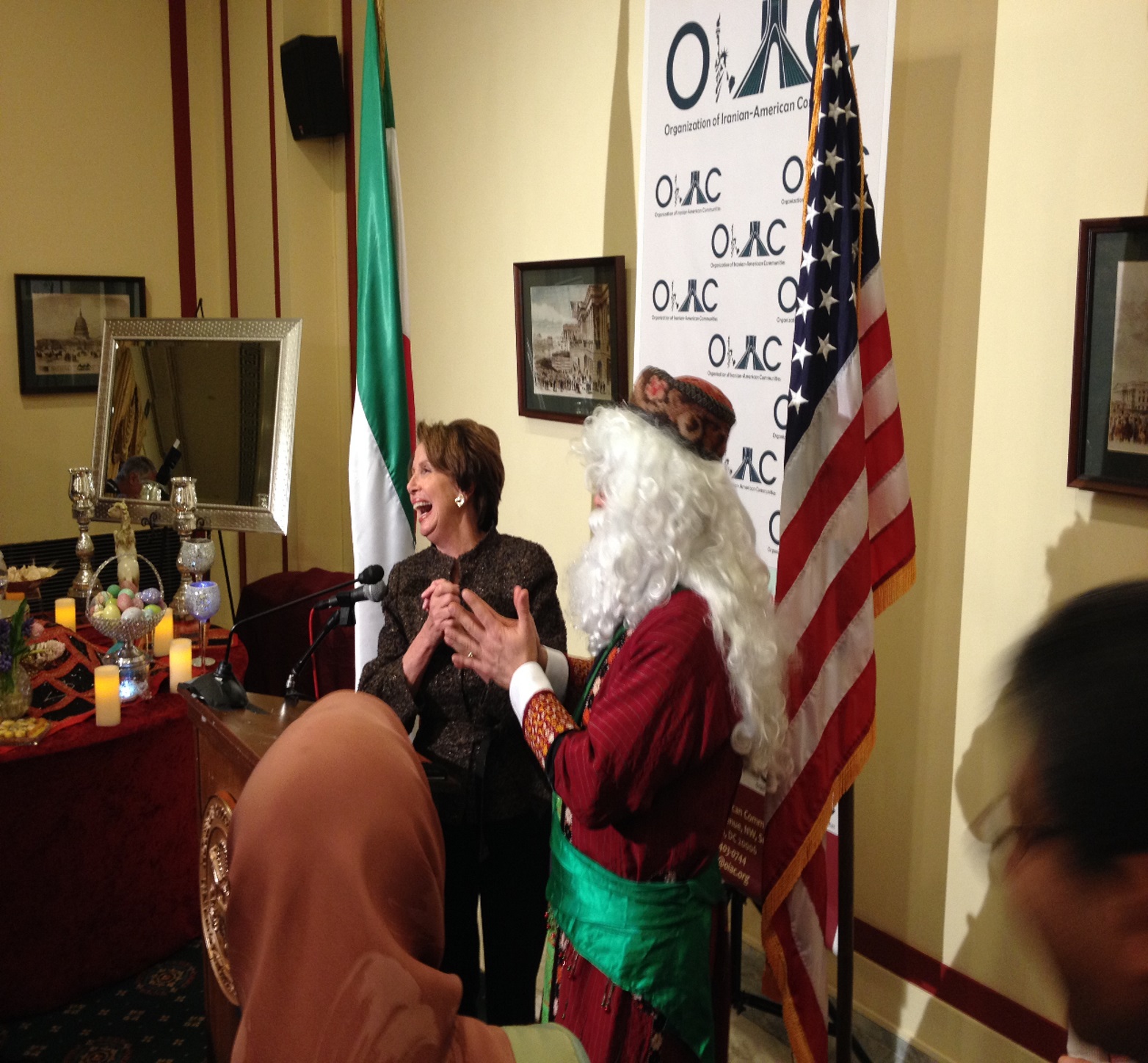 The following is a message from House Minority Leader, Madam Nancy Pelosi (D-CA) on the occasion of Persian New Year (Nowrooz).
Thank you very much for your kind invitation to be here, your lovely introduction, your great reception. I'm here to say happy Nowruz and also to see about the Nowruz Haft-Seen. This looks like a wonderful, wonderful presentation of renewal and spring time, and about the beautiful eggs, the beautiful grass, the fish going around like the globe, all of it so lovely, so lovely, so inspiring; but that's what you all are around the country, inspiring to us. I was recently in Houston, any of our friends from Houston here? No? I met with members of the Iranian-American community there, we talked about (Camp) Liberty, we talked about how we all need to work together to try to make a safe outcome for family members who are there. Anybody from California here? Of course I know that California is blessed with many many Iranian-Americans, most recently we came together around the visit of the Cyrus Cylinder.
Many people came from all over the country, and what I learned from them that night, the night of the opening, was that the largest number of immigrants into California is Iranian-Americans. So what a blessing that is to our country, and to our community, and I know that Cyrus is here from Maryland, where is our friend from Maryland? All the way back there, hi Cyrus how are you? I'm originally from Maryland so… (inaudible). Thank you; from coast to coast our country has the benefit of the energy, of the dynamism, of the intellectual contribution of the pride taken in the Iranian heritage, the strength of your patriotism to America.
That's always been the solid combination, no matter who the immigrants are, we respect our heritage, we love America. And because we love our own heritage, we understand how other people love their heritage. So I'm happy to be here around this season, I met Uncle Nowruz, he told me he was 3,000 years old, could that be right? Was it 5,000 or 3,000 years old? He told me he was secular, cultural, ….(Amoo Nowrouz Speaking). Well I know that because our community, our country, is blessed with so many Iranian-Americans, that some of us, each year come together under one auspices ……another as I said, whether it's the museum for the Cyrus Cylinder, the first human rights document in the history of the world. So let me pay my respects to the cultural, …….Amoo Nowruz  Speaking… Well I was very happy when I came to see the children that were here, the future, and I was very happy to have my picture taken with a large group of the women. I'm happy to be here with each and every one of you. Happy Nowruz.