To support #IranProtests, and with the aim to update you on the latest, we start sending you the BOI- #IranProtests daily Update.

Iran Protests Updates
Eric Shawn reports- In Iran, 'death to the dictator!'
Fox News
EXCLUSIVE – A leaked report provided to Fox News shows how Iran's Supreme Leader Ayatollah Ali Khamenei met with political leaders and heads of the country's security forces to discuss how to tamp down on the deadly nationwide protests.
Eric Shawn reports: In Iran, 'death to the dictator!'

Anti-government Protests Spread Quickly Across Iran
CBS News
Iran's supreme leader accused the country's "enemies" of causing the largest protests against the Islamic regime in nearly a decade. Nine more people died in the violence, and so far, the demonstrations have claimed at least 20 lives. More than 400 have been arrested.
Anti-government protests spread quickly across Iran
Iran's Anti-government Protests Spread to Major Cities
Euro News
Iran's anti-government protests spread to major cities
Death Toll Climbs in Iran's Anti-Government Protests
Bloomberg News
Jan.02 — The death toll in Iran has climbed as security forces clashed with demonstrators voicing their discontent with the country's leaders. Bloomberg's Golnar Motevalli reports on "Bloomberg Daybreak: Europe."
Death Toll Climbs in Iran's Anti-Government Protests
Iran Protests Articles and Views.
Iranians defy regime as wave of protest spreads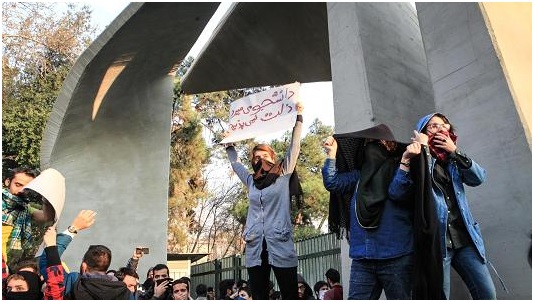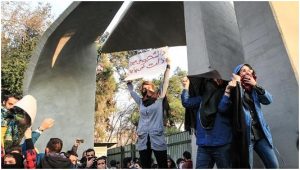 OIAC
Older people came out to protest at the plundering of their pensions. Youths vented fury at the high unemployment rate. Others demanded to know why their government was spending billions of pounds each year fighting in Syria while they struggled to pay the rent.
This cauldron of simmering resentment boiled over into a fourth day of mass protests against the regime in Iran yesterday, in more than 40 cities and towns. They were apparently undeterred by the threat of an "iron fist" issued earlier in the day by the head of the Revolutionary Guard, charged with protecting Iran's Islamic theocracy.
Iran: Protesters Decry Economic Mismanagement, But Also Express Broader Frustrations
OIAC
Throughout the day on Thursday, reports emerged from various cities in Iran regarding mass protests against high rates of inflations, rising food prices, and a general trend of economic mismanagement. The primary demonstrations took place in Mashhad, the country's second most populous city, but others were reported in Neyshabour, Kashmar, Birjand, Shahroud, Noushahr, and Yazd, cities that span from central to north and northeastern Iran.
The latest protests were also reportedly an extension of incidents that had taken place earlier in the week, starting in the city of Isfahan after the announcement that 27,000 workers had been fired due to the recent bankruptcies of a number of firms. Such developments contribute to an economic situation that is dire for much of the Iranian population, in spite of the fact that the 2015 nuclear agreement with six world powers has returned large quantities of frozen assets to the Islamic Republic, as well as bringing new business to a variety of government-linked firms.
https://www.youtube.com/watch?v=W8vNH0Giw3M&feature=youtu.be
Please, 
Your donation will help OIAC advocates for a democratic, secular and non-nuclear government in Iran. Founded on the respect for human rights, gender equality, religious and ethnic tolerance, as wells as social, economic justice, and security for America. Our goal is to organize Iranian-American communities in the United States to promote these values.
Thank You,