OIAC-June 2, 2016: Evin prison authorities have been refusing to provide female Christian prisoner with much needed medical care in the last few months.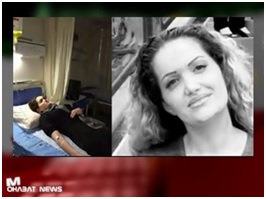 Reports received from Iran indicate Christian prisoner, Maryam (Nasim) Naghash Zargaran has gone on a hunger strike to protest the unfair refusal of authorities to provide her with critical medical attention.
In addition to medical concerns, Ms. Zargaran is concerned over unfair handling of her case by Iranian judicial authorities. She started her hunger strike on May 25, 2016.
She is serving her sentence in the women's ward of the notorious Evin prison. As part of her protest she has also refused to accept visitors, which prompted her inmates to do the same in her support.
Despite her dire need for professional medical care, prison authorities have refused to send her to a hospital outside prison facilities for proper care. Ms. Zargaran underwent a heart surgery about nine years ago and needs frequent medical attention.
One of her family members said, "Maryam hasn't left her bed in four days. She is burning with fever and has been on hunger strike to raise her protest against prison authorities' indifference toward her health, her request for temporary release or leave which every prisoner is entitled to."
This family member continued, "She is suffering from serious health issues. Before going on hunger strike she had lost 25 KG and her health issues had intensified. Authorities do not show the slightest concern over Maryam's health. In addition, she is suffering from depression and takes depression medications for it."
This source also mentioned she had filed an appeal which has been dropped from her case without her knowledge.
Maryam Naghash Zargaran is a 36 year old Christian believer who was arrested in the winter of 2013 for her faith and arbitrarily charged with "action against national security". She was summoned to the intelligence office on January 6, 2013, where she was put under temporary arrest for three days. After initial interrogations, she was transferred to Evin prison and her case was sent to the Revolutionary Court.
An initial court in Branch 28 of the Revolutionary Courts, sentenced her to four years in prison for "propagating against the Islamic regime and collusion intended to harm national security". Later, an appeals court approved this sentence. Ms. Zargaran was instructed to report to Evin prison to serve her sentence. She reported to Evin prison on July 15, 2013, and has remained there ever since.
Iranian judicial and security authorities have repeatedly tried to make up false allegations against Christian converts to pressure them and to distort public opinion about them. Most of these false allegations are political and argue that house-churches are actually political groups which are in contact with or spy for foreign countries like England and Israel. In most of the Christian cases, Iranian authorities try to downplay the religious aspect of these cases and make them appear as political cases, in order to unmercifully sentence them and avoid international pressure.
Source: Article printed from Mohabat News