May 2, 2016
 


European companies flocking back to Iran are doing so without their favored lenders at their side.
Less than two years after BNP Paribas SA agreed to pay a record $9 billion U.S. fine in part for dealings with Iran, many of the continent's biggest banks remain unwilling to go anywhere near Iran-related business for fear that they will run afoul of remaining U.S. sanctions on the country. That's opened the way for Chinese and Persian Gulf lenders, as well as European institutions such as Belgium's KBC Groep NV, to grab a slice of the business of funding companies' investments in Iran.
The reluctance adds a complication for manufacturers from Airbus Group SE to PSA Group, the maker of Peugeot cars, as they seek to capitalize on growth in Iran. The funding issue has become a financial diplomacy hot-spot. In France, the government, worried that companies may lose exports, has started talks with the U.S. Treasury's Office of Foreign Assets Control to get a commitment that banks can do business without incurring legal woes, two people with knowledge of the matter said.
"Banks want the maximum certainty," said Tanguy Coatmellec, a Dubai-based partner at Ernst & Young's financial-services advisory group. "A big part of the risk is really the U.S. political position over the long term. Either financing methods will be found or these contracts won't be finalized."
Nuclear Sanctions
France's Societe Generale SA, Germany's Deutsche Bank AG, Zurich-based Credit Suisse Group AG, ING Groep NV in the Netherlands and the U.K.'s Standard Chartered Plc are among the big European banks that say they're generally not prepared to do business in Iran yet.
The U.S., Russia and European countries in January lifted a series of economic sanctions in exchange for Iran's agreement to curb its nuclear activities. Still, significant restrictions remain on Iran to combat terrorism support, human rights abuses and ballistic-missile development. A crucial ban remains on dollar-denominated trades related to Iran, scaring away most large European banks.
Iranian officials are pushing the U.S. to reassure banks on doing business with Iran. Iranian Central Bank Governor Valiollah Seif told Bloomberg Television last month that the U.S. Treasury's OFAC should issue guidelines encouraging European banks to be more receptive to Iran.
Clarifying 'Confusion'
The U.S. will work to clarify the existing "confusion" among some foreign banks, Secretary of State John Kerry said April 22, before a meeting with Iranian Foreign Minister Mohammad Javad Zarif. He stopped short of saying the Treasury will issue guidance elaborating on permitted transactions, encouraging banks instead to reach out with questions. "When in doubt, ask," he said.
U.S. officials have been holding meetings around the globe this year with government representatives and bank executives in more than a dozen countries to discuss concerns linked to sanctions relief, according to a Treasury spokesperson. The U.S. Treasury and Department of State have reached out to French government officials and executives, according to the spokesperson, who didn't comment on possible assurances made.
Most Aggressive
French companies have been among the most aggressive in pursuing Iranian deals. More than a dozen top managers for companies from builder Vinci SA to Aeroports de Paris SA flew last month to Tehran with Transport Minister Alain Vidalies as Air France restarted its Iranian route after an eight-year break. While French businesses this year have pledged more than $30 billion of investments in Iran, it remains unclear how recent business agreements will get bank funding.
Removing such barriers is among the topics up for discussion at the Europe-Iran Forum, a conference that opened in Zurich on Tuesday.
"The situation today is still a bit premature to have a position there," BNP Paribas Chief Financial Officer Lars Machenil said Tuesday in a Bloomberg Television interview when asked about the bank's plans to finance companies signing deals in Iran. Clarification will be needed over conditions for financing Iran-related business. he said. Companies "can go with their own financing" or seek other ways of funding including local financing, he said.
'Strong Risk'
Societe Generale doesn't plan to restart activities in Iran given the uncertainties that remain, the bank said in an e-mailed statement Thursday. "The differences between European and American regulations lead to strong operational risks for financial institutions," the bank said.
Executives from large European lenders have been mostly absent from recent business delegations to Tehran. In a rare trip by a banking executive, Mediobanca SpA CEO Alberto Nagel visited Tehran in April as part of an Italian group led by Prime Minister Matteo Renzi. The country's biggest publicly-traded investment bank was also among a group of Italy-based lenders, which included Credit Suisse Group AG's Italian unit, that sent a delegation to Iran in November.
U.S. Fines
Smaller institutions are picking up some of the slack. KBC, the Belgian lender, recently decided to support "well-established customers" from its home European markets "in their genuine trade with Iran, respecting all U.S. and EU regulation," the bank said by e-mail. Bank Muscat SAOG, an Omani lender, said April 5 that it received all regulatory approvals to open a representative office in Iran later this year.
Given the size of the fines that the U.S. has imposed in recent years, large banks with dollar operations prefer not to re-enter the Iranian market as long as the identity of the next U.S. president is unclear and given that Republican candidates threaten to revise the nuclear accord, Ernst & Young's Coatmellec said. "It's going to be hard to finance big massive projects, while small ones could possibly find funding,'' he said.
In addition to the BNP fine, ING agreed to pay $619 million in 2012 to settle U.S. charges it falsified financial records to bypass sanctions on countries including Iran and Cuba, while Commerzbank AG agreed to pay $1.45 billion in 2015 in an investigation into whether it breached U.S. sanctions against countries including Iran. Credit Suisse settled an Iran probe for $536 million in 2009.
Airbus's Progress
Oil and aviation deals usually get financing in dollars with large banks syndicating, or sharing, risks. This means the ban on dollar transactions remains a hurdle for many recent deals like Iran's January agreement to buy 118 Airbus planes worth $27 billion.
"We are making good progress," Airbus Chief Financial Officer Harald Wilhelm said on a call Thursday. "Given the strong U.S. dollar content in our aircraft, we have to apply for OFAC license and so we are working on that" and the plane-maker is also working on how to "ensure financing," he said.
Ali Abedzadeh, director of Iran's Civil Aviation Organization, said in an April 18 interview that some European and Asian institutions "are ready to work with us'' on financing the Airbus deal. "We want to try and do this via the private sector. We're not very keen on using government trade finance routes,'' he said.

Congressmen: Boeing deal with Iran would turn airplanes into 'warplanes'
Published May 03, 2016 FoxNews.com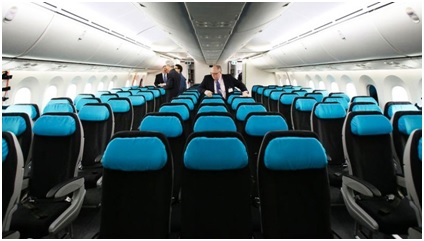 Any deal between Boeing and Iran "would effectively subsidize the world's leading state sponsor of terrorism" and would turn American airplanes into Iranian "warplanes," according to three members of Congress in a strongly-worded letter sent to the aircraft giant Monday.
The letter to Boeing CEO Dennis Muilenburg implores the company to refrain from a reported deal with Tehran to supply planes and other services. Under the terms of the Iran nuke deal, commercial aircraft can be sold to Iran, a concession made "at the behest of Tehran," the letter said. The Islamic Republic's ruling regime holds a majority ownership stake in the country's national airline, Iran Air.
"This is not about doing what is legal – it is about doing what is right," the letter said.
The authors, Illinois Republican members of Congress Peter Roskam, Bob Dold and Randy Hultgren, repeatedly cite Iran's well-documented links to terror financing and allege that passenger air flights have played a particular role in Iran being able to supply deadly weapons – such as rockets or missiles – to notorious groups.
"We urge you not to be complicit in the likely conversion of Boeing aircraft to IRGC warplanes," the letter said, using an acronym for the Islamic Revolutionary Guard Corps.
I don't doubt the legality of the sale – but just because it's legal to subsidize Iranian terror, it doesn't mean it's the right thing to do
Roskam, the Ways and Means Oversight chairman, has been particularly vocal in his opposition to American companies conducting business with Iran. Seeking to pressure Airbus into scuttling a $25 billion deal to sell 118 planes to Iran, Roskam spoke with leading European media outlets last week to express why he believed the decision was unwise. Roskam on Friday introduced an amendment to the National Defense Authorization Act which would prohibit the Department of Defense from awarding contracts to any entity that does business with Iran. Roskam is also the author of a March 31 opinion piece for the Wall Street Journal, writing that businesses "should not be tempted" to deal with "a dangerous geopolitical foe."
Boeing is not alone in its interest in Iranian ventures. General Electric Co., among others, is also reportedly exploring opportunities.
"Should any agreements be reached at some future point, they would be contingent on the approval of the U.S. Government," Boeing said in a statement in April.
While any future agreement may be legal to enact – and certainly lucrative to Boeing – Roskam, Dold and Hultgren warn Boeing's board, which meets this week in Chicago, that an Iranian deal is akin to supporting tyranny and terror.
"The greatest beneficiaries of any potential aircraft sale to Iran would be the Islamic Republic's despotic leaders," the letter said.