Originally Published in the Denver Post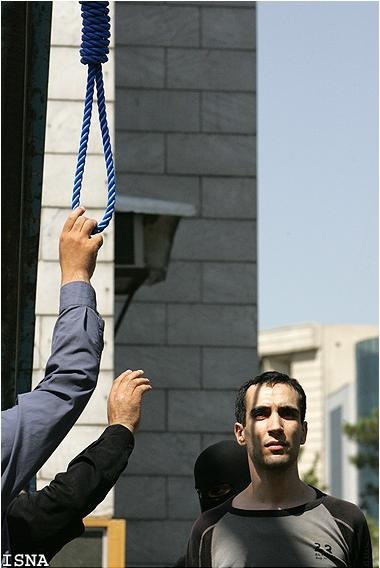 By Anahita K. Sami
The world has seen nothing like it. When Majid Kavosifar was hanged in public in Tehran for killing criminal judge Hassan Moghadas, no one expected to see the expression they saw on his face the day of his execution.
As Kavosifar was jostled through the crowd by the regime's demonic henchmen in ski masks – and even as he was hoisted onto the platform that he was to be hanged from – he wore a triumphant, almost joyful smile on his face. If there were ever an image that qualified for "Is there something wrong with this picture?" it would be this one.
Hanging in public serves the purpose of quelling dissent and evoking fear for Iran's people. The recent wave of hangings in Iran has proven once again that many of those who are hanged under the pretext of social crimes are indeed people who are fed up with the unjust Iranian regime and are taking matters into their own hands.
Most of the public images of hangings in Iran that have taken place normally show a victim with a much different demeanor than that of Majid. Sullen eyes that speak of endless pain, faces blank with fear, and for the women, dark cloaks, chadors that enshroud their bodies and a blindfold to disguise their anguish.
This scene has become all too familiar, especially since the Iranian regime has stepped up its public executions to horrifying degrees. On July 22, the Iranian regime hanged 12 people simultaneously, and several other hangings took place in July all over the country, including another group hanging in Azerbaijan.
In a televised interview regarding the group hangings, Ahmad Reza Radan, the commander of Tehran's police force, stated that, "The response to those who stand firm against the Iranian regime and its practices is execution."
In Iran, legal procedures to execute the most outspoken against the regime are often expedited or simply ignored. Such was the case with Atefeh Rajabi, the 16-year-old girl who was hanged in Neka. Her case was expedited to lightening speeds. In Iran, the judiciary and the government are one and the same, thus leading to dangerous exploitations of the law simply for political purposes.
Majid Kavosifar and his uncle, Hossein Kavosifar, were both hanged for killing Moghadas. They had collaborated and confessed to committing the act. Moghadas was Tehran's assistant chief prosecutor, responsible for signing countless death sentences. Moghadas's role was that of a ruthless cleric who bypassed judicial procedures to ensure the swift death of the Iranian regime's opponents.
Tehran's public prosecutor, Saeed Mortazavi, did not allow the press to interview Majid Kavosifar, 22, and his uncle Hossein, 28, as is typical with public executions. However, after the execution, Mortazavi did state that he had spoken to both men, and that they refused to renounce their actions and expressed no regret for what they did. Majid is reported to have said, "I have reached a level of understanding to know who the corrupt and depraved are."
The price these victims pay for their bravery is the same, and all hangings are equally as disturbing and unjustified. However, the smile that gleamed over Majid's face as he strained to wave goodbye while handcuffed was indeed victorious, and the message was clear: "I defeated you, I am not frightened, and I am honored to die; hanging me will no longer repel resistance."
While Majid's courage is remarkable in the face of such torment and brutality, we can be sure that there will be other fearless Iranian youths ready to give their lives, until that proud smile gives way to the much awaited dawn of change.
Ana K. Sami (ansami@mines.edu) is a master's degree candidate at the Colorado School of Mines and a specialist on human rights and women's issues in Iran.