Human Rights and Democracy in Iran
Reception & Briefing
Wednesday, March 9, 2016
Kennedy Caucus Room 
Russell Senate Office Building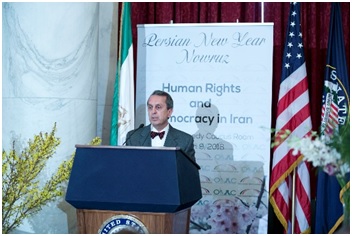 Dr. Firouz Daneshgari,
Professor of Surgery at Case Western Reserve University
On behalf of the Iranian-American Cultural Association of Missouri, many of the representatives are here, and the Organization of Iranian American Communities, I welcome you here in celebrating Nowruz, the most celebrated holiday in Iran.  And fellow Iranians around the world, particularly my brothers and sisters in Camp Liberty who are watching us and those who are now moved to Albania, with whom I have had the privilege to meet many times and I look forward to my next visit.
During these times we think about what is meaning of Nowruz both literally, traditionally, and politically.  Nowruz, means the New Day.  Traditionally it has meant leaving a cold era, and a new beginning.  It has meant blossoms, time of growth—all of which have big roots in our Iranian culture.
It's no coincidence that Nowruz is now the beginning of spring, in harmony with rebirth of earth and nature.
Nowruz is particularly welcomed by the Iranian resistance as it heralds the ending of a cold era and darkness of the mullahs in Iran and by extension, the whole region.  It brings a message of hope for the end in struggle between good and evil.  It represents the victory of the spirit of the sun and a symbol of a still more glorious victory to come.
So in that spirit, I say to everyone here and those who can watch us via the satellite around the world, Nowruz Mobarak, especially to my brothers and sisters in Camp Liberty and in Albania.
Anna Sami, J.D.
Member, Iranian-American communities
Honorable Senators, distinguished Speakers, dear friends, dear Iranians who watch us around the world, particularly the heroes of the Iranian people who are in Camp Liberty and those who are now resettled in Albania.  It is a privilege being here, celebrating Nowruz, the Iranian New Year.  For millions of enchained Iranians spring is a harbinger of hope for a new day, a better future.  Incidentally, we have two things to celebrate today.  Nowruz and International Women's Day, which was marked around the world yesterday.
While the darkness of a brutal theocracy has been cast over Iran, which we call the land of the Lion and Sun, over the past nearly four decades, the Iranian people have not lost hope, nor have they surrendered to this fascist regime.
In the year that passed, Iran was the scene of hundreds of demonstrations, rallies, protests, sit-ins and strikes, large and small throughout the country.  However the most prominent were the protests by the valiant mothers of the incarcerated or executed political prisoners, who braved the risks of assaults, arrest, and imprisonment and gathering in cemeteries and outside Iranian prisons, including the notorious Evin Prison in Tehran, to display their anger at the regime and its henchmen.
Indeed, the women of Iran have defied this regime and its medieval Sharia and practices in every way possible, by rejecting the compulsory hejab, by leading protests and sit-ins, especially in universities and educational settings, by opposing misogynous laws, including the systematic effort to deny them educational opportunities, and by making use of social media and the internet to let the rest of the world know that Iranian women, and men, reject the ruling theocracy in its totality, that, as far as they are concerned, the choice is not between Khamenei and Rouhani, between the hardliners and so-called moderates.
Iranian women and the people of Iran want fundamental change.  They want a system of governance that is truly representative of the population, and not a parliament whose representatives must not only declare heart-felt but operative reliance and allegiance to a turban-wearing despot but must be deemed qualified by an unelected vetting watchdog which is subservient to the Supreme Leader.  They want a government that respects their basic human rights, believe in gender parity, freedom of religion, equality of all ethnicities, rejects the death penalty, and the use and development of nuclear weapons.  A government that instead of inciting terror and violence in neighboring countries is interested in living in peace and harmony with its neighbors.
This is an Iran, which the principal Iranian opposition coalition, the National Council of Resistance of Iran, has been working to bring about for more than three decades.  These ideals and aspirations are underscored in the ten-point plan for the future of Iran articulated by Mrs. Maryam Rajavi, the President-elect of the NCRI.  A woman, whose visionary and forward-looking foresight and her courageous resistance, despite all the risks and costs involved, has served as an inspiration to millions of women in Iran, young and old.
I want to conclude by saying that 37 years of absolute oppression, brainwashing and propaganda have miserably failed to gain the support of the younger generation, those born after the 1979 revolution.  Today, as never before in our history, the young people of Iran want to see this archaic regime toppled.  They want to live free, happy, and prosperous.  They are determined to achieve this goal, which will one day soon come to fruition.
In closing, as a representative of the Iranian American communities in the United States, I want to thank our Senators for standing with the Iranian people as they stand for liberty.  Without the bi-partisan initiatives undertaken by this institution, including unequivocal statements of condemnation of the Iranian regime's egregious human rights abuses and malign influence beyond its borders, the crippling sanctions that compelled the regime to retreat, albeit one step, from its nuclear ambitions, the situation would have been far worse.  Thank you very much.
Chairman John McCain,                  
Senate Armed Services Committee
Well, thank you very much and I'm very honored to be here with former Governor Howard Dean and of course Elaine Chao who is our distinguished former Secretary of Labor and I'm very honored to be in your presence and I'm very grateful for your warm reception.
I believe we may have some good news about Camp Liberty.  Keep your fingers crossed that we may have that and obviously, as a famous baseball player once said, "It isn't over till it's over."  But perhaps we can have an exodus forthcoming to bring those brave people out of harm's way.
I remained concerned as you do, concerning Iranian behavior, latest testing of missiles in violation of the United Nations Security Council resolutions.  The embarrassment, deep embarrassment as a former Navy person over the treatment of American service members in international waters, it's an affront to international law, to hundreds of years of custom, and of course as we all know, a great propaganda move on the part of the ayatollahs.
They published photos of an American, video of an American apologizing.  They showed pictures of Americans on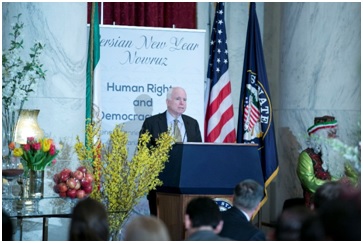 knees with their hands behind their necks.  They also then redecorated these people for quote "bravery."  And then of course as you also know, in Tehran there was people dressed up like Americans being embarrassed.  And frankly I'm outraged that they would do that, but I'm more outraged that the Secretary of State of the United States of America should thank them.  That is disgraceful.  That is absolutely disgraceful, because what we should be doing is imposing sanctions on them for violating international law.
I don't want to take a long time except to say that what you are doing and what you have done for so long is a wonderful thing.  Everybody in this room had something else to do somewhere in America, besides being here today on behalf of the people of Iran who continue to suffer under a brutal regime.  And I'm grateful for that and the people who are suffering are incredibly grateful.
And I promise you—I, first of all, I am an optimist and I'm a student of history, but I promise you someday we will be in a square in Tehran dedicating a statue of a brave young woman who we watched bleed to death in the stones of that square, woman named Neda.  I promise you someday. Thank you.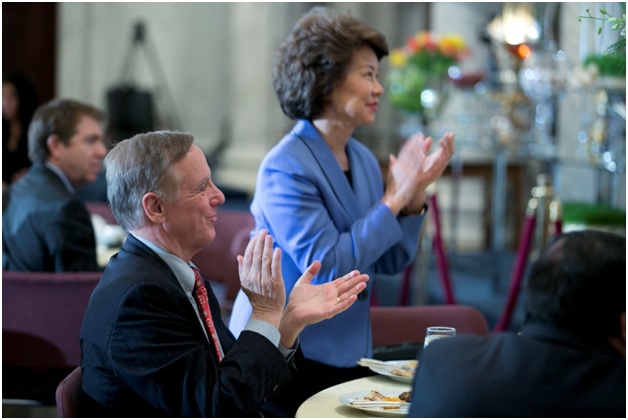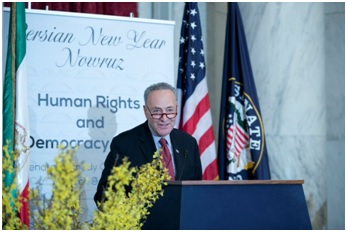 Senator Chuck Schumer, Vice Chair, Democratic Conference, Chair, Senate Democratic Policy Committee
SCHUMER:     Thank you.  Thank you and it is great to be here. First, I want to wish everybody a happy Nowruz and I saw that Uncle Nowruz is there and welcome.  How do you say in Persian "Welcome"?
KhOSH AMADID, Uncle Nowruz. As you know, I am a great admirer of the Persian culture, art, music, history, science has been amazing.  The Iranian culture is beautiful.  The country's a beautiful country, wonderful people, smart, hardworking, well educated, and entrepreneurial.  It's an amazing, amazing place.  And throughout history Persian artists and builders and mathematicians have extended the boundary of human knowledge that every person in every corner of the globe has benefited from.  And Persia often in its history was a place of refuge for people.  Religions and groups of people that were cast aside in their own areas were welcomed by Persia.  I know that from my history as a Jewish person that when our temple was destroyed no one else would take the Jewish people except the Persians under Darius and Cyrus and we don't forget that in our history as well.
Well, unfortunately Persia is no longer around.  It's no longer a place of refuge because of the evil regime that runs Iran and now even the Persian people themselves, the Iranian people themselves are subject the same kind of bad treatment that others who fled to Persia in the early days would go, would experience.  So our goal is if we could set the Iranian people free from the awful dictatorship they have, Iran would be a beacon of strength in a geopolitical sense, help strengthening the United States in the Middle East, but at the same time, the great work of the Persian people—in business, in science, in art—would be liberated and it would benefit the world.
So I am committed to doing everything I can to see that this regime is best case, they're gone.  Second best case, that they're limited in the kinds of bad things they can do, both outside Iran and inside Iran and I express my solidarity top you on this happy day of Nowruz to work with you for those two goals.  Thank you and have a wonderful, wonderful lunch. Thank yoo.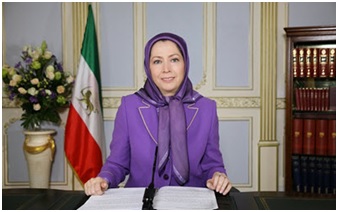 Message of Maryam Rajavi, the president-elect of National Council of Resistance
Distinguished speakers,
Honorable lawmakers,
Dear friends,
As we speak, Iranians across the world are preparing for the arrival of Nowruz, which marks the beginning of spring and the new Iranian year. Nowruz tradition which is a symbol of change, has been celebrated for thousands of years. It symbolizes the end of the gloomy days of winter being replaced with the bright days of spring.
The arrival of the Nowruz and spring for the Iranian people carries this simple but vital message: the spring of freedom is also inevitable. It might be postponed but cannot be stopped.
Nowruz for the Iranian people is a symbol of hope and far more, it heralds the end of theocratic regime and establishment of freedom and democracy.
Our oppressed people truly deserve a new life and a society based on democracy and human rights.
A couple of weeks ago, the mullahs held a so-called election.
But that was a sham, where all candidates had to prove their loyalty to the ruling theocracy.
The election sham was nothing more than a competition between two groups of regime officials in charge of torture, execution and export of terrorism.
A number of Khamenei's representatives, the current Minister of Intelligence and three former Intelligence Ministers, all of whom have been responsible for mass murder and assassinations abroad, were among the candidates endorsed by the so-called moderate faction.
This is what moderate mullahs are all about.
The role of Hashemi Rafsanjani, one of the pillars of this faction, in directing terrorist attacks in 1990s in Argentina, Paris, Vienna, Berlin, Rome, Geneva and Istanbul is common knowledge.
Recently, the head of the regime's Human Rights Council explained that most of the executions are carried out based on a law ratified by a Council chaired by Rafsanjani.
As for Hassan Rouhani, I should recall that in addition to 2,300 executions during his tenure, two deadly assaults were carried out against Camps Ashraf and Liberty.
He is the head of the Supreme National Security Council and no such attacks could be launched without the Council's approval.
During his term, the mullahs' interference in Syria has dramatically expanded.
Recently, Rouhani gave a medal of honor to his Defense Minister for improving the regime's ballistic missile system.
That minister, Hossein Dehghan, was one of the commanders who masterminded the 1983-bombing of the U.S. Marine barracks in Beirut from behind the scenes.
Why do the mullahs need absolute crackdown at home and terrorism and warmongering abroad so much?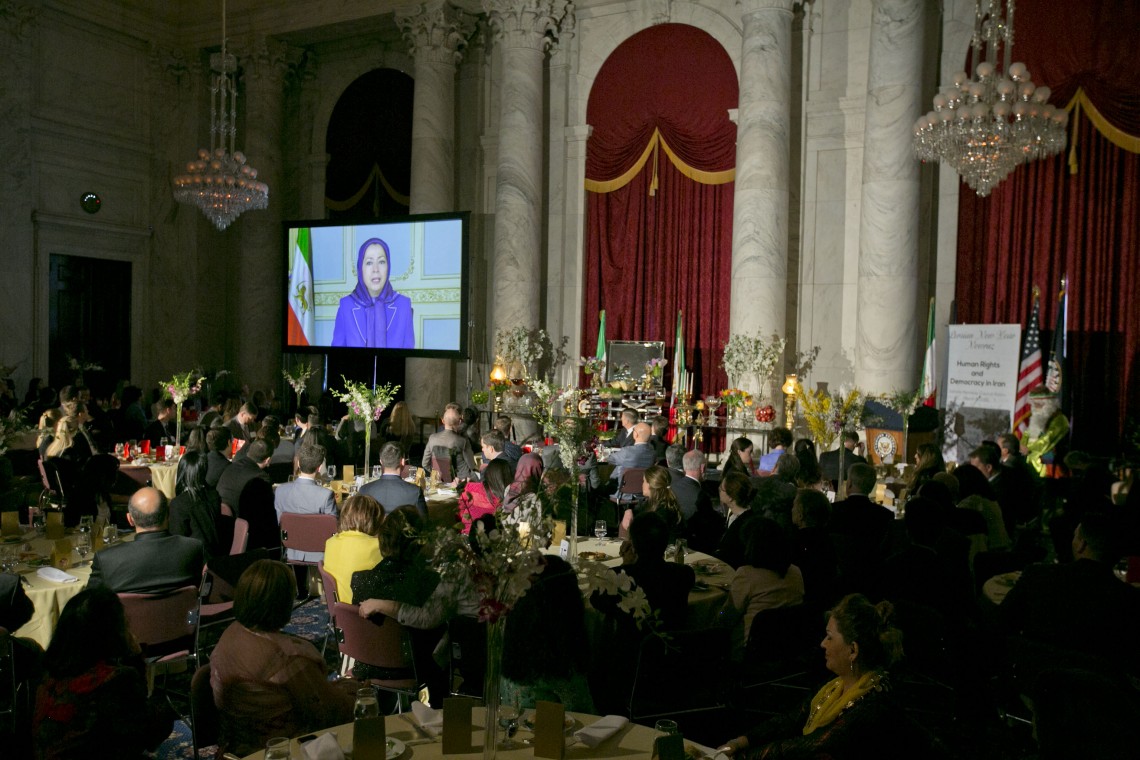 Because democracy in Iran and stability and peace in the region is their noose.
For this reason, the mullahs' regime is the main source of instability in the entire region and the destructive war in Syria and the massacre of the Syrian people.
The regime has currently 60,000 Revolutionary Guards and agents in Syria.
In reality, the presence of the Revolutionary Guards and paramilitary groups affiliated with the Qods Force in Syria and Iraq is the main cause for the rise and expansion of DAESH.
The Revolutionary Guards and their agents are eliminating the moderate opposition in both countries.
The Iranian regime is not an ally for the international community against DAESH, on the contrary it is in an overt and covert coexistence with DAESH.
For this reason, it would be impossible to confront the danger posed by DAESH unless and until the mullahs' forces are driven out of Syria and Iraq.
I take this opportunity to express my gratitude for the firm policy of the U.S. lawmakers against fundamentalist regime in Iran and commend the bipartisan friendship and support of lawmakers to my oppressed fellow country men and women in Iran and for their steadfast solidarity with the residents of Camp Liberty.
Despite their deception, the ruling mullahs do not have the will nor the capacity to change their brutal conduct.
For this reason, human rights in Iran continue to be violated and Camp Liberty remains at risk.
Expanding your valuable support for the Iranian people's struggle for freedom will be more impactful than ever before.
As we celebrate Nowruz, I wish all of you and the great nation of America every success.
Thank you very much.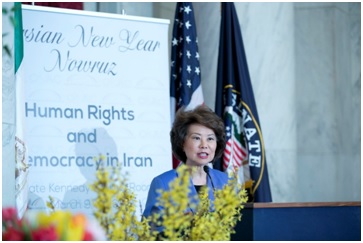 Secretary Elaine Chao; former United States Secretary of Labor
I am so pleased to be here with you today to add my voice to those who are fighting for human rights and democracy in Iran.  These are basic fundamental human rights, freedom issues which we must not forget.  And with the New Year coming upon us on March 20, I want to send a very, very special and warm greeting to the Iranian community in the United States and around the world.  Happy New Year, Happy Nowruz.
As you've heard, I'm an immigrant to the United States.  I understand the importance of preserving cultural traditions like Nowruz.  They help us understand where we're from and enrich the experience of who we are today and yet, unfortunately, the Iranian bureaucracy frowns upon the celebration of this holiday and it's not hard to understand why.  The key word in Nowruz is new day and the key element of this celebration, looking forward instead of backwards, is the antithesis of everything the current Iranian government stands for.
Now there's been a lot of talk about the February 26th parliamentary elections and I just have to comment about that. There's a lot of speculation as to whether these are wonderful new elections. In my opinion they are not.  It's not much of an improvement for the approximately 60 percent of the candidates who were disqualified from running due to lack of certification of sufficient allegiance to Islamic fundamentalism.  And after a public outcry, some disqualified candidates were reinstated, but more than half of the candidates initially tried to run for a seat in the Iranian parliament were barred from doing so by government apparatus.  And this particular institution responsible is a 12-member guardian council which much approve every candidate who runs for public office in Iran.  The members of this 12-member guardian council are appointed, not elected, by the ruling powers.  The council's deliberations are not transparent.  It's conducted in secret and it can reject a candidate for any reason.  No one in the world could call this a democratic process….
So to those listening to not only my words but the words of so many in this room, let us assure you that many Americans and American leaders hear your voices and support and support your aspirations for human rights and fundamental freedoms.  In today's world of globalized commerce and communications, it is no longer possible to keep new ideas and information from crossing international borders indefinitely.  Repressive regimes, no matter what mechanisms they have internally to control their country domestically, they will eventually lose the battle of ideas. They will lose the battle to isolate themselves and stop change.
Change in the improvement of democracy and reform is the inevitable course of human history and with the solidarity of freedom loving people, change will come to Iran as well.  So in the spirit of the Persian New Year, Nowruz, we all look forward to the day when we can meet and celebrate indeed a new day for Iran as a truly free and democratic country and a republic worthy of its name.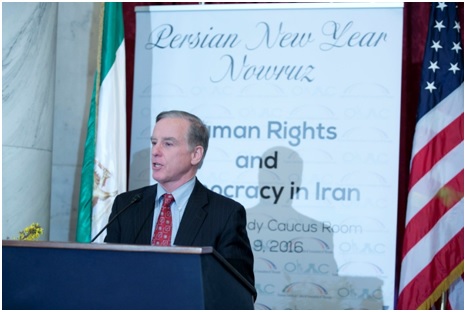 Honorable Governor Howard Dean; former Governor of Vermont, and Chairman of the Democratic National Committee (DNC)
It's an honor for me to be at this lunch in this building with some great public servants, including those on the other side of the aisle, and the Secretary and I having lunch agreed that wouldn't it be great if we could actually sit down and talk about issues and get things done instead of saying nasty things about ourselves all the time?
So we'll start by of course the reason for this occasion which is Nowruz Mubarak and this is a, it is a new beginning as Ambassador Bloomfield said and it's an important beginning.  But unfortunately with every new beginning we also have to clean up after the old mess.  And we made some mistakes in Iran over the years and the fundamental reason we made these mistakes is because Americans always seem to believe that—actually this is not just true of Americans.  This is true of democracies in general.  We expect the best from other people, which is why we live in a democracy and why we value democracy…..
I'm not advocating that we go to war over these lines, as you may remember, I did rather well 12 years ago opposing my own party on their support for the war in Iraq, but I am advocating that we take tough measures, very tough sanctions are the kinds that brought Iran to the nuclear negotiating table.  And that we stick with those measures, and I'm not just speaking about Iran.  Vladimir Putin is one of the most disruptive forces on the face of the globe and only by being tough with him, not appeasing him, are we going to make him less of a disruption.  And that should be a core value.
I think the president in this century who I most personally admire is Harry Truman.  Harry Truman did not make that mistake.  Harry Truman stood up when he had to stand up.  He stood up in Berlin.  He stood up in Eastern Europe.  And the results were very, very good for both the United States and for democracy.  My hope as the New Year and the new beginning starts is that we will understand that the mullahs are not our friends and they are not the friends of the Iranian people…..
 I was skeptical about the Iranian agreement, although I do believe that it's better to engage, if we can.  I remain agnostic about what's going to happen.  But my fear is that this will be used, as so many of these kinds of agreements have been used, by the mullahs to regroup, to refund their efforts to destabilize the Middle East.  I think you've heard previous speakers talk pretty cogently about what in fact is going on in the Middle East.  That they, without Iranian support Assad would not have been able to butcher 250,000 innocent civilians, the largest number of which are women and children.  So this is a terrorist sponsor nation and we may have to talk with them and we may want to carefully define what our interest is, but we have an interest in the United States of America in stopping terrorist funding and terrorist sponsoring other governments, because the core principle has to be if you don't stop it sooner you will have to stop it later and it will be much, much more expensive.
I do want to say something about the MEK.  I am deeply moved by the notion that Madame Rajavi has, for as long as I have been involved in this, six or seven years, stood up for the notion that women are equal under the law in all circumstances in every society on the face of the earth, including in Iran.  That is a core belief that we ought to be embracing here at home, but we also want to support that notion instead of just using words with actions everywhere in the globe.  The fact is that equality for women is directly correlated, not only with the economic success of a country, but it is directly coordinated with the notion of a free and democratic state…..
The best thing we can do to get rid of the mullahs is make sure that women had equal rights under the law in the Republic of Iran…..
But I just want to, I do want to say that before I get off this that the central mission for me for the last six or eight years has been the plight of the people who are now at Camp Liberty.  The truth is those folks now it looks like, based on things we've read in the New York Times and elsewhere, put on the terrorist list for political purposes—I do not think that the United States of America can afford to have a foreign policy which is so cynical that we are willing to sacrifice the lives of 1,600 people who are with us in many ways for some real politic. When you start letting innocent people die for the sake of what you think is a smart foreign policy, I can assure that that is a stupid foreign policy and that we will pay for that again and again and again.
So it is important for those roughly 1,700 people who are left at Liberty to be brought to Albania, and the time is running out.  The time is running out.  Everybody's worked very hard.  We need to keep working.  We must not ever have a foreign policy that is so cynical that we can sacrifice the lives of people who are unarmed and simply exercising their rights to dissent for the sake of supposedly making a deal with an incredibly cynical group of people who support terrorism all around the world.
We can do better and we will not be the country we aspire to be until we stop using that sort of equation in exercising our foreign policy.  Thank you.  Let this be a new beginning and next time when we gather, let all the political dissentients and refugees be out of Iraq and away from the mullahs.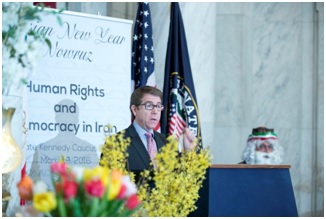 Ambassador Lincoln Bloomfield, Jr.; Chairman, Board of Directors, Stimson Center; former U.S. Assistant Secretary of State for Political Military Affairs
Thank you for that very warm introduction and happy Nowruz to everyone here in the room.  Happy Nowruz to our Iranian-American friends who are such an important part of the fabric of American.  They're young and old, succeeding in our country and adding richness to the narrative and the story of the United States.  Happy Nowruz to our friends in Camp Liberty, to the NCRI in Paris and to Madame Rajavi and to millions of Iranian people who we hope can hear our message…..
You've heard a great deal of facts here so I'm not going to bore you.  Let me just say about all those titles, the one title that matters the most to me is friend.  And I hope to be counted your friend to all the Iranian people.
In America, New Year sometimes, at least for people my age, conjures up images of Guy Lombardo's orchestra and the ball in Times Square.  This is a very beautiful and meaningful symbolic display that represents thousands of years of culture.  And the one thing that's missing from the table in Iran today is the most important one, which is the sense of independence and liberty and personal freedom.  Freedom to control your own destiny.  And that is why we're here today. ….
And so I'm struck by the fact that in Washington, the debate among the establishment when they talk about Iran is still about the possibility of moderation. Rouhani was billed as a moderate. Khatami in 1997 was billed as a moderate, yet it was under his presidency that the nuclear program was secretly developed.  And it was the National Council of Resistance that divulged.
And I think that the real issue here that Washington has never answered honestly is, is reform possible within the regime?  And Madame Rajavi just gave you a very detailed and factual statement on that, but whereas she says it's not possible, the common wisdom in Washington is to reform, we have to work with this regime and that they will reform and they better do it within about eight years, because they're going to be a legal power that can enrich uranium and at any level and they're allowed to do research on enrichment in the interim.  So we don't have much time to answer the question of how reform happens.
The Supreme Leader, according to Reuter's has religious foundations that control upwards of 100 billion dollars of the Iranian economy.  It's much more than the oil and gas revenues.  And so, and just ask yourself.  Try to do business now that the nuclear deal is in place.  Try to find an Iranian company that the treasury department will allow you to do business with.  Guess what?  They're all front companies.  They're all front companies.  So the European deals that have just happened are with companies that will profit, the foundations under the Supreme Leader that control all the money………..  We only hear about the executions that are publically acknowledged.  What is it?  2,300 since President Rouhani took office.
And I'll just conclude by saying on that, that the reason that reform is not possible is that every senior member of this regime, and we've never looked at the biographies of each one, but you heard a couple of them already, but if you took the top 50 members of the regime in the last 37 years and everything with which they were associated—every violation of international law.  Senator McCain talked about the mistreatment of U.S. troops.  The list is incredibly long.  The bombing of Beirut, I was the Lebanon desk officer in the Pentagon when the Marines were hit in Beirut in 1983.  Believe me, there is a long laundry list of crimes that every one of the regime figures would have to answer for.  They could never walk as free men—and I'll say men because they're all men…..
So again, I wish you a very happy Nowruz.  And let me just say one more thing … that the resistance has done, it's not just about one person.  In fact I've heard Madame Rajavi say they would be honored to serve in loyal opposition in an Iran where someone else was freely elected.  What's so interesting about this group is that they embraced women's rights in the heart of male dominated sort of medieval sort of perversion of the Islamic faith, and by holding up the torch of women's rights in the Muslim Middle East, Maryam Rajavi is casting a light on things which is already showing great change and which is threatening the legitimacy of the mullahs every day, so let's work together.  Let's search for the truth.  Let's dig a little deeper.  Let's make sure that Washington knows the facts before we make policy.  We have very little time to get this right and so with this Nowruz, here comes a new beginning.  Let's all do it together.  I wish you happy Nowruz and thank you.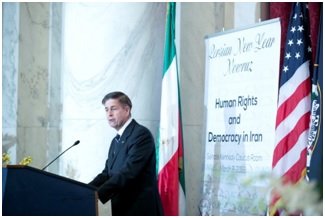 General David Phillips (ret.), former Commander of the Army Military Police School, commander of all police operations in Iraq, including the protection of Camp Ashraf
Distinguished guests, friends, and most importantly those members of the Iranian Resistance still imprisoned at Camp Liberty in Iraq, I would like to wish you a happy Nowruz.  I'm Brigadier General David Phillips, recently retired, and this is my 12th Nowruz celebration with the Iranian Resistance.
My first was in March 2004 at Camp Ashraf in Iraq.  Amid the ruins of Iraq following the invasion, I found myself in a bastion of hope, prosperity, and a true desert oasis called Camp Ashraf.  As the commander of the 89th Military Police Brigade, one of my missions was the safety and security of the nearly 4,000 men and women of the Iranian Resistance, the Mujahedin e-Khalq at Camp Ashraf…These 4,000 men and women in fact were the Iranian people's best hope for liberation from a tyrannical fundamentalist regime.
This group of dedicated and highly educated freedom fighters embraced the ideals of freedom and democracy and a hope for a non-nuclear Iran.  I learned that the group I was protecting was used as a bargaining chip for those who wanted to appease the Iranian Regime… That is why, after well after a decade of my service at Camp Ashraf, I am still serving to complete the mission I was given in 2003 to provide safety and security for those of you at Camp Liberty. I still cannot fathom what was done to the people of Camp Ashraf who are now Camp Liberty.  …….They are dedicated, educated men and women who ask for only one thing—freedom from a tyrannical regime.  Let us remember whatever was believed would be gained by appeasing the Iranian regime was nothing more than a hopeless bad dream.  And the nightmare continues for the over 1,000 men and women who right now at this very moment are imprisoned at Camp Liberty….   In fact, we set the world back while handing the fundamentalists a gift—the lives of the very people of the Iranian resistance.  It should be noted that the appeasement also caused direct implications for American soldiers.   I was there.  Consider all of the sacrifices those young American men and women who served in Iraq, only to see that country now turned over to the control via the Iranians.  The resistance warned me a decade ago of the perils of trying to "negotiate" with the fanatical mullahs…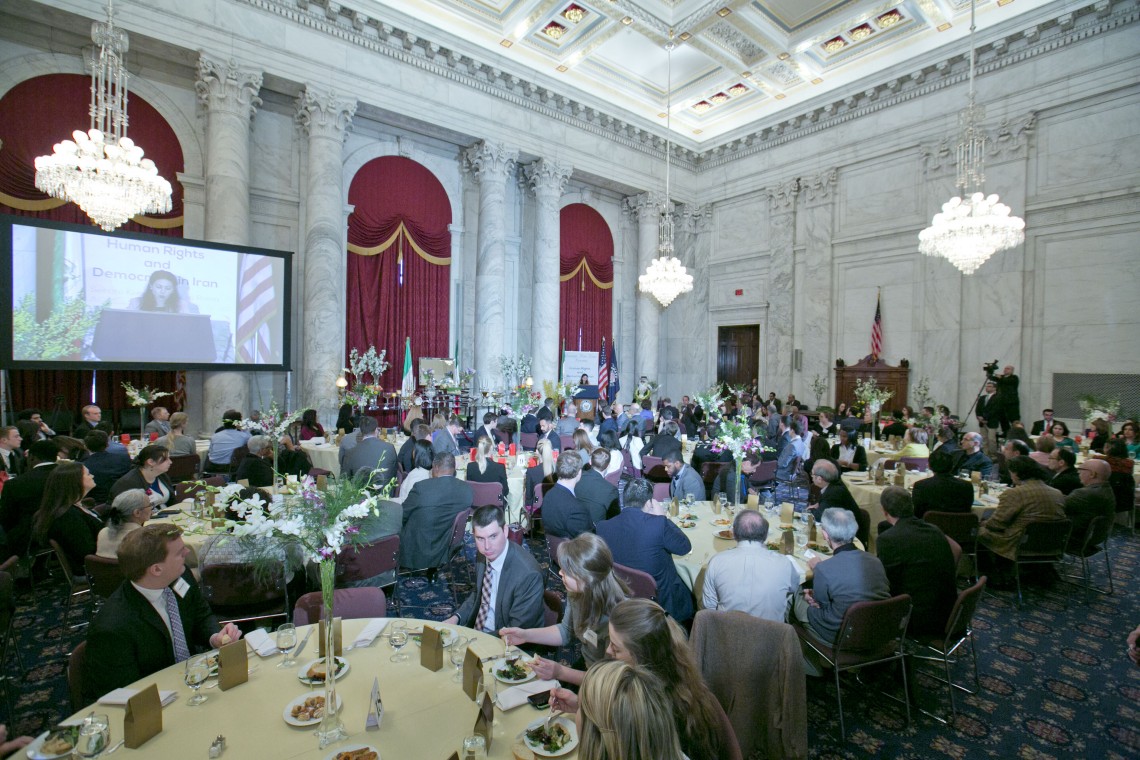 There are many heroes in history who persevered through incredible hardships in fighting for freedom and democracy.  I believe the foremost of which are those who are still doing so today, the heroes of the Iranian Resistance.  I respect them and am honored to say I personally served with the men and women of the Iranian Resistance in the desert of Iraq. Also, I must mention a role model leader of mine.  A magnificent leader who stands at the forefront of the fight against the mullah regime, who espouses democracy and gender equality.  She is a woman who I personally know and respect.  She will be revered in history as one of the foremost freedom fighters of all time, the phenomenal Madame Maryam Rajavi.
So on this Nowruz, let us not forget the remaining members of the Iranian resistance still imprisoned in Iraq, and demand that our country live up to the promises made over a decade ago.  And to the members of the Iranian Resistance and Madame Maryam Rajavi, next Nowruz, let's celebrate in Iran!

Nowruz in the Senate Draws Bipartisan Group
By Alex Gangitano Posted at 3:46 p.m.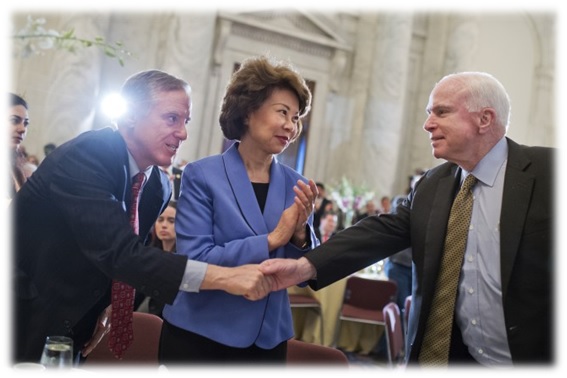 From left, Dean, Chao and McCain attend a celebration of the Persian New Year, Nowruz in the Kennedy Caucus Room in the Russell Senate Office Building. (Tom Williams/CQ Roll Call)
The Washington network of Persian-Americans celebrated Nowruz — the Persian New Year — on Wednesday and took the opportunity to discuss human rights and democracy and Iran.
In the Senate and paired with a luncheon of Persian cuisine, the Iranian-American Cultural Association of Missouri and the Organization of Iranian-American Communities sponsored a bipartisan panel of speakers discussing the situation in Iran.
Sen. Charles E. Schumer, D-N.Y., said, "Iranian culture's beautiful, the country's a beautiful country."
He then spoke on the "evil" regime in Iran. "Best case, they're gone," the Senate's No. 3 Democrat said. "Second-best case — that they're limited in the kind of bad things they can do both inside Iran and outside Iran."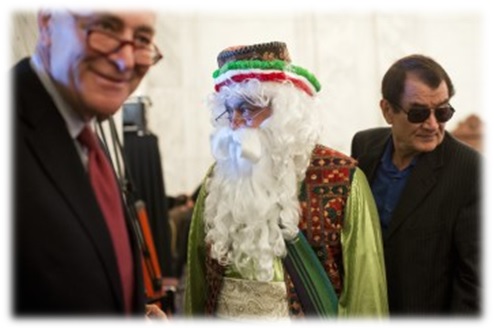 Schumer, left, and Nader Moavenian, center, who is dressed as "Uncle Nowruz." (Tom Williams/CQ Roll Call)
Following Schumer, his colleague on the other side of the aisle, Sen. John McCain, R-Ariz., discussed Camp Liberty in Iraq, where members of the People's Mujahedin of Iran are housed. The senator said to "keep your fingers crossed" about the former military installation.
"I remained as concerned as you do concerning Iranian behavior," McCain said. "I promise you one day we will be in a square in Tehran dedicating a statue [to Neda Agha-Soltan]," he said, referring to the protester shot and killed in 2009 during the Iranian elections.
Other speakers included former Democratic National Committee Chairman and Vermont Gov. Howard Dean, former Labor Secretary Elaine Chao and Ambassador Lincoln Bloomfield Jr. This year, Nowruz falls on March 21.
March 9, 2016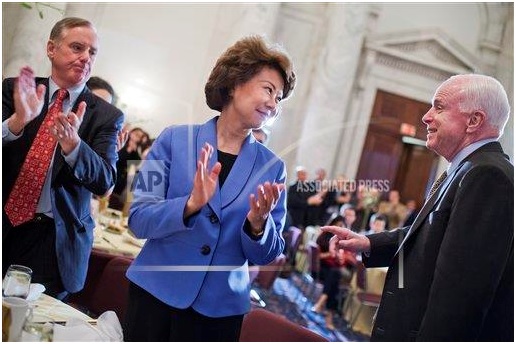 UNITED STATES – MARCH 9: From left, former Vermont Gov. Howard Dean, former
Secretary of Labor Elaine Chao, and Sen. John McCain, R-Ariz., attend a celebration of the Persian New Year, Nowruz, in the Kennedy Caucus Room in Russell Building,
March 9, 2016. The holiday will fall on March 20th. (Photo By Tom Williams/CQ Roll Call) (CQ Roll Call via AP Images)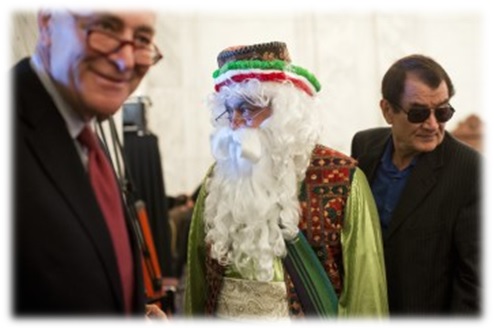 UNITED STATES – MARCH 9: Sen. Charles Schumer, D-N.Y., left, and Nader Moavenian,
 center, who is dressed as "Uncle Nowruz," attend a celebration of the Persian New Year, Nowruz, in the Kennedy Caucus Room in Russell Building, March 9, 2016. The holiday
will fall on March 20th. (Photo By Tom Williams/CQ Roll Call) (CQ Roll Call via AP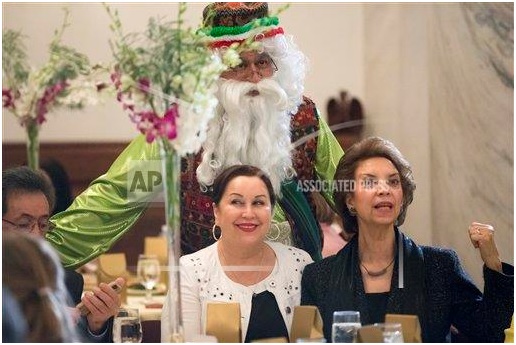 Celebrants at a Persian New Year luncheon pose for photos with a costumed Amu
Nowruz, or Uncle New Year, as they gathered on Capitol Hill in Washington,
Wednesday, March 9, 2016. (AP Photo/J. Scott Applewhite)