HAPPY NOWRUZ ALL FOR FREEDOM & DEMOCRACY IN IRAN HOUSE CONGRESSIONAL NOWRUZ RECEPTION/BRIEFING THURSDAY, MARCH 2016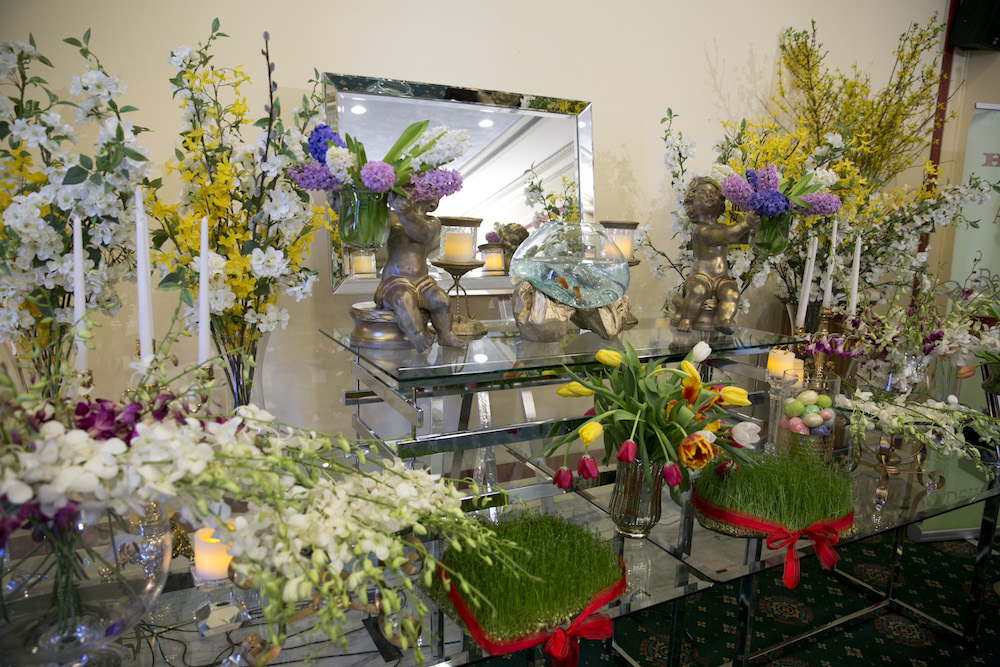 RAMESH SEPEHRAD: Ladies and gentlemen, the countdown to Nowruz has begun. The year of 1395 is almost upon us and it's only fitting to start our event with a poem from our beloved Rumi who says, "Heart filled with joy as the spring is here once again.  Spring has come gracefully with its goodness and brilliance.  Oh, the eastern breeze [0:17:18] carry a message with you.  It is a message of friend to a partner. 'Be happy on this new day.  Be happy on this new year.'  This is a wish from a friend to a partner." [Persian] [applause]
The beautiful poem by Rumi sums up a message to our beloved freedom fighters in Camp Liberty whose happiness and hope is an everyday form of resistance.  Those who continue to stand up and light up the way for all of us, no matter how dark and cold it gets and no matter what the cost is, those who send a message of partnership and friendship to counter the message of animosity and hate coming from the regime in Tehran, how grateful we are to the freedom fighters of Camp Liberty.  How lucky we are to have their partnership in struggle for democracy for our beloved homeland, Iran.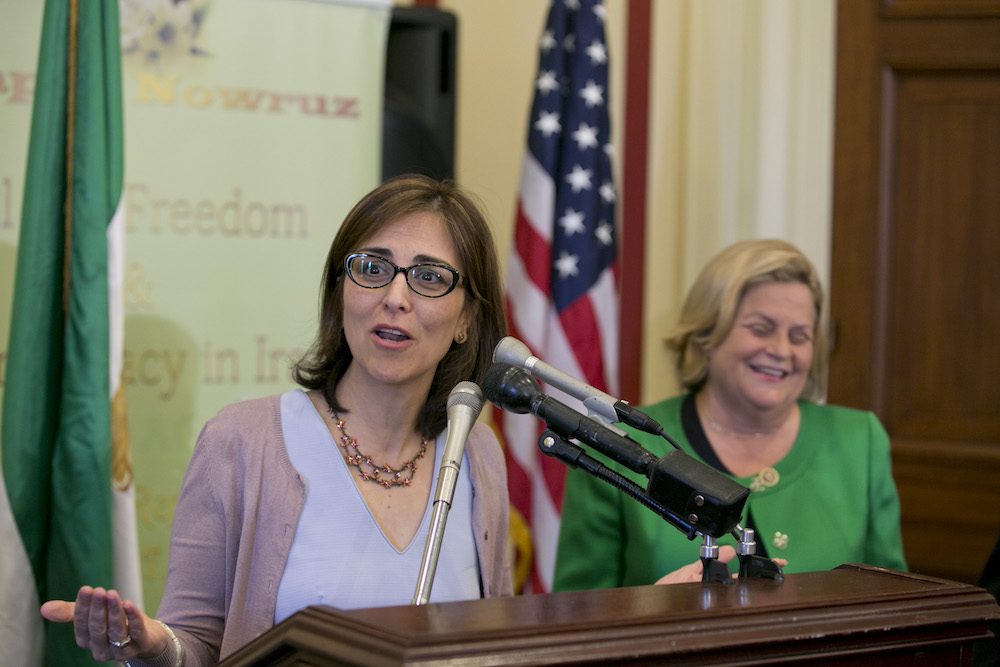 The poem also sums up a message of Iran's political prisoners who defied the repressive present guards and celebrated Nowruz festivities [0:19:09] and chanted, "Set fire to the cells and handcuffs.  Set fire to tyranny.  Set fire to regime of ill faith.  Set fire more than ever before.  Set fire to the principle of [0:19:27] Jafari Supreme Leadership."  Their chant was complemented by the crowds who took to the streets in celebration of [0:19:37], in various cities such as (Sirjan, Siraz,) Esfarayen, and Mashhad.  And all the other cities and they also chanted, "Down with Hamenei.  Death to the (principal) of [0:19:51].  Down with [0:19:53]," as they jumped over the fire, calling for the last day of the regime in Tehran.  How brave they are.
**
In the city of Bandar Anzali, balloons were also set up with the slogans, "Death to Hamenei.  And Death to Hamenei's thinking and legacy."  The everyday form of resistance is an inspiration to all of us.  We admire the courageous tenacity that fights in the front line at Camp Liberty, that fights in the street, and that fights in the prison by the political prisoners.
This is the true face of Iran.  That is the legacy of our nation and that is what makes us the most proud Iranians celebrating the history of Nowruz, the renewal of nature.  The inherent message of Nowruz is to never give up.  The fight goes on no matter how dark and cold it gets, because we know spring will come with all its brilliance and goodness.
The new day will come with a message of partnership to build our country once again—free of hate and crime; free of discrimination and injustice; free of nuclear weapons, terror, and war; free of mullahs and the system of [0:21:16] Jafari.  The new day for Iran is inevitable, because we will never give up the hope of what our nation deserves.
We will never forget our commitment to freedom and humanity by getting rid of the fundamentalist regime in Tehran.  It is for this reason that year after year we find ourselves in strong partnership with American people and members of Congress when it comes to celebration of Nowruz, because of the message that it brings.
The year in review under Rouhani has been filled with rampant executions, (deceived) nuclear deal, sham elections, and terror in the region.  In contrast, the year in review with the Iranian resistance reveals a growing international support for Mrs. Maryam Rajavi's ten-point plan for a free and democratic Iran.  It also marks 1,000 women reaching the highest level of leadership, joining the leadership council of Iran's main opposition group, the Mojahedin-e-Khalq. It also marks the continuous resiliency of Camp Liberty, despite all the attacks and terror and continuous growing uprising strikes, protests in all major cities in Iran.
Our journey continues until the day Iran is free.  With that in mind, our best wishes for the new year goes to all those who believe in the true message of Nowruz.  [Persian] Happy new year.  May your Nowruz be victorious and may your everyday be Nowruz. [applause]
SEPEHRAD:    So it's a great pleasure to introduce Mr. [0:23:33] who was born in 1980 in Iran, Tehran, to a Kurdish family.  A multitalented musician who sings and speaks in six different languages—Farsi, Kurdish, Turkish, Arabic, Hebrew, French, and English.  [0:23:50] has had more than 250 concerts in U.S. and Canada.  And to top it all, he also studied jazz and classical music.  Ladies and gentlemen, please welcome [0:24:01].  [applause]
**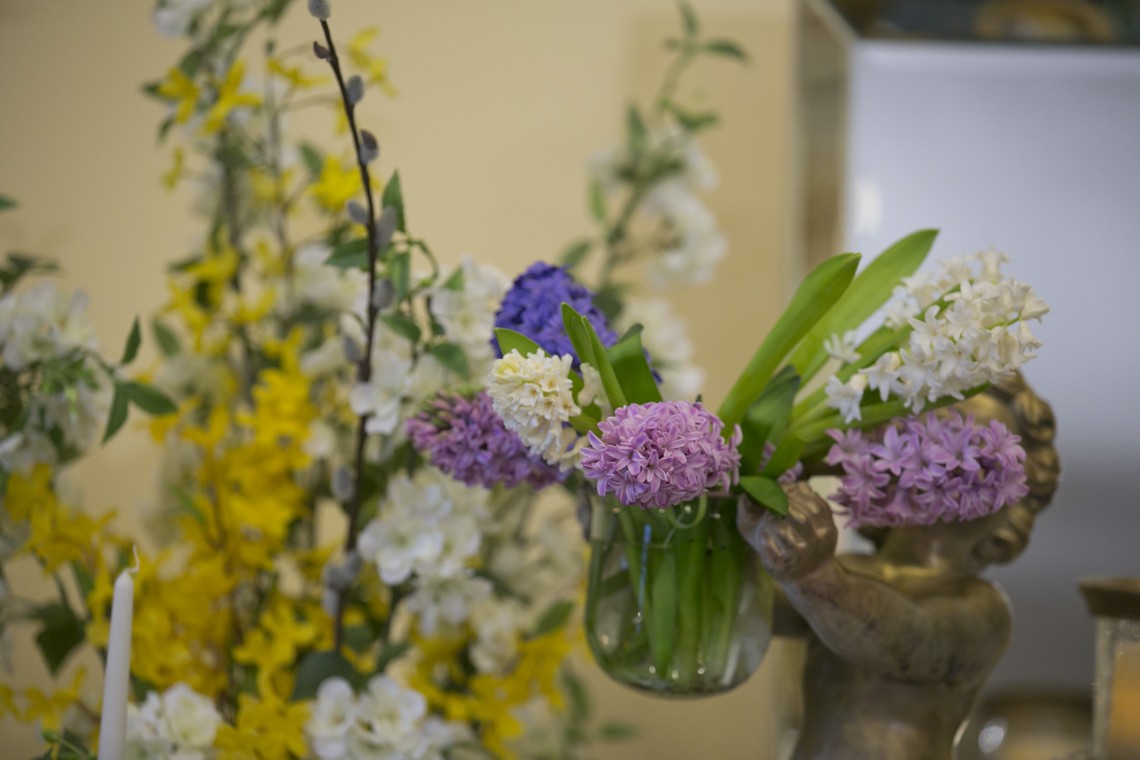 SEPEHRAD:    Ladies and Gentlemen, it is a great pleasure to welcome our first member of Congress, Honorable Judge Ted Poe, who has been with us through the thick and thin for the last several years, standing up for democracy, freedom, and our beloved members of MEK at Camp Liberty.  Please welcome Judge Ted Poe. [applause]
POE:    Howdy. [Howdy!] I am Ted Poe.  I am from Texas.  I'm a member of Congress and it is an honor for me to be here today.
I want to wish you a happy new year.  It is an important year for those of us here who believe in freedom, because it is a new year and we look to the next year.  One thing that I have grown to admire in the Iranian-American community and the Iranians that live in captivity and from the Iranians that live in Europe, is your hopeful, happy spirit.  I have almost been stunned over the years by that spirit you have inside of you of not just happiness, but hope for a better day for you, the MEK, and the folks in Iran and the Iranian dissidents that are persecuted throughout the world.  You are to be admired for that.  And I think that hope is well founded.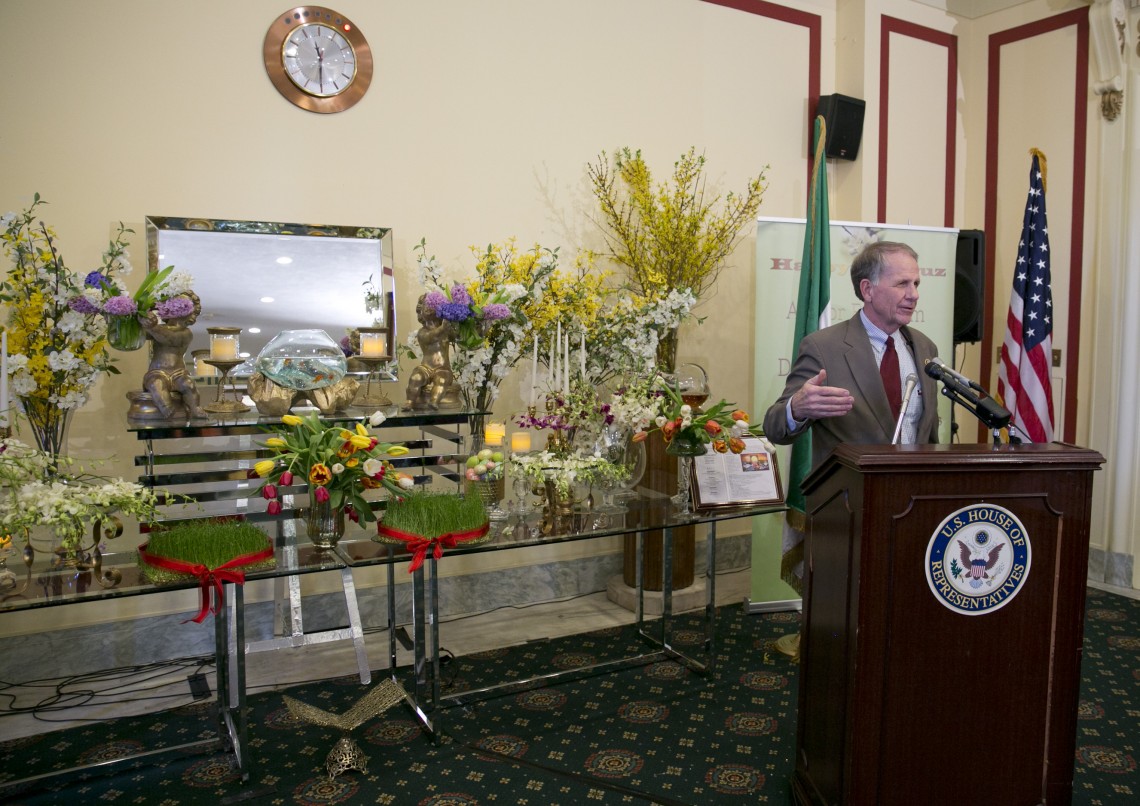 You know, the folks in government, the ayatollah, the mullahs, they don't sleep at night too well, because they are concerned about freedom, which they are totally opposed to.  They're opposed to your freedom and the freedom of the people who live in Iran—your families, your friends, your neighbors—who are being arrested, put in jail, and executed because of their political beliefs.
And I think it is vital that members of Congress let you and the rogue regime of Iran know that we're on your side.  We stand with you shoulder to shoulder, arm in arm, because you see, liberty and freedom is probably the one thing that all members of Congress actually agree on, no matter where that liberty and freedom is being denied, we support the fact that those folks, wherever they are, should have liberty and freedom.
I'm a big fan of your steadfastness and your hope and your happiness.  It inspires me as a member of Congress to stay in the fight.  The fight is not over.  We will continue to fight.  And the goal is really not that complicated.  The goal is for the people of Iran to determine their own destiny and determine their own government.  We call that freedom.  That's the goal.  Let the people decide who will have the rule over them, not a totalitarian dictator who preaches hate and non-freedom, but let the people decide.
So I support you in your efforts for a peaceful regime change in Iran where [applause] where the people decide who will be in government and when that happens, it will not only be a better day for Iran, it'll be a better day for the world.  It'll be a more peaceful world, a more civilized world, and a world that hopefully will remove humanitarian persecution because of who people are.
So I congratulate you.  Happy new year.  It's going to be a good year.  And that's just the way it is.  Thank you. [applause]
SEPEHRAD: Thank you very much, Congressman Ted Poe. [applause] It is a great honor to also introduce Congressman Tom McClintock who was elected in November 2008 to represent the 4th congressional district in United States Congress from California.  Congressman is the Chairman of the Federal Lands Subcommittee of Natural Resources Committee, and a member of Budget Committee, and Natural Resources Committee.  He's also a member of Subcommittee on Water Power and Oceans.  Please welcome, Congressman McClintock. [applause]
MCCLINTOCK: I'm honored to be with you today to celebrate the Iranian New Year.  This past year has been one of great setbacks, mainly because of blunders by the government of the United States and I want all of you to know that there are many, many of us in America who are constantly thinking of the freedom of Iran, of the welfare of the inhabitants of Camp Liberty.  They are never far from our minds and better days will come.  And this new year offers the opportunity in major ways to recover the lost ground of this past year.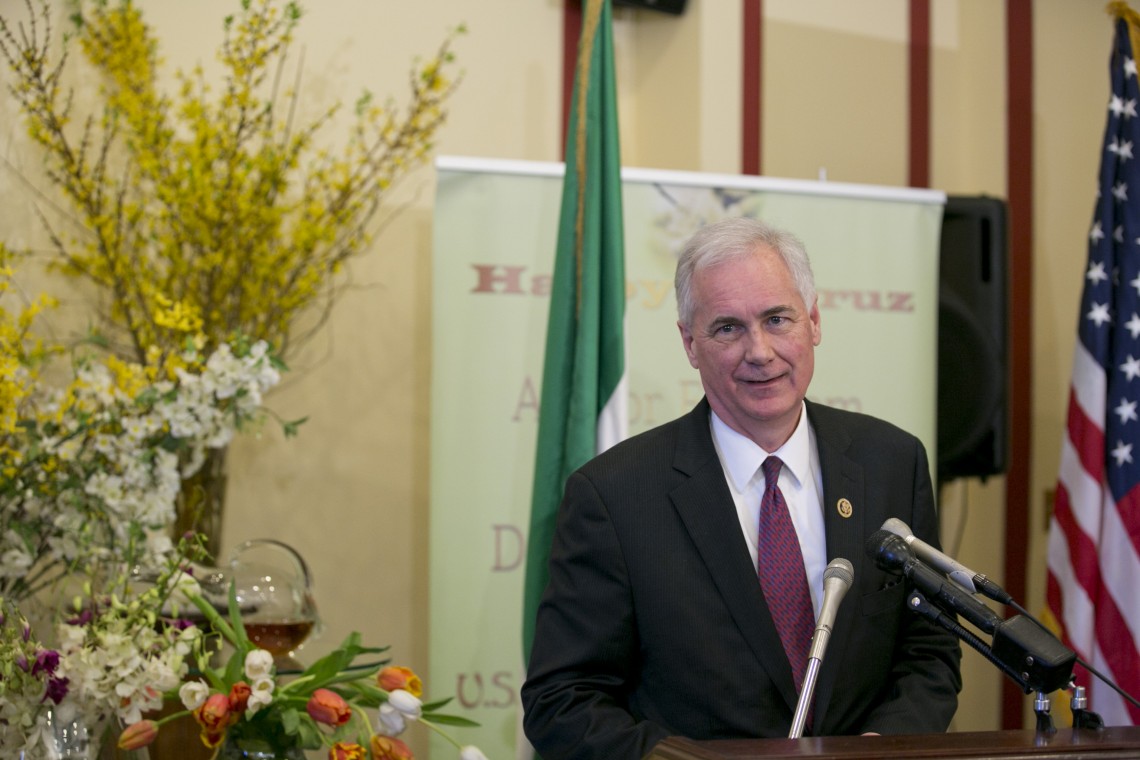 You know, the Iranian regime likes to say that this is a new regime, a new beginning.  No, it's the same old tyranny that has plagued mankind for thousands of years, but we all know that as history moves on, as civilization moves on, tyranny recedes, freedom advances, and the freedom of the people of Iran cannot be far away.
You know, in these days I'm reminded of the very darkest day in the history of America.  It came during the Revolutionary War.  It looked like the cause of American freedom had been lost.  Despair dominated the land and a man named Thomas Paine wrote these words that were an inspiration to our people and I hope will be an inspiration to the people of Iran as well.  This is what he said.  He said, "These are the times that try men's souls.  The summer soldier and the sunshine patriot will in this crisis shrink from the service of their country.  But he that stands by it now deserves the love and thanks of man and woman.  Tyranny like hell is not easily conquered, yet we have this consolation with us, that the harder the conflict, the more glorious the triumph.  What we obtain too cheap, we esteem too lightly.  It is dearness only that gives everything its value.  Heaven knows how to put a proper price on its goods.  And it would be strange indeed if some celestial an article as freedom should not be highly rated."
Well, freedom is highly rated.  Freedom is very expensive, but it is worth that expense and the people of Iran know that and the people of Iran will act on it because of the support that they're receiving from their countrymen now around the world and from nations like America that know and love and value the freedom and want to see that restored to the great civilization of Iran.
So thank you all for being here.  A very happy new year.  There are better days coming. [applause]
[music]
[applause]
SEPEHRAD:    It is with utmost pleasure an honor to introduce the Chairman of the Foreign Affairs Committee in U.S. Congress, Congressman Ed Royce. [applause]
ROYCE:          Happy Nowruz.  The Persian people have a special place in their heart not only for this celebration of spring and rebirth, but also for the human rights that Thomas Jefferson reminded us of what, that it was Cyrus the Great in 539 B.C. who produced that first document, that first manifesto in terms of the rights of human beings, the rights of every person to their freedom, to their religion, to following their own conscience, all ethnicities.  This is the historic legacy of Persia.  This is why Thomas Jefferson told his son to read the works of Cyrus the Great and to study that culture and study that history.  This is the reason today that you're here, to say Nowruz must be celebrated in Iran and all over the world.  [applause]
**
Now I am the co-chairman of the Nowruz Commission, and the reason we formed that commission was to celebrate this aspect of Persian culture.  And the request we make today to the international community is in this day and age let's keep with that promise of the rights to every individual in terms of freedom of religion, in terms of following their own conscience, in terms of their freedom to speak, in terms of their basic human dignity.  And where is that dignity withheld today?  Unfortunately, among other parts on this sorry globe it is withheld in Iran itself with respect to the theocratic regime.  It does not respect the culture or the history of the Persian people.  It does not respect the rights of the Iranians.
And it is to such an extent that they send their own agents, who have now killed 130 members of the MEK, who have now wounded 1,300.  And these are individuals in the MEK who assisted in protecting American lives from those who were bringing IEDs in to try to kill soldiers, U.S. soldiers.  We took on a special responsibility on the part of the United States when we said that we would protect the people from the attacks that were emanating out of Iran.  And our responsibility today is to see that we address not just their safety and security, but also we have an investigation with respect to those who caused those attacks, those who collaborated with the agents of the Iranian regime in order to kill those MEK members.  And so I am proud of our member of our committee, Ted Poe, who has introduced a bill that will call for justice in this regard.  And I intend to move that bill through the committee and off of the floor of the House of Representatives.  [applause]
And all of us that know the difference between freedom and tyranny have a special appreciation for those who struggle in that long twilight battle, in that long effort to ensure that the next generation of young Iranians have the rights that were promised to them by Cyrus the Great and the rights that all human beings aspire to, and the rights that Thomas Jefferson himself referenced when he quoted Cyrus the Great.  Thank you very much.  [applause]
SEPEHRAD: Thank you so much.  Ladies and gentlemen, Congressman Ed Royce.  [applause] We have with us here another great friend of the community, another person who has stood with us during the tough times and the good times.  Someone who really does not need an introduction because we all know her, and the people of Iran know her.  Congresswoman Ros-Lehtinen.  [applause]
ROS-LEHTINEN: Well, thank you very, very much.  And first I apologize for being late, I was waiting on the House floor for my turn to speak and it just took a while.  So thank you for waiting around for me.  And what a pleasure, what an honor, what a privilege it is for me to be here once again to celebrate the Persian New Year, Nowruz.  And I wish for each and every one of you a peaceful new year, a happy new year, a prosperous new year, but a year of safety for your loved ones at Camp Liberty.
We suffer so much when we hear about these struggles that they have for just basic decency, to make sure that their daily needs are being met.  So many guarantees were given, and so many frustrations because they have not, those needs have not been met.  But last year was a year marked with successes and tragedies.  We should all take a moment to remember those whom we lost at Camp Liberty and those who have fallen victim to the Iranian regime with their terrible human rights violations.  So I will ask you for a moment of silence in their name.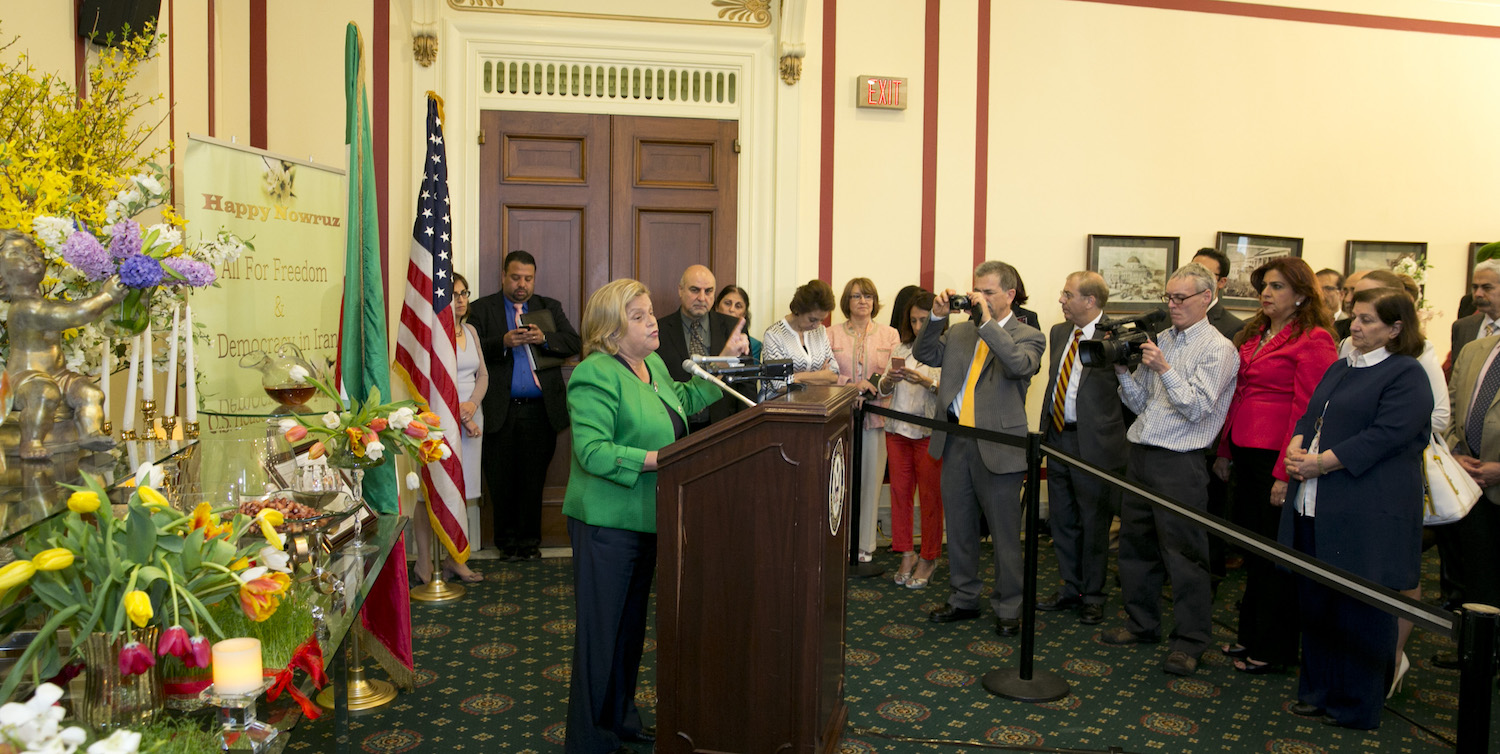 And I hope that next year when we get together we won't have to talk about the victims in this new year.  Together last year we worked so well.  We worked swiftly, we worked forcefully to help end the food and the blockage that they had on fuel.  I just can't imagine blocking food, blocking fuel.  During those very difficult times we worked together and we got that problem resolved somewhat.  And I was so happy to join Congressman Rohrabacher, Cohen, Poe, Higgins, and Sanchez to form the Iran Human Rights and Democracy Caucus.  And we thank each and every one of you for getting us more members for that caucus.  We have been so vocal in making sure that we can speak out at every opportunity against Tehran's oppressive nature.  But this is a grassroots movement.  You are fueling that.  Thanks to you the caucus is growing, thanks to you we are making a difference.
And human rights violations have increased during this so-called Moderate Rouhani.  Moderate?  Two thousand people have already been executed, and the year is just starting out.  There is nothing moderate about Rouhani.  He's an extremist fanatic who will stop at nothing to get his way.  Unfortunately in the past year what happened, we've entered into the implementation stage of the joint program that we have with Iran, the JCPOA.  What a terrible thing, to shake the hands of the oppressors, to say we're going to trust you because you're going to do the right thing.  You have got to be kidding.  The Iranian nuclear deal only served to legitimize an illegitimate regime.  And it has emboldened Iran to continue on with its oppressive ways.  Human rights situations have not improved, they've gotten worse, because they say, oh the United States thinks that what we're doing is fine, it doesn't matter to them.  So they continue with the executions, they continue with the harassment, the beatings, the detentions, the arrests.
To make matters worse we've actually given the Iranian regime $100 billion plus in sanctions relief.  What are they going to be using that for?  [crowd responds] Absolutely.  Terrorism.  Undoubtedly it will be used to support its abuses and support for terror.  There is no doubt.  They're not interested in the well-being of the Iranian people.  They're going to build one road and say look, this is what we're doing.  Please, they're using that money for terror and for all of its proxies.  Iran continues to be the number one human rights violator in the world.  Iran continues to be the number one feeder of terrorism throughout the world.  And now we've given them more money to continue to terrorize the globe.
So this year we need to not only make sure that we hold the Iranian regime accountable over its nuclear power, but we also need to hold them accountable for its many, numerous, too many to even mention, human rights abuses.  We need to fully and vigorously enforce our human rights sanctions.  We need to expand them.  We need to make them even stronger.  We cannot allow Iran to hold this nuclear deal over our heads and dictate our policy.  We must be strong, we must be vigilant, because only in strength will the Iranian regime respect us.  They see us as weaklings.  And that is why they continue to terrorize the world.  We can still tighten the terror sanctions that we have.  We can still tighten the human rights sanctions that we have.  We can still tighten the ballistic missile sanctions that we have.  So we already have them, we need to expand upon them, make them tougher and apply them.  They deserve it.  They've earned the right to be sanctioned.  But they think that now we've given them the stamp of approval.  They say, "We're not changing."
Now, as you know, the Iranian Revolutionary Guard Corps is Iran's army that exports its terror, exports its revolution.  And it controls, as we know, a large part of the Iranian economy.  So what we need to do is we need to connect these business dealings with the IRGC and its support of terror and we can start making a real impact and we can begin to sanction these business contacts immediately.
So I want to wish you a blessed new year.  I want you to know that you have many friends in Congress.  You just heard from the chairman of the Foreign Affairs committee.  You have so many friends who are with you, and we will continue to be with you until that regime is no longer there, and that terror machine is no longer working.  Thank you so much.  [applause]
SEPEHRAD:    It is with great pleasure to announce Honorable Sheila Jackson Lee who is here with us today.  As someone who really does not need an introduction, as someone who's stood with us at the toughest times and called Mrs. Rajavi as her sister.  Please welcome Sheila Jackson Lee.  [applause]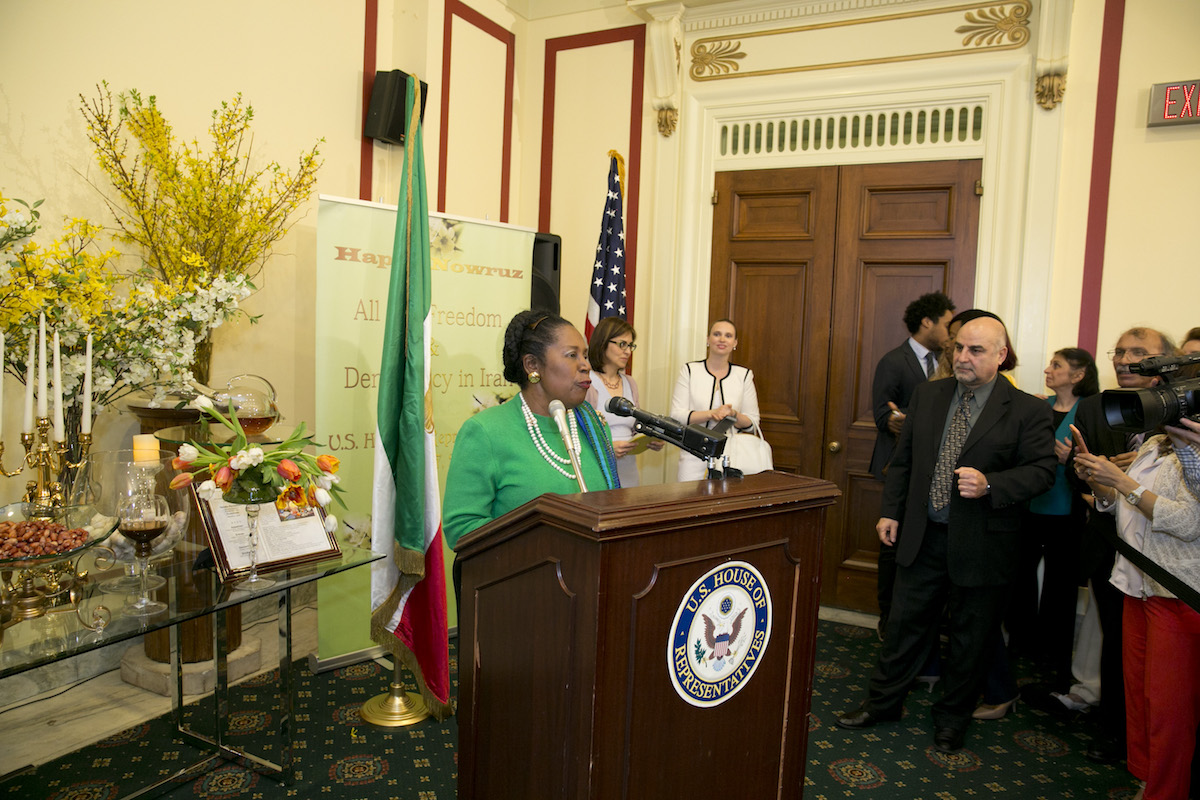 LEE: Happy Nowruz, Happy Nowruz! [applause]  Thank you for your patience, first of all.  And I will tell you, I went to the other room.  So that's how important you are to me, I went all the way around the Capitol and I had to give a speech elsewhere, but I kept sending my wonderful Abiola here, tell them I'm on the way, I'm on the way, because I must see my sisters and brothers who have been fighting for peace and justice, and I am standing with you.  [applause]  To the mistress of ceremonies as well, and to all of you and to those of you who are soldiers who have been steadfast in the right for Camp Ashraf and Liberty, please know that it is a long journey but there are those that will never forget and are waiting at every moment of your call.  Let me acknowledge Ali Sadani who is not here, but also Sam, that is here.
I want to thank all of you for your presence here today right out of, how shall I say it, out of the midst of your fight that you've come to this capital of the United States, a place of democracy.  And you are demanding but also that you are seeking to recognize that the fight for freedom and justice is not only your fight, but it is our fight.  And it continues from this very place.  This place that was built upon words like, we hold these truths to be self-evident, that we all are created equal with certain inalienable rights of life and liberty and the pursuit of happiness.  That is not singularly belonging to us.  Those are words that spread around the world.
And I say to the Iran today, please recognize that as we look to a new reformational connection and relationship, our friends will never be left alone.  We will fight and fight and fight until we have the Iran that recognizes and respects our dear sister, recognizes and respects all that you have done, recognizes and respects liberty and justice for all, recognize and respects the freedom that is needed for our friends that are still in camp, and recognizes and respects the fact that no one should be denied their own humanity, which is all of you.  So thank you for allowing me.
Let us look into this new year, this new year as a year of, how shall I say, reaching the mountaintop.  The mountaintop of justice for women, for men, for children.  And I want you to know that the history of Persia, the history of the Persian people is so great, it's so expansive, it's so large, it's so permeating so many places, that you cannot, you cannot be diminished because of its depth and its richness in many parts of history.  And so I ask you to continue on, continue on in embracing us and linking us.  Because as that wonderful young man over there, I think he was running around and now he's lifted up in his mom's arms, but when I see him I light up because there is joy.  Because I think since I last saw you I have two first new grandbaby twins, eight months old.  [applause] And that gives me more power to be able to stand for what is so very important.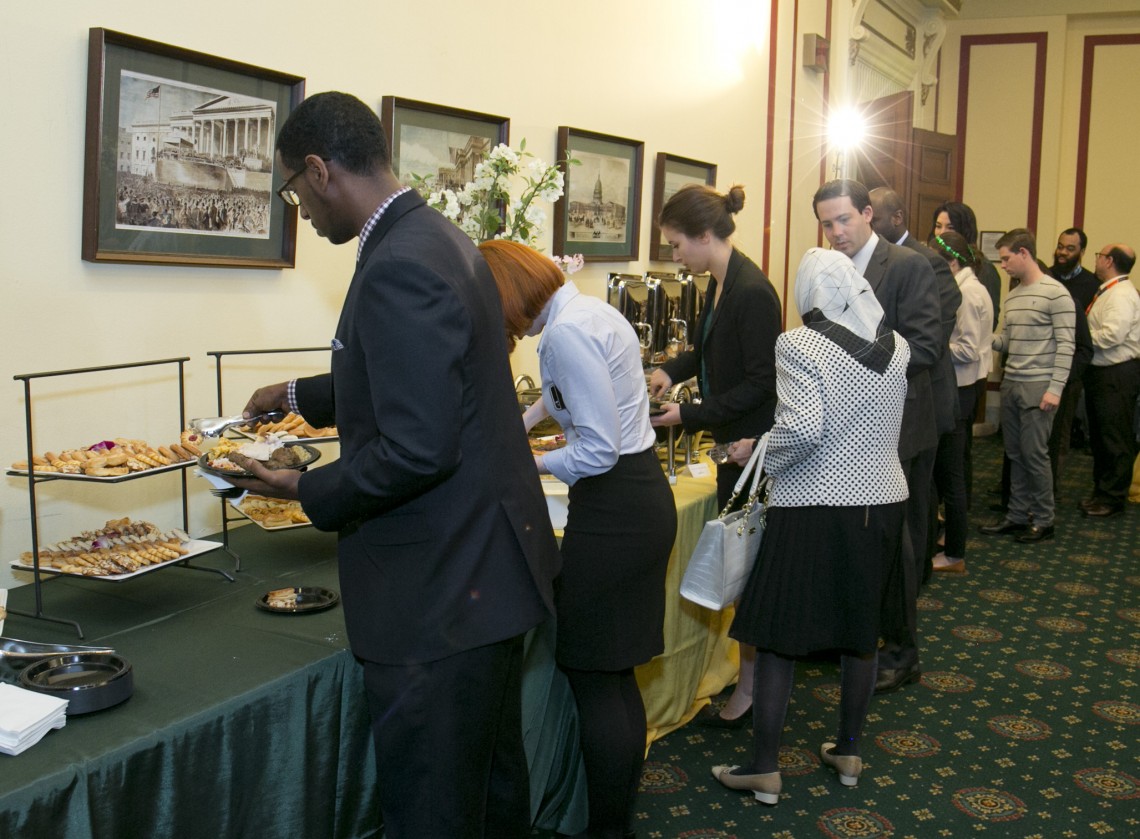 Let me also say that take our commitment to wanting to move Iran forward not as abandoning our values and our virtues, for we will always be there in the fight against abusiveness and the incarceration and the taking away of people's dignity.  But your voices cannot be diminished because new relationships are only built on the continuity of the other person doing the right thing.  And so I am concluding by saying this is a journey.  We have not reached the destination.  And you are on that journey.  And the destination is freedom and justice.  The destination is the release of Liberty.  The destination is my sister coming home with rejoicing and being able to be in the place that she should be.  And being able to take the place that she should be with liberty and justice for all of you.  Thank you.  Happy, happy, happy Nowruz, thank you so very much.  [applause]
SEPEHRAD:    Ladies and gentlemen, we are very pleased to welcome Congressman Gramandi from California. [applause]  Congressman is very, very familiar with the Nowruz celebration coming from Los Angeles.  We're so pleased to have him with us today.  Thank you, sir.
GRAMANDI:  Well, thank you.  Nowruz [Persian]. [applause]  My greetings to all.  And at the very best of this year we have many, many challenges and your participation in keeping us all aware of the concerns that you have both within our country and back in Iran.  It's very, very important.  And so we thank you for that.  We thank you for the information, the knowledge.  In my own district, in the Sacramento region there are many Persians that would love to be here to celebrate with you and they sent me and said, "No matter what you do this day, you come here and say Nowruz [Persian]. [applause]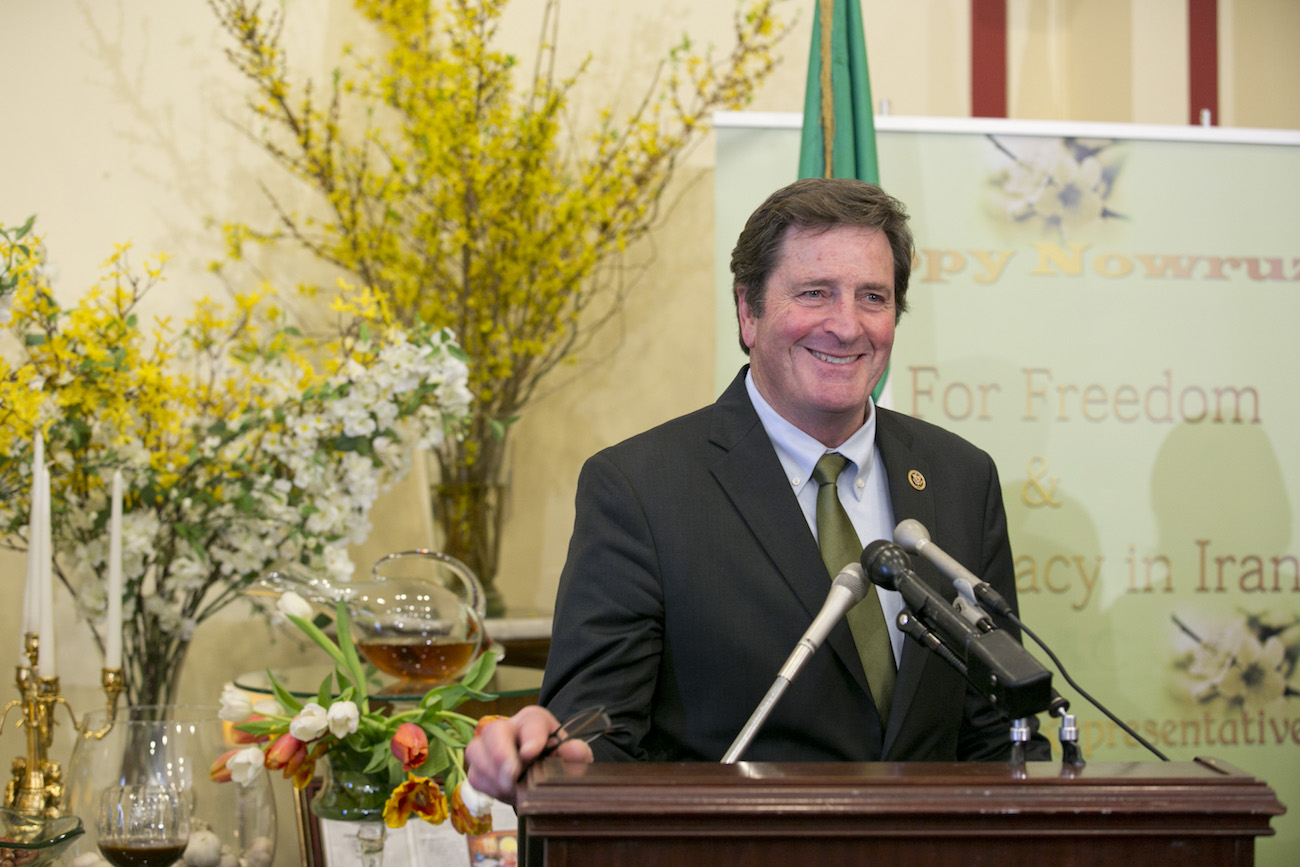 SEPEHRAD:    Ladies and gentlemen, we have here with us…ladies and gentlemen, we have here with us a great friend of the Iranian resistance, a great friend of Camp Liberty, someone who has served this nation and continues to stand on the right side of the history of holding the true American values.  Please welcome Col. Wes Martin. [applause]
MARTIN: Ladies and gentlemen, I thank you for giving me a chance to come and spend another day with you.  On behalf of my friends, my fellow military officers, they have all asked me to come and speak and represent them as each of them couldn't be present.  And also for the American, European, and Canadian defenders of liberty, we are very honored to be able to work with you.
We celebrate life today.  We celebrate the new year.  But there are lives that we need to also honor and celebrate—those of the past.  And you look to the past and the Persian Empire is one of the greatest civilizations of all times.  It was far ahead of the others in technology, in science, in architecture.
And then we look at the present and all civilizations have high points and they have low points.  Unfortunately, what we see now, both a high point and a low point.  The low point we see is the government in Tehran.  People are being oppressed.  People are being murdered.  That's no moderate regime as you've heard said by other Congressmen today, and yet the high point we see are the people of Iran—the sons and daughters of Persia and Iran and all around the world, in this room we see it.  It's the sons and daughters of Persia today that will deliver and remove the evil from Tehran and then we will see the future.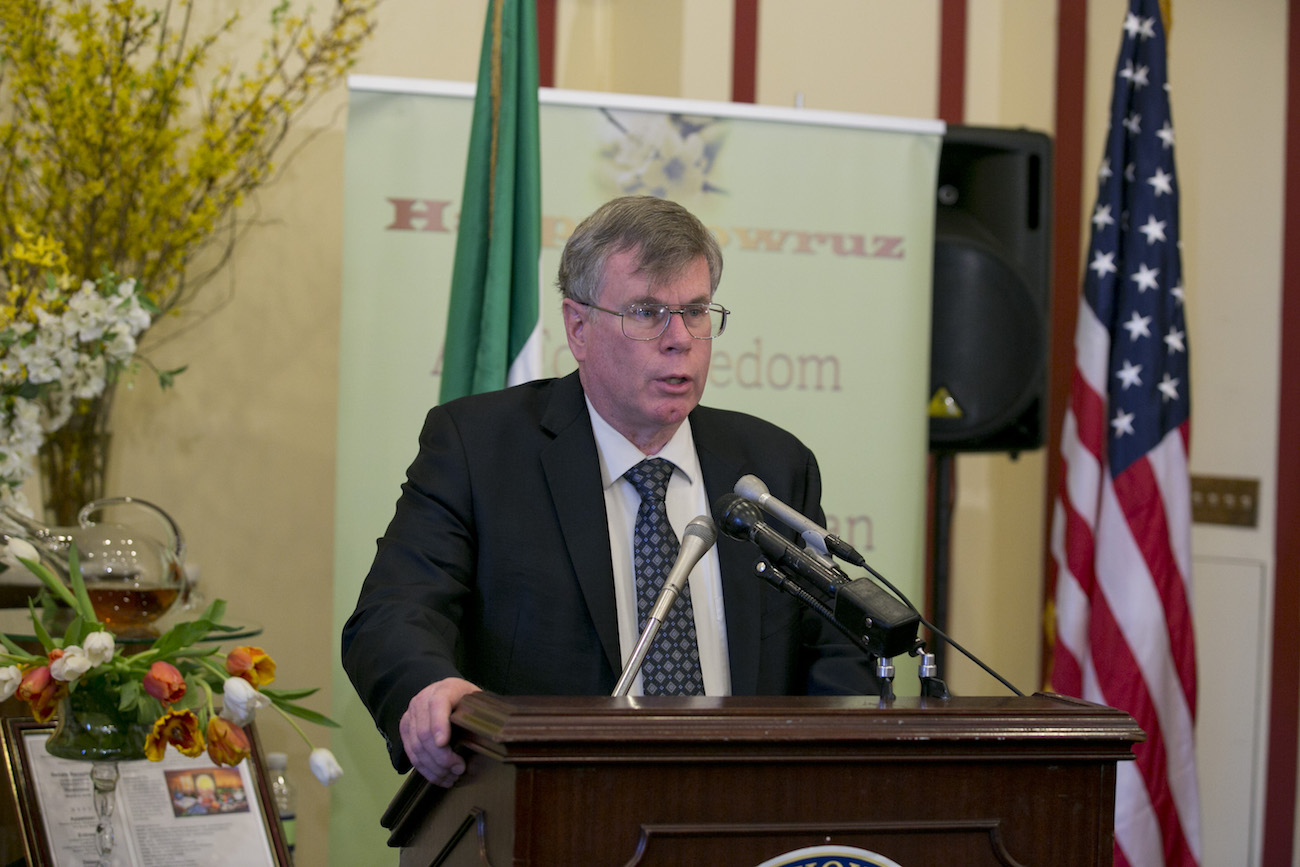 As I see young Persian people throughout the world in free countries, I am always very, very impressed by them and I can just imagine if all of Iran had those same people, same type of people, it would be one of the greatest governments once again in the world.  And it will be one of the greatest.
One day soon, as I mentioned, the highest point, the people of Iran, will remove the lowest point, the government.  We'll see stability throughout the Middle East and we'll see peace throughout the entire world.
Franklin Delano Roosevelt had four freedoms.  We will see those four freedoms in Iran.  We will see freedom of worship.  We will see freedom of speech.  We will see freedom from fear.  We will see freedom from want.
We have heroes.  The greatest heroes that we have are you.  And the fighters throughout the world want to bring stability to the Iranian government and bring peace to the world.
And I recognize the men and women, our brothers and sisters at Camp Liberty.  I was honored to serve with the residents of Liberty at Camp Ashraf.  Some of the highest points I remember is working together on Diyala Province when we went to the west water pump, when we did construction projects together.  I remember working with the martial arts team.  I remember the celebrations.  I remember being able to sit there and learn from them and spend time with them and it was always a very rewarding experience.
There's a term I coined called defenders of liberty.  That phrase has two meanings.  One, we look at the defenders of liberty as liberty itself, as freedom itself.  And we also look at the defenders of Liberty as the people who stand up and fight for the residents of Camp Liberty.
And we're strong in numbers.  It's not just the Americans.  It's some of the greatest Americans of our generation—Republicans and Democrats standing firmly together.  We also have our European friends—men like [0:50:23] Stevenson, Paulo Casaca, Lord Maginiss.  And we look up towards Canada and we see men like David Kilgour.  All of us working together, defenders of liberty.
I'm often asked why I have worked so hard so long.  Because one, it's the right thing to do, but two, I remember how the residents of Camp Ashraf worked so hard to protect the soldiers and the marines of my base in Iraq.  And they would put their lives in danger before they wanted American lives put in danger or Bulgarian lives put in danger.  That is a debt, no matter how hard I work, I can never repay, because many Americans and Bulgarians and other soldiers and Marines came home because the residents of Ashraf worked so hard to protect us and say with us.
So I say this is closing.  I've said it before.  We were together on the deserts of Diyala Province.  We're together now.  We'll be together always.  Thank you. [applause]