Security Forces Attack Peaceful Protesters at Khajoo Bridge, Isfahan
Iran News Update, November 25, 2021
On Thursday, at 3 AM local time, the anti-riot police attacked the farmers who were holding a sit-in at the Khajoo Bridge, firing tear gas and setting fire to the farmers' tents. These farmers were peacefully protesting at the dried river bed of Zayandeh Rud and they were asking the state to stop monopolizing the water that has been vital for their agriculture.
Iranian Security Forces Set Protesters' Tents On Fire In 'Clean-Up' Operation In Isfahan
Radio Farda, November 25, 2021
Tents set up last week by Iranian farmers in a dry river bed in Isfahan, Iran's third-largest city, to protest against water cuts have been set on fire by riot police, and shots could be heard in the area. read more
Iranian farmers protest, demand water be released from dam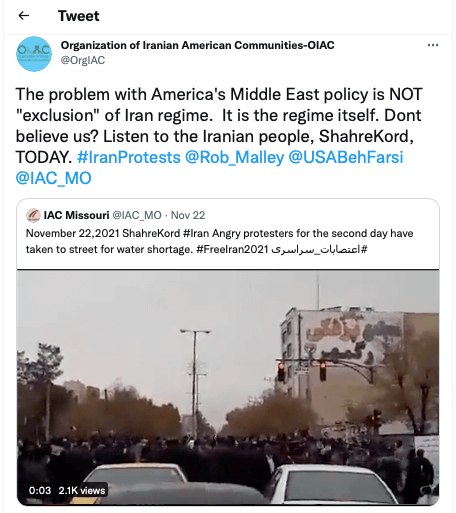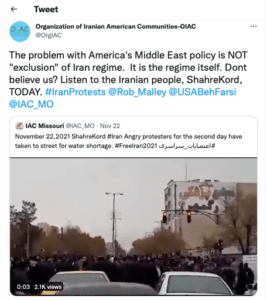 The Associated Press, November 19, 2021
Thousands of farmers in central Iran joined a protest on Friday demanding authorities open a dam to relieve drought-stricken areas, state TV reported. Several prominent actors and athletes have taken part in the peaceful demonstrations in the city of Isfahan, urging the government to intervene to aid famers increasingly suffering from droughts that have worsened over the years. The demonstrations began earlier this month.
Crowds marched alongside the banks of the city's once-famed but now dry Zayanderud River, chanting "Farmers! Farmers! We support you!" and "Give Esfahan a chance to breathe!" read more
We Weren't Just Numbers, We Were the Future
By MAJID SAHEB JAM , FORMER POLITICAL PRISONER AND MEMBER OF THE MOJAHEDIN-E-KHALQ (MEK)
NewsWeek, November 22, 2021
Two years after the bloody crackdown of the November uprising and 33 years after the massacre of 30,000 political prisoners in Iran, two trials were held in Europe recently. With the real culprits sitting thousands of miles away, watching from the comfort of their palaces, we the oppressed sought justice and called them out. We did it because they killed every single soul that dared dissent. They did it then and they're doing it now.
I was arrested in 1982. My crime? I supported a political group that opposed the rule of an extremist cult that uses Islamic Sharia law to justify its insatiable greed and lust for power. read more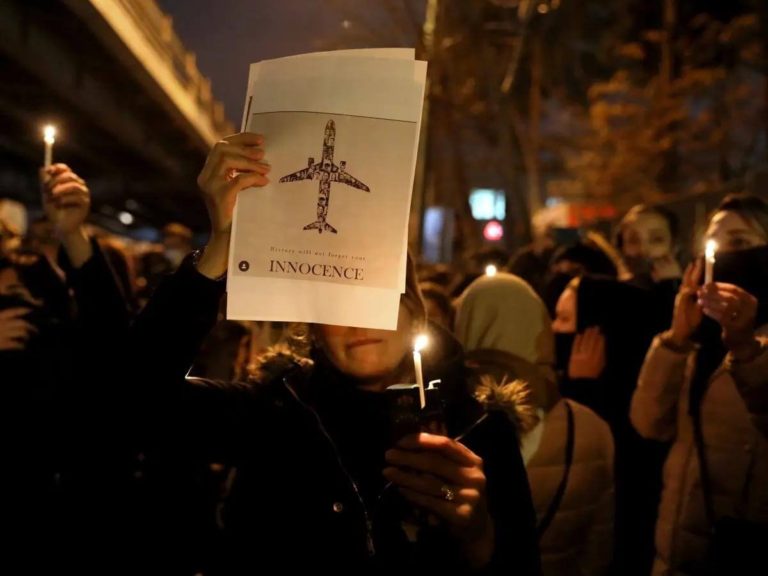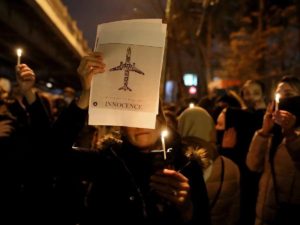 High-level officials responsible for Ukraine airliner crash in Iran -victims' report
Reuters, November 24, 2021
The 2020 downing of a Ukrainian jetliner by Iran's Revolutionary Guards was the responsibility of high-level Iranian officials, not an accident caused by a missile system operator as Tehran claimed, families of victims allege in a report on Wednesday.
The report by an association composed of mostly Canadian families of Flight PS752 victims challenges Iran's official findings that blamed a misaligned radar and an error by the air defence operator for downing the plane shortly after it took off from Tehran's Airport. All 176 people aboard were killed. read more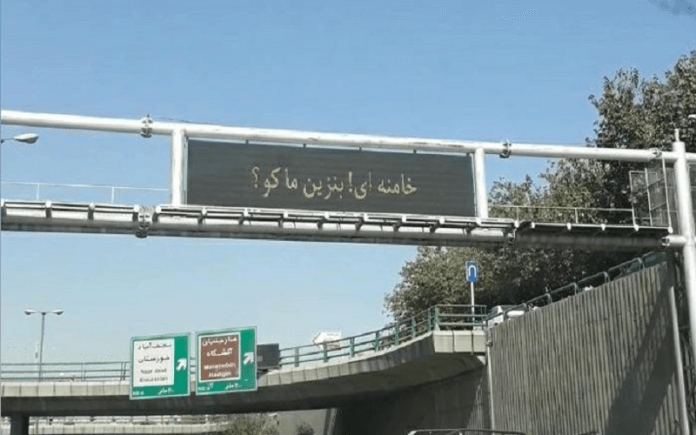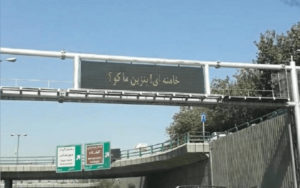 Iranian websites hacked to show 'death to Khamenei' message
jPost, November 24, 2021
The message "death to Khamenei – greetings to Rajavi" was placed by hackers on a number of official websites in Iran.
A number of Iranian websites were hacked on Wednesday with the message "Death to Khamenei – greetings to Rajavi" displayed instead of the sites, according to reports. The websites affected were quickly taken down, according to Iranian media. The message referred to Supreme Leader Ayatollah Ali Khamenei and Maryam Rajavi, the leader of the People's Mujahedin of Iran (MEK), an opposition group attempting to overthrow the Islamic Republic of Iran. read more
Outcry After Iran 'Shocking' Execution Of Young Murder Convict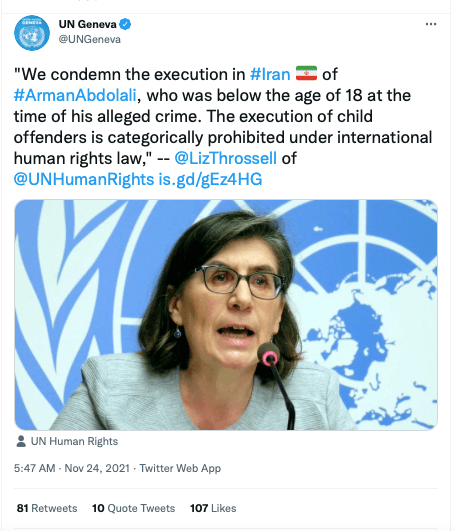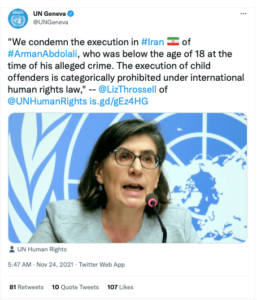 Barron's, November 24, 2021
The UN, EU and rights groups accused Iran of flouting its international obligations after Tehran's execution Wednesday of a young man convicted for a murder he allegedly committed as a minor.
Arman Abdolali, 25, was executed at dawn in Rajai Shahr prison near the Iranian capital over the killing of his girlfriend, despite international appeals to call off the execution. His execution was in line with the "qesas" eye-for-an-eye style justice demanded by the victim's family, the Iranian judiciary's Mizan Online website said. read more
Latest Videos From Inside Iran
---
---
Donation
501 (c)(3) Tax deductible
Please,
Donate to Organization Of Iranian American Communities
Your donation will help OIAC advocates for a democratic, secular and non-nuclear government in Iran. Founded on the respect for human rights, gender equality, religious and ethnic tolerance, as wells as social, economic justice, and security for America. Our goal is to organize Iranian-American communities in the United States to promote these values.
Thank You,
http://www.oiac-us.com/donation/