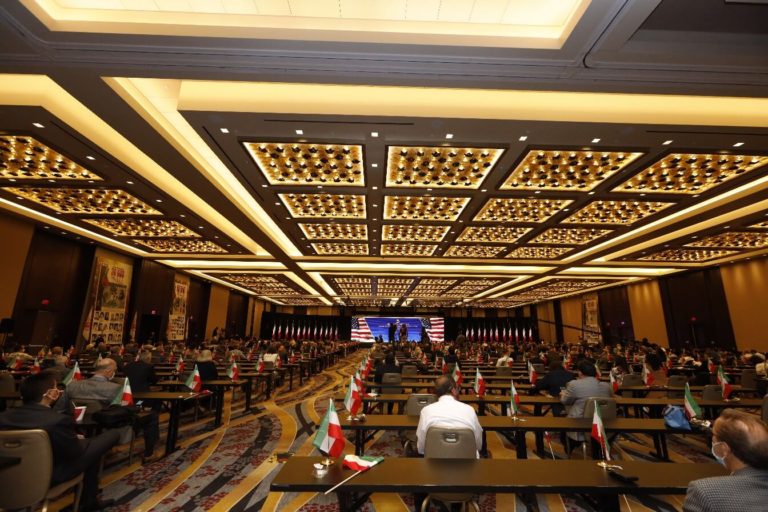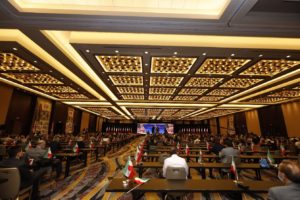 Event to call on US to hold Ebrahim Raisi Accountable
Oiac.org, September 20, 2021
On Monday, September 20, 2021, a bipartisan panel of distinguished policy and political figures participated in a conference organized by Organization of Iranian American Communities and its many chapters, including New York, New Jersey, California, and Texas. Speakers discussed the need for the U.S. to take a leading role in a U.N. backed investigation into the 1988 Massacre of 30,000 political prisoners in Iran. Held a day before the Iranian regime's president Ebrahim Raisi's first speech at the UN General Assembly, the conference underlined his role in the 1988 massacre and the necessity to keep the regime to account for crimes against humanity. Hundreds of Iranian American community leaders and families of the 1988 victims were in attendance.
Event's keynote speaker was Mrs. Maryam Rajavi, President Elect of the National Council of Resistance of Iran. She urged, "the United States, the European Union, and its member states to refer the dossier of human rights violations in Iran to the UN Security Council. Such a measure will enable the UN to arrange for the international prosecution of Khamenei, Raisi, and other regime leaders for committing four decades of crimes against humanity and genocide." "We want the world to recognize the right of the Iranian people to overthrow the regime," she said, urging the international community to, "acknowledge their right to establish freedom and democracy and a republic based on the separation of religion and state."
Michael Pompeo, the 70th U.S. Secretary of State also addressed the conference, receiving a warm welcome and a standing ovation from Iranian American community leaders in attendance. Mr. Pompeo addressed a wide range of Iran policy related issues and reiterated the need for the U.S. and the international community to support democratic aspirations of the Iranian people. He also said Ebrahim Raisi must be prosecuted now, for his crimes against the people of Iran.
click to read more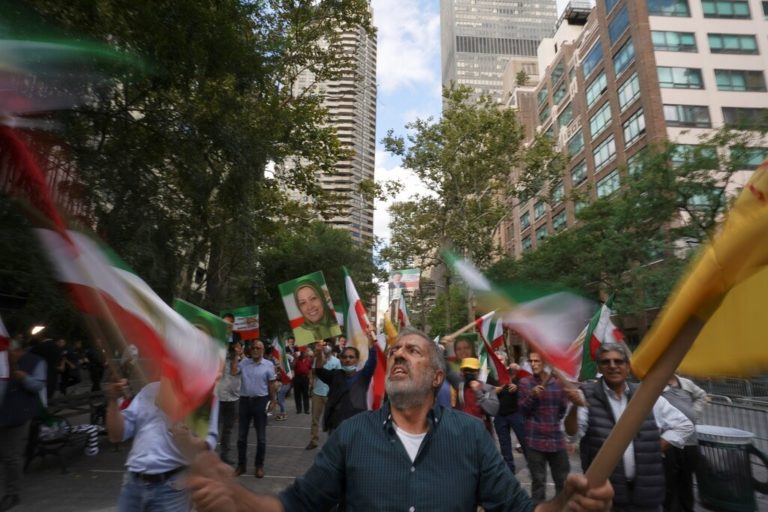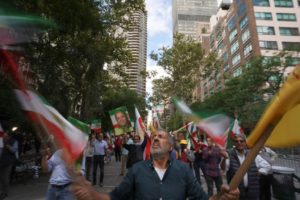 Protesters denounce the leaders of Brazil and Iran.
The New York Times, September 21, 2021
….Around 10:30 a.m. on Tuesday, protesters holding Iranian flags and wearing #FreeIran shirts and hats held signs condemning a government they regard as criminal. Referring to Ebrahim Raisi, Iran's former judiciary head who became the country's president in August, they chanted, "Prosecute Raisi now now now!"
A hard-line cleric who is a close ally of Iran's supreme leader, Ayatollah Ali Khamenei, Mr. Raisi has been accused of playing a role in sending thousands of political prisoners to their deaths in the 1980s, and in lethal crackdowns on antigovernment protests in 2009 and 2019.
click to read more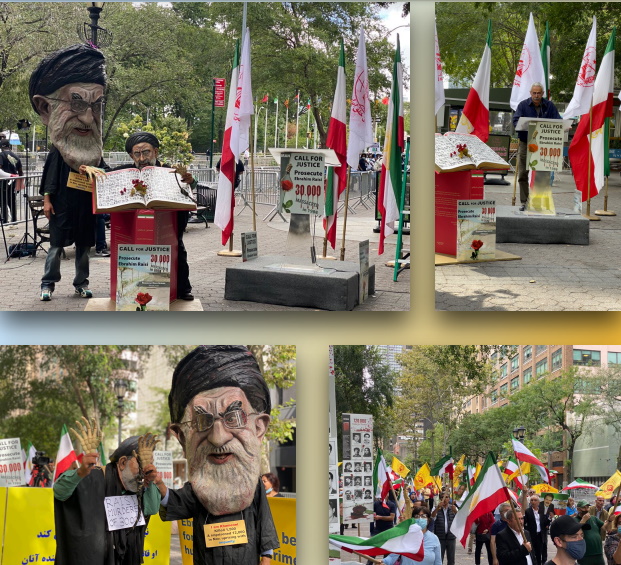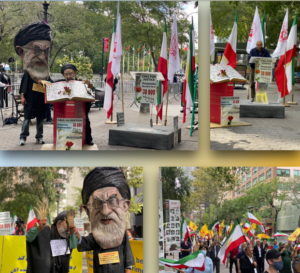 As Iranian leader Raisi addresses UN General Assembly, dissidents call for pressure on regime
Raisi's election was dogged by accusations of it being "pre-manufactured."
Fox News, September 21, 2021
New Iranian President Ebrahim Raisi is set to address the U.N. General Assembly on Tuesday, and dissidents calling for a free and secular Iran are urging the international community not to let the opportunity to put pressure on the despot pass them by – and are calling for him to be prosecuted.
Raisi, a hardline former judiciary chief tied to mass executions of dissidents in the 1980's, was elected earlier this year in an election dogged by low turnout and accusations of rigging by the ayatollah.
Raisi had been sanctioned by the Treasury Department in 2019, citing reports that, under Raisi, the judiciary had approved the execution of child offenders and arrested lawyers for defending political prisoners and human rights defenders.
click to read more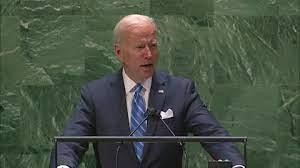 Biden signals that the US is prepared to rejoin the Iran nuclear deal
US will return to 'full compliance' if Iran does so, president says
Independent, September 22, 2021
President Joe Biden indicated an interest in turning a page on US-Iranian relations during his first address to the UN General Assembly (UNGA) on Tuesday.
Speaking at the body's headquarters in New York City, Mr Biden said that the US would return to "full compliance" with the deal negotiated during his previous stint in the White House, under former President Barack Obama.
"The United States remains committed to preventing Iran from gaining a nuclear weapon. We are working with the P5+1 to engage Iran diplomatically and seek a return to the JCPOA," said Mr Biden, referring to the acronym for the official title of the 2015 nuclear accord signed by the US, Iran, and several European nations. "We're prepared to return to full compliance if Iran does the same."
click to read more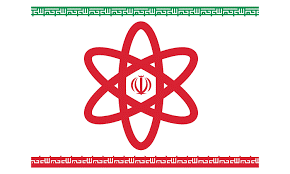 Future of nuclear talks with Iran remains uncertain as Tehran expands enrichment
The Washington Post, September 21, 2021
Three months after the last meeting to negotiate a revival of the nuclear deal between Iran and world powers, it remains unclear if and when the talks in Vienna will restart, or who might represent its new government.
In the interim, Iran has continued to expand the quantity and quality of its uranium enrichment, leading some experts to conclude it is now even closer to possessing enough fissile material to build a bomb than the two or three months the Biden administration has publicly estimated. At the same time, Iran has repeatedly sparred with the International Atomic Energy Agency over monitoring of its nuclear activities agreed in the 2015 deal.
click to read more
Iran Protests & More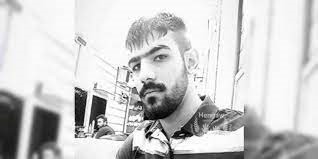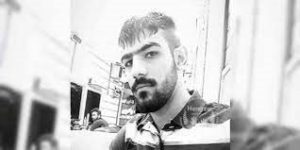 Claimed He Witnessed Torture Of Champion Wrestler
Iran-Hrm.com, September 25, 2021
A Kurdish prisoner died under torture on September 23 at the Greater Tehran Penitentiary.
The man was identified as 22-year-old Amirhossein Hatemi.
He was from Ilam, western Iran, and residing in Tehran. An informed source said he was killed under severe beatings of batons to his head by the prison guards.
The source said Amirhossein was working in one of Tehran's bazaars when he was detained for getting into a fight with another citizen.
His father said he will not accept his son's body until the cause of death is formally determined.
The torture, harrasment and mistreatment of detainees are among the most serious rights violations in the Iran's prisons.
click to read more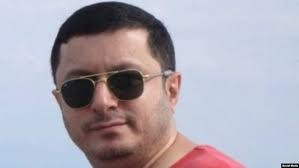 Iran Confirms Death Of Prisoner Who Claimed He Witnessed Torture Of Champion Wrestler
Radio Farda, September 24, 2021
Iranian authorities have confirmed the death of prisoner Shahin Naseri, who had claimed he witnessed the torture of champion wrestler Navid Afkari before his execution on homicide charges.
Prison officials on September 23 said they are investigating the cause of death in Naseri's case.
Two days earlier, the Oslo-based Iran Human Rights (IHR) group quoted "informed sources" as saying Naseri had died under "suspicious circumstances" in the Greater Tehran Penitentiary after being transferred to solitary confinement.
The rights group said the source told it that Naseri had been transferred to an unknown location on the anniversary of the execution of Afkari, who had been convicted of murdering a security guard during mass anti-government protests in 2018.
click to read more
OIAC Event: September 20, 2021
---
---
Donation
501 (c)(3) Tax deductible
Please,
Donate to Organization Of Iranian American Communities
Your donation will help OIAC advocates for a democratic, secular and non-nuclear government in Iran. Founded on the respect for human rights, gender equality, religious and ethnic tolerance, as wells as social, economic justice, and security for America. Our goal is to organize Iranian-American communities in the United States to promote these values.
Thank You,
http://www.oiac-us.com/donation/