Iran says fire at nuclear facility resulted in 'significant' damage after first claiming destruction was 'limited'
CNN, July 6, 2020
Tehran (CNN)A fire at Iran's Natanz nuclear facility site resulted in "significant" damage, impacting both the construction and development of the country's advanced nuclear program, officials confirmed Sunday, contradicting previous claims that the impact from last week's blaze had been "limited."
It remains unclear what exactly started the fire at the complex, considered Iran's largest uranium enrichment facility and located about 250 kilometers (150 miles) south of the capital Tehran.
Analysts believe the site is used to develop and assemble centrifuges for uranium enrichment, key technology that turns uranium into nuclear fuel.
Behrouz Kamalvandi, a spokesman for the Atomic Energy Organization of Iran (AEOI), said Sunday that while there were no human casualties in the fire that struck the facility Thursday, "the financial losses were significant."
The incident has not slowed the nuclear enrichment work at Natanz, but it did impact the construction and development of some advanced machines "in the medium term," said Kamalvandi. He said in an interview with the state-run IRNA news agency that the shed which was impacted housed various tools and precise measuring equipment that have been permanently destroyed.
Ramazanali Ferdowsi, the governor of Natanz, said the fire only damaged a building under construction within the complex and did not affect the main area of the nuclear facility, according to semi-official news agency Tasnim.
The fire at Natanz is one of several unusual incidents that have occurred throughout Iran in recent weeks.
A major explosion was reported on the outskirts of Tehran, near the town of Parchin and a military facility, last month. Iranian state media reported another blast took place at the the Zargan power plant in Ahvaz, a city in southwest Iran, on Saturday. And a few hours later, a chlorine gas leak sickened dozens at a petrochemical complex in southeast Iran.
Click to read more
Pompeo warns Iran will become arms dealer 'to the Maduros and the Assads' if arms embargo expires
'If Iran is allowed to buy weapons from the likes of China and Russia, more civilians in the Middle East will die at the hands of the regime and its proxies,' he said.
Fox News, July 2, 2020
On the 22nd of April, Iran surprised the world by successfully launching the Noor satellite, using a previously unknown Satellite Launch Vehicle (SLV) which they call Qased.
The US Space Force confirmed that Noor reached orbit, together with a second object, assessed as the spent upper stage.
A detailed analysis of the Qased, based on open sources and using computer simulations to calculate trajectories, shows it has a strong relationship to the Shahab-3 ballistic missile Qasedand the Safir SLV, together with a number of unusual features for an SLV. If SLV compromises were removed, restoring the design optimization for use as a ballistic missile, the Qased can reach Central Europe and parts of Northern Europe, depending on its payload mass.
Iran's previous satellite launch attempts have been notoriously unreliable. Last year a Safir SLV exploded on its launch pad and the much larger Simorgh SLV has never successfully placed a payload in orbit.
As demonstrated in its ballistic missile attack against Al Asad airbase in January, Iran has made great leaps in improving the accuracy of its ballistic missiles, using maneuvrable re-entry vehicles with terminal guidance. Such a re-entry vehicle has also been tested on its Emad missile, with a stated maximum range of 1,700 km.
So far, Iran says it officially limits the maximum range of its ballistic missiles to 2,000 km; sufficient to reach Israel and Saudi Arabia, the stated foes of the Iranian regime. The US government maintains that Iran's SLV development is a cover for building long-range ballistic missiles and this analysis does not contradict that assertion.
Table 1 lists payloads and ranges for Iran's ballistic missile arsenal, as displayed in a recent Iranian TV documentary.
Click to read more
VICTIMS OF THE CORONAVIRUS EXCEED 64,800 IN 342 IRANIAN CITIES
Maryam Rajavi: Hail to the protesting nurses in Mashhad, and all the physicians, nurses and medical staff who have risked their own lives to save the lives of patients.
Maryma-Rajavi.com, July 3, 2020
The People's Mojahedin Organization of Iran announced Friday afternoon, July 3, 2020, that the death toll due to the coronavirus infection has exceeded 64,800 in 342 cities across Iran.
Physicians, nurses, emergency personnel and ambulance drivers are at high risk of infection, and many have already lost their lives. They have been exhausted under work pressure, but the clerical regime does not spend the minimum to improve their situation.
In addition, the regime procrastinates payment of their salaries and their overtime dues. There are a large number of trained nurses who can be employed to reinforce Iran's exhausted medical system, but the regime refrains from doing so. They employ nurses on 89-day contracts as daily rate workers, in order to avoid granting them insurance and unemployment fees.
Nurses in Mashhad held a gathering this week in protest of intolerable pressure, their dire economic conditions, and the regime's failure to pay their salaries. The repressive State Security forces, however, attacked the protesters, hitting them with batons and shockers, and arresting a number of them.
Hail to the protesting nurses in Mashhad who were attacked by batons and shockers. Hail to all the physicians, nurses and medical staff who have been risking their own lives to save the lives of patients.
The clerical regime has plundered our nation for 4 decades, squandering the country's wealth on nuclear and missile projects and on terrorism. It has destroyed all the country's infrastructures. Despite the existence of selfless and proficient physicians and nurses, the regime has left our people defenseless in the face of the pandemic. The only way to end poverty, corruption, unemployment and disease, is overthrowing the clerical regime and establishing democracy and people's sovereignty in Iran.
Click to read more
Iran rial slides to new low as coronavirus, sanctions weigh
Reuters, July 4, 2020
DUBAI (Reuters) – The Iranian rial fell to a new low against the U.S. dollar on the unofficial market on Saturday, as the economy comes under pressure from the coronavirus pandemic and U.S. sanctions.
The dollar was offered for as much as 215,500 rials, softening from 208,200 on Friday, according to foreign exchange site Bonbast.com. The economic daily Donya-e-Eqtesad's website gave the dollar rate as 215,250, compared with 207,500 on Friday.
In May 2018, President Donald Trump withdrew the United States from a multilateral deal aimed at curbing Iran's nuclear programme and reimposed sanctions that have since battered the economy.
A drop in oil prices and a slump in the global economy have deepened the economic crisis in the country, which also has the highest death toll in the Middle East from the pandemic.
The rial's decline has continued despite assurances from Iranian Central Bank Governor Abdolnaser Hemmati last week that the bank had injected hundreds of millions of dollars to stabilise the currency market.
The rial lost about 70% of its value in the months after May 2018 as Iranians snapped up dollars, fearing Washington's withdrawal from the nuclear deal and sanctions could shrink vital oil exports and severely impact the economy.
The official exchange rate is 42,000 rials per dollar and is used mostly for imports of state-subsidised food and medicine.
Click to read more
Iran Protests & more
https://www.youtube.com/watch?v=ERbZqheQ7c0&feature=youtu.be
Iran dumps Flight 752 investigator after he suggests Tehran kept airspace open to conceal 'imminent' attack
Investigator also heard pressuring family member to delete online posting critical of Iranian regime
CBC, July 3, 2020
A newly released audio recording suggests Iran's highest authorities allowed commercial airliners to fly in and out of Tehran during the period of intense military activity when Flight 752 was shot down — because closing the airspace would have given away the regime's plan to strike U.S. military bases in Iraq.
CBC News obtained a recording of a 91-minute conversation that took place March 7 between a victim's family member in Canada and Hassan Rezaeifar, who was appointed the head of Iran's investigation into the downing of the Kyiv-bound Ukraine International Airlines aircraft. The crash of Flight 752 killed 176 people, including 57 Canadians.
The recording, which reveals a number of damning details about the downing of the plane and Iran's response, is also in the custody of Canadian authorities.
Less than 24 hours after CBC News emailed Rezaeifar a copy of the recording and requested a response Thursday, news broke that he had been removed from his role overseeing Iran's investigation into the downing of Flight 752. Families in the United Kingdom — which has an embassy in Iran — were notified this morning that a new investigator is now in charge.
Airspace kept open to avoid signalling attack: Rezaeifar
In the recording, Rezaeifar said closing the airspace over Tehran could have exposed Iran's pending ballistic missile attack on U.S. air bases in Iraq in advance. That attack was retaliation for the United States' killing of Iran's top military leader, Gen. Qasem Soleimani.
"Some say we should have cleared the airspace," Rezaeifar said in Farsi on the recording. "The National Security Council is in charge.
"But let's say we had cleared the airspace. Wouldn't [it] give away our imminent attack?"
Flight 752 was shot down just four hours after the strike on the U.S. base. Rezaeifar added that closing the airspace could have meant cancelling flights. Iran earns hundreds of thousands of dollars daily in fees for allowing flights in its airspace.
"Ok, let's assume we had delayed the Ukrainian flight for ten hours. Wouldn't it have cancelled all other flights after?" said Rezaeifar on the call.
Thomas Juneau, an associate professor of international affairs at the University of Ottawa and former analyst of Middle East affairs, said Iran has been insisting the investigation will be independent — and the audio recording proves it's not.
Click to read more
Iran Human Rights Monitor Monthly Report June 2020
Iran HRM, June 30, 2020
June 2020 saw tighter clampdown on political prisoners and prisoners of conscience and mistreatment of human rights advocates.
Beset by a whole host of economic, social, and political crises, the Iranian regime has been trying to rein in simmering social discontent by use of brute force.
There have been reports on death sentenced issued against young men for taking part in street protests, hand amputation sentences issued contrary to international law, lashing dissidents and prisoners being brutalized in Iran's prisons.
On the other hand, the continued horrendous executions, including of political prisoners, to tighten up the general social atmosphere.
In the monthly report of Iran Human Rights Monitor Monthly Report – June 2020 we read:
Executions:
Iran executed 22 people in June 2020.
Hedayat Abdollahpour, a Kurdish political prisoner and father of two who was on death row based on false charges since 2018, was among those executed.
His family were informed on June 10 that their son had been secretly executed a few weeks ago in western Iran.
Judicial and security officials still refuse to hand over the body of the 27-year-old political prisoner to the grieved family or provide information about his burial place.
The execution was carried out even though one of the judges in the case had earlier told Hedayat's attorney that he was innocent, and that the death sentence was a result of pressure from Iran's Islamic Revolutionary Guards Corps.
Meanwhile, upholding death sentences against peaceful protesters has been considered as a crisis point in the situation of human rights in Iran and an attempt on the part of the ruling regime to silence any voice of dissent.
The Iranian regime's Supreme Court has upheld death sentences issued for Amir Hossein Moradi, Saied Tamjidi and Mohammad Rajabi, three political prisoners arrested during Iran's November 2019 nationwide uprising.
Amir Hossein Moradi, Saied Tamjidi, and Mohammad Rajabi were sentenced to death after unfair trials headed by Abolghasem Salavati in Branch 15 of the Revolutionary Courts in Tehran. Salavati is known for his long history of issuing death sentences for political prisoners and other regime dissidents.
The three political prisoners have in all their court hearings protested being placed under vicious torture.The U.S. State Department spokesperson Morgan Ortagus in a tweet on June 25 condemned the death sentence.
"The U.S. strongly condemns Iran​'s decision to sentence Amir-Hossein Moradi, Saeed Tamjidi and Mohammad Rajabi to death," Ortagus wrote in her tweet and added: "These protesters were ​reportedly beaten, denied lawyers, and coerced into false confessions. Iran must respect human rights and stop these executions".
Click to read more
Commentary:Iran must be held to account for global espionage, assassinations and terrorism plots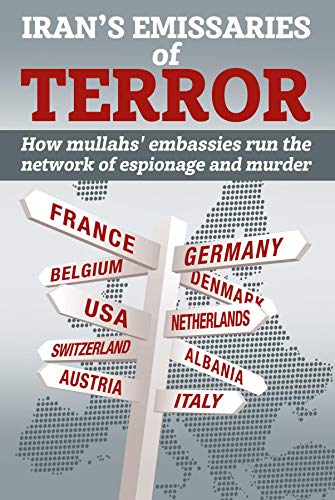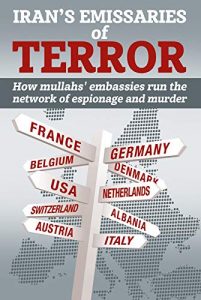 Arab News, July 2, 2020, by Majid Rafizadeh
While it is important to examine what topics Iran's state-owned Persian news outlets focus on, it is also critical to analyze what they decide not to cover. This week, for instance, there was little mention of the Iranian spy who was recently sentenced by a Danish court to seven years in prison.
The spy, who will be deported from Denmark after serving his jail term and permanently banned from re-entering the country, was reportedly an accessory to the attempted murder of one or more opponents of the Iranian regime. The court stated that he "collected information about an exiled Iranian in Denmark" and handed the information over to an Iranian intelligence agency, an act that is illegal under Danish law.
While the intelligence agencies of many nations gather information in other countries, the Iranian case is different because the regime is actively involved in using gathered information to assassinate or bomb its targets.
In the Netherlands, for example, Ahmed Mola Nissi, a Dutch citizen of Iranian origin, was gunned down outside the front door of his home in the Hague in Nov. 2017. The 52-year-old, considered an opponent to the Iranian regime, was a prominent figure in the Arab Struggle Movement for the Liberation of Ahvaz, an activist group that fights for the formation of a separate state in Western Iran.
The Dutch authorities made a public announcement stating that the Iranian government commissioned the murder. Nissi's resistance to Iran's tyrannical regime made him a target, and his life was ended to further the goals of the autocratic rulers in Tehran.
He was not the only person targeted in this way. Another political opponent, Ali Motamed, was killed under similar circumstances in Amsterdam in 2015. The regime has made it clear that there is a target on the backs of all who oppose it or stand up for freedom and human rights.
Tehran also seems to use intelligence information gathered by its spies to carry out terror attacks. For example, European officials foiled a terrorist plot to bomb a Free Iran convention in Paris in June 2018 that included many high-profile international speakers, including former US House of Representatives Speaker Newt Gingrich, former New York City mayor Rudy Giuliani and former Canadian Foreign Minister John Baird.
An Iranian diplomat and several other individuals of Iranian origin were arrested in France, Belgium and Germany. After a thorough investigation, French officials concluded that the Iranian regime was behind the bomb plot. Had it succeeded, the loss of life would have been staggering and the devastating toll on a community that fights for human rights would have been immeasurable.
This was not an isolated incident in Europe. In 2018, officials in Denmark accused Tehran of attempting to assassinate a Danish citizen. Anders Samuelsen, the foreign minister at the time, emphasized the seriousness of the plot, saying: "An Iranian intelligence agency has planned an assassination on Danish soil. This is completely unacceptable. In fact, the gravity of the matter is difficult to describe. That has been made crystal clear to the Iranian ambassador in Copenhagen today."
Click to read more
OIAC Youth Chapter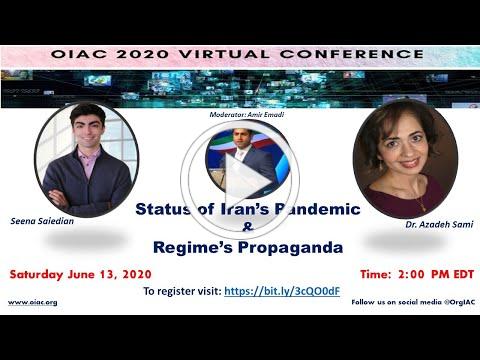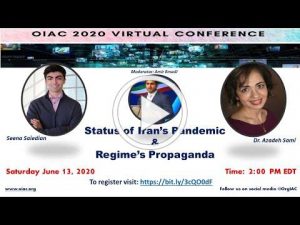 OIAC's Young Professionals Virtual Conference Series: Status of Iran's Pandemic, Regime's Propaganda
---
---
Donation
501 (c)(3) Tax deductible
Please,
Donate to Organization Of Iranian American Communities
Your donation will help OIAC advocates for a democratic, secular and non-nuclear government in Iran. Founded on the respect for human rights, gender equality, religious and ethnic tolerance, as wells as social, economic justice, and security for America. Our goal is to organize Iranian-American communities in the United States to promote these values.
Thank You,
http://www.oiac-us.com/donation/