OIAC Nationwide Virtual Conference Supports Regime Change by Iranians & Calls for Snapback of UN Sanctions
On Thursday, May 21, 2020, Iranian-American Communities from across the U.S. held their first-ever virtual conference, entitled "Iran: Global Threat, Domestic Repression, Prospects for Change." There were over 1,000 points simultaneously linked together on ZOOM from some 40 states. In each point, one or more members or associates of the Iranian American communities were connected during this 90-minute event.
Several former U.S. officials addressed the event: the first U.S. Homeland Security Secretary, Tom Ridge, former New Jersey Democratic senator, Robert Torricelli, and former U.S. Ambassador to the United Nations Commission on Human Rights, Kenneth Blackwell.
An impressive lineup of representatives and leaders of the Iranian American communities spoke briefly on various aspects of the Iranian situation and what U.S. policymakers should take away from it. Moderator Dr. Ramesh Sepehrrad, an OIAC Advisory Board member, explained that the Organization of Iranian American Communities (OIAC) was "as eager as ever and proud" to continue its efforts for a free Iran, and in the current circumstances would do so "in person or virtually."
Secretary Ridge lauded all those standing for freedom in Iran. "The more the world learns of the commitment, the passion, and the courage of the freedom fighters of Iran, the more and more the world embraces their cause as its own. And that's very, very important." Ridge reminded everyone of the gospel song "We Shall Overcome," saying, "'Deep in my heart, I do believe, we shall overcome some day.' And then the next stanza begins with 'We walk hand in hand.'" Quoting from the lyrics of the song, Secretary Ridge highlighted the desire of the Iranian people who are demanding to "be free to go forward. We're not going back to the monarchy. We're going to reject this repressive theocracy and we'll be free."
"Some of the most visible heroes and heroines of this battle for a new and free and 21st century Iran, are the heroes and heroines and men and women of Ashraf 3", home in Albania to some three thousand members of the main Iranian opposition, the MEK. Ridge recalled his own efforts working for this cause, "along with so many other Republicans and Democrats for almost 15 years," and highlighted three characteristics of the Iranian Resistance, i.e., courage, resilience, and global resistance.
Click to read more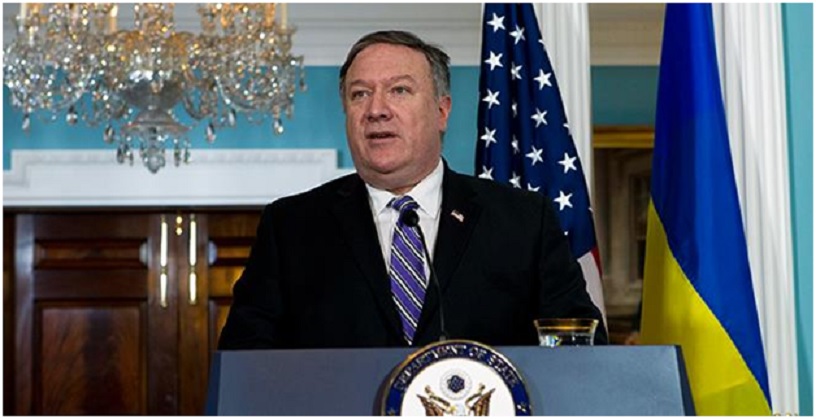 Standing with the Iranian People
PRESS STATEMENT
MICHAEL R. POMPEO, SECRETARY OF STATE
State.gov, May 20, 2020
Today, the United States is imposing financial sanctions and visa restrictions on Iranian individuals and entities under human rights-related authorities. These actions with respect to 12 Iranian individuals and entities by the Department of State and Department of the Treasury send a message of support to the Iranian people that we will continue to support their demands for transparent and accountable governance and speak out for those who are being silenced by this regime. Our pressure on Iran to treat its own people with dignity and respect will not cease.
The individuals sanctioned include the current Minister of Interior for Iran, Abdolreza Rahmani Fazli. We have reason to believe Minister Rahmani Fazli gave carte blanche orders authorizing Iranian police forces to use lethal force on peaceful protestors and bystanders. His—and the regime's—goal was to quash these peaceful protests and suppress the rights of peaceful assembly and freedom of expression at any cost. His orders led to the killing of many protestors, including at least 23 minors. One of these victims, Sayed Ali Mousavi, only 12 years old, was returning home from school when he was fatally shot by police as he passed by the protests near his home. We are also publicly designating Minister Rahmani Fazli under Section 7031(c) of the Department of State, Foreign Operations, and Related Programs Appropriations Act, 2020, for his involvement in gross violations of human rights. Minister Rahmani Fazli and his immediate family members are ineligible for entry into the United States.
In addition to human rights abuses inside its own borders, Iran has a long track record of assassinations and terrorism in other countries. Another individual being designated for visa restrictions under Section 7031(c) is Ali Fallahian, who served as the head of Iran's intelligence service (MOIS) from 1989 to 1997. During that time, he was involved in multiple assassinations and attacks across the globe, including the 1995 killing of Alisa Flatow, a 20-year old U.S. exchange student who was killed in a suicide bombing in the Gaza Strip. He also bears responsibility for the 1994 bombing of a Jewish community center in Buenos Aires that killed 85 individuals. He and his immediate family members are also permanently barred from entering the United States.
In an effort to hide evidence of the regime's abuses against its own people, Iran imposed a near-total shutdown of access to the global Internet last November, placing nearly all of its 80 million people in digital darkness for a week while security forces killed as many as 1,500 people and arbitrarily detained thousands more. The Iranian regime has long restricted access to the Internet while censoring and inhibiting rights to freedom of expression and peaceful assembly – two universal human rights. We call on technology companies in the U.S. and globally to do their part to improve the free flow of information to the Iranian people, and we highlight again the Department of the Treasury's General License D1, which facilitates the use by Iranians of certain personal communications services.
Click to read more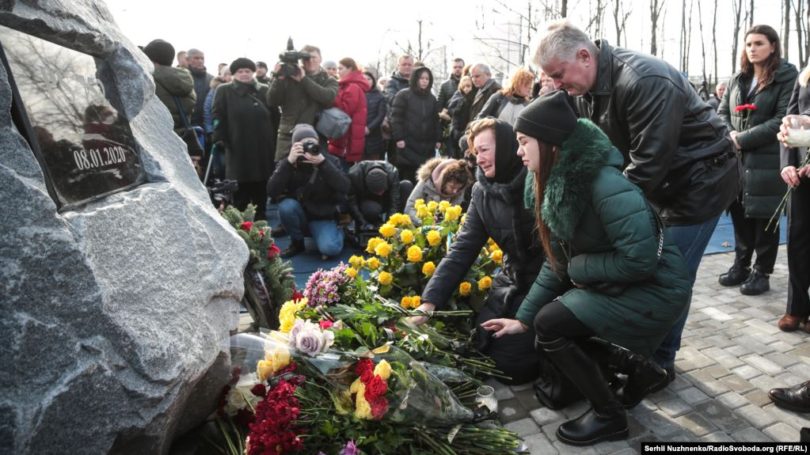 PS752 Tragedy – Ukrainian aviation investigation head suggests passengers were out of their seats
IntelliNews.com, May 20, 2020
Ukrainian forensics head Alexander Ruvin from the Kyiv Research Institute of Forensics has suggested from evidence obtained that passengers on Ukrainian International Airlines (UIA) flight PS752 were out of their seats before two missiles hit the plane outside Tehran in early January, Glavcom reported.
His interview with the Ukrainian newspaper comes amid heightened tensions between Kyiv and Tehran, which have been edging towards international legal proceedings that would be pursued by Ukraine against the Iranian state. If Ukraine moves ahead with the action, it would mean the release of significantly more information about the airliner tragedy that the Tehran theocracy has endeavoured to keep under wraps.
"When the plane takes off, all passengers are fastened. It rose to an altitude of 2,000 metres. Until the plane rises to an altitude of 8,000 metres, the announcement that passengers should be fastened, does not turn off. So, everyone had to be fastened.
"And [yet] we saw the corpses of the dead lying on the ground, without seats. To make it clearer to you, I would say that if the people were fastened, they would fall with their seats, as was the case with passengers of [shot-down] flight MH17 [in Ukraine]. And what we saw in Iran means that there was already panic on the plane. There is reason to believe that it was burning inside and through the holes, black smoke came out."
Ruvin said that after the plane came down the Iranian side immediately went to remove all parts of the aircraft from the crash site while still allowing people in the vicinity to enter the crash grounds. He added that several mobile phones and tablets which belonged to the 176 deceased were taken from the Ukrainian team by the Iranians.
The Ukrainian official stated that the Iranian side repeatedly obfuscated during the investigation and blocked the foreign team from investigating the site.
"We did not find the lower part of the plane, we found only four seats, and the plane had 167 people plus crew," he noted.
Earlier, on May 18, Ukraine said it would go to the UN International Court of Justice (ICJ) if negotiations with Iran over the incident did not progress satisfactorily.
Click to read more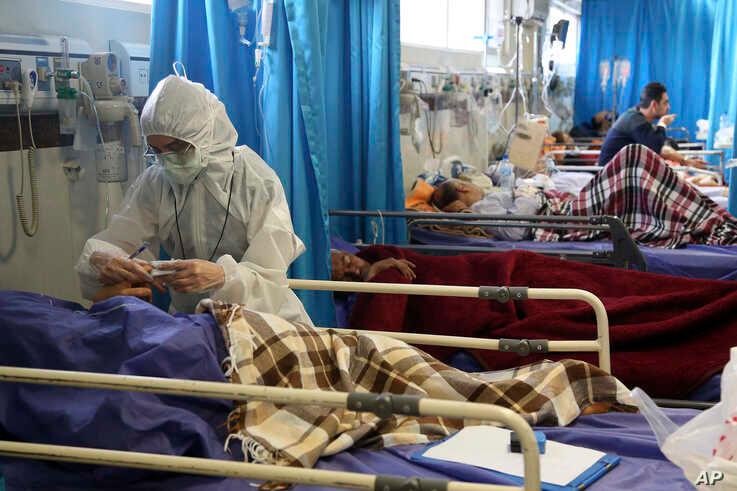 ROUHANI BLAMES NEW VIRUS OUTBREAK ON PUBLIC, THREATENS RE-IMPOSING RESTRICTIONS
Maryam Rajavi: Insolence and projecting blame on others will go on ceaselessly until the regime is overthrown, in well-known pattern of the anti-human mullahs
Maryam-Rajavi.com, May 25, 2020
Despite the terrible news of renewed Coronavirus outbreaks in different provinces, once again, Rouhani shamelessly projected blame on the public and threatened to re-impose restrictions. During a call with the regime's Interior Ministry that was reported by the state media, Rouhani "received reports from several cities and provinces, where the spread of the virus has increased due to people's disregard for health protocols." He stressed: "If the people of these provinces and cities do not observe the health protocols, we will have to reinstate some of the limitations." (The stat-run ISNA news agency, May 25)
In a call with the governor of Khuzestan, Rouhani whose remarks were published on his website, today, confirmed that while receiving a "full report of … the growing trend of the number of patients in this province due to the lack of full compliance with health protocols …the increasing number of patients may lead to the return of some restrictions to the province."
With regards to Rouhani's blaming of defenseless and helpless people for the spread of the virus, one must say that insolence and projecting blame on others will go on ceaselessly until the regime is overthrown and is a well-known pattern of the anti-human mullahs who are the main culprits for death and destruction in occupied Iran.
Click to read more
Worker Protests Spring Up In Iran, As Sanctions, Coronavirus Weaken Economy
Iran Farda, May 25, 2020
Amid a worsening economy in Iran a new wave of worker protests have sprang up in the country in recent weeks, as government coffers empty out and many employers are unable to pay wages.
Municipal workers have been taking part in protest gatherings during the past week in at least two cities in Iran's Khuzestan Province, one of the areas worst hit by the coronavirus outbreak.
Meanwhile, coal miners in Kerman Province, machine manufacturers in Arak in the Central Province, and nurses in Tehran, Gilan and Isfahan Provinces have also taken part in industrial actions and protest gatherings during the past month.
On Saturday May 23, more than 50 municipal workers in Arvand Kenar near Abadan protested to the five-month delay in the payment of their wages.
The mayor of Arvand Kenar, Hamid Washakhi told the official news agency IRNA on Saturday that when he took office as mayor, the municipality was up to 25 billion rials in debt to the Social Security Organization which collects workers' insurance premiums as well as contributions to their pension fund.
He said the Municipality of Arvand Kenar, 45 Kilometers south of Abadan, has 140 workers while it really needs only 54. Often people are given jobs by local or national politicians who look to help acquaintances or to build popularity.
Municipal workers in Khorramshahr, also in the oil-rich Khuzestan Province, protested last week to non-payment of wages for four months.
Tough U.S. sanctions since 2018 and lately the coronavirus crisis have weakened Iran's already ill-managed economy, which has lost most of its pre-sanction oil income.
In another development, according to the Iranian Labor News Agency (ILNA) a group of nurses and medical staff staged several gatherings in front of the prosecutor's office in Isfahan since the beginning of May protesting against what they called "discrimination in payments and tariffs in Iran's health system."
Click to read more
Iran Protests & more
Iran Regime Opens Fire on Drinking Water Protesters
Iran Focus, May 25, 2020
A report from the state-run IRNA news agency said: "The police chief in Ahvaz said people in Gheyzanieh near Ahvaz protested their officials' negligence regarding providing drinking water. They blocked the Ahvaz-Ramhormoz-Omidiyeh road and police units entered the scene to end the disruption."
A police colonel claimed that protesters began "throwing stones and sticks" at officers who tried to break up the demonstration, which seems reasonable enough considering that their peaceful protest over not receiving something so essential to life was being brutally broken apart.
How this relates to the ongoing coronavirus crisis
Khuzestan Province is also one of the coronavirus epicenters in Iran, with the number of new cases rising at an alarming rate.
According to the state-run Hamshahri daily, Iranian Health Minister Saeid Namaki said Saturday: "We are witnessing new escalations of this illness in warmer climate provinces… The status quo is not good in Khuzestan Province… We have had discussions with the governors of Khuzestan's neighboring provinces, including Chaharmahal & Bakhtiari and Kohgiluyeh & Boyer Ahmed, and we have issued warnings about a new spread of the illness… There have been cases in Sistan & Baluchistan Province, in the village of Najafabad near the city of Khash, and this sounded an alarm bell for us."
While Health Ministry spokesperson Kianush Jahanpour told the state-run Moj daily: "Khuzestan Province remains a red area. The number of cases is far higher than one percent of the entire population… More scientific testing is needed… In Iran, such studies have yet to be conducted. However, as the Health Minister said, the number of cases in our society has yet to reach the ten-percent mark."
It seems clear, both in terms of the water shortages and the coronavirus crisis, that the officials do not care about the Iranian people and would condemn them to death, rather than help.
Click to read more
Families and Supporters of the Opposition PMOI/MEK Arrested Across Iran
Torture and ill-treatment, long hours of interrogation, and mock executions, to break the prisoners and force them to make false confessions on TV
Iran-HRM.com, May 25, 2020
In a new wave of crackdown in Iran, the Ministry of Intelligence and Security (MOIS) and the IRGC Intelligence Organization have begun arresting and summoning large numbers of young activists, especially the families and supporters of the People's Mojahedin Organization of Iran (PMOI/MEK).
Many have been sent to prisons, and some have been temporarily released on bail while signing a form pledging not to participate in any anti-regime activities.
According to the statement of the Secretariat of the National Council of Resistance of Iran (NCRI) on May 24, "MOIS, IRGC or their plainclothes agents raid people's homes or offices and beat up those detained. They also confiscated the victims' phones, computers, and many of their personal belongings and valuable items."
The NCRI statement said the arrests have been made in Tehran, Mashhad, Neyshabur, Kermanshah, Sabzevar, Arak, Kashan, Mahshahr, Bushehr, Marvdasht, Amol, Ahvaz, Andimeshk, Rasht, Behbahan, Isfahan, Gorgan, Karaj, Tabriz, and Shiraz.
Those arrested have been subject to several hours of interrogation, accompanied by torture and physical and mental pressure.
According to those who have survived the arrests, the detentions and interrogations focused on obtaining information about the PMOI/MEK and their Resistance Units, the relationship between the detainees and the PMOI/MEK, and why and how young people are attracted to PMOI/MEK.
In Mashhad, interrogators set up a mock execution scene to break the resistance of a group of ten young detainees to force them to confess and/or discover their possible connection to the PMOI/MEK.
Click to read more
Commentary:Iran must put fighting virus above military adventurism

Arab News, May 24, 2020 by Majid Rafizadeh
Coronavirus disease cases are spiking again in Iran after the regime loosened restrictions. According to official figures, there have been more than 133,000 coronavirus cases and 7,000 deaths in Iran due to the virus. But a recent report by the research arm of the regime's own parliament estimated that the true number of infections is likely "eight to 10 times" higher than reported. And, based on the latest report by opposition group the National Council of Resistance of Iran, coronavirus had claimed the lives of more than 41,200 people across the country as of May 13.
Even though Iran is among the hardest-hit countries in the world, the regime seems to be furthering its aggression and military adventurism in the region rather than protecting its citizens with appropriate measures, such as assisting hospitals and advancing the country's health care system. For example, a satellite image and report this month revealed that the Iranian regime is building an underground advanced weapons facility at the Imam Ali military base in Al-Bukamal, Syria, which is near the Iraqi border. Al-Bukamal has become a center for the Islamic Revolutionary Guard Corps' (IRGC) Quds Force and various Shiite militias.
Iran's move to strengthen its stranglehold in Syria is a serious military provocation. It is also aimed at increasing its presence near Israel in order to undermine the latter's national security. As Abbas Nilforoushan, IRGC deputy commander of operations, threatened in an interview with the Iranian news agency Tasnim last year: "Israel is not in a position to threaten Iran. Iran has encircled Israel from all four sides."
Israel has become increasingly concerned about Iran's growing influence in Syria. Tehran's military provocations have ratcheted up instability in the region and Israel has responded by launching cruise missiles toward Iranian and Syrian military positions. The Israel Defense Forces (IDF) has struck dozens of Iranian targets in Syria, reportedly killing or wounding several Iranians.
Click to read more
---
---
Donation
501 (c)(3) Tax deductible
Please,
Donate to Organization Of Iranian American Communities
Your donation will help OIAC advocates for a democratic, secular and non-nuclear government in Iran. Founded on the respect for human rights, gender equality, religious and ethnic tolerance, as wells as social, economic justice, and security for America. Our goal is to organize Iranian-American communities in the United States to promote these values.
Thank You,
http://www.oiac-us.com/donation/