OIAC deplores Senator Murphy's meeting with criminal Zarif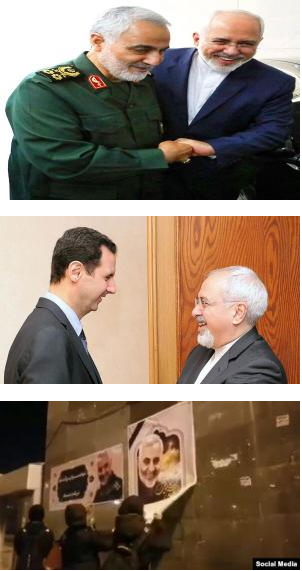 Senator Murphy has failed to recognize that as his meetings were taking place, Iranian students were chanting. ""IRGC is our killer".
WASHINGTON, DC, USA, February 19, 2020 /EINPresswire.com/ — OIAC deplores Senator Murphy's meeting with criminal Zarif
Washington, DC – As a non-partisan entity, Organization of Iranian American Communities (OIAC) denounces the recent meeting between Senator Chris Murphy (D-CT) and Iran's Foreign Minister, Javad Zarif during the Munich Security Conference. While many topics were discussed during this meeting, the utter failure to hold regard for the plight of the Iranian people, their anti-regime protests, and the massacre of the 1500 men, women and children during the November 2019 uprising is at best naive, but also truly irresponsible.
Senator Murphy has failed to recognize that as his meetings were taking place, Iranian students across various campuses, including Amir-Kabir University, were protesting and demanding justice for those killed and arrested during the uprising and the shut-down of Ukrainian flight. Students chanted "IRGC is our killer" and denounced the regime's sham elections, saying "no to ballot box, no to election."
click to read more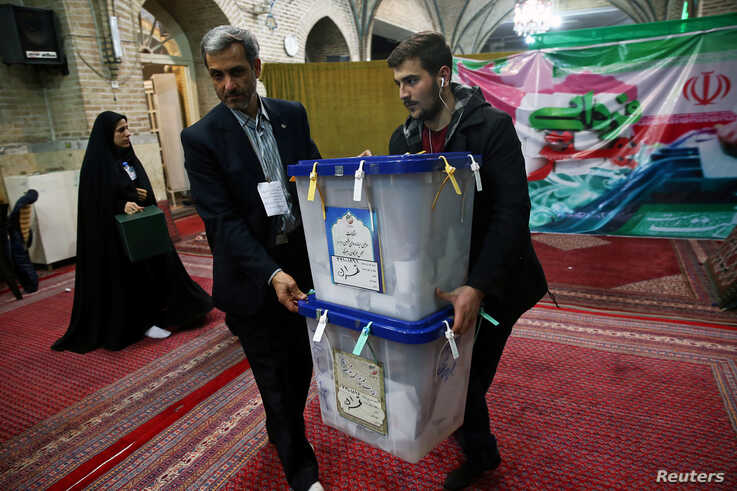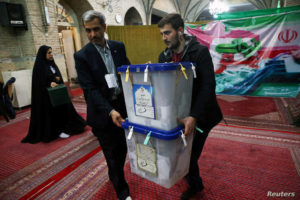 Iranian Leaders React After Apparent Popular Boycott of Parliamentary Election
VOA, February 22, 2020
CAIRO – Iranian media is saying that preliminary results of Friday's parliamentary election are showing conservatives winning 70% of the 290-seat chamber, with independents taking about 20%, and reformists just 10%. Many observers, however, are pointing to extremely low turnout in most parts of the country.
Amateur video broadcast by Arab and Iranian media showed several men outside an Iranian polling station, claiming that electoral officials had "stolen" Friday's parliamentary election. VOA could not independently confirm the claim, but dozens of video reports by citizen journalists on social media appeared to show extremely low turnout at many polling stations.
There were some reports on social media that turnout was so low, Iranian electoral officials had decided not to announce the exact turnout, region by region, but instead would give the total turnout for the entire country.
Despite the apparently low turnout, Iranian media continued to show video of President Hassan Rouhani asserting that [Friday's election] was "a glorious event in the history of the country and of the [1979 Islamic] revolution." He added that polling stations across the country were linked online, and that he was impressed by the Interior Ministry's electoral "nerve center."
Iran's Fars news agency quoted Abbas Ali Khadkhodai, spokesman for the Guardian Council that supervised the election, as thanking the "thousands of members of the council's observer network across the country" for making sure that the election was "sound and that people's votes were in good hands."
click to read more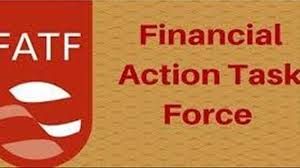 Global watchdog places Iran on terrorism financing blacklist
OIAC, February 23, 2020
PARIS (Reuters) – The global dirty money watchdog placed Iran on its blacklist on Friday after it failed to comply with international anti-terrorism financing norms, a move that will deepen the country's isolation from financial markets.
The decision came after more than three years of warnings from the Paris-based Financial Action Taskforce (FATF) urging the Islamic Republic to either enact terrorist financing conventions or see its reprieve from the blacklist lifted and some counter-measures imposed.
"Given Iran's failure to enact the Palermo and Terrorist Financing Conventions in line with the FATF Standards, the FATF fully lifts the suspension of counter-measures and calls on its members and urges all jurisdictions to apply effective counter-measures," the group's 39 members said in a statement after a week-long plenary session.
These would entail more scrutiny of transactions with Iran, tougher external auditing of financing firms operating in the country and extra pressure on the few foreign banks and businesses still dealing with Iran.
"The consequence of (Iran's) inaction is higher costs of borrowing and isolation from the financial system," a Western diplomat told Reuters. The United States commended the task force's action after what it said was Tehran's failure to adhere to FATF's standards.
Iran "must face consequences for its continued failure to abide by international norms," U.S. Secretary of State Mike Pompeo said in a statement.
click to read more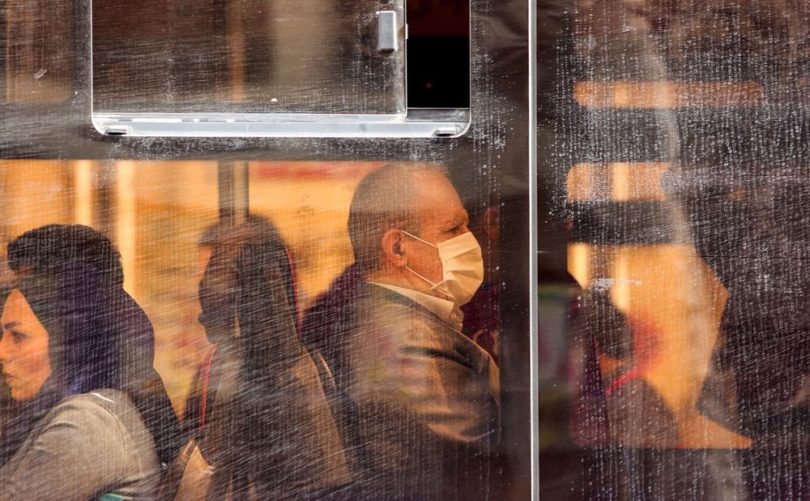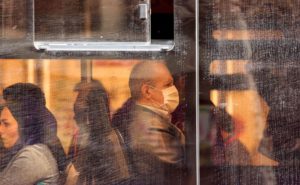 Iran Battles to Contain Panic After Virus Deaths Multiply
The risk is that the disease will spread further across the Middle East after a dozen people die.
Bloomberg, February 24, 2020
Flights had been grounded, schools shuttered and religious shrines disinfected, but as Iran struggles to contain the spread of coronavirus there's panic, disarray and questions over who to believe.
Within hours of announcing the first confirmed cases last Wednesday, the authorities said that two people had died from the disease. That was two days before elections brought millions of people into public buildings—including hospitals—to cast votes just as the contagion escalated. Office workers in Tehran are now being told to work from home.
The threat of a pandemic after the virus also spread in Italy and South Korea sent financial markets tumbling on Monday. Iran, the Middle East's most populous country after Egypt, has disclosed 61 cases and at least 12 deaths so far, making it the epicenter for the region. The United Arab Emirates, Kuwait, Bahrain, Lebanon and Iraq have all reported their own cases linked to Iran.
"The infection is not as scary as the chaos and panic in reaction to it," said Ahmadreza, 35, a financial analyst in Tehran. He declined to be identified by his full name because of the sensitivity of speaking with foreign media in Iran. "People are swarming the hospitals to get checked for the virus, even if they don't have the symptoms. They're stockpiling food and staples and stores are selling masks at ten times the price."
It's just the latest disaster to hit Iran, though the potential consequences look just as great as with the country's protracted standoff with the U.S.
With its oil sales pummeled by American sanctions, the lifeblood of the economy has been exports of non-oil products around the region. They are also now about to be devastated by disruption to sea ports to the north and south and at long land borders with Iraq, Turkey, Afghanistan and Pakistan. The head of Tehran's Chamber of Commerce and Industry asked the government to set-up quarantine facilities on the country's borders to halt the spread of the virus.
Click to read more
Iran Protests & More
https://www.youtube.com/watch?v=i1uH-c6CvoQ&feature=youtu.be
https://www.youtube.com/watch?v=LGq5N2i9NXs&feature=youtu.be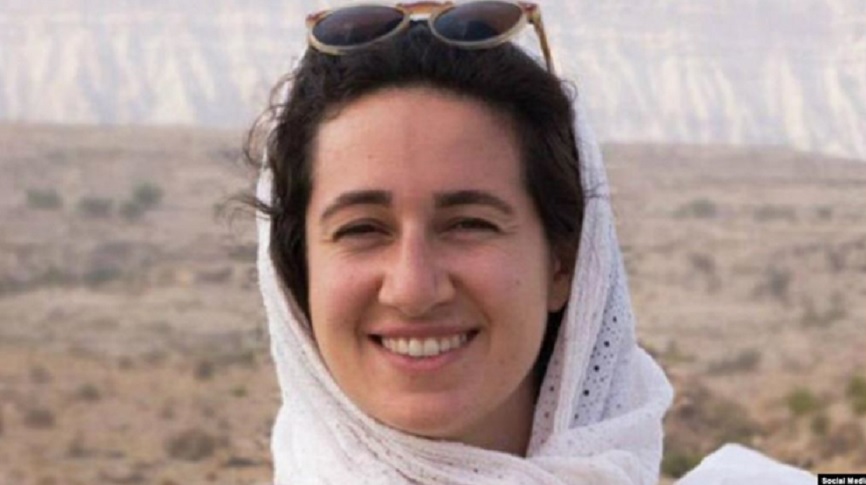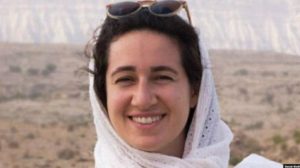 Environmentalist In Iran Prison Exposes Torture, Sexual Threats By Interrogators
Radio Farda, February 19, 2020
A female environmentalist whose 10-year sentence was upheld by the Court of Appeals on February 18 says her interrogators tortured and threatened her with sexual assault. The revelation was first made by BBC Persian which came into possession of letters and documents that Niloufar Bayani has managed to send out of the notorious Evin Prison where she has been held for two years now.
According to the report that the BBC has compiled Bayani was held incommunicado for eight months and her interrogators tortured her physically and psychologically for more than 1,200 hours, sometimes for twelve hours in one day.
Bayani has also revealed that her interrogators continually made sexual threats against her, showed her pictures of torture tools, made her listen to descriptions of others' tortures and execution for hours, and pretended that they were going to give her a paralyzing or lethal injection.
The revelation immediately led to a public outcry on social media by people living in Iran and abroad. The case is seen as one of the most brutal instances of prisoner mistreatment by the Islamic Republic.
Iran's Judiciary yesterday announced that the Court of Appeals has upheld the sentences of eight environmentalists, including Niloufar Bayani, for acting against national security and collaboration with the United States. Lawmakers and even the intelligence ministry have said there is no grounds for the arrest of the ecologists.
Bayani has revealed that she wrote to Supreme Leader Ali Khamenei and other high-ranking officials such as former Chief Justice Sadeq Larijani and described the abuse and torture but her torturers became even bolder.
Click to read more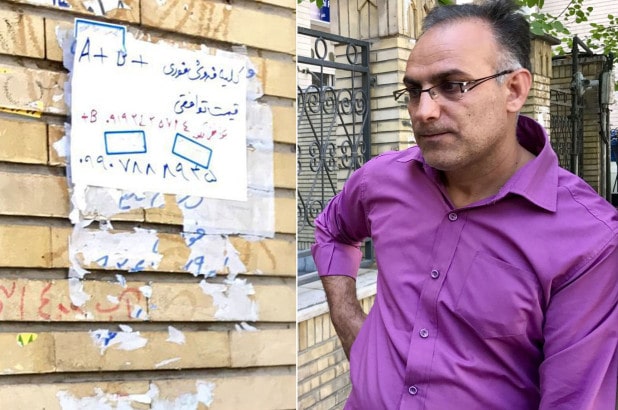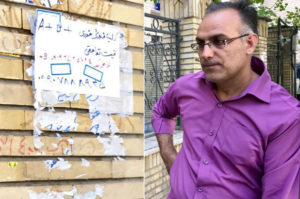 Iranians desperate for cash turn to selling their organs
New York Post, February 22, 2020
Dozens of notes stuck to an abandoned building opposite a hospital in Tehran tell a devastating story: Iranians who have fallen on hard times are offering to sell their organs for cash. "I'm a 37-year-old who is ready to sell my kidney because of debt and financial problems," read one note, which included a phone number and blood type.
The author is Asghar, a 37-year-old textile worker who lives with his wife on the outskirts of Tehran.
"If I could avoid doing this, I would," he told The Sunday Times of London, explaining that his factory job stopped paying his wages because the clothes they made weren't selling.
Asghar has received a few bids for his kidney, the highest being about $1,950.
His plight reflects the desperation felt by many Iranians as living conditions deteriorate under US sanctions imposed after President Trump withdrew from the 2015 nuclear deal two years ago. Trump's "maximum pressure" strategy has weakened reformers led by Iran's president, Hassan Rouhani, and dashed hopes of prosperity under the nuclear accord. Instead, the economic problems have strengthened hardliners, who contend their anti-western stance has been vindicated.
"Everyone is facing the same issues, particularly economic ones, " Hajia Najafi, a 63-year-old housewife, told the Times. "These are because of the actions of the foreigners — the sanctions from the US."
Click to read more
Iran Untold Story-Regime change by Iranians: Episode 10: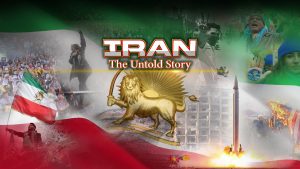 "For over 40 years, Iranian people and the civilized world have in one way or another struggled with destructive policies and actions of the clerical regime in Tehran. Also for 40 years, the Iranian regime had driven a skewed narrative on this important topic – adversely affecting the lives of the Iranian people and to some extent, international policy making. A video miniseries – developed and produced by The Hill dissects and explain the relevant developments. We invite you to review the tenth segment of this video series. "
---
Donation
501 (c)(3) Tax deductible
Please,
Donate to Organization Of Iranian American Communities
Your donation will help OIAC advocates for a democratic, secular and non-nuclear government in Iran. Founded on the respect for human rights, gender equality, religious and ethnic tolerance, as wells as social, economic justice, and security for America. Our goal is to organize Iranian-American communities in the United States to promote these values.
Thank You,
http://www.oiac-us.com/donation/