Sen Ted Cruz speaks at the Senate Iran Briefing
On November 6, 2019, OIAC held a congressional briefing in the U.S. Senate, to discuss the rise of domestic suppression and regional aggression by Tehran.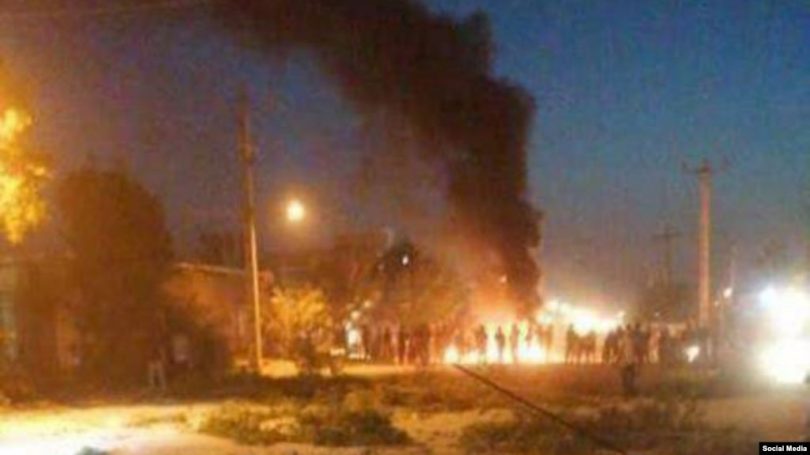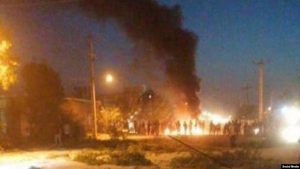 Protests Erupt In Iran After An Ethnic Arab Poet Dies In Hospital
Radio Farda, November 11, 2019
Numerous video clips published on social media show groups of residents in Ahvaz, the capital of oil-rich Khuzestan province came to the streets to protest Sunday evening. Some reports say that the reason for the protests was the death of an ethnic Arab dissident poet in hospital.
Hassan Haydari (Heydari), a young man, was arrested last year but later released on bail. Apparently, protesters believe that his death in the city's Shafa hospital was suspicious. Ahvaz has a substantial Arab community and there have been intermittent tensions between residents and the government.
Videos on social media show people have blocked a main road and some protesters have started large fires in the streets. In one video sounds resembling sporadic gunfire is heard. Local and central government officials have not yet reacted to these events.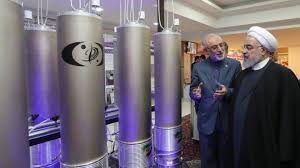 Iran underground lab helps produce more low-enriched uranium
Fox News, November 11, 2019
TEHRAN, Iran (AP) — The head of Iran's nuclear program told The Associated Press on Monday that the country is now producing more low-enriched uranium daily, after restarting an underground lab.
Ali Akbar Salehi of the Atomic Energy Organization of Iran made the comments as Iranian President Hassan Rouhani also called on hard-liners to support the country's troubled nuclear deal, saying it could open up international arms sales for the Islamic Republic next year.
Iran has broken out of the accord's limits since President Donald Trump unilaterally withdrew from the accord between Tehran and world powers over a year ago.
Salehi told AP journalists in Tehran that now the country is producing at least 12 pounds. That's compared to what Tehran had been producing — about 1 pound of low-enriched uranium per day.
Salehi said that's due in part to restarting enrichment at Iran's underground Fordo nuclear facility.
Meanwhile, Rouhani gave a speech on Monday in the city of Rafsanjan in Iran's southwest Kerman province, talking about the arms embargo the country now faces.
"If we save the nuclear deal, Iran's arms embargo will be lifted and we can buy weapons or sell our weapons to the world. This is one of the deal's significant impacts," Rouhani said.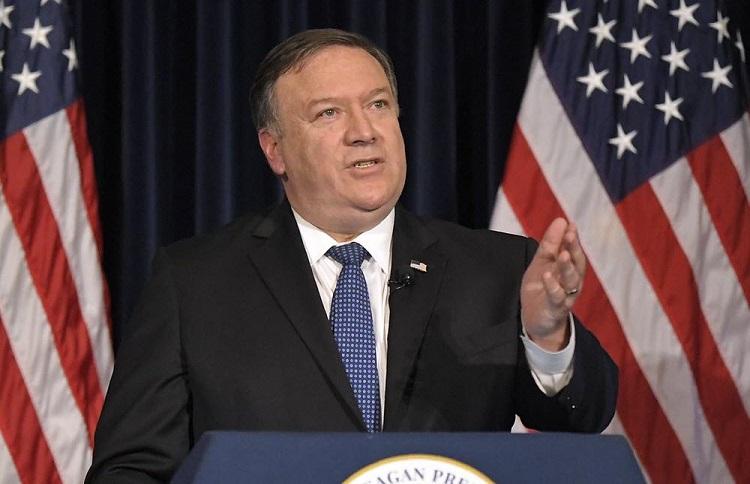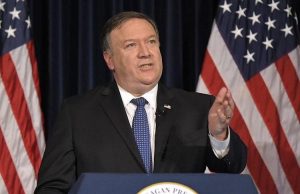 US Secretary of States Calls on All Nations to Reject Iran's Nuclear Blackmail
Iran Focus, November 9, 2019
The Iranian government announced in recent days that it would be following through with an additional breach of the Joint Comprehensive Plan of Action (JCPOA), informally known as the 2015 Iran nuclear deal.
Iranian officials have admitted that it is breaching the terms of the nuclear agreement because the United States pulled out and the remaining parties have not taken action to provide Iran's government with incentive packages, yet US sanctions that were re-imposed.
US President Donald Trump announced that the United States would not be a remaining party to the deal he described as "weak" for a whole series of reasons. He mentioned Iran's continued belligerence in the region and explained that the nuclear deal itself does nothing to lessen the Iran nuclear threat. In fact, he said that it actually guarantees a nuclear arms race.
The US President has been trying to get Iran back to the negotiating table so that a more thorough and less one-sided deal can be drawn up. His administration has re-imposed the crippling sanctions that were canceled when the deal was signed, and it has also issued a series of fresh sanctions.
Under the terms of the nuclear agreement, Iran has agreed to limit its nuclear activities. Iran denies that its nuclear program has anything to do with nuclear weapons, stating that it is solely for the purposes of civilian energy. However, this claim is disputed by many, including the US Secretary of State Mike Pompeo. He has called on all nations to take "serious steps to increase pressure" on Iran and to reject these acts of "nuclear extortion".
In a statement on Thursday 7th November, Secretary Pompeo said that the Iranian government's nuclear escalations "reflect the regime's intentions all along", adding that it is very clear it is trying to "extort the international community into accepting its violence and terror while it undermines the sovereignty of its neighbors".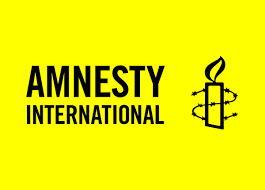 IRANIAN TEAR GAS GRENADES AMONG THOSE CAUSING GRUESOME PROTESTER DEATHS IN IRAQ
Amnestyusa.org, November 7, 2019
UPDATE to press release of October 31, 2019: Amnesty International has conducted further research into the 40mm "less lethal" grenades killing protesters during the recent violence in Baghdad. The new analysis showed that, in addition to the Serbian Sloboda Ĉaĉak M99 grenades already identified, a significant portion of the deadly projectiles are in fact M651 tear gas grenades and M713 smoke grenades manufactured by the Defense Industries Organization (DIO) of Iran.
The Bulgarian company Arsenal has sold grenades and other arms to Iraq, including hand-thrown smoke grenades used during the recent protests in Baghdad. However, Amnesty International misattributed the provenance of some of the 40mm grenades in our original press release. We have corrected this in the text below.
Since first publishing our findings on October 31, Amnesty International has reviewed and verified video evidence of four additional deaths caused by the Serbian and Iranian grenades and has received a significant number of additional photos of the weapons, via sources on the ground. It was through analyzing this new evidence that Amnesty International was able to make this identification.
Amnesty International does not have information on the identities of the security forces firing these Iranian M651 and M713 grenades in Baghdad.
The deadly grenades must be recalled from use immediately. There should be an independent, impartial and transparent investigation into their use and into other cases of unlawful killings and injuries during the protests, with any security forces responsible for excessive use of force held to account.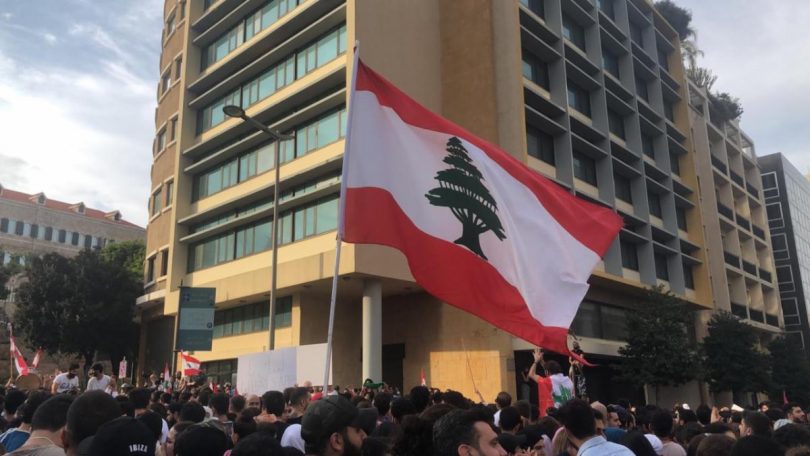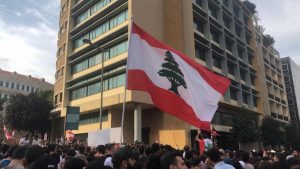 Iran Crumbles as Iraq and Lebanon Rise Up
71Republic.com, November 9, 2019 by Romy Haber
Iran gained a powerful position in the Middle East by fueling the rise of militant Shi'ism, funding proxies, and claiming a pseudo anti-imperialism position.
In other words, the Islamic Republic of Iran established itself firmly in Lebanon through Hezbollah, in Iraq by financing multiple militias, in Syria by supporting the Assad regime, and in Yemen through the Houthis.
However, effective asymmetric warfare is not enough for Iran to preserve its hegemony. Today, Iran is losing where it won the most: Lebanon and Iraq.
"The Capital of the Iranian Empire" Wants Iran Out
Ali Younesi, an advisor to Iranian President Hassan Rohani, said, "Iran is an empire, Iraq is not merely a sphere of cultural influence for us; it is also the capital…"
Iran sponsors and finances multiple militias and proxies, like the Badr organization, Kataeb Hezbollah, etc. They infiltrated the government; their leaders hold cabinet positions and their forces became the largest faction within state security forces, particularly the police.
In simple English, Iran has a lot of control over Iraq's economy, politics, and information domains. Iraqis are determined to change that; they are rising against corruption and Iranian influence. They want their sovereignty and dignity back.
For more than one month, they have been in the streets demonstrating and asking for their rights, yet their demands for a better life and basic rights have been met with bullets; hundreds have been killed, thousands were injured, and many were detained by security forces and militias.
"We in Iran know how to deal with protests," Soleimani told Iraqi officials. He is not wrong if we refer to how they dealt with protests in Iran and how they aided the Assad regime.
Click to read more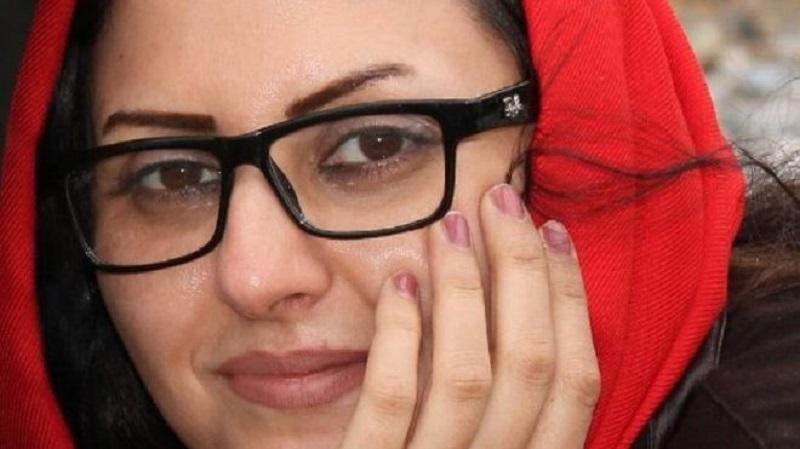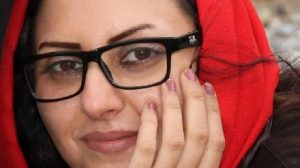 Iran Regime Arrests Civil Rights Activist Golrokh Ebrahimi Iraee
NCR-Iran.org, November 10, 2019
Civil rights activist Golrokh Ebrahimi Iraee was arrested on Saturday, November 9 at her home in Tehran. The former political prisoner is the wife of cancer-stricken political prisoner Arash Sadeghi and was campaigning on Twitter for his release and access to medical treatment.
At least 10 male security agents raided her house and took her into custody.
On June 18, 2019, the regime's Tehran Revolutionary Court examined a new case filed against Golrokh Ebrahimi Iraee and Atena Daemi for their protest while in detention over the execution of three Kurdish dissidents.
In mid-July 2019, Judge Iman Afshari of Branch 26 of the Revolutionary Court in Tehran sentenced Daemi and Iraee each to three years and seven months in prison for "insulting the supreme leader" (two years and one month) and "propaganda against the state" (one year and six months).
They have to serve at least two years and one month of that sentence according to Article 134 of the Iranian regime's Islamic Penal Code, which requires defendants to serve the maximum punishment for the charge that carries the longest sentence in cases involving multiple sentences.
On September 5, 2019, Amir Raissian, lawyer of Golrokh Ebrahimi Iraee, announced that the same verdict had been upheld in the revision stage without being further examined, according to human rights group Iran Human Rights Monitor (Iran HRM).
Golrokh Ebrahimi Iraee was first arrested by the regime's Islamic Revolutionary Guards Corps (IRGC) intelligence division on September 6, 2014, along with her husband and two other activists. She was held for three weeks in the IRGC Intelligence Ward 2A in Evin Prison and subsequently released on September 27, 2014, on an 800 million rial bail for her activities on Facebook. She was later sentenced to six years' imprisonment on charges of "insulting sanctities" and "propaganda against the state."
Donation
501 (c)(3) Tax deductible
Please,
Donate to Organization Of Iranian American Communities
Your donation will help OIAC advocates for a democratic, secular and non-nuclear government in Iran. Founded on the respect for human rights, gender equality, religious and ethnic tolerance, as wells as social, economic justice, and security for America. Our goal is to organize Iranian-American communities in the United States to promote these values.
Thank You,
http://www.oiac-us.com/donation/