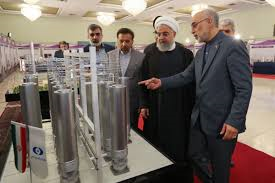 France worried by new phase in Iran's breaching of nuclear pact
Reuters, October 16, 2019
PARIS (Reuters) – France urged Iran on Wednesday not to scale back further on its commitments to a 2015 nuclear deal, saying Tehran's new threat to speed up uranium enrichment next month was "especially worrying".
Iran is breaching restrictions of the pact with major powers step-by-step in response to tough sanctions imposed by the United States, which pulled out of the deal last year. Tehran has said its next move would be taken on Nov. 6 and diplomats fear this could force a response from European powers, who have been trying to salvage the accord. Britain, France and Germany, all signatories, have refrained from acting so far.
"Iran must abstain from crossing an especially worrying new phase of new measures that could contribute to an escalation in tensions," French Foreign Ministry spokeswoman Agnès von der Muhll told reporters in a daily briefing. Iranian President Hassan Rouhani said on Monday that Tehran was working on advanced IR-9 centrifuges for uranium enrichment.
The nuclear deal only lets Iran accumulate enriched uranium with just over 5,000 of its first-generation IR-1 centrifuges at Natanz. It lets Iran use small numbers of more advanced models for research, without producing enriched uranium.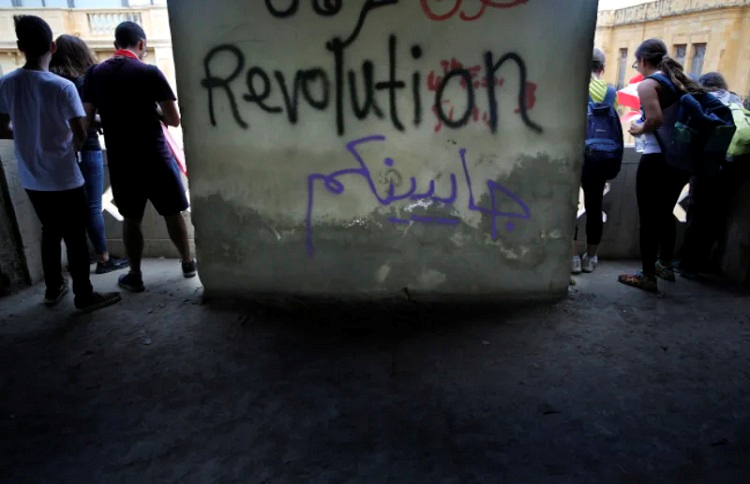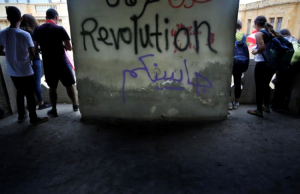 In Iraq and Lebanon, Protesters Are Calling for an End to Iran's Meddling
Iran Focus, October 20, 2019
For a long time, endless and unconventional wars turned the Middle East into a battlefield between regional powers. It is unfortunate that instability and lack of peace and security have become routine for the people of this region.
Many innocent men, women, and even children wrestle with incredible threats and struggle to stay alive and save their families and relatives. However, it is significant that Tehran's rulers have a main and fixed involvement in each conflict in this region.
Iranian officials, in fact, forcefully attempt to style the Islamic Republic and the Revolutionary Guard (IRGC) as a savior for the people of neighboring countries. According to this policy, Iran's Ayatollahs formed several paramilitary groups and funded them at the expense of the Iranian people. Ironically, the government is doling out this "generous" contribution while a huge part of the Iran population is suffering from poverty. Many people must sell their body organs to feed their families. Iranian rulers name this policy as "exporting the revolution" and claim they would like to donate to all the nations in the Middle East from the charities of the Islamic Republic, which bring out nothing for the people of Iran except terrible economic, social, and political conditions.
Iranian people reject "exporting the revolution"
In this regard, the Iranian society has been quick to reject the Ayatollahs' policy to fund the fundamentalist entities in the Middle East and across the globe by squandering the national resources. During the nationwide protests in early 2018, we witnessed brave Iranian youth chanting the slogan: "Neither Gaza nor Lebanon, I give my life for Iran," and "Leave Syria and think about us."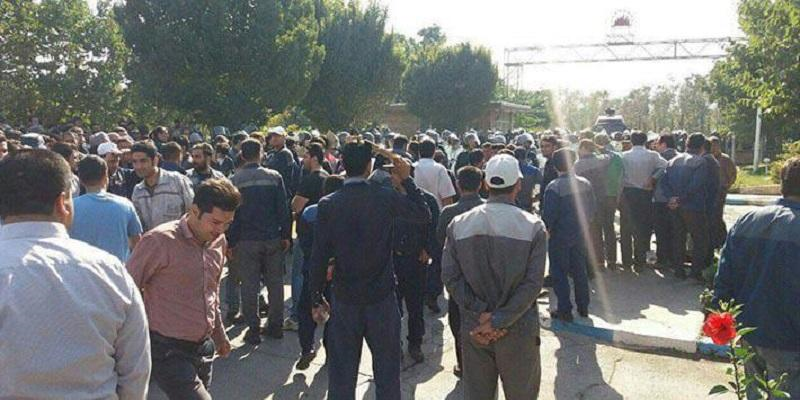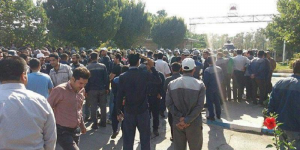 IRAN: Azarab Workers Continue Protest, Block National Railway Suppressive Forces Fire Teargas
NCR-Iran.org, October 21, 2019
On Sunday, October 20, 2019, workers at Azarab factory in the city of Arak (central Iran) continued their demonstrations for the 12th day running despite repeated threats and suppressive measures by the regime.
Protesting about the lack of response to their just demands, the enraged workers blocked Tehran-Ahvaz railway.
The suppressive forces attacked the protesting workers, fired teargas to disperse them and arrested a number of the workers. Since the start of the new round of protests by Azarab workers, a number of them have been summoned and threatened by the intelligence and security agencies.
Mrs. Maryam Rajavi, the President-elect of the National Council of Resistance of Iran (NCRI), hailed the courageous and resilient workers of Azarab and urged the people of Arak, especially the defiant youths, to rise in support of the protesting workers. She urged the International Labor Organization, labor syndicates and unions as well as all advocates of workers' rights to condemn the anti-labor policies of the mullahs' regime and support the rights of Iranian workers.
Iran protests & more
https://www.youtube.com/watch?v=tTLIOODxP4A&feature=youtu.be
https://www.youtube.com/watch?v=XTvM0mxFLa4&feature=youtu.be
https://www.youtube.com/watch?v=Xj_OtvykgAg&feature=youtu.be
https://www.youtube.com/watch?v=nGPzOtsRGZ8&feature=youtu.be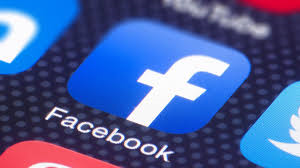 Mark Zuckerberg: Facebook caught Russia and Iran trying to interfere in 2020
NBC News, October 21, 2019
Facebook unveiled new plans Monday to fight 2020 election interference. It will clearly label news that comes from state-owned media, and will give greater transparency for the origins of Facebook pages. And it has already found interference coming from authoritarian regimes overseas.
In an interview with NBC News, Facebook CEO Mark Zuckerberg said the company has thwarted new interference campaigns from Russia and Iran that it regards as the groundwork for future manipulation efforts.
"We continue to see their tactics are evolving," Zuckerberg said in the interview with Lester Holt, which will air Monday evening on "NBC Nightly News." "Today, what we're basically announcing is that we found a set of campaigns. They are highly sophisticated. They signal that these nation-states intend to be active in the upcoming elections."
Zuckerberg added that China has also been found to have tried to interfere in various elections, but that the company has been able to find and stop them.
"We do see today Russia and Iran and China increasingly with more sophisticated tactics are trying to interfere in elections," Zuckerberg said. "But part of why I'm confident going into 2020 is that we've played a role in defending against interference in every major election around the world since 2016, in France, in Germany, in the E.U. overall, in India, in Mexico, in Brazil."
"That we've been able to proactively identify them and take them down is somewhat of a signal that our systems are much more advanced now than they have been in the past," Zuckerberg said.
The company announced its finding in a blog post, noting that it removed four networks of accounts, pages and groups on Facebook and Instagram that had engaged in "coordinated inauthentic behavior."
Three of the networks originated in Iran, and one originated in Russia. Facebook said it had taken down more than 50 networks around the world ahead of democratic elections in the past year.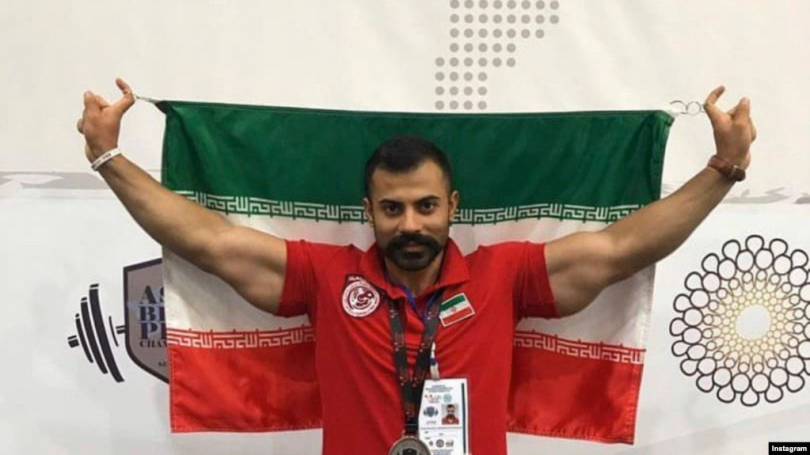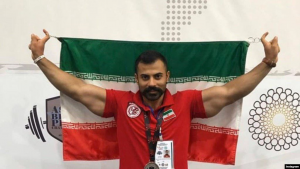 Iranian Champion Seeks Asylum In France Calling His Country's Officials Corrupt
Radio Farda, October 18, 2019
Iran's powerlifting silver medalist in Asia, Amir Mohammad Shahnavazi says, he has decided not to return to his country and will stay in France in protest to corruption.
In a video published on Shahnavazi's Instagram account, he has argued that since several officials of the Islamic Republic are "incompetent" and "thieves", "eating away Iran, like leprosy," he has decided not to return to his country.
Shahnavazi won the Asian silver medal for press lift in 83kg class junior category last year in the United Arab Emirates. Speaking exclusively to Radio Farda, the young powerlifter from the province of Sistan&Baluchestan, southeast Iran, said that he had never received a reward and personally paid all the expenses for participating in international powerlifting events.
"I left Iran via Turkey, and after 27 days of hardship, illegally arrived in France, where I have decided to seek asylum, and stay," Shahnavazi told Radio Farda.
"Referring to powerlifting events, including Iran's national championship, Shahnavazi says that while having money just enough to return to (my city) Zahedan, I was forced to sleep in the freezing streets of the cities where the powerlifting championships was held.
The Islamic Republic Weightlifting Federation, which powerlifting is a subdivision of, Shahnavazi laments, did not provide a dormitory for any of the powerlifters.
Expert panel says regime change in Iran is getting closer- Episode 10
https://www.youtube.com/watch?v=p-SNfS8ZaZE&feature=youtu.be
"For over 40 years, Iranian people and the civilized world have in one way or another struggled with destructive policies and actions of the clerical regime in Tehran. Also for 40 years, the Iranian regime had driven a skewed narrative on this important topic – adversely affecting the lives of the Iranian people and to some extent, international policymaking. A video miniseries– developed and produced by The Hill dissects and explain the relevant developments. We invite you to review the last segment of this video series. "
Donation
501 (c)(3) Tax deductible
Please,
Donate to Organization Of Iranian American Communities
Your donation will help OIAC advocates for a democratic, secular and non-nuclear government in Iran. Founded on the respect for human rights, gender equality, religious and ethnic tolerance, as wells as social, economic justice, and security for America. Our goal is to organize Iranian-American communities in the United States to promote these values.
Thank You,
http://www.oiac-us.com/donation/