Expert panel says regime change in Iran is getting closer- Episode 10
"For over 40 years, Iranian people and the civilized world have in one way or another struggled with destructive policies and actions of the clerical regime in Tehran. Also for 40 years, the Iranian regime had driven a skewed narrative on this important topic – adversely affecting the lives of the Iranian people and to some extent, international policy making. A video miniseries– developed and produced by The Hill dissects and explain the relevant developments. We invite you to review the last segment of this video series. "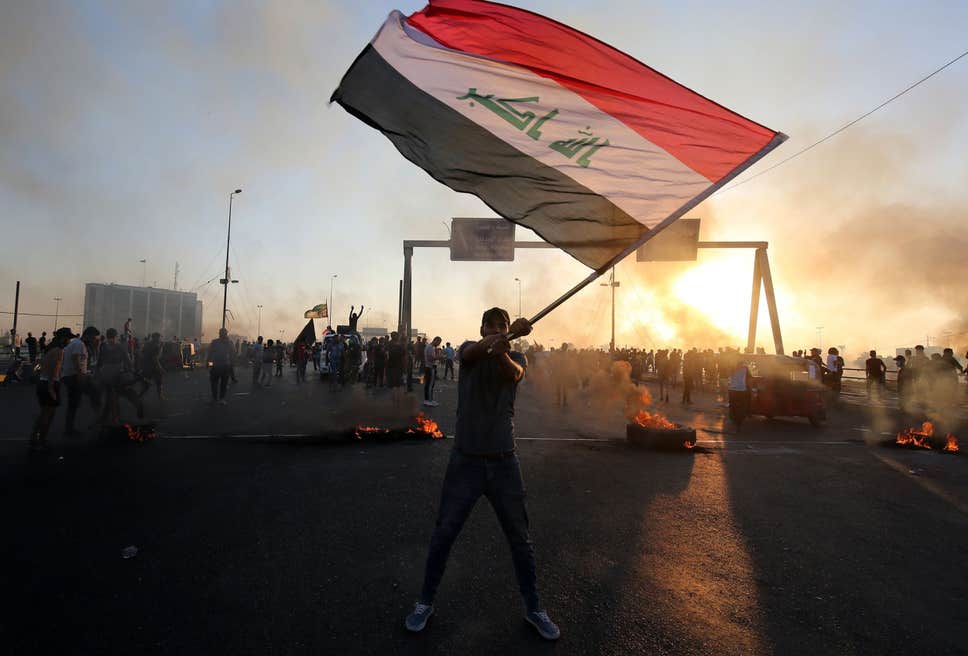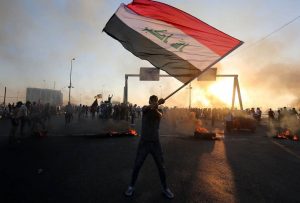 Iraq protests: Death tolls soars as pro-Iran militias accused of shooting protesters
Independent, October 7, 2019
Iraqi paramilitary groups close to Iran are suspected of joining attacks on protesters in Baghdad and other cities, leading to heavy loss of life among demonstrators. Some 107 people have been killed and over 6,000 wounded in the last six days, though hospital doctors say the government is understating the true number of fatalities.
"The pro-Iranian militia have each taken a sector of Baghdad and are responsible for its security," a source, who does not want his name published, told The Independent.
He said that snipers belonging to these groups had fired live rounds at protesters, often aiming for the head or heart. Eyewitnesses say that Iraqi soldiers are also firing directly into crowds of the protesters, who are demanding the fall of the government, jobs and an end to corruption.
The gunmen shooting protesters come from pro-Iranian factions of the Hashd al-Shaabi or Popular Mobilization Units, an 85,000-strong strong body that came into being to stop the Isis advance on Baghdad after the fall of Mosul in 2014. It is a coalition of about 30 groups, many of them predating Isis, which is paid for by the Iraqi government and nominally under its control, but with widely varying political loyalties. They includes powerful units, such as Ketaeb Hezbollah, which say openly that their first loyalty is to the Iranian leadership.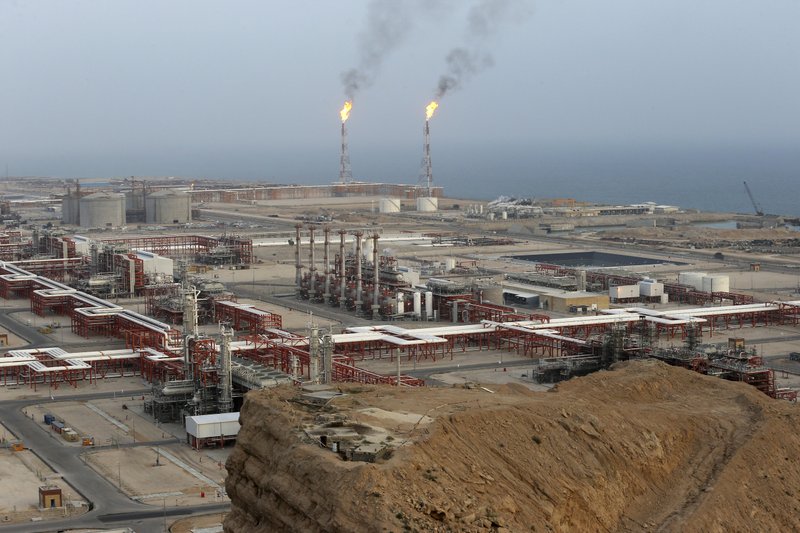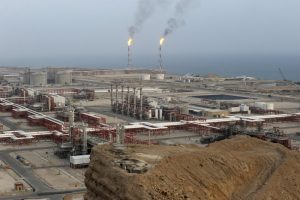 Iran says Chinese state oil firm withdraws from $5B deal
Associated Press, October 6, 2019
TEHRAN, Iran (AP) — China's state oil company has pulled out of a $5 billion deal to develop a portion of Iran's massive offshore natural gas field, the Islamic Republic's oil minister said Sunday, an agreement from which France's Total SA earlier withdrew over U.S. sanctions.
The South Pars field deal, struck in the wake of Iran's 2015 nuclear deal with world powers, appears to be just the latest business casualty of America's pressure campaign on Tehran following President Donald Trump's unilateral withdrawal of the U.S. from the deal.
It also comes as China and the U.S. engage in their own trade war, as Beijing and Washington levy billions of dollars of tariffs on each other's goods. Oil Minister Bijan Zangeneh, quoted by the ministry's SHANA news agency, said Sunday that the China National Petroleum Corp. was "no longer in the project." He did not elaborate or give any reason for the withdrawal, though SHANA said the company "had pulled out of a contract" to develop the field.
Officials in Beijing didn't immediately acknowledge their decision. Phone calls to the CNPC rang unanswered on Sunday and its website bore no mention of the withdrawal.
However, Iranian Foreign Minister Mohammad Javad Zarif separately complained Sunday about the U.S. campaign against Tehran and its impact on foreign investments.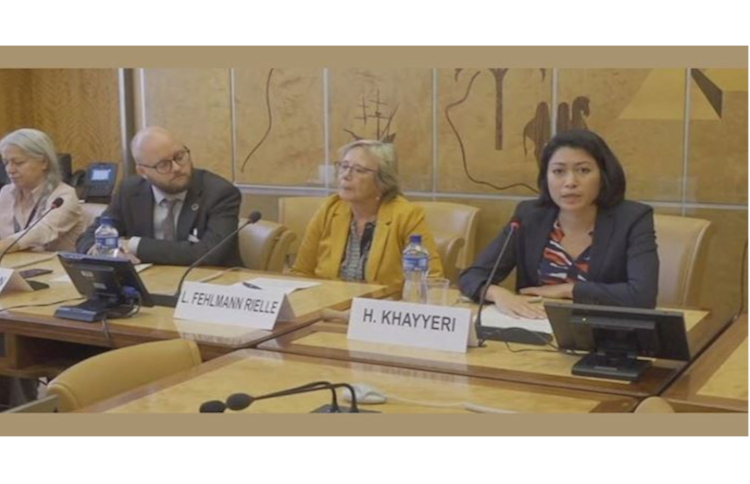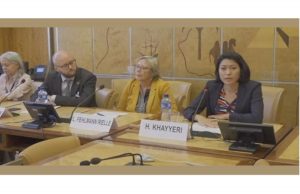 Conference in Geneva Calls for Human Rights Council Investigation into Iran's 1988 Massacre
Iran Focus, October 7, 2019
At the 42nd session of the United Nations Human Rights Council in Geneva, a conference by Italy's Nonviolent Radical Party Transnational Transparty was held on the human rights situation in Iran at the UN's European headquarters in Geneva, where speakers examined the widespread and systematic violations of human rights in Iran.
There were calls for an independent investigation by the United Nations about the 1988 massacre of political prisoners, led by the founder of the Islamic Republic of Iran Ruhollah Khomeini.
The keynote speakers at the conference were:
Former Italian Foreign Minister Giulio Terzi
Laura Harth, Representative of Italy's Peaceful Radical Party at the United Nations
Tahar Boumedra, former head of the UN human rights office in Iraq
Alfred de Zayas, former UN Independent Expert on the promotion of a democratic and equitable international order
Laura Harth pointed to the continuing violations of human rights in Iran and said that the goal of this meeting is to draw attention to this issue.
Former Italian Foreign Minister Giulio Terzi:
The European Parliament has condemned the violation of human rights by the government of Iran. The voice of Europe was expressed on human rights. Human rights must be a priority between EU institutions and the world. The European Union must play a key role in promoting freedom, the rule of law and the protection of freedoms.
He added: "When we look at the geopolitical situation of the Persian Gulf, there is no doubt that we need to focus much more on human rights." Human rights and fundamental freedoms must be at the center of these discussions.
Iran protests & more
https://www.youtube.com/watch?v=DzFQu5o1nuo&feature=youtu.be
https://www.youtube.com/watch?v=C8Ca2CQo35g&feature=youtu.be
https://www.youtube.com/watch?v=KYwo1KYEjGE&feature=youtu.be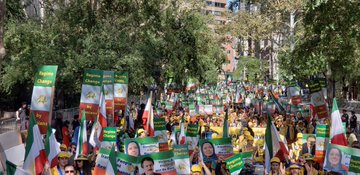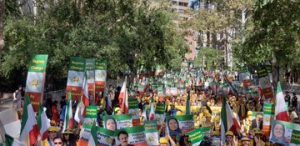 How Rouhani Failed Miserably in New York
NCR-Iran.org, October 6, 2019
The dismal failure of Iranian regime President Hassan Rouhani's visit to New York for the 2019 United Nations General Assembly can be vividly witnessed in the resulting crises inside the mullahs' apparatus. Be it a deepening divide within the political hierarchy ruling Iran or escalating doubts in regard to the regime's strategic policies, a growing number of figures representing both factions of the ruling mullahs are expressing concerns about the road ahead. This is yet another indication of how Rouhani's NYC visit is backfiring in a troubling manner deep inside Tehran.
The Iranian regime's Majlis (parliament) is one of the scenes where the failure of Rouhani's New York visit is quite evident.
"I have a reminder for the President: foreign policy should be facilitating development for Iran," said Majlis member Ali Najafi Khoshrudi on September 30. "As our foreign policy served Iran's security during the [1980-88 Iran-Iraq War], or in confronting sanctions… the people are expecting that opportunities be used to the utmost extent on the global stage. In this regard we must take our measures in a very precise manner," he added, indicating the very sensitive circumstances for the ruling regime.
To add insult to injury for the mullahs' regime, freedom-loving Iranians and supporters of the Iranian opposition People's Mojahedin Organization of Iran (PMOI/MEK) held a massive "No to Rouhani" rally outside of the United Nations in New York on September 24 and 25. This demonstration coincided with Rouhani's speech at the UN General Assembly as a reminder to the world that the sole solution is regime change in Iran by the Iranian people and their organized resistance movement.
Back in Tehran, Fereydoon Faramand, another Majlis member, shed more light on how Rouhani returned empty-handed from his New York visit.
"This is a New York Times article… reading 'A Year Later, Iran Finds Evaporating Sympathy at the U.N.' This means even the UN showed a cold shoulder to Iran. Our government was counting on visiting the UN to launch a few initiatives. Now you see the result," he said.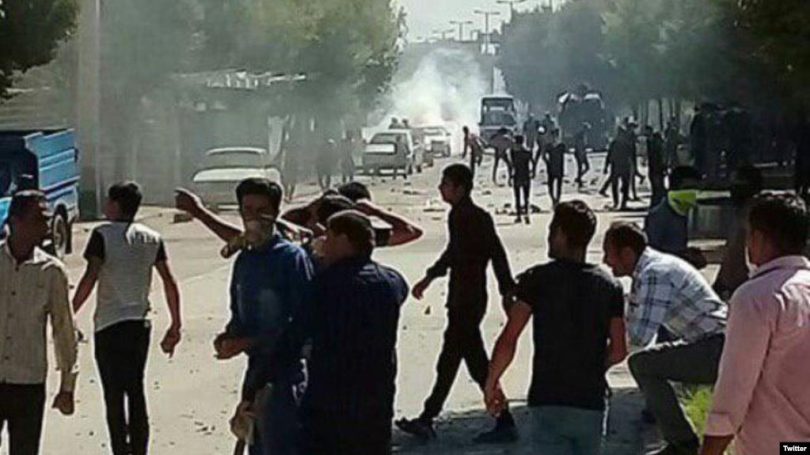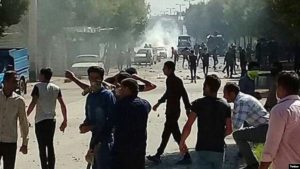 People Infected With HIV In A Region Of Iran Attack Government Buildings
Radio Farda, October 5, 2019
Enraged people in a village in southwest Iran stormed the Friday Prayer Imam's office, set it on fire, and attacked the Governor's building. At least 300 people, including children, are believed to have been infected with HIV in the province by a medical assistant using a contaminated syringe, furious people say.
Based on the latest reports, protesters burned the health network facilities on Saturday, October 5. Local health clinics are run by the country's health ministry. People in the village of Chenar Mahmoud in the town of Lordegan, Chahar Mahal & Bakhtiari, maintain that their loved ones contracted HIV from contaminated needles used by the village's health organization to test for diabetes two months ago.
The outbreak has also affected residents of the neighboring villages. However, the local health authorities dismiss the allegation, pointing out that cases of HIV had been detected in the village weeks before the diabetes tests.
Footages circulated on social media show protesters chanting anti-Islamic Republic slogans.
Referring to Tehran's support for the Lebanese Hezbollah and Palestinian HAMAS, infuriated people chanted, "No to Gaza, No to Lebanon, I Sacrifice my Life for Iran."
A video published on Twitter shows people in Isfahan protesting in support of the victims and their demands. They are also chanting the same slogan against Iran supporting militant groups in the region.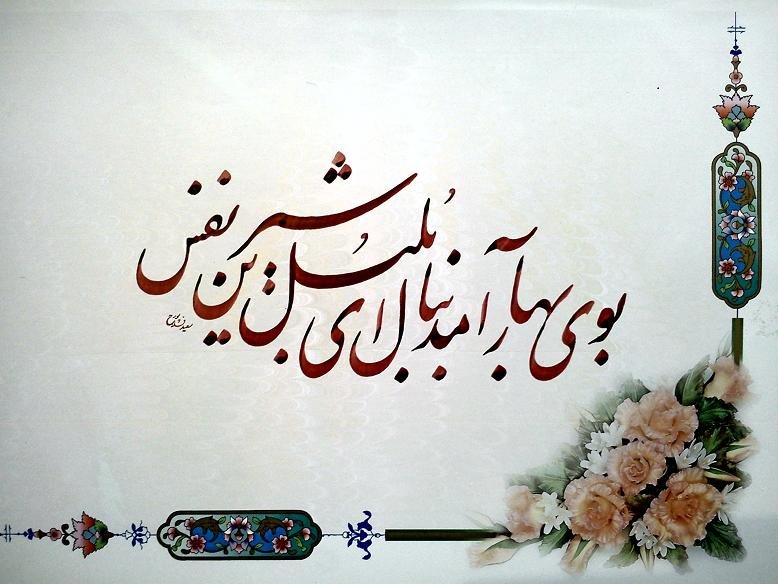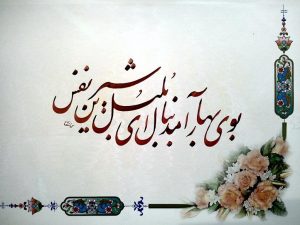 A Poetry Reciter In Iran Sentenced To Prison For Poem Against Injustice, Corruption
Radio Farda, October 6, 2019
A poetry reciter in Iran has received a six-month prison sentence for reciting a poem, which mentioned corruption, discrimination abusing power and stealing public funds.
Hossein Jannati, who once even recited a poem in the presence of Iran's Supreme Leader Ali Khamenei was charged with "propaganda against the regime", and a higher court confirmed the verdict on October 5.
In a post on Instagram Mr. Jannati said he will always recite poems against vices such as "oppression, injustice, abuse of power and religion". He added that if security organs and judges consider these vices related to the regime, then he is not responsible. The verdict against him stemmed from a poetry recitation at the university of Isfahan.
Poetry has a special place in Iran's cultural heritage, which boasts great medieval poets such as Omar Khayyam, Hafiz and Molavi; well-known worldwide. Poetry reciters are respected cultural figures and Jannati himself is a sonneteer. In his Instagram post he says that when he informed his father about the verdict, he told him "God is greater than the Sultan"; a possible reference to the current autocratic government in the country.
Donation
501 (c)(3) Tax deductible
Please,
Donate to Organization Of Iranian American Communities
Your donation will help OIAC advocates for a democratic, secular and non-nuclear government in Iran. Founded on the respect for human rights, gender equality, religious and ethnic tolerance, as wells as social, economic justice, and security for America. Our goal is to organize Iranian-American communities in the United States to promote these values.
Thank You,
http://www.oiac-us.com/donation/