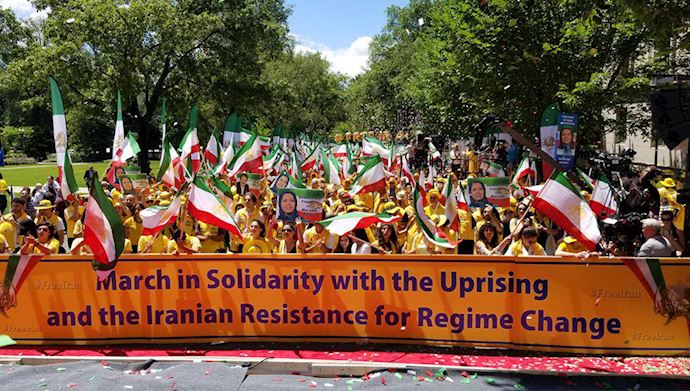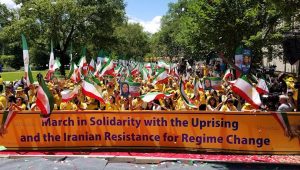 Iranian Americans call for regime change, sanctions in D.C. protest
UPI, June 21, 2019
June 21 (UPI) — Thousands of Iranian Americans rallied outside the U.S. State Department and White House in Washington, D.C., on Friday to push for a regime change and increased sanctions on Tehran.
The event, organized by the Organization of Iranian American Communities, included appearances by former New Mexico Gov. Bill Richardson, former Vice Chief of Staff of the U.S. Army Gen. Jack Keane, former Sen. Robert Torricelli, D-N.J., and Adam Ereli, former deputy spokesman for the State Department ambassador.
Richardson called for democratic elections, gender equality, a market economy and a non-nuclear Iran.
Maryam Rajavi, president-elect of the National Council of Resistance of Iran, spoke from Europe by video feed. She presented a 10-point plan to push democracy in Iran.
"Yes, the disgraceful demonization campaign against the Iranian Resistance in the pro-appeasement media seeks to perpetuate the narrative that the people of Iran are better off with the theocratic rule of the mullahs; There is no alternative, and don't even think or talk about it," she said. "Their conclusion is: The religious fascism must be appeased and there are no other options." In addition for increased sanctions on the Iranian regime, demonstrators called for the United States to designate the Ministry of Intelligence and Security as a foreign terrorist organization.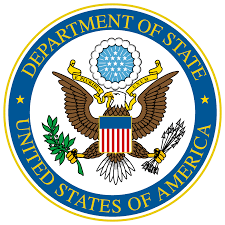 Executive Order to Impose Sanctions on the Office of the Supreme Leader of Iran
REMARKS
MICHAEL R. POMPEO, SECRETARY OF STATE
June 24, 2019
Today, the White House issued an Executive Order sanctioning the Supreme Leaders Office and authorizing further sanctions on those associated with it. This action was taken as part of the Administrations maximum pressure campaign against the Iranian regime, which has engaged in 40 years of terror and aggression against the United States and our allies. Most recently, it targeted a U.S. unmanned aircraft and executed attacks on international shipping.
The Supreme Leaders Office has enriched itself at the expense of the Iranian people. It sits atop a vast network of tyranny and corruption that deprives the Iranian people of the freedom and opportunity they deserve. Todays action denies Irans leadership the financial resources to spread terror and oppress the Iranian people.
The only path forward is for Iran to negotiate a comprehensive deal that addresses the full range of its destabilizing behaviors. Until it does, our campaign of diplomatic isolation and maximum economic pressure will continue. When the Iranian regime decides to forgo violence and meet our diplomacy with diplomacy, it knows how to reach us.
Click to Read More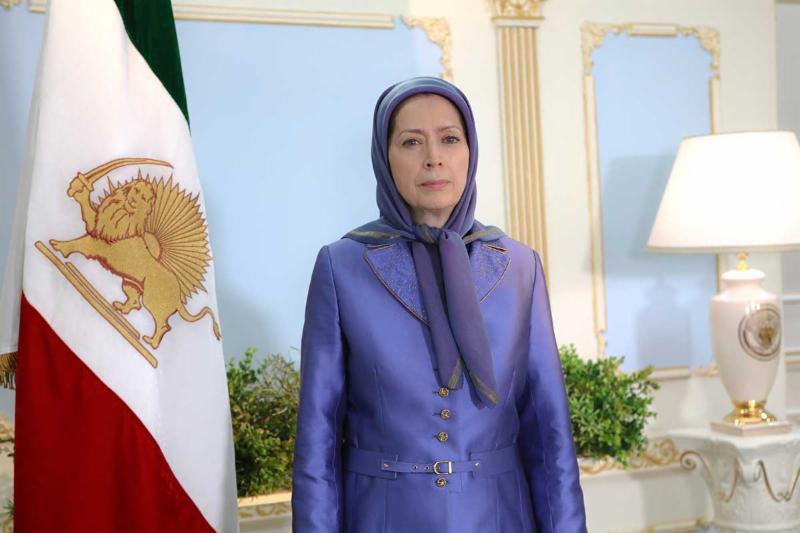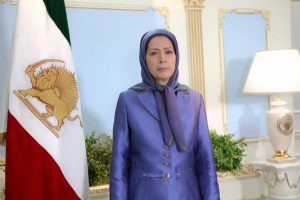 MARYAM RAJAVI: THE IRANIAN NATION HEARS YOUR ANTHEMS AND YOUR CRIES FOR FREEDOM
Maryam-Rajavi.com, June 21, 2019
What is the real question for US and European policies vis-a-vis the fascist religious regime ruling Iran?
Fellow citizens, freedom-loving Iranians, sympathizers and friends of the Iranian Resistance,
Rebels for Iran's freedom, who have travelled all the way from across the U.S., to come together today in Washington, D.C.
The Iranian nation hears your anthems and your cries for freedom.
Today, you are the voice of an oppressed nation whose assets have been robbed.
Greetings to you, to the elected representatives of the American people who are here, and to personalities and long-time friends and supporters of the Iranian people's Resistance for democracy and human rights. They have all come today to stand with you.
Congratulations on the anniversary of the resistance, June 20, the Day of Martyrs and Political Prisoners, and on the anniversary of the founding of the Army of Freedom; a movement that has unceasingly forged ahead in all theatres for four decades, relying on its own toil, struggle and sacrifice.
Sovereignty of the people vs. the mullahs' rule
To fend off the people's fury, for forty years, the murderous mullahs have pointed their fingers at the U.S. as the enemy. But we were not deceived. As Massoud Rajavi has said: "When we declared 'down with the reactionaries,' we stood by it. We have and will continue to declare that what we seek is the regime's overthrow, overthrow, overthrow."
Now, the people of Iran cry out in every street and alley that "our enemy is right here; the mullahs lie when they say America is the enemy." Indeed, this is a regime whose Constitution has formally replaced people's sovereignty and universal suffrage with the rule of the mullahs.
Iran Protests & More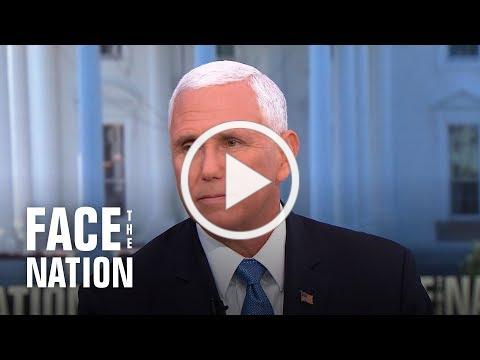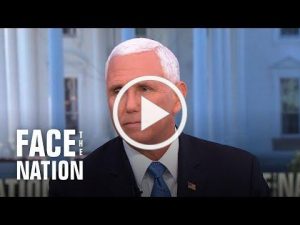 Pence: US Stands With Iranian People
Iran Focus, June 24, 2019
Over the weekend, US Vice President Mike Pence appeared on CBS's "Face the Nation" to talk about the threat posed by the Iranian government and the Free Iran rally that took place in Washington DC on Friday. Journalist Margaret Brennan asked Pence if the US had conducted cyber operations against Iran in response for shooting down a US drone last week, but Pence declined to comment as it was a covert operation.
Pence confirmed that the US would introduce additional sanctions against Iran for the downing of the drone and the attacks on two oil tankers in the Gulf of Oman two weeks ago. He said that Trump declined a military strike because it would have killed about 150 people, which was not a "proportional response" considering the drone was unmanned.
Pence said: "Iran should not- Iran should not confuse American restraint with a lack of American resolve. This president's made it clear we are going to protect American forces in the region. We're going to protect American interests in the region and the United States of America will never allow Iran to obtain a nuclear weapon."
Then, Brennan asked about Iran's threat to increase its stockpile of enriched uranium this week – a move that would violate the 2015 nuclear deal. She wanted to know if that was a red line for the US and how the US would react. Pence explained that the nuclear deal, which the US pulled out of last year, was "one of the worst deals this country had ever entered into" and that the punishing sanctions enacted on Iran in 2010 were working to pressure Iran until they were lifted under the deal.
Pence said: "What we want to do is stand with the Iranian people, thousands of which gathered outside the White House on Friday, and tens of thousands of which, took to the streets last year in communities across Iran, we want to stand with them to see Iran come forward, step to a future and embrace freedom." Pence was referring to a march in Washington on Friday by supporters of the Iranian Opposition Mujahedin-e Khalq (MEK or PMOI) and the major anti-government protests that have continued for more than a year inside Iran.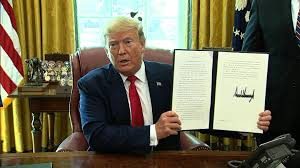 Maximum pressure the right policy to confront Iran
By Majid Rafizadeh, Arab News, June 20, 2019
America's Iran policy has been heading in the right direction since President Donald Trump took office, as steadily escalating economic sanctions have inflicted serious damage on the regime's economy.
The White House's "maximum pressure" policy should be complemented by support for the Iranian people, whose financial security had already been crippled by the ruling theocracy's mismanagement and corruption. That is why, on Friday, several thousand Iranians will gathering front of the State Department building in Washington and march to the White House to echo the people's desire for the overthrow of the current regime. The rally, organized by the Organization of Iranian-American Communities, will express support for the policy of maximum pressure, especially on Iran's Islamic Revolutionary Guard Corps (IRGC) and the Ministry of Intelligence and Security (MOIS).
The regime's priorities have been displayed by every successive increase in budget for the IRGC, which Tehran uses to wreak havoc in Syria, Iraq, Yemen and beyond. This activity has been one of the clearest targets of the Trump administration's sanctions. Members of Congress have also expressed their backing for a free and democratic Iran. Through House Resolution 374, recently introduced in Congress, they also condemned the regime's state-sponsored terrorism.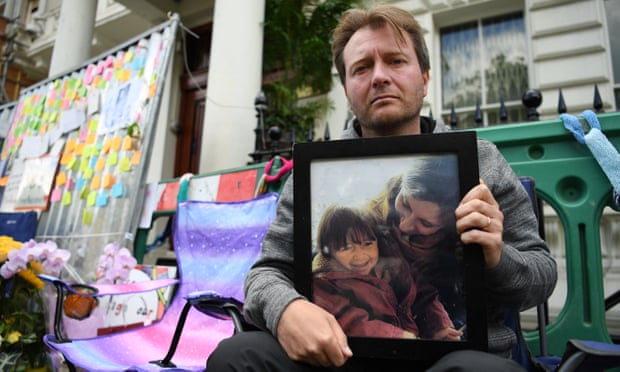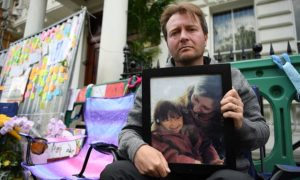 Iran rejects fresh UK call to release Nazanin Zaghari-Ratcliffe
Foreign minister Andrew Murrison's diplomatic visit to Tehran falls flat
NCRI, June 15, 2019
The Iranian foreign ministry has dismissed a fresh UK call to release Nazanin Zaghari-Ratcliffe, the Iranian-British dual national in jail on espionage charges, despite it being delivered personally by a Foreign Office minister.
Andrew Murrison made the appeal for Zaghari-Ratcliffe's release on his first visit to Tehran, where he quickly discovered the low standing with which Britain is held in Iranian government circles.
Iran's deputy foreign minister, Seyed Abbas Araghchi, said Zaghari-Ratcliffe would have to serve her sentence, denouncing a hunger strike by her husband, Richard Ratcliffe, outside the Iranian embassy in London as "blackmail".
Araghchi said: "The Islamic Republic of Iran's judiciary will not be influenced by such acts of blackmail, and those convicted of espionage must serve their terms." Ratcliffe, a tireless campaigner for his wife's release from a Tehran jail for the past three years is on the 10th day of a hunger strike in solidarity with his wife, who is protesting against her conditions in Evin prison. She was arrested in April 2016 and given a five-year sentence for espionage, a charge she denies. At times the Iranians have threatened a second set of charges.
Their five-year-old daughter, Gabriella, has been deprived of her weekly visit to see her mother in jail, possibly because the Iranian authorities are angered by Richard Ratcliffe's high-profile protest.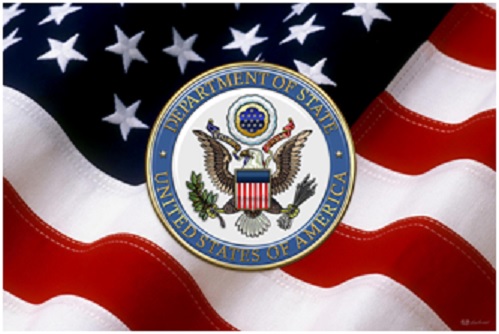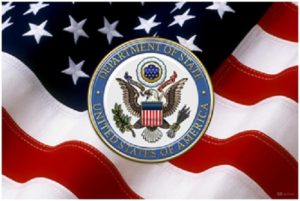 Countering Iran's Global Terrorism
Written by: OIAC
Remarks By: Nathan A. Sales
Ambassador-at-Large and Coordinator for Counter terrorism
November 13, 2018
Thanks for that warm introduction and for hosting me here. It's a real pleasure to participate in the Washington Institute's Counter terrorism Lecture Series. A number of my predecessors from the CT Bureau have had the privilege of speaking at this lectern, and I'm honored to be here to keep the streak alive.
Today, I'm going to highlight the United States' concerns about ongoing terrorism by the Iranian regime and its proxies around the world. Then I'll tell you what the Trump Administration is doing to counter this global and growing threat. Iran is the world's leading state sponsor of terrorism. Period. It has held that dubious distinction for many years now and shows no sign of relinquishing the title.
To the contrary, the regime in Tehran continues to provide hundreds of millions of dollars every year to terrorists across the world. It does this, despite ongoing economic turmoil that's impoverishing many of its people. The beneficiaries of this misbegotten largesse range from Hizballah in Lebanon, to Hamas in Gaza, to violent rejectionist groups in the West Bank, to the Houthis in Yemen, to hostile militias in Iraq and Syria.
We think you will find this report very informative
Donation
501 (c)(3) Tax deductible
Please,
Donate to Organization Of Iranian American Communities
Your donation will help OIAC advocates for a democratic, secular and non-nuclear government in Iran. Founded on the respect for human rights, gender equality, religious and ethnic tolerance, as wells as social, economic justice, and security for America. Our goal is to organize Iranian-American communities in the United States to promote these values.
Thank You,
http://www.oiac-us.com/donation/