The once-secret evidence connecting Iran to the deadly 1996 Khobar Towers terror attack-
Episode 2: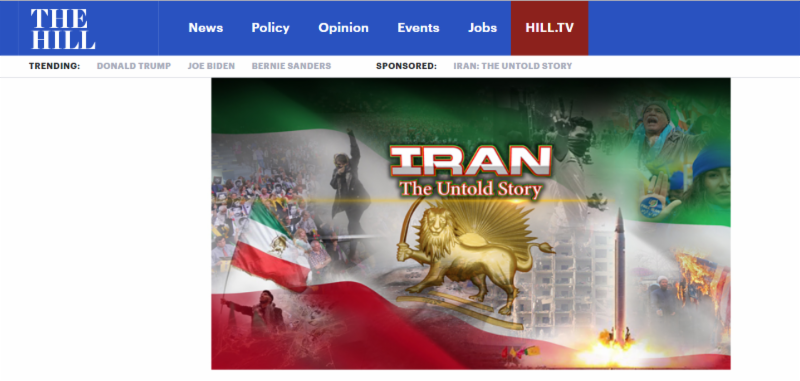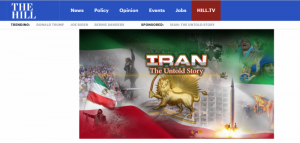 "For over 40 years, Iranian people and the civilized world have in one way or another struggled with destructive policies and actions of the clerical regime in Tehran. Also for 40 years, the Iranian regime had driven a skewed narrative on this important topic – adversely affecting the lives of the Iranian people and to some extent, international policymaking. To help the process of righting this wrong, Organization of Iranian American Community has sponsored a 10-part video series – developed and produced by The Hill. We invite you to review the second segment of this video series. "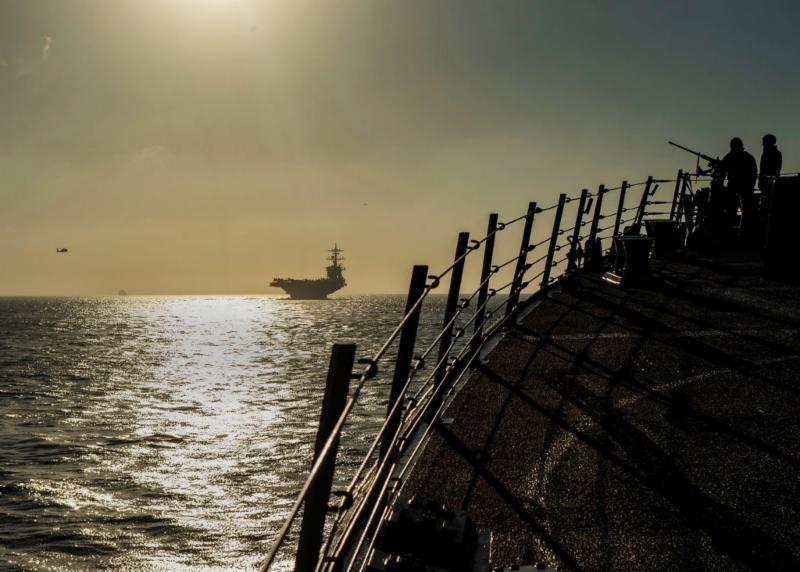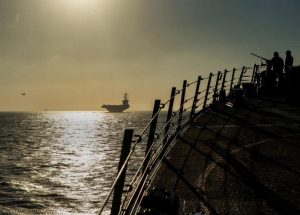 U.S. Officials Raise Alarm of Iranian Threat Targeting American Troops in Iraq
The New York Times, May 6, 2019
WASHINGTON — Senior American officials said on Monday that new threats by Iran against United States troops in Iraq were behind the sudden deployment of an aircraft carrier strike group and Air Force bombers to the Persian Gulf.
The White House and Pentagon made the decision after seeing intelligence that showed new activity on the part of Iranian-aligned forces since Friday, said two senior officials who spoke on condition of anonymity.
Additionally, one official noted new concerns in waterways where Iranian maritime forces operate.
The officials would not provide specific details about the threat posed by Iranian forces or Iraqi Shiite militias with ties to Tehran's military. Col. Scott Rawlinson, a spokesman for the American-led military coalition in Iraq, declined to comment.
The new movement of American military forces was announced by John R. Bolton, the national security adviser, on Sunday night. The deployment of the aircraft carrier U.S.S. Abraham Lincoln was intended "to send a clear and unmistakable message to the Iranian regime that any attack on United States interests or on those of our allies will be met with unrelenting force," Mr. Bolton said in a statement.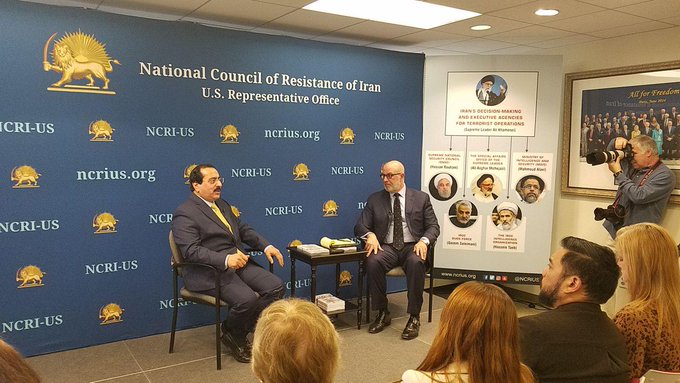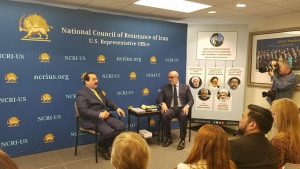 Iran dissidents call for Tehran's embassies in Europe to be shut down amid terror threat
Fox News, May 3, 2019
A top Iran resistance group is calling on European nations to shut down Tehran's embassies in response to the regime's alleged use of embassies to plot terror attacks against its political opponents across the continent — as the Trump administration ramps up sanctions against the Islamic republic led by President Hassan Rouhani.
"What we are calling for is closing the Iranian regime's embassies," National Council of Resistance of Iran Deputy Director Alireza Jafarzadeh told reporters at a news conference in Washington, D.C. this week. "These diplomatic relations have allowed the regime to plot terrorist attacks and assassinations in the West."
The news conference was held to discuss the release of the group's new book "Iran's Emissaries of Terror," which seeks to highlight Tehran's use of embassies in plotting terror attacks against political opponents in the U.S. and Europe.
Iranian-backed plots have surged in recent years, particularly in 2018, when the NCRI logged 10 instances of terror plots or terror-related arrests against Iranian officials. The most significant was the foiled plot to bomb an annual gathering of Iranian dissident groups (under the umbrella of the NCRI) in Paris last year — an event that was attended by Trump lawyer Rudy Giuliani. An Iranian diplomat based in Vienna was one of four arrested for the plot.
Iran protests & more
https://www.youtube.com/watch?v=1WsDoiwy5Ns&feature=youtu.be
https://www.youtube.com/watch?v=hPhQBXuNMHY&feature=youtu.be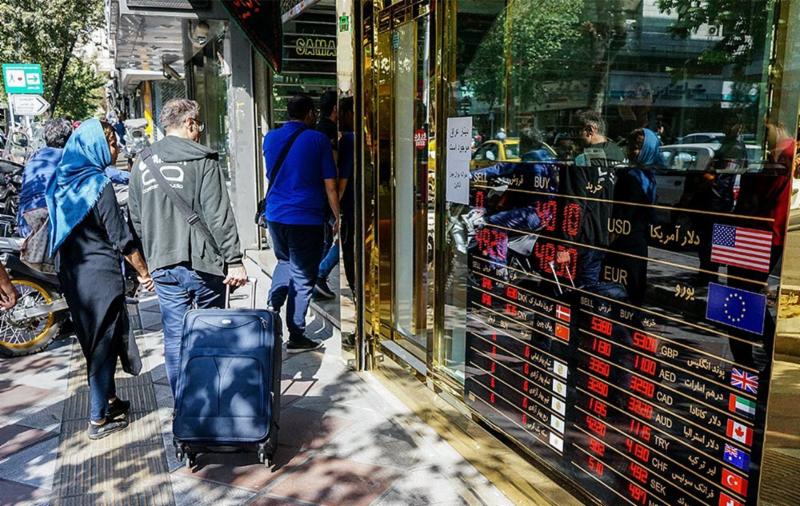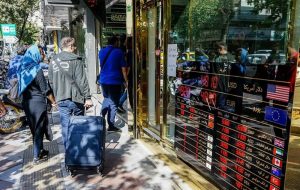 Iran Job Market Show No Signs of Improvement
NCRI, May 6, 2019
The rate of unemployment in Iran in the past few years has been extremely high.
Iran regime's official statistics (that usually have to be taken with a pinch of salt because they are almost always over or understated to make situations look less serious than they actually are) show that there were more than 23 million unemployed people in the country during the last calendar year that ran from 21st March 2018 to 20th March 2019).
This represents 12 per cent of the population. However, looking at the participation rate (the total of all people in employment divided by the total population that is of working age), we see that the current rate is 40.5 per cent.
It must also be noted that the breakdown of employment must be taken into consideration. For example, how many people are working part time? It must also not be forgotten that the Iranian regime does not differentiate between those that work 70 hour weeks and those on zero hour contracts.
However, it seems that the effects of the tough economic sanctions imposed by the United States have not yet started to fully impact the job market. However, it will not last long and it is expected that the months to come will show signs of a worsening crisis.
Purchasing power is on the decline and inflation statistics for March this year show that in the space of just 12 months, the average costs per household have increased by more than 50 per cent when compared to the prior year. Rural households and those on the poorer end of the scale have experienced an even higher increase.
Those that were once economically inactive (homemakers, students, etc) have had to try and enter the job market, but considering the unemployment rate, it has been an impossible task for many. Furthermore, considering the growing population numbers, the number of people unemployed will continue to rise for the foreseeable future.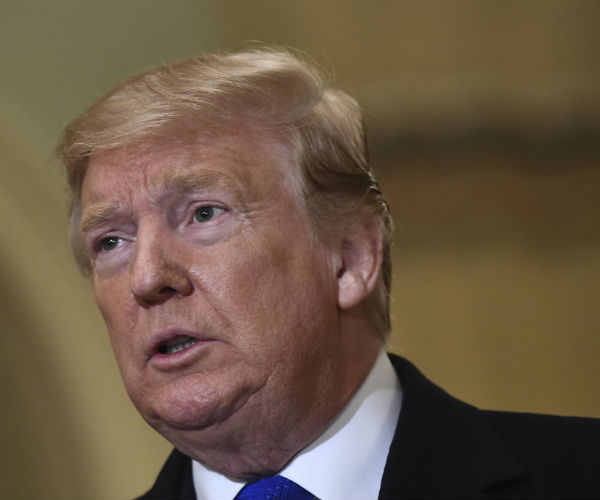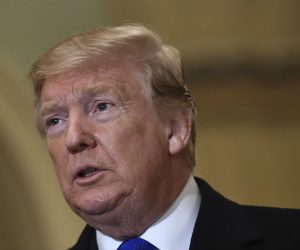 America's Assertive Iran Policy Must Continue
By Ken Blackwell, TownHall , May 6, 2019
America's policy on Iran has been trending in the right direction since the day President Trump took office. Perhaps one criticism could be the slow pace of its progress. It took until May of last year for the administration to follow through on its long-standing promise to withdraw from a nuclear deal that gave massive sanction relief to the regime in exchange for modest restraints on its nuclear activities. And once the withdrawal was announced, it took a further 180 days for sanctions to be removed, and a full year before waivers ceased to be granted to major importers of Iranian oil.
The administration's strategy for dealing with Iran and facilitating comprehensive change in its behavior has moved from merely "assertive" to "unprecedented." Perhaps the greatest example of that shift came about two weeks before the announcement of an end to all sanctions waivers. Early in April, the White House declared that it would be designating the Islamic Revolutionary Guard Corps (IRGC) as a Foreign Terrorist Organization (FTO).
The decision had long been debated in Western policy circles, but previous American administrations and some early members of the current administration were wary of the political costs of applying terrorist designation to an official branch of a foreign government. Various individuals and entities affiliated with the IRGC had previously come under sanctions, but the refusal to designate the IRGC as a whole produced a serious blind spot in US sanction law. The IRGC controls the majority of Iran's gross domestic product, both directly and through a series of front companies, and is instrumental in circumventing sanctions.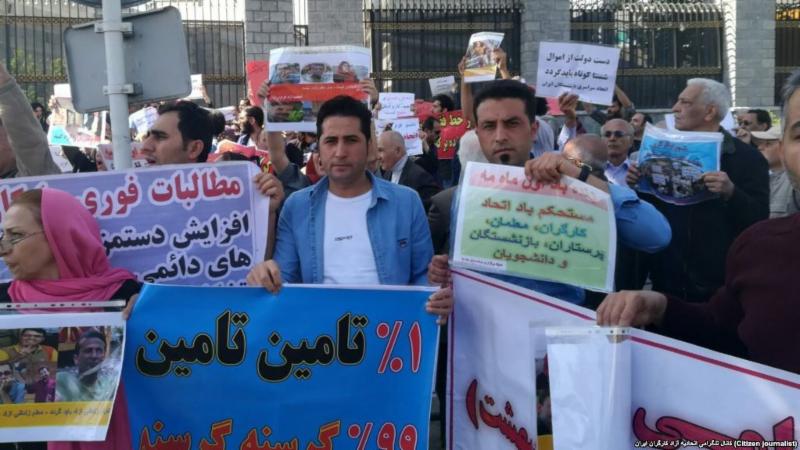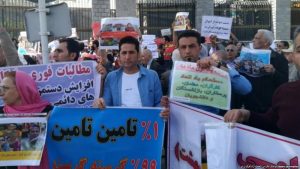 Dozens Of Iranian Detained During Labor Day Protest In Tehran
Radio Farda, May 2, 2019
Iranian police have detained dozens of labor activists and at least two journalists as they violently dispersed a May Day demonstration in central Tehran, reports say.
Eyewitnesses told RFE/RL that at least 35 demonstrators, mainly members of the Tehran Bus Drivers' Union, were detained during the May 1 rally outside the parliament building.
Some of the protesters were reportedly dragged on the ground and beaten before being taken into custody. Videos shared on social media showed the demonstrators chanting slogans against high living costs and rising inflation. The participants also called for the right to establish independent labor organizations.
The police crackdown came as Amnesty International urged Iranian authorities to release all labor rights activists "arbitrarily detained solely for taking part in peaceful protests and strikes."
In a statement issued on International Workers' Day, the London-based human rights watchdog said it had documented the arrests of hundreds of workers and other labor rights activists over the past year as part of a campaign by the authorities to "repress social unrest and public dissent."
Prison sentences were handed down to dozens of them, it said.
Click to Read More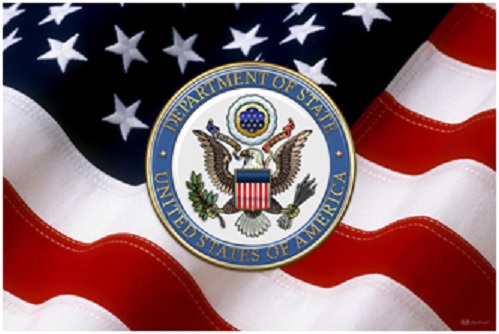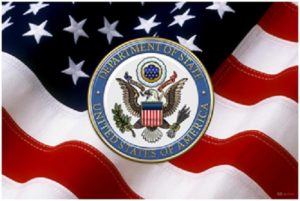 Countering Iran's Global Terrorism
Written by: OIAC
Remarks By: Nathan A. Sales
Ambassador-at-Large and Coordinator for Counter terrorism
November 13, 2018
Thanks for that warm introduction and for hosting me here. It's a real pleasure to participate in the Washington Institute's Counter terrorism Lecture Series. A number of my predecessors from the CT Bureau have had the privilege of speaking at this lectern, and I'm honored to be here to keep the streak alive.
Today, I'm going to highlight the United States' concerns about ongoing terrorism by the Iranian regime and its proxies around the world. Then I'll tell you what the Trump Administration is doing to counter this global and growing threat.
Iran is the world's leading state sponsor of terrorism. Period. It has held that dubious distinction for many years now and shows no sign of relinquishing the title. To the contrary, the regime in Tehran continues to provide hundreds of millions of dollars every year to terrorists across the world. It does this, despite ongoing economic turmoil that's impoverishing many of its people. The beneficiaries of this misbegotten largesse range from Hizballah in Lebanon, to Hamas in Gaza, to violent rejectionist groups in the West Bank, to the Houthis in Yemen, to hostile militias in Iraq and Syria.
We think you will find this report very informative
Donation
501 (c)(3) Tax deductible
Please,
Donate to Organization Of Iranian American Communities U.S
Your donation will help OIAC advocates for a democratic, secular and non-nuclear government in Iran. Founded on the respect for human rights, gender equality, religious and ethnic tolerance, as wells as social, economic justice, and security for America. Our goal is to organize Iranian-American communities in the United States to promote these values.
Thank You,
http://www.oiac-us.com/donation/