Iranian-Americans Welcome the Designation of IRGC as a Foreign Terrorist Organization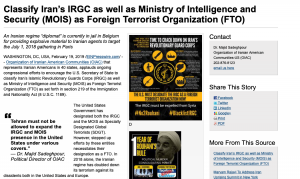 OIAC commends the move by the State Department to designate the notorious Islamic Revolutionary Guard Corps (IRGC) as a Foreign Terrorist Organization (FTO)
WASHINGTON, DC, USA, April 8, 2019 /EINPresswire.com/ — Organization of Iranian Americans Communities (OIAC) commends the move by the State Department to designate the notorious Islamic Revolutionary Guard Corps (IRGC) as a Foreign Terrorist Organization (FTO). As Secretary of State, Mike Pompeo, said, "This designation is a direct response to an outlaw regime." Secretary Pompeo added IRGC is gaining its "rightful place" next to all other terror groups sponsored by the regime in Iran.
In February 19, 2019, OIAC called the U.S. Sec. of State "To classify Iran's Islamic Revolutionary Guards Corps (IRGC) as well as Ministry of Intelligence and Security (MOIS) as Foreign Terrorist Organization (FTO) as set forth in section 219 of the Immigration and Nationality Act (8 U.S.C. 1189)."
Iranian people welcome the designation because IRGC stands for terror and corruption and deserves to be on the FTO list. For the last four decades, the IRGC has been at the center of Iran's oppressive apparatus, economic corruption at home and terror globally. The people of Iran have been first and foremost victims of the IRGC. As Maryam Rajavi, President-elect of the National Council of Resistance of Iran said the IRGC is responsible for "thousands of political executions and torture." She also views the designation as "imperative for regional and global peace and security."
In December of 2017, in more than 160 cities across Iran, women, youth and people from all walks of life took to the streets calling for freedom and democracy. These protests continue to this day. OIAC believes democracy and human rights in Iran are imperative to the national security of America and peace in the Middle East and beyond. With this move, the IRGC can no longer operate without impunity and the people of Iran are further empowered in their quest for freedom and democracy. We reiterate our demand and urge the State Department to designate Iran's Ministry of Intelligence and Security (MOIS) as a Foreign Terrorist Organization (FTO).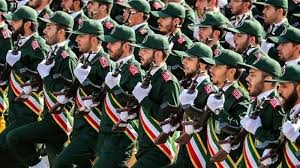 Trump designates elite Iranian military force as a terrorist organization
CNN, April 8, 2019
Washington (CNN)President Donald Trump announced Monday the US will formally designate Iran's Islamic Revolutionary Guard Corps as a Foreign Terrorist Organization, a move some in the administration had opposed over concerns about potential risks to US troops in the Middle East.
The step "recognizes the reality that Iran is not only a State Sponsor of Terrorism, but that the IRGC actively participates in, finances, and promotes terrorism as a tool of statecraft," Trump said in a statement that described the IRGC as "the Iranian government's primary means of directing and implementing its global terrorist campaign."
Administration officials said the move is a response to Iran's destabilizing behavior across the Middle East, including support for the regime in Syria, Houthi rebels in Yemen and Hezbollah in Lebanon, as well as for assassination plots in Europe and the US.
The announcement aims to drive a stake through the heart of a central institution in Iran. Formed after the Islamic revolution in 1979, the IRGC is not only Iran's most powerful military institution, it holds deep influence over domestic politics and the economy, with interests extending to and beyond the construction, telecommunications, auto and energy industries.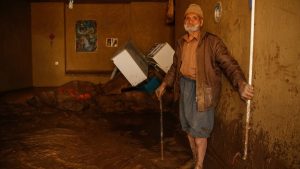 Flooding In Iran Kills At Least 70, Forces Evacuation Of Thousands
NPR, April 7, 2019
Flooding in Iran has killed at least 70 people, and forced the mass evacuation of thousands, as heavy rain continues to fall on much of the country. Mansoureh Bagheri, Director of International Relations at the Iranian Red Crescent Society, spoke with NPR from Tehran, Iran. "Since March 16, we've started three rounds of rainfall in Iran. It started from the north part of Iran, and I can say it engaged the whole provinces. Out of 31 provinces, almost 24 provinces have been impacted by the severe rainfall," Bagheri said.
The floods occurred during Iran's new year holiday of Norwuz, and left many stranded. The state-run Islamic Republic News Agency reports floods killed people across 13 provinces. According to IRNA, "The disaster began with heavy rainfalls in the northern provinces of Iran since March 19, and continued across Iran with flash floods in southern, central and western provinces."
Iran's Mehr News Agency reports some 1,900 cities and villages have been flooded, "causing hundreds of millions of dollars of damage to Iranian water and agriculture infrastructures." Bagheri told NPR, "The destruction is high. I can say regarding the agriculture, regarding the infrastructure, regarding the livelihood, the impact is high."
Click to Read More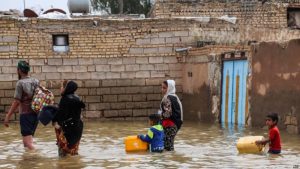 Activists: Iran's Revolutionary Guards Fire on Protesters in Deadly Flood Confrontation
VOA, April 4, 2019
Exiled Iranian opposition activists say Iran's Islamic Revolutionary Guard Corps has fired on protesters who tried to stop it from diverting floodwaters in a southwestern town, resulting in a protester's death.
The activists said the protester died after being shot by IRGC forces in Wednesday's predawn confrontation in the Dasht-e-Azadegan district of Khuzestan province. They said minority Iranian Arab residents of the area, also known as Ahwazis, were trying to stop the IRGC from destroying a dyke and diverting floodwaters into their farmland.
The Iran National Council for Free Elections opposition group said the IRCG forces wanted to divert floodwaters to prevent them from entering IRCG-controlled oil installations in the neighboring town of Susangerd. In a Wednesday Instagram post, the group said one protester was killed and several were wounded by IRGC fire.
In a series of tweets posted Thursday, London-based Ahwazi activist Karim Dahimi identified the dead protester as Aboud Jalizi and posted images of the man's body. Washington-based rights group Abdorrahman Boroumand Centershared Dahimi's reports about Jalizi on its Twitter feed and told VOA Persian that it considered Dahimi to be a reliable source. However, there was no official confirmation of the protester's death in Iranian state media.
Click to Read More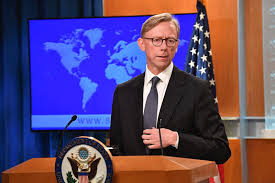 Three importers cut Iran oil shipments to zero: U.S. envoy
Reuters, April 2, 2019
WASHINGTON (Reuters) – Three of eight importers granted waivers by Washington to buy oil from Iran have now cut their shipments to zero, a U.S. official said on Tuesday, adding that improved global oil market conditions would help reduce Iranian crude exports further.
The United States reimposed sanctions on Iran after President Donald Trump last May withdrew the country from a 2015 nuclear deal between Iran and several world powers, accusing it of supporting terrorism and conflicts in Syria and Yemen. While the United States has set a goal of completely halting Iran's oil exports, it granted temporary import waivers to China, India, Greece, Italy, Taiwan, Japan, Turkey and South Korea to ensure low oil prices and no disruption to the global oil market. The Trump administration is currently in consultations with the importers ahead of a May 2 deadline when the waivers expire.
Click to Read More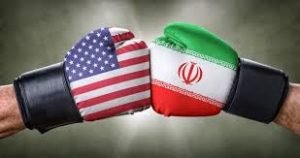 IRAN KILLED 608 AMERICAN TROOPS IN IRAQ WAR, PENTAGON SAYS IN REVISED CASUALTY ESTIMATE
NewsWeek, April 4, 2019
Iran was responsible for the deaths of at least 608 American troops in Iraq between 2003 and 2011, according to a newly revised casualty estimate produced by the Pentagon. Special Representative for Iran Brian Hook told a State Department press briefing Tuesday that Tehran is to blame for 17 percent of all U.S. service personnel deaths between 2003 and 2011, having supplied weaponry to Shiite militias fighting U.S. occupation.
Hook noted that the U.S. figure is in addition to the "thousands" of Iraqi troops and civilians killed in attacks by Iranian proxy forces. The special representative explained that the new numbers are taken from recently declassified U.S. military documents. The numbers are significantly higher than the roughly 500 confirmed deaths attributed to Iran by Chairman of the Joint Chiefs of Staff General Joseph Dunford in 2015.
At that time, Dunford acknowledged that the true figure would likely be higher. "We were not always able to attribute the casualties that we had to Iranian activity, although many times we suspected it was Iranian activity, even though we did not necessarily have the forensics to support that," Dunford told Congress during a confirmation hearing. Tehran provided military and financial support to Shiite militias in Iraq as the country was convulsed by waves of sectarian and anti-U.S. violence following the toppling of Saddam Hussein.
Iran is believed to have provided training at camps inside its own borders, smuggling huge quantities of small arms, rocket-propelled grenades, mortars, rockets and other munitions. Multiple survivors and families of those killed have brought legal action against Iran, hoping to receive compensation for the injuries and deaths inflicted by Iranian-supplied weapons.
Click to Read More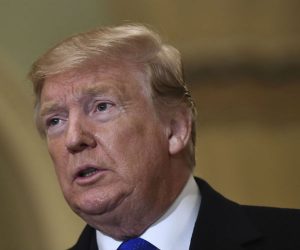 Trump Should Express His Support of Iranian Demonstrators
By Raymond Tanter, News Max, March 27, 2019
Secretary of State Mike Pompeo laid out the basis for "The Trump Doctrine" in the November/December 2018 issue of Foreign Affairs:
"Both on the campaign trail and in office, President Trump has been clear about the need for bold American leadership to put the United States' security interests first." Consider how President Trump approaches Iran in contrast to how he handles North Korea, in an AP report of March 22.
Trump tweeted he reversed his administration's decision to slap new sanctions on North Korea, with his press secretary explaining that he "likes" leader Kim Jong Un and doesn't think they're necessary. It was announced on March 22 by Treasury that additional large-scale sanctions would be added to those already existing on North Korea. "Trump wrote that he ordered the withdrawal of those additional Sanctions!"
In contrast to Pyongyang, President Trump pursues a "maximum pressure" campaign for Tehran. It is intended to choke off revenues of Iran — and especially the Islamic Revolutionary Guard Corps (IRGC). It uses Hezbollah in Lebanon, Hamas in the Gaza Strip, Assad's regime in Syria, Houthi rebels in Yemen, Shiite militias in Iraq, and Iran's own agents covertly plotting around the world.
U.S. policy focuses on pressuring the Iranian regime with increasing economic sanctions. During March, Treasury designated 14 Iranian individuals and entities associated with developing weapons of mass destruction. November 4, 2018, marked the final day of the 180-day wind-down period following the President's May 8, 2018, announcement to cease participation in the Iran nuclear deal.
Click to Read More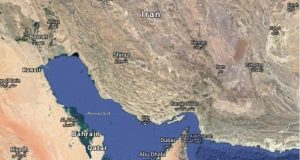 Iranian media: Battery explosion at submarine plant kills three workers
Associated Press, April 7, 2019
TEHRAN, Iran — Iranian state media are reporting three staffers in the country's defense industries have been killed in an explosion in a submarine under construction in the country's south. A Saturday report by the Fardanews website said the three technicians were killed when batteries on the vessel exploded.
The explosion took place at a shipbuilding factory about 37 kilometers (23 miles) west of the southern port of Bandar Abbas that overlooks the Strait of Hormuz. Since 1992, Iran has developed a homegrown defense industry that produces light and heavy weapons ranging from mortars and torpedoes to tanks and submarines.
Click to Read More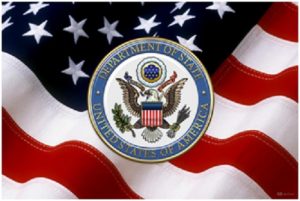 Countering Iran's Global Terrorism
Written by: OIAC
Remarks By: Nathan A. Sales
Ambassador-at-Large and Coordinator for Counter terrorism
November 13, 2018
Thanks for that warm introduction and for hosting me here. It's a real pleasure to participate in the Washington Institute's Counter terrorism Lecture Series. A number of my predecessors from the CT Bureau have had the privilege of speaking at this lectern, and I'm honored to be here to keep the streak alive.
Today, I'm going to highlight the United States' concerns about ongoing terrorism by the Iranian regime and its proxies around the world. Then I'll tell you what the Trump Administration is doing to counter this global and growing threat.
Iran is the world's leading state sponsor of terrorism. Period. It has held that dubious distinction for many years now and shows no sign of relinquishing the title.
To the contrary, the regime in Tehran continues to provide hundreds of millions of dollars every year to terrorists across the world. It does this, despite ongoing economic turmoil that's impoverishing many of its people. The beneficiaries of this misbegotten largesse range from Hizballah in Lebanon, to Hamas in Gaza, to violent rejectionist groups in the West Bank, to the Houthis in Yemen, to hostile militias in Iraq and Syria.
We think you will find this report very informative
Donation
501 (c)(3) Tax deductible
Please,
Donate to Organization Of Iranian American Communities U.S
Your donation will help OIAC advocates for a democratic, secular and non-nuclear government in Iran. Founded on the respect for human rights, gender equality, religious and ethnic tolerance, as wells as social, economic justice, and security for America. Our goal is to organize Iranian-American communities in the United States to promote these values.
Thank You,
http://www.oiac-us.com/donation/