Flash Floods in many cities across Iran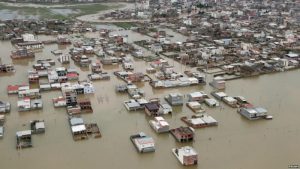 Floods Demolish 25,000 Houses Across Iran, Damage 60,000 Others
Radio Farda, April 1, 2019
Floods have demolished over 25,000 houses across Iran in less than two weeks, Hadi Derafshi, an official at the Iranian Housing Foundation told reporters on Monday, April 1. Iranian official news agency IRNA also quoted Derafshi as having said that "over 60,000 more houses have been damaged by the floods and need restoration."
Meanwhile, the immediate the order for evacuation of three cities in western provinces was issued Monday afternoon, as floods completely swamped the Khorramabad, the capital of Lorestan province. The city's airport is also submerged and all flights to and from Khorramabad have been cancelled, the official said. The provincial director of Red Crescent in Lorestan said that contact has been lost with most areas.
Click to Read More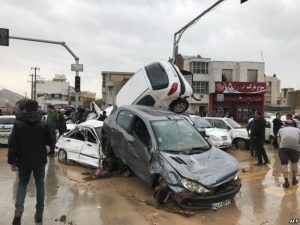 Iran Calls Emergency in Flood-threatened Southwest Province
VOA, March 30, 2019
(Reuters) The semiofficial news agency ISNA quoted Shariati as saying floods could also threaten the provincial capital, Ahvaz, if the rain is at the high end of forecasts. In the neighboring province of Lorestan, at least eight villages and parts of the town of Dorud were being evacuated, the semiofficial news agency Fars reported.
Officials have said the government would compensate residents for flood damage. At least 45 people were killed this week in flash floods in northern and southern Iran after the heaviest rains recorded in Iran in at least a decade, the state news agency IRNA quoted Health Minister Saeid Namaki as saying.
Western and southwestern parts of the country are expected to bear the brunt of the storms in the days ahead. Police renewed calls for people to avoid unnecessary journeys even though Iran is celebrating the Nowruz new year holiday, a time when many families travel.
Click to Read More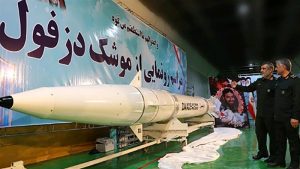 US hits Iranian bank, companies with new sanctions
US imposes fresh sanctions of network of companies and individuals it says are helping fund Iran's Revolutionary Guard.
Al Jazeera, March 26, 2019
The United States on Tuesday imposed fresh sanctions on a network of companies and individuals in Iran, Turkey and the United Arab Emirates it said was transferring billions of dollars and euros to Iran's elite Revolutionary Guard. The US Treasury said it was blacklisting 25 people and entities, including front companies based in the three countries, associated with Iran's Islamic Revolutionary Guard Corps (IRGC) and the Ministry of Defence and Armed Forces Logistics (MODAFL).
The targeted institutions include banks and other financial institutions, including Ansar Bank, Atlas Exchange, Iranian Atlas Company. "We are targeting a vast network of front companies and individuals located in Iran, Turkey, and the UAE to disrupt a scheme the Iranian regime has used to illicitly move more than a billion dollars in funds," Treasury Secretary Steven Mnuchin said in a statement.
Click to Read More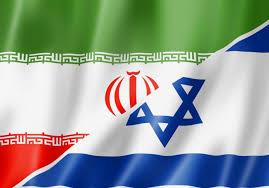 Israel strike kills 7 Iranian, Iran-backed fighters in Syria
Fox News, March 28, 2019
(AP)BEIRUT – A Syrian war monitoring group says an Israeli airstrike the night before killed seven Iranian and Iranian-backed fighters in northern Syria. The Britain-based Syrian Observatory for Human Rights said on Thursday that the airstrike targeted an Iranian weapons depot and also wounded several other fighters. Syrian state media said the country's air defenses responded to an "Israeli air aggression" targeting positions in an industrial area northeast of the city of Aleppo city, causing material damage only.
Iran is an ally of Damascus and has offered military advisers, sent allied militiamen and material support to help the Syrian government force in the eight-year civil war. Israel considers Iran a national security threat and says it won't tolerate Iran's presence on its borders. It has recently acknowledged striking Iranian targets in Syria.
Click to Read More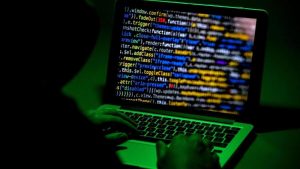 Iran continues to be a major cyber threat to the Middle East
Iranian hackers are linked to cyber attacks that targeted thousands of people at more than 200 companies globally
The National, April 1, 2019
Iran, which is accused of launching state-sponsored cyber espionage attacks against the Middle East in the past, continues to be a major threat to businesses and government institutions across the region in 2019.
Government and defence sectors in the UAE and Saudi Arabia – the two largest economies in the Arabian Gulf – will be the main targets, as Iran seeks geopolitical prominence, according to a report released by California-based cyber-security technology company CrowdStrike.
"Governments and businesses need to be aware of the threat and be prepared to deal with that," said Rawad Sarieddine, regional head of CrowdStrike in Dubai. "Our report has found that Iran, along with other actors, continues to be a destructive threat, not only within the Middle East but also to companies based in western countries that may do business or maintain infrastructure in the region," added Mr Sarieddine.
The report found that besides Iran, countries such as Russia, China and North Korea continue to maintain a professional and experienced cyber-crime capability. CrowdStrike's report reviewed incidents of both eCrime and state-sponsored cyberattacks across the world. The company is also hosting a cybersecurity session at Global Information Security Expo and Conference (Gisec) that started in Dubai on Monday.
Click to Read More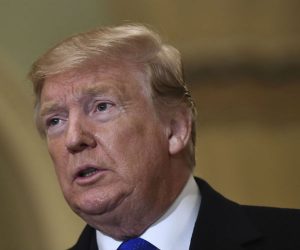 Trump Should Express His Support of Iranian Demonstrators
By Raymond Tanter, News Max, March 27, 2019
Secretary of State Mike Pompeo laid out the basis for "The Trump Doctrine" in the November/December 2018 issue of Foreign Affairs:
"Both on the campaign trail and in office, President Trump has been clear about the need for bold American leadership to put the United States' security interests first." Consider how President Trump approaches Iran in contrast to how he handles North Korea, in an AP report of March 22.
Trump tweeted he reversed his administration's decision to slap new sanctions on North Korea, with his press secretary explaining that he "likes" leader Kim Jong Un and doesn't think they're necessary. It was announced on March 22 by Treasury that additional large-scale sanctions would be added to those already existing on North Korea. "Trump wrote that he ordered the withdrawal of those additional Sanctions!"
In contrast to Pyongyang, President Trump pursues a "maximum pressure" campaign for Tehran. It is intended to choke off revenues of Iran — and especially the Islamic Revolutionary Guard Corps (IRGC). It uses Hezbollah in Lebanon, Hamas in the Gaza Strip, Assad's regime in Syria, Houthi rebels in Yemen, Shiite militias in Iraq, and Iran's own agents covertly plotting around the world.
U.S. policy focuses on pressuring the Iranian regime with increasing economic sanctions. During March, Treasury designated 14 Iranian individuals and entities associated with developing weapons of mass destruction.
November 4, 2018, marked the final day of the 180-day wind-down period following the President's May 8, 2018, announcement to cease participation in the Iran nuclear deal.
Click to Read More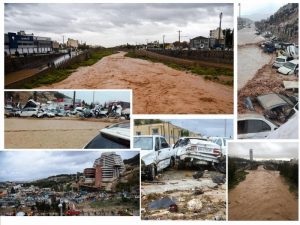 Iranian Authorities Try to Cover up Devastating Flood Crisis
Iran Focus, March 29, 2019
Large parts of Iran have been affected by major flooding in the past few days. A large number of people have lost their lives and an even bigger number of people have been injured or have lost their homes to severe damage.
The people have not been given any support by their local authorities and the regime has tried to cover up the extent of the devastation. It has been reported that journalists have been blocked from entering hospitals so that they cannot write or speak about the number of killed or injured.Tehran, the nation's capital, is about to face a crisis because of the rising water levels. The city, which is home to 9 million people, is being spoken about widely on social media.
Videos of the extensive damage in other areas of the country are also being shared and the desperation of the people is palpable. Some are taking refuge on the rooftops of buildings. Landslides are blocking roads across Iran and villages are being cut off from the rest of the country. Clean water supplies have been cut and many people do not have access to potable water.
The Iranian government, for years, has been destroying the environment through its destructive policies. Authorities have been over-constructing for a long time and it has destroyed the natural flood barriers that were in place. Furthermore, the government has been shirking its responsibility and the Supreme Leader of Iran, Ayatollah Ali Khamenei, even spoke about the hassle this has caused authorities.
Click to Read More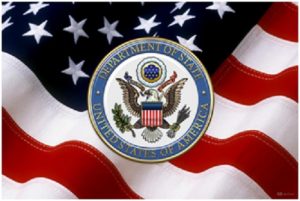 Countering Iran's Global Terrorism
Written by: OIAC
Remarks By: Nathan A. Sales
Ambassador-at-Large and Coordinator for Counter terrorism
November 13, 2018
Thanks for that warm introduction and for hosting me here. It's a real pleasure to participate in the Washington Institute's Counter terrorism Lecture Series. A number of my predecessors from the CT Bureau have had the privilege of speaking at this lectern, and I'm honored to be here to keep the streak alive.
Today, I'm going to highlight the United States' concerns about ongoing terrorism by the Iranian regime and its proxies around the world. Then I'll tell you what the Trump Administration is doing to counter this global and growing threat.
Iran is the world's leading state sponsor of terrorism. Period. It has held that dubious distinction for many years now and shows no sign of relinquishing the title. To the contrary, the regime in Tehran continues to provide hundreds of millions of dollars every year to terrorists across the world. It does this, despite ongoing economic turmoil that's impoverishing many of its people. The beneficiaries of this misbegotten largesse range from Hizballah in Lebanon, to Hamas in Gaza, to violent rejectionist groups in the West Bank, to the Houthis in Yemen, to hostile militias in Iraq and Syria.
We think you will find this report very informative
Donation
501 (c)(3) Tax deductible
Please,
Donate to Organization Of Iranian American Communities U.S
Your donation will help OIAC advocates for a democratic, secular and non-nuclear government in Iran. Founded on the respect for human rights, gender equality, religious and ethnic tolerance, as wells as social, economic justice, and security for America. Our goal is to organize Iranian-American communities in the United States to promote these values.
Thank You,
http://www.oiac-us.com/donation/