Organization of Iranian American Communities Presents:
Brief On IRAN Newsletter (BOI)
News on Iran & Related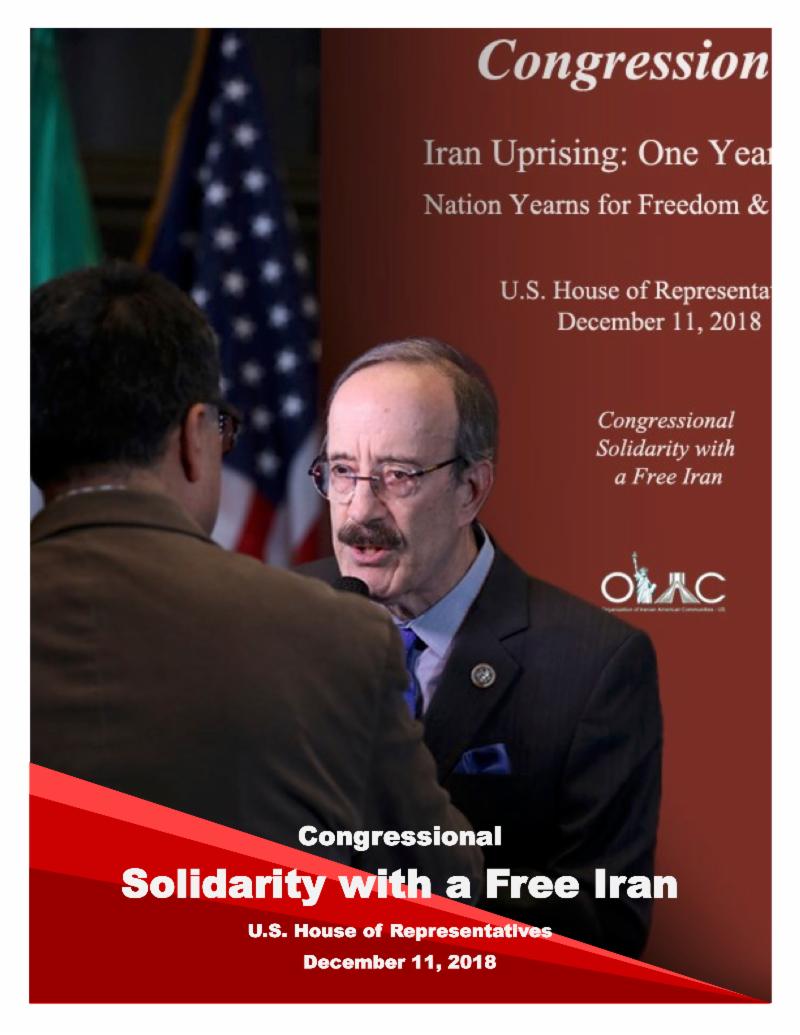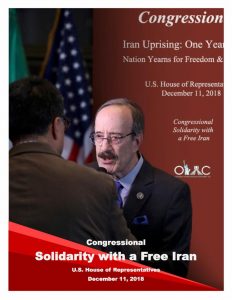 OIAC House Christmas Celebration & Briefing, December 11, 2018
On Wednesday December 11, 2018, bipartisan members of United States congress joined Iranian Americans from 40 states at a festive event held on the grounds of the House of Representatives to celebrate the Holiday Season to express support for democracy protesters in Iran. At this gathering, organized by the Organization of Iranian American Communities (OIAC), lawmakers also announced bipartisan congressional support for H.Res.1034 and highlighted Iranian regimes' malign role within and outside Iran.
Timed to coincide with the anniversary of nationwide protests in Iran, which reignited in late December 2017, the gathering showcased congressional and Iranian American community support for the Iranian people's uprising.
The demonstrations exploded across the country yet again in December 2017 as, "tens of thousands of protesters have formed the largest outpouring of government opposition since the volatile 2009 presidential elections. The scale and ferocity of the protests had clerical leaders in Tehran struggling." Developments in Iranian streets, factories, schools, and roads over the past years overwhelmingly affirm the assertion that despite suffocating repression, the protests in Iran have a number of key characteristics and differ from the 2009 uprising:
The public dissent and its topography is intensifying to include various segments, institutions, and geographical local within Iran. The antiestablishment protests, which originally involved some 240 cities and municipalities, have progressively swelled beyond a singular socioeconomic sector of society or economy and now include participation of factory workers, truck drivers, teachers and the Bazaar. In a display of increasing international awareness, U.S. Teamsters issued a statement in October 2018 to express its solidarity with striking truck drivers in Iran.
The protests are getting increasingly more sophisticated, persistent, organized, and deliberate in nature.
Repeated slogans such as "Death to Dictator," show that people's demands transcend economic issues and directly target the clerical regime.
The regime, facing increasing international isolation has no answer for the people and is incapable of meeting their legitimate demands. Accordingly, the current wave of uprising is unstoppable.
These legitimate demands and regimes' violent response is leading to a surprisingly rapid growth in the size, number, and interconnectivity of the already present community of RESISTANCE UNITS.
Organization of Iranian American Communities (OIAC) appreciates and fully supports congressional efforts to hold Iranian regime accountable for its human rights violations, terrorism, and nuclear weapons development activities. Click to Read Report
Redeeming Iran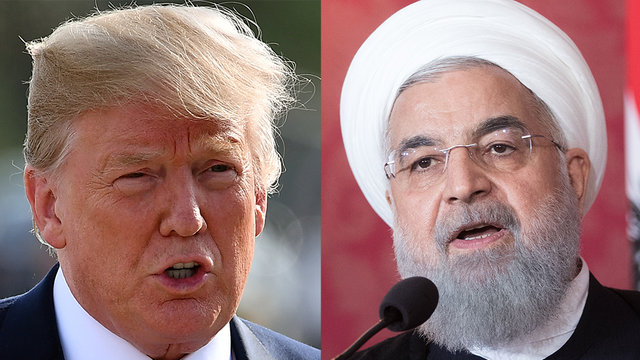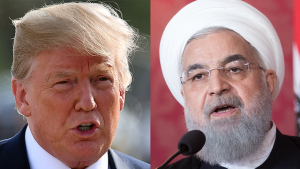 THE WASHINGTON TIMES
Sunday, January 6, 2019
ANALYSIS/OPINION:
No matter how intense, the heat of summer yields to the moderating breezes of its successor season. Brutal governments that scourge their own inevitably face movements that hold out the promise of liberation and peace. The passage of 40 years, time enough to span three generations, tests the ability of the suffering people of Iran to endure the inhumanity of their radical Islamic regime.
It was on Jan. 16, 1979, that the shah of Iran, Reza Pahlavi, was driven into exile after a year of protests against his monarchy. A fortnight later Ayatollah Ruhollah Khomeini, the mastermind of the revolt, arrived from exile in France and exploited the fighting in the streets to become the "supreme leader" of the revolution. His subsequent anti-Western theocracy has spent the succeeding decades establishing a vile fundamentalism and attempting to export it beyond Iran's borders.
The world the ayatollah left with his death in 1989 has continued to turn and grind. Now a new Khomeini, the grandson of the original, is taking exception to his forebear's authoritarianism: "Communities are built on the basis of consensus," said Hassan Khomeini in a Dec. 29 speech. "Dividing society constantly and spreading hatred and hypocrisy constantly, forces individuals into dual personality, pushing them away from honesty, [and] all these indicate that unpleasant consequences await governments."
Words with a ring of truth lodge in the human conscience and ignite a passion for freedom not easily extinguished. There is ample evidence that Iranians yearn to live in a kinder, more compassionate society, one that doesn't massacre demonstrators in the street, beat women not "properly" covered in public, behead dissenters or hang drug offenders from construction cranes.
Iranian television programs beamed past government censors cast the pre-revolutionary days of a Westernizing Iran in a nostalgic light. Moreover, the dead shah's 58-year-old son, Reza Pahlavi, has used the Trump administration's imposition of new economic sanctions on the Tehran regime to urge Washington and its allies to encourage a return to secular democracy in Iran: "Envision an Iran that works closely with its Arab neighbors to stamp out terrorism and extremism in the region, that welcomes Israeli scientists to help with its water crisis, that embraces American and European investment in the boundless potential of its economy," Mr. Pahlavi said in a December speech at the Washington Institute for Near East Policy.
Exiled members of the Iranian diaspora implore European leaders to follow the U.S. lead in sanctioning Iranian commerce as punishment for the regime's relentless underwriting of global terrorism. In a 50-city, video-linked conference in December, Iranian resistance leader Maryam Rajavi warned Europe that refusing to condemn Iran's terror proliferation won't protect them from its ravages: "We say to EU leaders that if you don't want to stand alongside Iranian people, at least don't put your own citizens' lives at risk."
Protests continue in Iran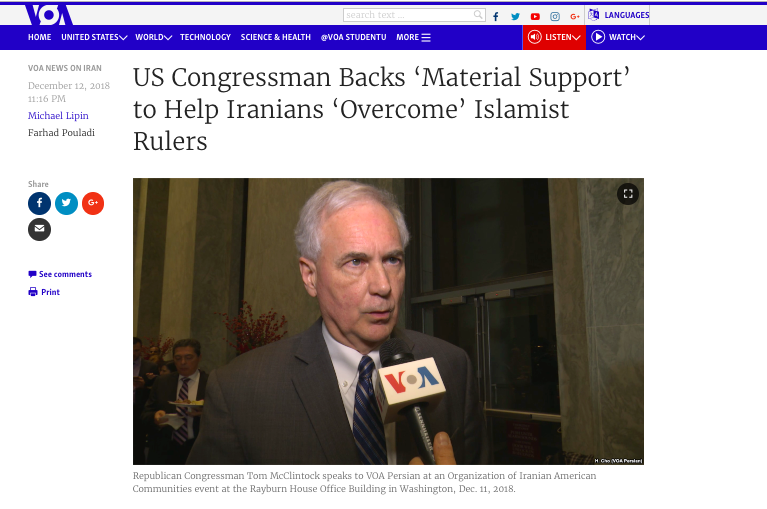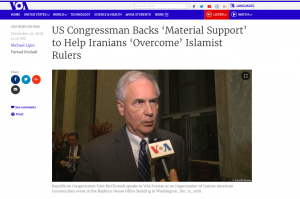 US Congressman Backs 'Material Support' to Help Iranians 'Overcome' Islamist Rulers
Voice of America, December 12, 2018
A U.S. Republican lawmaker sponsoring a bill to support a democratic and secular Iran says Washington should provide Iranians with material support to help them "overcome" their Islamist rulers.
U.S. Representative Tom McClintock spoke to VOA Persian late Tuesday at a Christmas celebration held by the Organization of Iranian American Communities (OIAC) at Washington's Rayburn House Office Building.
"I believe it is increasingly important that we provide (Iranians) with material support that they need to overcome the tyranny in Tehran," McClintock said, without specifying what form that support should take. "In previous years, we provided cash on cargo pallets to the mullahs, cash used to oppress the Iranian people. Now we owe it to the Iranian people to provide the resistance with the kind of material support that we once gave the mullahs."
Click to Read More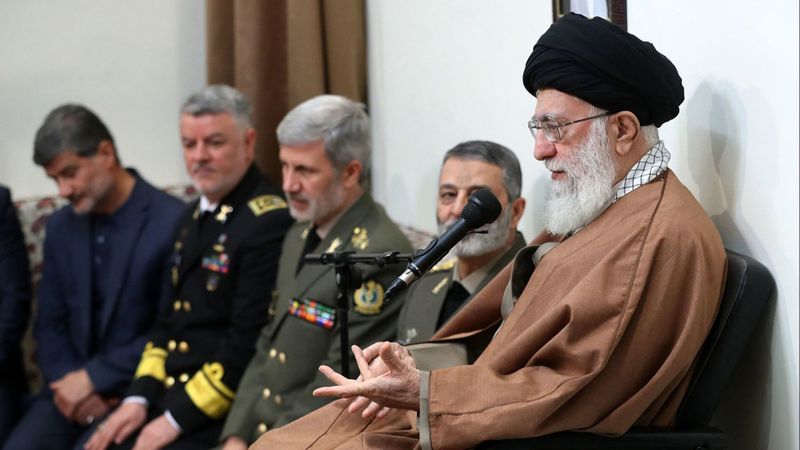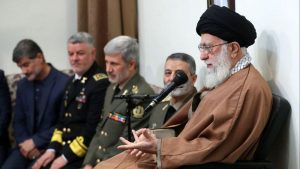 Iran arrests demographers, the latest target amid an escalating crackdown on academics and activists
Los Angeles Times, January 7, 2019
Academics with foreign ties living in Iran are on alert following the arrest of a demographer whose research led her to question the country's decision to urge people to have more children.
Meimanat Hosseini-Chavoshi, who is a citizen of both Iran and Australia, was arrested in November while she tried to leave and is accused of being a spy, according to Kayhan, Iran's conservative newspaper.
Her colleague, Mohammad Jalal Abbasi-Shavazi, a demographics professor at Tehran University and director of Iran's National Institute of Population Research, was detained shortly after by Iran's Islamic Revolutionary Guard and interrogated about his work on population growth and fertility, the semiofficial Fars News Agency reported.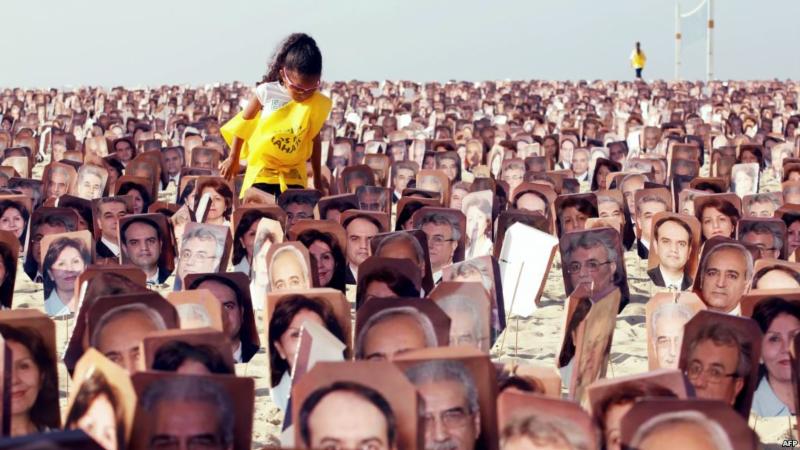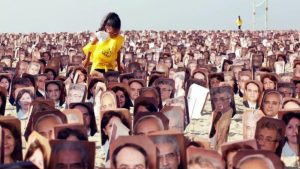 House Condemns Iran's Persecution of Baha'i Minority
VOA, December 14, 2018
The U.S. Baha'i community has welcomed a resolution by the U.S. House of Representatives condemning Iran for "state-sponsored persecution" of minority Baha'is in the Islamic Republic.
The House resolution, which also condemns what it calls Iran's "continued violation" of the International Covenants on Human Rights, passed without objection Wednesday.
The resolution urges President Donald Trump and the State Department to immediately issue a similar condemnation of Iran and demand the immediate release of prisoners held solely on account of their religion. It also urges the Trump administration to impose sanctions on Iranian officials and other individuals directly responsible for serious rights abuses, including abuses against Iranian Baha'is.
Baha'i statement
In a statement emailed to VOA Persian, U.S. Baha'i Office of Public Affairs Director Anthony Vance expressed gratitude to the House for reiterating its concern about rights abuses to which he said Iranian Baha'is are "unjustly subjected." The Baha'i Office of Public Affairs represents the U.S. Baha'i community in its relationships with the U.S. government, media and public.
"In spite of extraordinary levels of (Iranian) state-sponsored hate propaganda against the Baha'is, as highlighted in the congressional resolution, we are greatly encouraged by reports of the fair-mindedness of the vast majority of Iran's citizens," Vance said. "(They) have come to realize in recent decades that their fellow Baha'i citizens are peaceful and seek only to contribute to the progress of their country."
Iran considers its Baha'is to be heretics with no religion. Rights groups say authorities routinely arrest members of Iran's estimated 300,000-strong Baha'i minority for expressing or practicing their beliefs.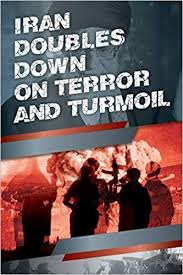 A new book published this week by the Iranian opposition (NCRI) offers details on how and why the Iranian regime has escalated its global terror operations. "This book examines the motivation behind the regime's political and economic strategy by considering three areas: terrorism including in Europe and the United States, incitement of regional conflicts, and the ballistic missile threat. Failing to quell growing popular protests against their rule, the mullahs have opted to bolster domestic suppression with blatant terrorism and intimidation."
We think you will find the book an informative read.
Donation
501 (c)(3) Tax deductible
Please,
Donate to Organization Of Iranian American Communities U.S
Your donation will help OIAC advocates for a democratic, secular and non-nuclear government in Iran. Founded on the respect for human rights, gender equality, religious and ethnic tolerance, as wells as social, economic justice, and security for America. Our goal is to organize Iranian-American communities in the United States to promote these values.
Thank You,
http://www.oiac-us.com/donation/