Iran- Human Rights (Women, Minorities, Ethnics)
UN Will Continue Monitoring Human Rights In Iran

OIAC
Washington, DC, March 24, 2016: Organization of Iranian American Communities applauds United Nations Human Rights Council decision to extend the mandate of Dr. Ahmed Shaheed, the UN Special Rapporteur on the Situation of Human Rights in Iran.
The U.N. decision is significant because it validates Iranian opposition assertion and U.N.'s own findings that Iran regime still executes minors, with at least 16 juveniles killed in 2015 alone. U.N. Special Rapporteur also confirmed that execution rates in Iran have risen to levels not seen in decades. In his March 14, 2016 report, Dr. Shaheed highlighted fundamental flaws in the administration of criminal justice in Iran with laws that expressly violate the Iranian regime's legal obligations under international law.
Iran: Road Accidents Kill A Person Each Hour
OIAC
Iran is amongst the countries that has the highest numbers of road accidents. On August 19th, 2015 the state-run Mehr news agency reported that between March 2010 and March 2014 more than 97,000 people lost their lives in road accidents across Iran.
Iran's deputy police chief, Iskandar Momeni, reported that 169 people had died in road accidents during the Persian New Year holidays between March 15th and March 22nd, "meaning one person every hour."
Human Rights In Iran Are Still Atrocious
OIAC
The Economist- March 24, 2016- While Iran reopens to the West, repression still prevails at home.
DESPITE a lessening of tension between Iran's government and the West since last year's agreement over the country's nuclear programme, draconian punishments of criminals and dissidents persist, according to a report by the UN's Human Rights Council. At least 966 executions are said to have been carried out in 2015, one of the highest rates in the world, up from 750 in 2014. Some sources, according to the report, put the figure above 1,000. It notes that 25 people were executed in one day last year in a prison close to Tehran, the capital. It particularly laments the execution of juveniles; at least 16 have been hanged in the past two years for crimes committed when they were under 18; at least 160 young offenders are on death row.
Iran- Terrorism Activities (Middle-East)
Iranian Leader: "Those Who Say Future is in Negotiations, Not Missiles, Are Ignorant or Traitors"

Town Hall
Iranian Supreme Leader Ayatollah Ali Khamenei said on Wednesday that Iran would not abandon its ballistic missile program and would refrain from talks with other countries, according to the Wall Street Journal.
"Those who say the future is in negotiations, not in missiles, are either ignorant or traitors," Iran's spiritual leader said.
In recent months, Iran has stepped up its nuclear missile program by test firing several missiles and insists those procedures are only for defense.
In Iran, It's Always Groundhog Day: The U.S. Should Learn Its Lesson Rather Than Repeatedly Supporting Reformers Who Aren't
New York Daily
The definition of madness is doing the same thing over and over again and expecting a different result. Welcome to U.S. foreign policy towards Iran. The endless repetition of failed policy choices with respect to Tehran – spread across presidential administrations of both parties – is political theater of the worst kind: a high-stakes version of the movie "Groundhog Day." But unlike Bill Murray's character, we can't seem to stop the cycle.
Ever since the 1990s, Tehran has rolled out so-called reformers who govern alongside the "Death to America" crowd. This creates the impression of official pluralism and choice in Iran, neither of which exist.
Iran's Asymmetrical Warfare: The Cyberattack Capabilities
Al Arabiya
Although, when it comes to cyberattack capabilities, some the most advanced (the top three countries) are reported to be the United States, China, and Russia, however, the Islamic Republic of Iran is also considered one of the top countries in conducting cyberattacks and utilizing cyber technology.
The speedy advancement of Iran's cyber program is crucial, as it only began few years ago. The Islamic Republic began heavily investing on its social media, Internet and cyber welfare capabilities after the protests which erupted in the 2009 contested election of Mahmoud Ahmadinejad. Iranian leaders became cognizant of the significance of social media in galvanizing people and advancing political interests.
Air France cabin crew angered by ruling to wear headscarves in Tehran
ABC News
A number of female Air France cabin crew staff are resisting an airline ruling that they should wear a headscarf when outside the plane in Tehran, according to a union representative.
The airline plans to resume flights to the Iranian capital on April 17.
"Every day we have calls from worried female cabin crew who tell us that they do not want to wear the headscarf," said Christophe Pillet of the SNPNC union.
Iranians Buying Up Land in War-Torn Syria
VOA News
Iran's government wants its builders to buy up property in Shi-ite majority neighborhoods of Syria's capital, Damascus.
It is also asking construction workers to go to Syria.
This information comes from construction industry officials in Tehran and Iranian experts.
Iranian analyst Fariborz Saremi said owning real estate gives Iran more control over Syria and other parts of the Middle East.
Pakistan Asks Iran To Investigate Suspected Indian Spy's Iran Links
OIAC
Reuters- Islamabad- April 1st,2016- Pakistan has asked Iran to investigate the case of a suspected Indian spy who Pakistani authorities say has confessed to spying against Pakistan from Iran, according to a copy of an Interior Ministry letter to Iran obtained by Reuters on Friday.
Last month, Pakistan said it had detained the suspected spy, Kulbhushan Jadhav, in the violence-plagued province of Baluchistan after he had illegally entered the country from Iran.
Pakistan says Jadhav was working for India's main external intelligence agency, the Research and Analysis Wing (RAW).
Iran- Nuclear Activities
Obama Says U.S., Allies Helping Iran Benefit From Nuclear Deal
The Wall Street Journal
President says steps are being taken to help the Islamic Republic conduct international business.
WASHINGTON-President Barack Obama said Friday that the U.S. and its allies are taking steps to help Iran benefit from a landmark nuclear agreement reached last year, including moves to facilitate trade and banking transactions for the Islamic Republic.
Democrat Congresswoman Questions Kerry on U.S. Boost to Iran Banks With Terror Ties
World Tribune
A Democratic congresswoman has queried Secretary of State John Kerry on the Obama administration's reported plan to allow Iran access to the U.S. financial system and whether Iranian banks who have supported terrorism will be included in the plan.
"Reports that Iran may be allowed access to America's financial system or the U.S. dollar is deeply disturbing," Rep. Grace Meng of New York said on April 1. "I urge the administration to not move forward with any plan that would do this, and I look forward to getting answers from Secretary Kerry about whether or not it's true."
State Dept. Declines to Address Growing Concerns about New Iran Sanctions Relief
ُThe Tower
State Department spokesperson John Kirby declined to address growing concerns from experts and Congress about the Obama administration's reported plans to extend additional sanctions relief to Iran during a press briefing on Tuesday.
Associated Press correspondent Matt Lee pointedly asked Kirby if, "despite assurances that the Administration gave to lawmakers over the course of the negotiations on the nuclear deal," the White House is in fact "preparing to open up a backdoor for the Iranians to use – to get into and use the [United States] financial system?"
The Iranian Nuclear Deal: The Gift That Keeps on Giving

FrontPage Magazine
How Obama plans to open up the American banking system to the Mullahs.
Allowing Iran to participate in the US banking system will only add more dollars into their coffers to be transferred to their destabilizing and terrorist proxies. In February, the Financial Action Task Force, an inter-governmental body which is established to protect the international financial system from threats to its integrity, issued a public statement that "reaffirms its call on members and urges all jurisdictions to advise their financial institutions to give special attention to business relationships and transactions with Iran, including Iranian companies and financial institutions."
Yet, because the avaricious Islamic Republic has been complaining that they are not getting as much cash as they want, as fast as they want, we are seeing signals that the Administration is back-pedaling on this, breaking another commitment made to Congress and the American people while trying to peddle the deal.
Don't Be So Quick to Do Business With Iran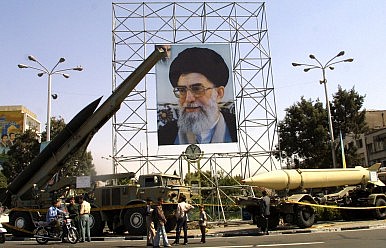 The Wall Street Journal
The U.S. Congress will use all the tools at its disposal to name and shame those who pursue profit at the expense of innocent lives.
It's a good time to be a repressive Iranian theocrat. Relieved of most sanctions by President Obama's nuclear deal, the mullahs have been flexing their muscles lately by firing ballistic missiles in violation of United Nations Security Council resolutions…..