Iran- Human Rights (Women, Minorities, Ethnics)
Iran forces Prisoners to participate in Election

OIAC
3,000 prisoners in southeast Iran rejected to be bullied to vote.The Iranian regime in desperate need of voters' participation to show that there is some legitimacy left for the criminal mullahs, resorted to every means possible to get more votes.
For this matter, prisoners in a number of prisons were forced to vote, but despite many threats and incentives by officials forcing inmates in Zahedan Central Prison to vote in the sham twin elections, 3,000 inmates in this prison alone boycotted the polls and refused to cast their ballots, Human Rights & Democracy Advocates in Iran reported.
Iran executed all adult men in one village for drug offences, official reveals

The Guardian
The entire adult male population of a village in southern Iran has been executed for drug offences, according to Iran's vice-president for women and family affairs.
The matter came to light earlier this week after Shahindokht Molaverdi revealed it during an interview with the semi-official Mehr news agency in rare comments from a senior government official highlighting the country's high rate of executions of drug traffickers.
Iran- Terrorism Activities (Middle-East)
Boehner calls Iran elections 'phony'

OIAC
Kristina Wong
Former House Speaker John Boehner (R-Ohio) was back in Washington Friday to weigh in on the Iranian elections currently underway and urge the Obama administration to speak out in support of the the Iranian people.
"[Iranians] need to hear the people of the United States stands with them, not with the regime," he said at a speech hosted by the Organization of Iranian Communities.
Iran media outlets add $600,000 to Salman Rushdie fatwa bounty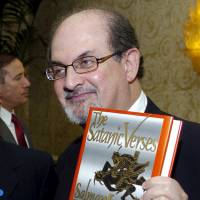 Japan Times
ANKARA – Iranian state-run media outlets have added $600,000 to a bounty for the killing of British author Salman Rushdie imposed in 1989 over the publishing of his book "The Satanic Verses.
The leader of Iran's 1979 Islamic Revolution, the late Ayatollah Ruhollah Khomeini, issued a fatwa, or religious edict, that called on Muslims to the kill the author after his book was condemned as blasphemous, forcing him into years of hiding.
Three U.S. citizens who disappeared last week in Baghdad were kidnapped and are being held by an Iranian-backed Shi'ite militia, two Iraqi intelligence and two U.S. government sources said on Tuesday.
Unknown gunmen seized the three on Friday from a private residence in the southeastern Dora district of Baghdad, Iraqi officials say. They are the first Americans to be abducted in Iraq since the withdrawal of U.S. troops in 2011.
The U.S. sources said Washington had no reason to believe Tehran was involved in the kidnapping and did not believe the trio were being held in Iran, which borders Iraq.
Palestinians reject direct Iran aid to 'intifada' families

Yahoo News
Ramallah (Palestinian Territories) (AFP) – The Palestinian Authority on Sunday said Iran's direct financial assistance to the families of Palestinians killed in a five-month wave of violence would be unacceptable.
Tehran announced last week assistance would be offered to families of Palestinians killed in the wave of violence that erupted in October, but the PA says such aid must follow official channels.