Congressional Support For #IranProtests
Congressman Brad Sherman (CA-D) Speaks on The Hill, #IranProtests, 9th January 2018
OIAC

Very Strong Congressional Support On The Hill for Iran's Recent Uprising and Protests. Rep.Brad Sherman supports Iranian People in series of support speeches on #IranProtests. 9th January 2018. Organization of Iranian American Communities. #IranProtests, #FreeIran
Congressman Ted Yoho (FL-R) express his support for #IranProtests, 9th January 2018
OIAC

In Series of Speeches and supports for #IranProtests, Very Strong Congressional Support On The Hill for Iran's Recent Uprising and Protests by Rep.Ted Yoho from Florida, 9th January 2018. Organization of Iranian American Communities. #IranProtests, #FreeIran
#IranProtests Related News-Clips

#IranProtesters calling the police and Security forces for support. Jan, 29/ 2018
OIAC
https://www.youtube.com/watch?v=4DiKuXb0Mvs
#IranProtesters calling the police and Security forces for support. Meanwhile, pictures and clips of defectors burning their membership ID cards are widely spread on the internet. Organization of Iranian American Communities #IranProtests, #FreeIran
#IranProtests, January 29, 2018 Kerman, Iran- Down with Khamenie
OIAC

#IranProtest is alive: people in Kerman are shouting: "Don't be afraid, don"t be scared, we are all together". Organization of Iranian American communities #IranProtests، #FreeIran
Powerful Religious Authority, Ahmad Khatami, Demands Death For Protesters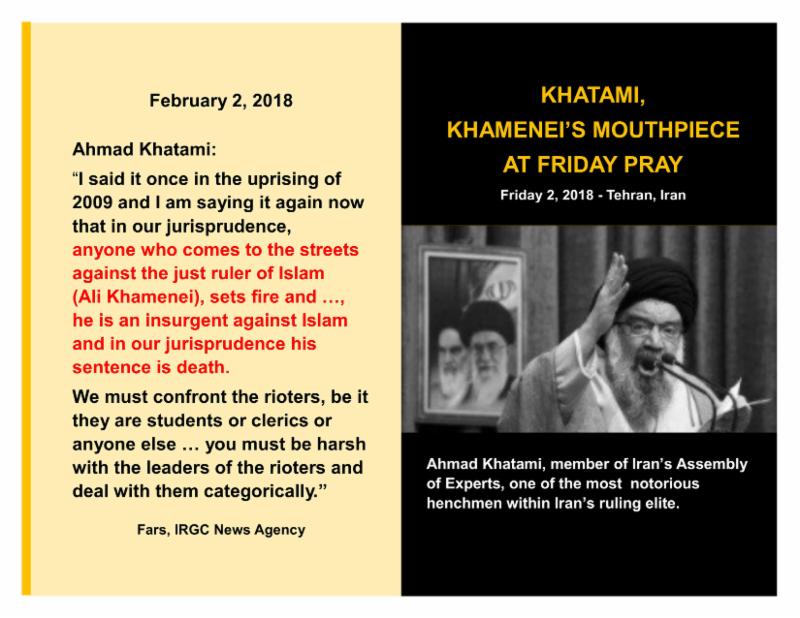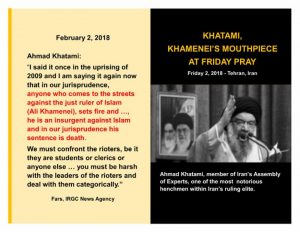 OIAC
Ahmad Khatami:
"… Anyone who comes to the street against the just rules of Islam, (Supreme Leader Ali Khamnei), sets fire and..
He is an insurgent against Islam and in our jurisprudence his sentence is DEATH.
We must confront the rioters, be it they are students or clerics or anyone else … you must be harsh with the leaders of the rioters and deal with them categorically."
Iran: Revolutionary Guard Crowdsourcing Protestor Identification



American Enterprise Institute
The protests which erupted on 28 December in Mashhad and spread across Iran caught security forces by surprise. While protestors used social media to rally each other and spread word of events in other cities, the Islamic Revolutionary Guard Corps (IRGC) and its associated media turned to social media to crowdsource identification of protest leaders.
In the accompanying highlighted tweet from the IRGC-affiliated Tasnim, the news agency is asking its twitter followers to identify suspects. Other IRGC-related websites like Gerdab.ir also engaged in similar campaigns to identify protestors. While the Iranian government has gradually improved its facial recognition capabilities, efforts to mobilize regime supporters to inform on other Iranians suggests that holes still exist in Iranian security force capabilities. It also suggests that the government seeks to create a dynamic by which Iranians must prove themselves and their loyalty by informing on others. Such crowdsourcing also highlights a disincentive for the Iranian government to completely close off access to social media platforms.
#Iran_Human_Rights (Women, Minorities, Ethnics)
Pakistani human rights lawyer Asma Jahangir passes away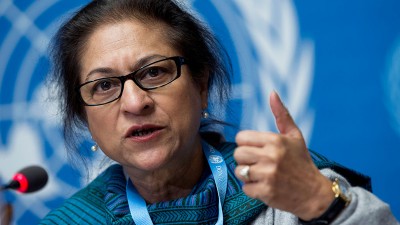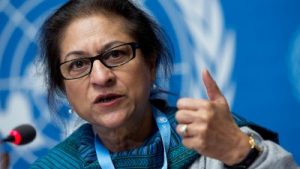 Al Jazeera
Asma Jahangir was Special Rapporteur on human rights in Iran. A leading Pakistani lawyer and human rightsactivist, Asma Jahangir, has passed away in the eastern city of Lahore at the age of 66. Local media reported Jahangir died in hospital on Sunday morning after suffering from cardiac arrest."She was always on the front line for progressive voices, even when democracy was under threat," said Sherry Rehman, an opposition senator in Pakistan's parliament and Jahangir's close friend.
UN Rights Experts Urge Iran to Annul Death Sentence Against Ahmadreza Djalali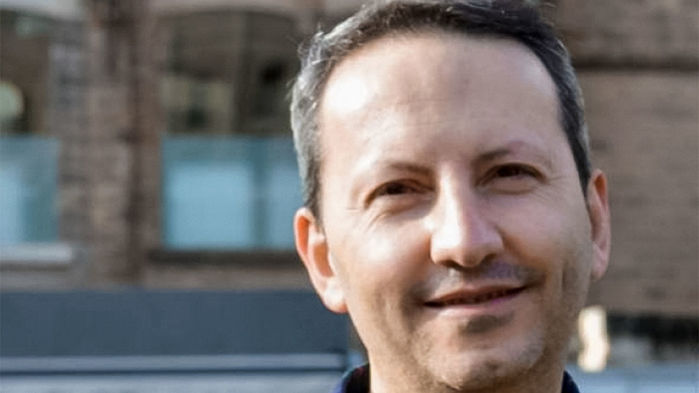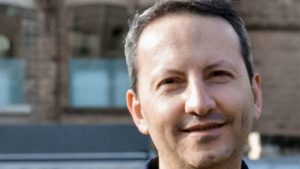 Iran Human Rights
GENEVA (9 February 2018) – United Nations human rights experts* have repeated their urgent call to Iran to annul the death sentence against Iranian academic Ahmadreza Djalali amid reports that his latest legal attempt to challenge the sentence has been rejected.
"We urgently call on Iran to lift the death sentence imposed on Dr. Djalali, as the State has apparently not complied with its international obligations to give him a fair trial and the right to appeal," the experts said in a joint statement released in Geneva.
"We are deeply disturbed by reports from Dr. Djalali's legal team that his application for judicial review of the death sentence has been dismissed by the Supreme Court, apparently without any review process or explanation. This contravenes Iran's obligations under international law and we strongly condemn it.
Iran Executions: The Newlywed Bride's Case; A Review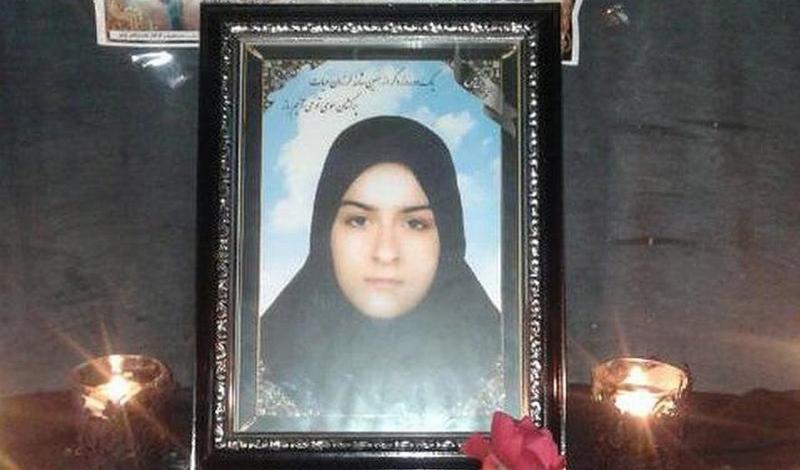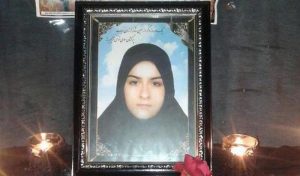 Iran Human Rights
Iran Human Rights (Feb 5, 2018): Last week a juvenile offender named Mahbubeh Mofidi, who was sentenced to death on the charge of murdering her husband, was executed at Noshahr Prison. The so-called "17-year-old newly-wed" was the third juvenile offender executed in January 2018.
According to a close source, on the morning of Tuesday, January 30, Mahbubeh Mofidi was hanged at Noshahr Prison (Northern Iran). She was convicted of murdering her husband with the help of her brother-in-law on December 17, 2013. Based on information from a close source she was born on May 18, 1997, and thus less than 17 years old at the time of committing the alleged murder. In 2014, a couple of months after the murder, when the result of forensic toxicology was issued, Mahbubeh was arrested. She reportedly confessed to the murder with the help of her brother-in-law with an intent to marry each other.
Iran Executions: At Least One Prisoner Hanged in Rajai-Shahr Prison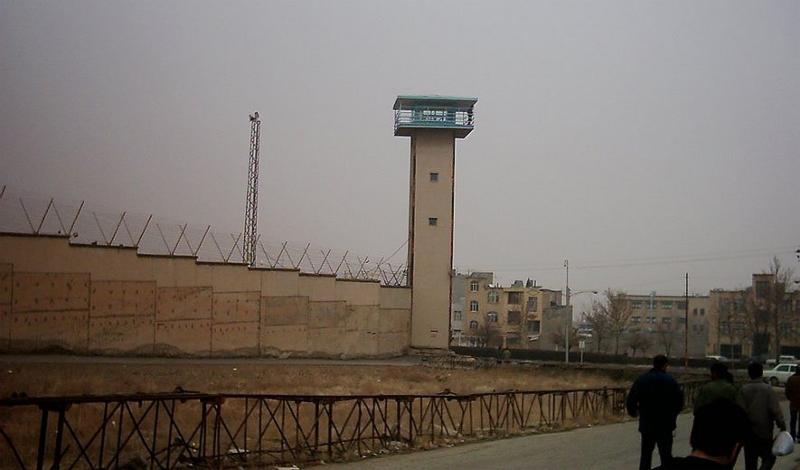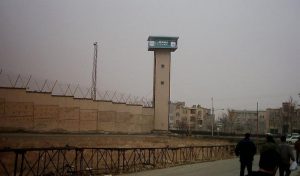 Iran Human Rights
Iran Human Rights (Feb 8, 2018): At least one prisoner was hanged at Rajai Shahr Prison on murder charges.
According to a close source, on the morning of Wednesday, February 7, at least one prisoner was executed at Rajai Shahr Prison. The prisoner, identified as Mohammad Karimi from Varamin, was sentenced to death on murder charges.
"Mohammad murdered a relative during a fight. The victim attacked Mohammad with a knife and Mohammad punched him in self-defence which led to the victim's death," said a close source to Iran Human Rights (IHR).
He added, "Security cameras recorded the fight, and the video was played in the courtroom. However, the judges didn't consider it as self-defence."
It should be noted that on Sunday, February 4, at least ten prisoners were transferred to solitary confinement, a stage prior to their execution. Some sources told Iran Human Rights that more than three people were executed at Rajai Shahr Prison on Wednesday, but the executions have not been confirmed by IHR so far.
Iranian-Canadian Academic Dies in Custody While Under Interrogations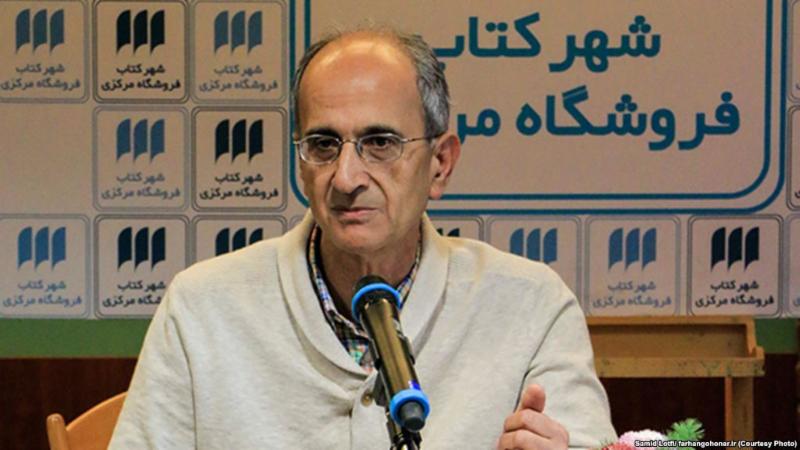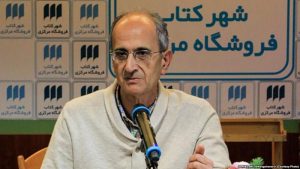 Iran Human Rights
February 10, 2018 – A third detainee, 63-year old Iranian-Canadian Professor Kavous Seyed-Emami, has died in custody in Iran, barely 17 days after his arrest and while under interrogations.
The Center for Human Rights in Iran (CHRI) holds the Iranian Judiciary fully responsible for the death of Seyed-Emami and calls for an immediate, international UN-led investigation into the three deaths that have occurred in custody in Iran in the past 40 days.
Iranian authorities must also immediately stop harassing Seyed-Emami's family and cease pressuring them into conducting a burial before the completion of an independent autopsy and medical investigation of the cause of death.
Iran: Woman Political Prisoners Went On Dry Hunger Strike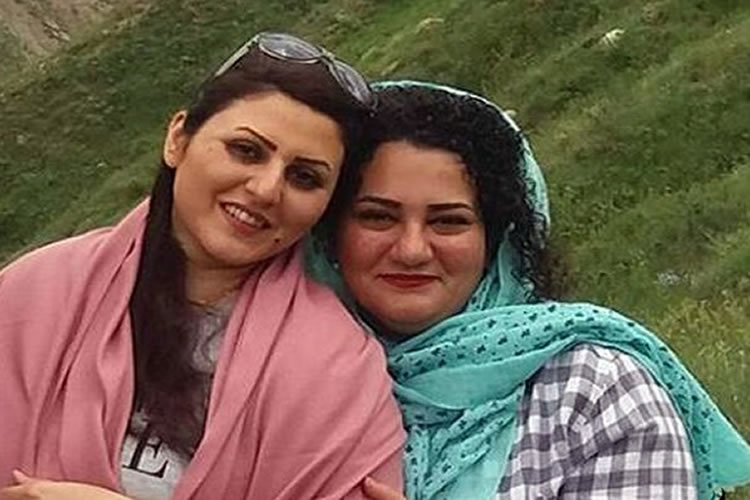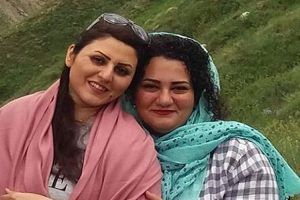 Iran Human Rights Monitor
Political prisoners Atena Daemi and Golrokh Iraee who had been on hunger strike protesting their unlawful transfer to the notorious Qarchak Prison in Varamin, outside Tehran, has now switched to a dry hunger since Saturday, February 10.
Atena Daemi and Golrokh Iraee have refused to accept serum injections over the past few days. They have declared that if anything happens to them, the responsibility lies with the Evin's Prosecutor Dowlatabadi and his assistant, Haj Moradi, who oversee prison conditions. The two were attacked by five male security officers on Wednesday, January 24, 2018 in Evin Prison and transferred to Qarchak Prison in Varamin, Tehran Province.
In a statement released on February 3, they had announced they are refusing food in protest to the Iranian regime's breach of the principle of classification and separation of prisoners and their own illegal exile to Varamin's Qarchak Prison.
Iran: Young Man Shot, Killed By Intelligence Agents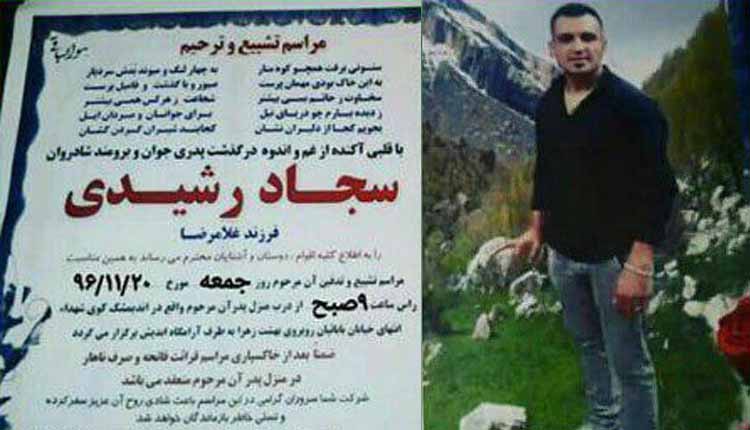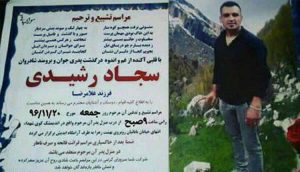 Iran Human Rights Monitor
A young man identified as Sajjad Rashidi was shot and killed before his family during an intelligence agents-involved shooting in Andimeshk in Khuzestan Province, southwest Iran.
The fatal shooting by intelligence agents occurred around 6:00 p.m. on February 5, after Sajjad Rashidi resisted against the forces who raided their residence to arrest his brother. It is said Mr. Rashidi's brother is a social media activist who has managed a group affiliated with opposition groups.
Sajjad Rashidi was a father of a new born baby. This is not the first time that Iran's security forces or intelligence agents resort to brute force in apprehending people.In yet another case a man identified as Seyed Ibrahim Rasouli was shot dead on January 18, 2018, in an assault by state forces in Eqlid, in Fars Province.
Iran's Secret Shunning of a Minority Faith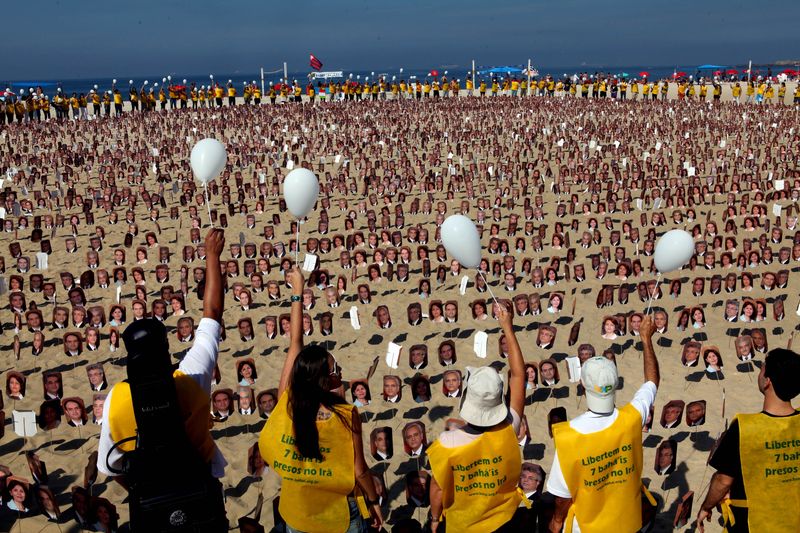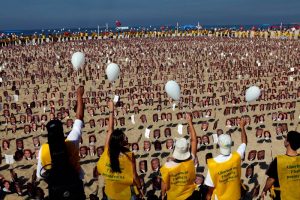 Bloomberg
The Baha'i have been excluded from basic civic functions like pensions and education. They're publishing the proof.
Usually the Iranian regime's assault on its people's dignity is measured in its political prisoners, its laws mandating modest dress for women, its prosecutions of gays and its stage-managed elections. An under-reported aspect of this story, though, is the state's treatment of the Baha'i, a small monotheistic faith that was founded in Iran in the 19th century and that honors Buddha, Moses, Jesus and Muhammad. In Iran, this minority faces systemic discrimination reminiscent of Nazi Germany's Nuremberg laws or China's treatment of the Falun Gong.
Iran- Terrorism Activities (Middle-East)
Trump Urges Security Council Members to Fight "Iran's Destabilization Activities"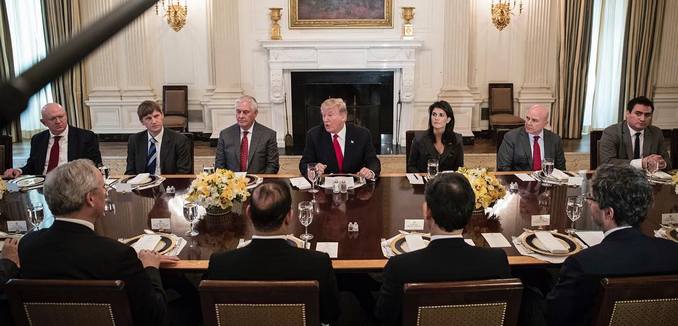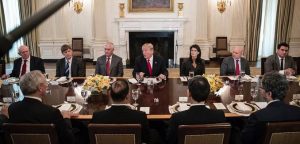 The Tower
President Donald Trump hosted United Nations Security Council ambassadors for lunch at the White House, took them to see remnants of rockets identified as originating in Iran, and urged them to fight "Iran's destabilization activities" in the region, The New York Times reported Monday.
During his time with the ambassadors, Trump brought them to Joint Base Anacostia-Bolling to show them the parts of missiles that had been fired by Houthi rebels in Yemen, and urged them to oppose "Iran's destabilization activities in the Middle East" at a White House lunch. The ambassadors were also taken to the United States Holocaust Memorial Museum to see an exhibit on the atrocities being committed in Syria, where Iran backs the government of Bashar al-Assad.
Iran's radical Islamic government will likely not stay in power for long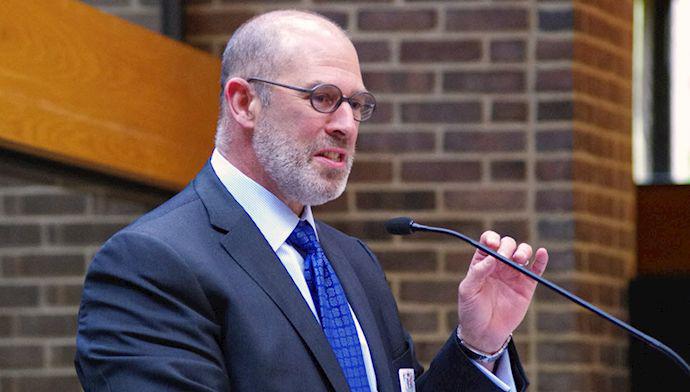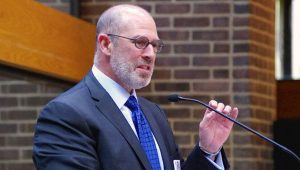 Fox News
The anti-American, radical Islamic theocracy that rules Iran with an iron fist today will likely not be able to hold onto power for much longer. Right now Iran is a ticking time bomb that will explode without a systemic and transformational reform of its economy. And there's no chance the ruling clerics will make such fundamental reforms.
So at some point this year, growing unemployment, inflation, bankruptcies and declining living standards will inevitably push Iranian citizens back onto the streets in anti-government demonstrations. These could escalate to the point of forcing a change in government.
Nine Abrams tanks fell into the hands of Iranian-backed militias during anti-ISIS fight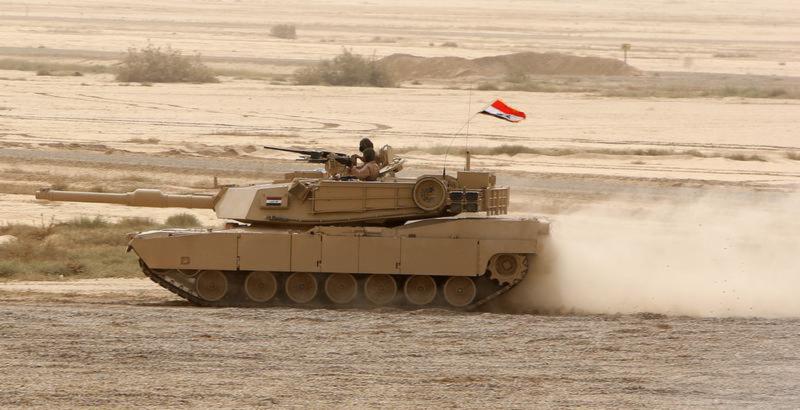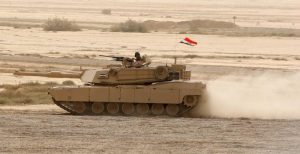 Military Times
U.S.-issued military equipment, to include as many as nine M1A1 Abrams tanks, fell into the hands of Iranian-backed militias during the turbulent period that swept Iraq as it battled the Islamic State, the Pentagon confirmed Wednesday.
In the Defense Department Inspector General's quarterly report, the State Department acknowledged the loss of the vehicles to the Popular Mobilization Forces, or PMF, which are primarily Shiite militias strongly connected to Iran but sanctioned by the Iraqi government.
Eric Pahon, a Pentagon spokesman, told Military Times that DoD has not provided defense equipment to the PMF.
Hezbollah Goes on the Cyber Offensive with Iran's Help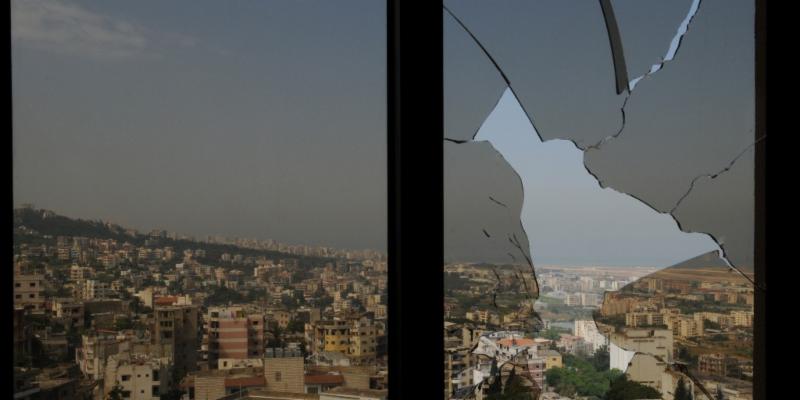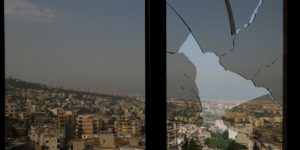 The Cipher Offense
Bottom Line: Maturing under Tehran's tutelage, Hezbollah's hackers are quickly learning the art of cyber warfare. The formidable militant organization is increasingly turning its attention to the digital realm to engage in espionage, psychological operations, disruption of critical services and criminal activity to fund its activities on the ground.
Background: Established in 1982 during the Lebanese civil war, Hezbollah is a Shia militant group currently holding 12 seats in Lebanon's parliament. The group has long been ideologically and logistically supported by Iran's Islamic Revolutionary Guards Corps (IRGC), particularly the expeditionary Quds Force, which has enabled the group to become one of the more established U.S.-designated terrorist organizations in the world.
Iran- Nuclear Activities
Germany sold technology to Iran used in Syria chemical attacks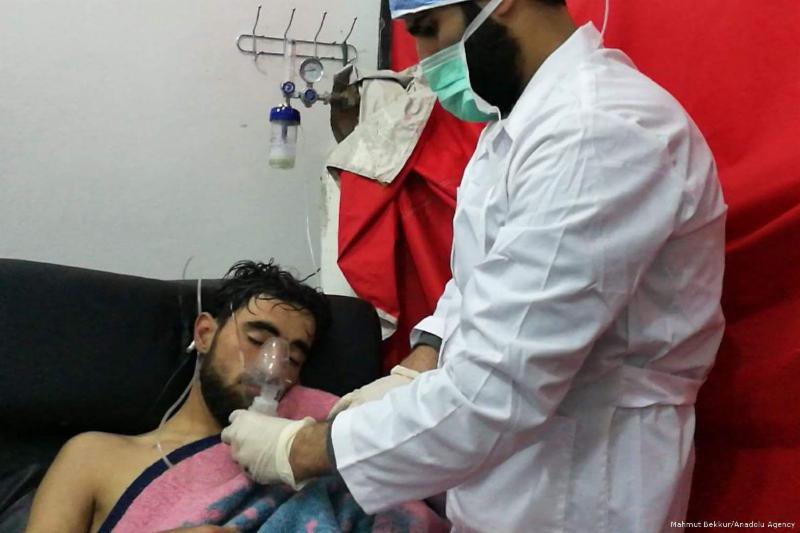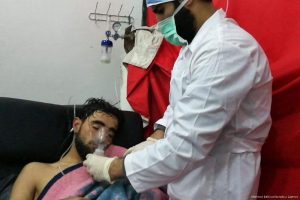 The Middle East Monitor
Germany approved a license for a company to sell military applicable technology to Iranian companies which were subsequently used by the Syrian regime to commit chemical weapons attacks, German publication Bild revealed yesterday.
The Federal Office for Economic Affairs and Export Control allowed German multinational Krempel to sell electronic press boards to Iranian companies that were used in the production of rockets. The Stuttgart-based company confirmed the delivery of the electronic technology "Pressspan PSP-3040", an insulating material.
An investigation by human rights group, Syrians for Truth and Justice, Bild and the online journalist website Bellingcat, has found rocket debris with the Krempel logo and the "Made in Germany" product signature following at least two chemical attacks in Syria this year, those perpetrated on 22 January and 2 February.
Iran is Playing the US and Russia Off Against Each Other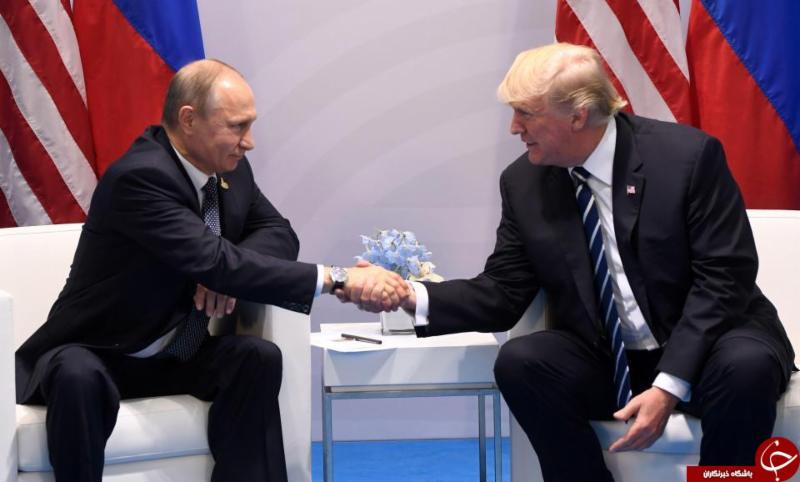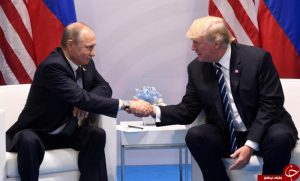 Iran News Update
The Iranian Regime is attempting to pit Russia and the US against each other in order to divert global attention away from the threat posed by the Iranian Regime, particularly its regional aggression and expansionism, according to a leading Iran expert.
Dr. Majid Rafizadeh, an Iranian-American political scientist, wrote an op-ed to explain why the Iranian Regime is attempting to come between the two world powers and how improved US-Russia relations could help defeat the Iranian Regime.
The US and Russia are currently divided on many issues from involvement in Syria to the 2016 American elections, but Iranian President Hassan Rouhani has hit out at the US and said that America should strengthen its ties with NATO members, while Foreign Minister Mohammad Javad Zarif has accused the US of threatening Russia.
So, a fight between the two powers may distract the world's media attention but how does it benefit the Iranian Regime?
German Company "Shocked" that Parts it Sold to Iran Were Used in Syrian Chemical Attacks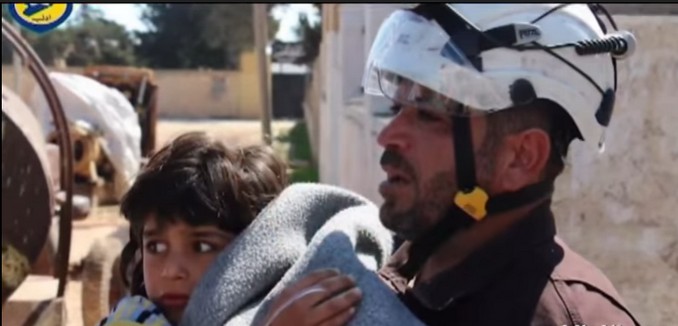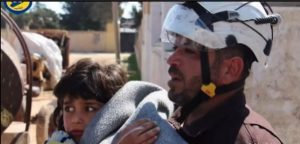 The Tower
A German firm's technology was purchased by Iran and later used in chemical attacks carried out against civilians by the Assad regime in Syria, Benjamin Weinthal reported in The Jerusalem Post on Monday.
Germany's Federal Office for Economic Affairs and Export Control approved a license for Krempel, a company located near the southern city of Stuttgart, to sell electronic press boards to Iranian companies that were used in the production of rockets.
The rocket debris, with the company logo of Krempel and the product signature: "Made in Germany," was subsequently found after two poisonous gas attacks, on January 22 and February 1, that injured dozens of Syrian civilians, including many children.
Please, 
Your donation will help OIAC advocates for a democratic, secular and non-nuclear government in Iran. Founded on the respect for human rights, gender equality, religious and ethnic tolerance, as wells as social, economic justice, and security for America. Our goal is to organize Iranian-American communities in the United States to promote these values.
Thank You,