Chairman Michael T. Mccaul (Texas) in support of Iran protests,
9th January 2018
OIAC
https://www.youtube.com/watch?v=QAX-9NlOqGs
#IranProtests- Very Strong Congressional Support On The Hill for Iran's Recent Uprising and Protests. Rep.Michael T.McCaul from Texas, 9th January 2018. Organization of Iranian American Communities.
Speech of Rep.Ted Poe from Texas regarding Iran protests,
9th January 2018
OIAC
https://www.youtube.com/watch?v=Tf9JzsUR2FE
#IranProtests- Very Strong Congressional Support On The Hill for Iran's Recent Uprising and Protests. Rep.Ted Poe from Texas, 9th January 2018. Organization of Iranian American Communities. #IranProtests
#IranProtests- Kermanshah, Iran, 23rd January 2018
OIAC
https://www.youtube.com/watch?v=WNQE5-fh8Lc
#IranProtests- Kermanshah, Iran, 23rd January 2018
#IranProtests- Protesters in Kermanshah, Iran are tearing up the photo of Khameneie to show their disagreement with the Iranian Dictator.
#IranProtests, #Iran_Human_Rights (Women, Minorities, Ethnics)
Iran Executed Two, Including One In Public In Salmas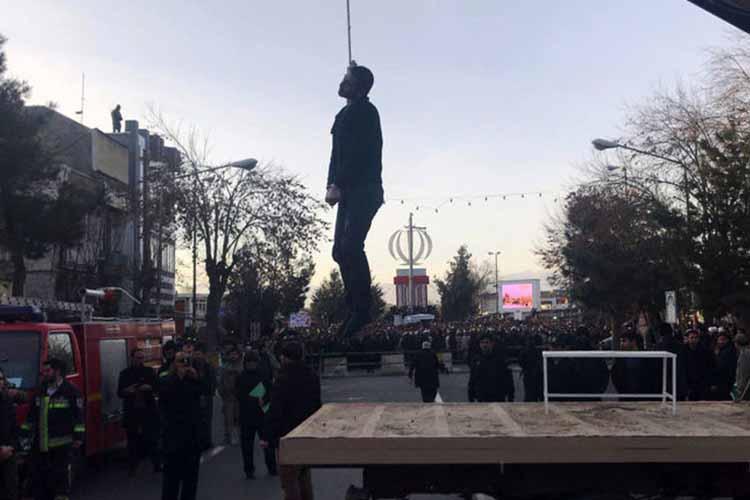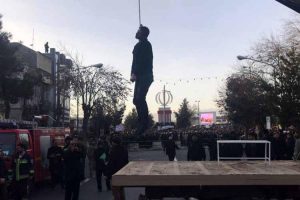 Iran Human Rights Monitor
A man was publicly hanged today, January 11, 2018, in Salmas in West Azerbaijan Province, according to the state-run Rokna news agency. A huge crowd, which might include children are assembled to watch the hanging. Reports say the 39-year-old Hossein, who was hanged had been sentenced to death over murder charges.
According to the same state media, Public and Revolutionary Prosecutor of Qazvin, announced the execution of a man identified only as Saeid in the central penitentiary of the city on January 10, 2018.
He was sentenced to death in 2009 after being found guilty in a court of murdering another man during a fight.
Absence of classification of unintentional murders in Iran lead to capital punishment for everyone committed murder, intentional or unintentional.
Iran: More Executions In The Cities Of Shiraz And Karaj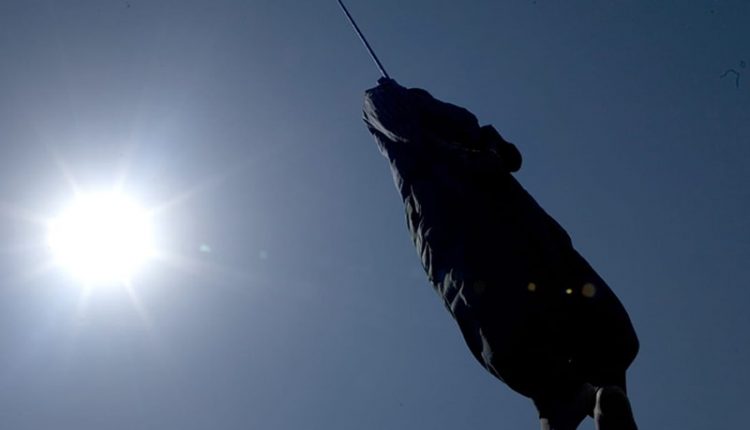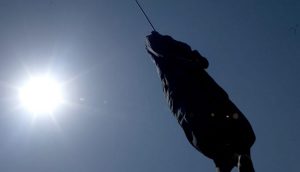 Iran Human Rights Monitor
A man was hanged on Sunday January 21 in Adel Abad Prison of Shiraz, according to the state-run Mehr news agency. He was found guilty of murder. The retribution (death) sentence for Hossein Kh. was issued by the Fars Province Penal Court. Two of his accomplices were sentenced to lengthy imprisonment for showing off their knives.
Two other inmates of Karaj Central Prison were executed in the early morning hours of Wednesday, January 17, 2018. Sina, 30, was one victim. The other, unnamed, was a 33-year-old man.
Two other young people who 19 and 20 at the time of their arrest were executed in Mashhad. On Monday, January 15, a 27-year-old prisoner was hanged in Babol prison.
Iran: Detained Protesters Tortured In Prison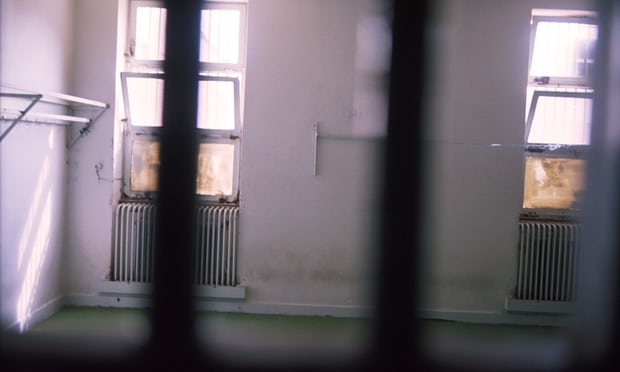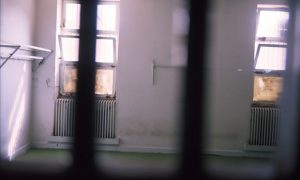 Iran Human Rights Monitor
Two detained protesters in Urmia were transferred to the central prison of the city. The two are being kept in jail without having been tried in court.
Azad Paviz was arrested in the recent protests in Urmia. He has been transferred to the drug addicts section in prison. According to an informed source, Azad Paviz was tortured at the Intelligence Agency Detention Center and was then transferred to the section known as the addicts' section after the interrogation process ended.
According to other reports, a student from Sardasht identified as Ibrahim Mohammadpour was arrested by security forces in Urmia. After being interrogated he was transferred to the youth section of the Central Urmia Prison.
Political Prisoner Speaks Of Torture In Intelligence Detention Center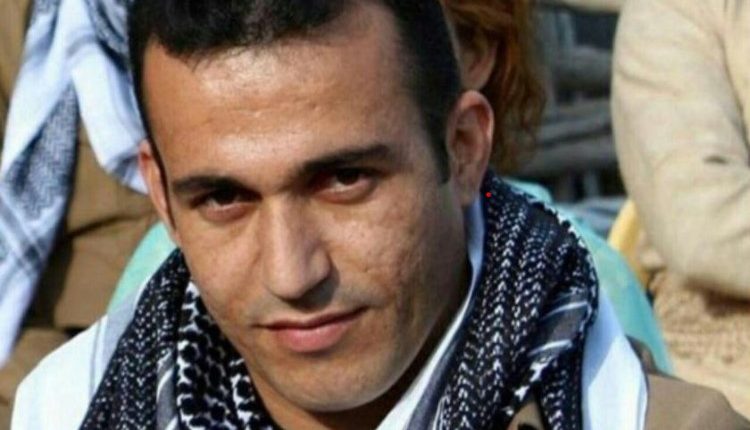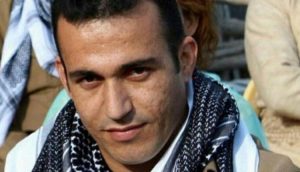 Iran Human Rights Monitor
The first court session of political prisoner Ramin Hossein Panahi was held on Monday January 15. According to an informed source, Ramin told the judge that he was tortured and was on the verge of death at the Intelligence Detention Center in Sanandaj. He said that he was suffering from bleeding in his kidneys as a result and had not yet received medical treatment.
"In respose to the charges brought against him, the political activist stated that he had come to Sanandaj to see his family and ailing mother", the source added… The court session which lasted for around two hours, ended without a verdict.
Iran- Terrorism Activities (Middle-East)
IRAN REGIME'S AGGRESSION, KEY ISSUE IN PAUL RYAN'S GULF REGIONAL TOUR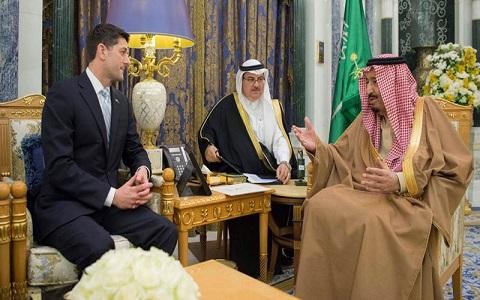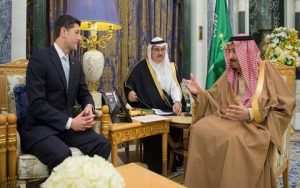 Iran Freedom
The Iranian Regime and its regional expansionism and aggression was a key talking point during a meeting between US House of Representatives Speaker Paul Ryan and Saudi King Salman in Riyadh, on Wednesday.The two high-ranking politicians met at Al-Yamamah Palace to discuss bilateral issues and regional stability, which included the issue of keeping Iranian interference in check to ensure regional peace and security.
Ashlee Strong, Ryan's personal spokesperson, said: "The bipartisan congressional delegation is pleased to be welcomed to the Saudi Arabia to discuss the United States' shared interests in regional stability and combating terrorism and Iranian aggression."
Hit Ayatollah Khamenei in His Pocketbook


The Wall Street Journal
Supporters brag about his modest lifestyle, but Iran's ruler runs a billion-dollar corporate conglomerate.
The Trump administration already has offered rhetorical support to Iran's anti-government protesters. Now, nearly a month after the demonstrations began, how can the U.S. provide material help? Follow the money.
Supreme Leader Ayatollah Ali Khamenei's supporters brag about his modest lifestyle. They fail to mention that he runs a multibillion-dollar corporate conglomerate to fund his political patronage networks. His three most valuable possessions are the Execution of Imam Khomeini's Order, or EIKO ; the Mostazafan Foundation; and the Astan Quds Razavi. These businesses have an interest in nearly every Iranian industry and are worth approximately $200 billion, according to our estimates.
STOP SACRIFICING VALUES FOR TRADE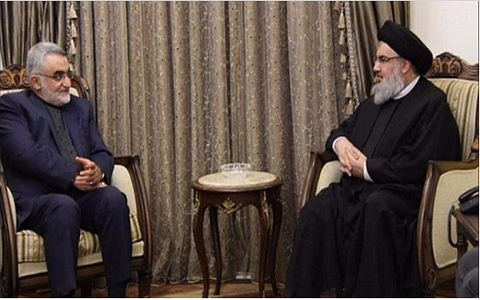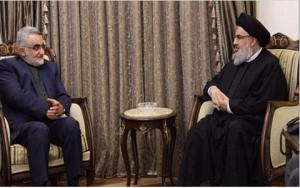 Iran Freedom
Aladdin Borujerdi, chairman of the Foreign Policy and National Security Commission of the Mullahs' regime Majlis (parliament), is to attend the Foreign Affairs Committee of the European Parliament. Regarding the freedom lovers of the Iranian communities accepting someone who has always played an active role in suppressing Iranian people
and supporting terrorism in the last four decades in the European Parliament, is absolutely unacceptable. Iranian resistance for freedom and human rights calls for the lifting of the call, which is in clear contradiction with the values that the European Union is founded on and defended by the European Parliament.
IRAN: IRGC SAYS, KHAMENEI HAS NOT RESTRICTED THEIR ECONOMIC ACTIVITIES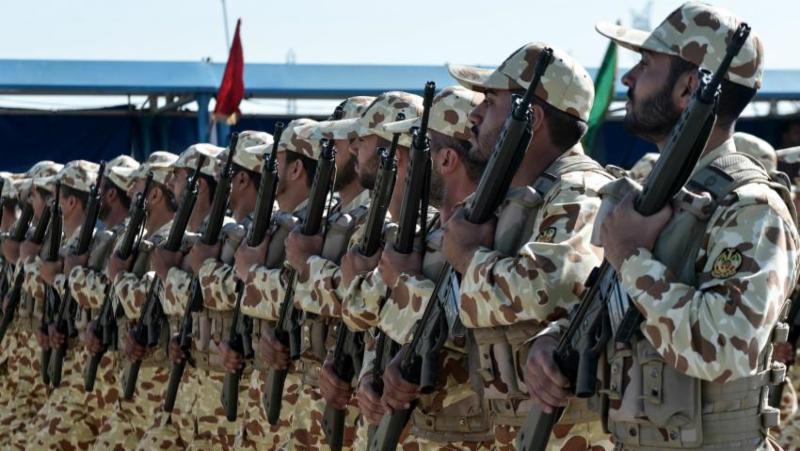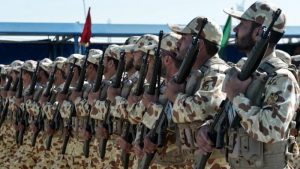 Iran Freedom
A senior member of Iran's Islamic Revolution Guards Corps (IRGC) has claimed that he knows nothing about a decree from regime's Supreme Leader Ali Khamenei that calls on the country's so-called security forces to move their investment holdings and commercial assets to the private sector.Mohammad-Saleh Jokar, the deputy head of IRGC in parliamentary and legal affairs, said: "I was unable to find such a declaration and have not seen it.
I do not know where this report – which you say the defence minister has announced – has come from.
On January 20, Iran's defence minister Hatami said that Khamenei had ordered the IRGC to rein in its growing business empire and ditch commercial assets that are not relevant to its mission.
OVER 2,000 AFGHANS SENT BY IRAN KILLED IN SYRIA: OFFICIAL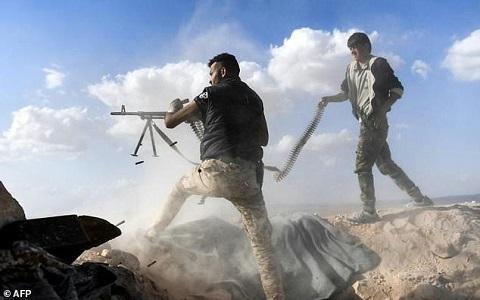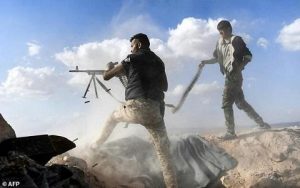 Iran Freedom
More than 2,000 Afghans deployed by Iran have been killed fighting in Syria on the side of President Bashar al-Assad's regime, an official in the volunteer force told Iranian media.The Fatemiyoun Brigade of Afghan "volunteer" recruits has been fighting in Syria for five years, said Zohair Mojahed, a cultural official in the brigade."This brigade has given more than 2,000 martyrs and 8,000 wounded for Islam,"
he said in an interview with the reformist Shargh newspaper published Saturday.
Iran rarely provides figures on the numbers fighting and killed in its operations in Syria and Iraq.
The last toll was provided by the veteran's organisation in March, which said 2,100 volunteers had died without specifying how many were foreign recruits.
Iran- Nuclear Activities
The United States believes it can enforce the policy of sanctions it has directed against Iran on the rest of the world as well. In no third country are the possible implications as grave as in Turkey, says Stefan Buchen in his analysis.
Learning of the politically charged criminal proceedings before a New York court surely came as no surprise to German readers. The article said that charges had been brought against a Turkish bank manager. An industrious gold dealer who had also originally been indicted had pled guilty and then turned state's evidence.
Turkish-Iranian gold trader's 'Beautiful Mind' testimony drove U.S. sanctions case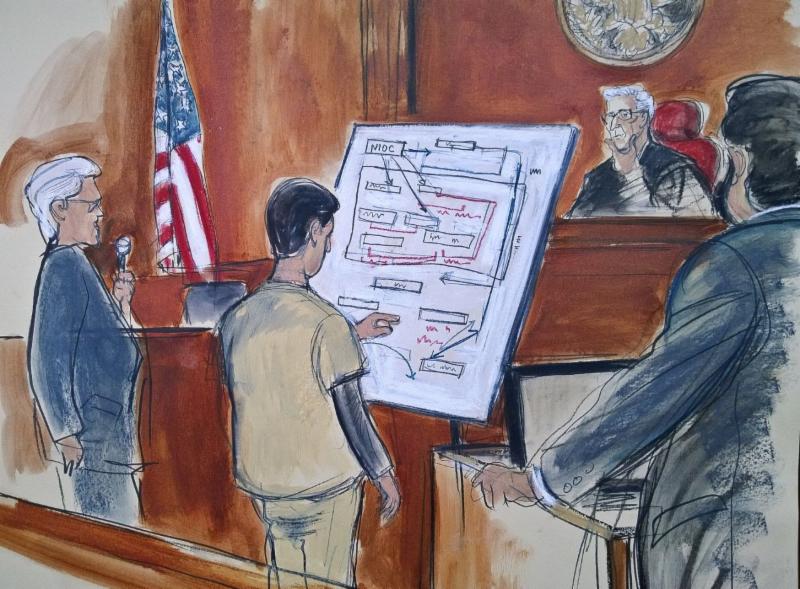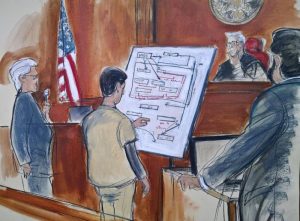 Qantara
Court documents related to a recent U.S. case detail the blockbuster testimony of a gold trader at the center of a multifaceted scheme involving NATO ally Turkey helping Iran evade nuclear sanctions at a critical moment when its economy teetered.
On Jan. 3, a jury convicted the deputy general manager for international banking at Turkish state bank Halkbank of bank fraud as well as conspiracies to violate the Iran sanctions, defraud the U.S., commit bank fraud, and money-laundering.
Key testimony against the banker, Mehmet Hakan Atilla, came from 34-year-old gold trader Reza Zarrab, an Iranian with Turkish nationality who pleaded guilty to being at the center of the largest sanctions evasion scheme in modern history and who became the prosecution's star witness.
'Halal' internet means more control in Iran after unrest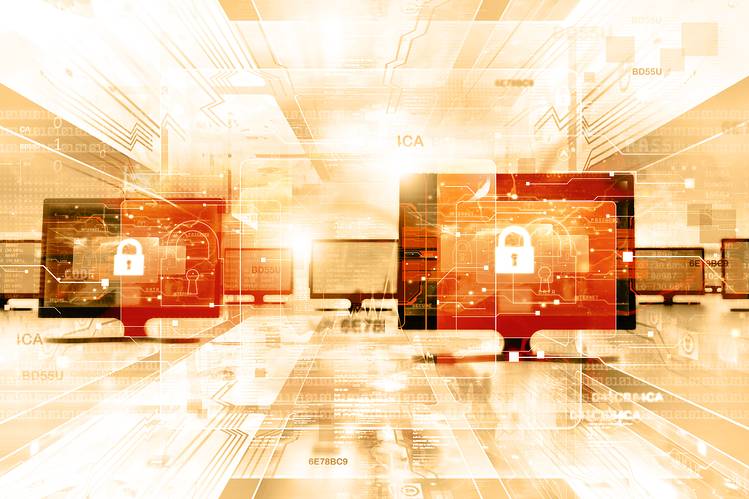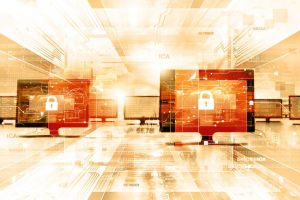 ABC News
Guns drawn, Iranian intelligence agents rushed into the apartment of a Washington Post reporter and his journalist wife in Tehran.
Threatening to kill Jason Rezaian in front of his wife, Yeganeh, the 20 agents in the July 2014 raid tore through their belongings and rifled through drawers, clothes and valuables for an hour.
But perhaps their most eagerly sought target wasn't exactly inside the house: They forced the couple to hand over the passwords to their email and social media profiles.
New film accidentally exposes Team Obama's foreign-policy naivety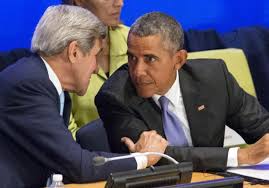 New York Post
In a moment of woeful irony in the Obama-administration documentary "The Final Year," UN Ambassador Samantha Power travels to Cameroon to offer photo-op comfort to families terrorized by Boko Haram – only to have her motorcade kill a 7-year-old boy.
Greg Barker, the director of this fan film, does his best to downplay the accident: It is discussed while we watch a clip of Power's convoy moving at a crawl when in fact it was reportedly traveling at over 60 miles an hour when it struck the boy. Despite Barker's intentions, the handiwork of the Road to Hell Paving Co. is obvious. Team Obama, with its let's-hug-it-out attitude to world conflict, left a bloody trail.
Please, 
Your donation will help OIAC advocates for a democratic, secular and non-nuclear government in Iran. Founded on the respect for human rights, gender equality, religious and ethnic tolerance, as wells as social, economic justice, and security for America. Our goal is to organize Iranian-American communities in the United States to promote these values.
Thank You,