Thousands Rally at the United Nations to Denounce Rouhani, Call for a Free Iran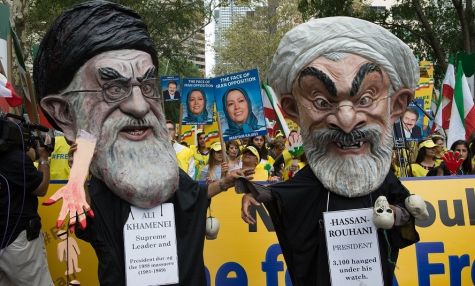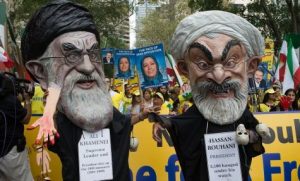 OIAC
New York, September 21, 2017-Thousands of Iranian Americans from all across the United States were joined by New York residents and faith community leaders outside the United Nations Headquarters to denounce the presence of the Iranian regime's president Hassan Rouhani at the UN, condemn human rights violations and terrorism and call for a free Iran.
The rally was broadcast live into Iran by different satellite television channels, including the Iranian resistance's affiliate networks, as well as on social media. The rally for regime change by the Iranian people resonated well with the call by millions of Iranians who seek an end to the theocracy. Over the past year, anti-government demonstrations, protest acts, and strikes expanded nationwide, highlighting the vulnerable state of the Iranian regime.


On Behalf Of The Iranian Americans in US, OIAC: we thank you Congressman @RepEliotEngel for his encouraging remarks at our #No2Rouhani Rally
OIAC
Congressman Eliot Engel, at the Rally Speech:
"We have to say that the United States must always stand with the freedom loving people of Iran, …and we are not going to stop until the Iranian people are free once again."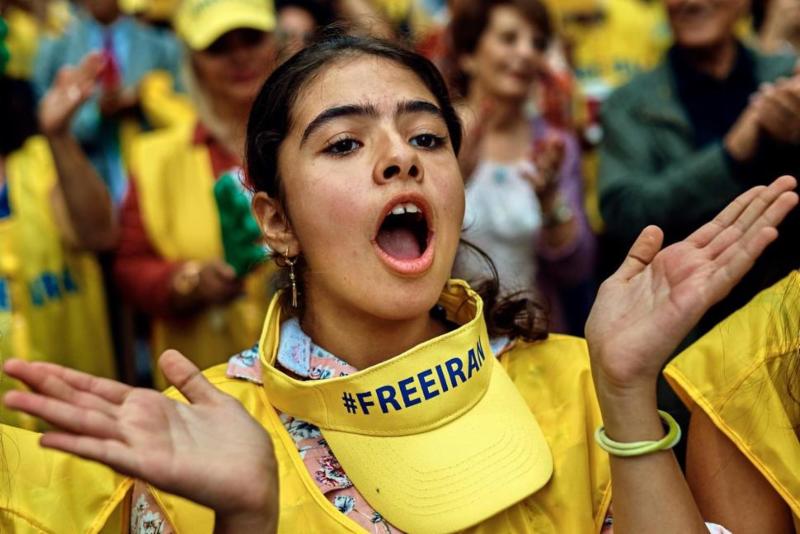 Iran- Human Rights (Women, Minorities, Ethnics)
Iran: Four Prisoners Executed at Rajai Shahr Prison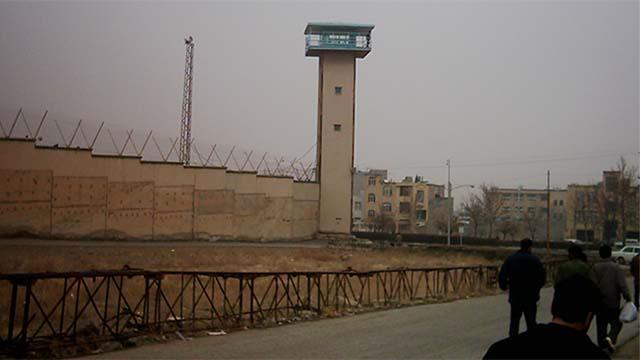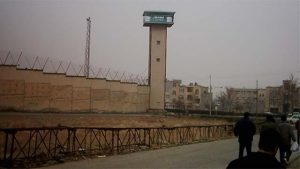 Iran Human Rights
Iran Human Rights (SEPT 22 2017): Four prisoners were reportedly hanged at Rajai Shahr Prison on murder charges. According to close sources, the prisoners were executed on Wednesday September 20.
Iran Human Rights has been able to identify one of the prisoners so far: Saman Mohammadian, imprisoned for approximately seven years before he was executed.
These four prisoners were among a group of 13 who were transferred to solitary confinement on Saturday September 16 in preparation for their executions. The other prisoners were returned to their cells after receiving an extension or forgiveness from the complainants on their case files. One of the prisoners who was returned to his cell is Mojtaba Ghiasvand. "Mojtaba Ghiasvand was sentenced to death on murder charges, but he had repeatedly insisted on his innocence, " an informed source tells Iran Human Rights.Iranian official sources, including the Judiciary and state-run media, have not announced these four executions.
Five Executions in Kerman Province Including One in Public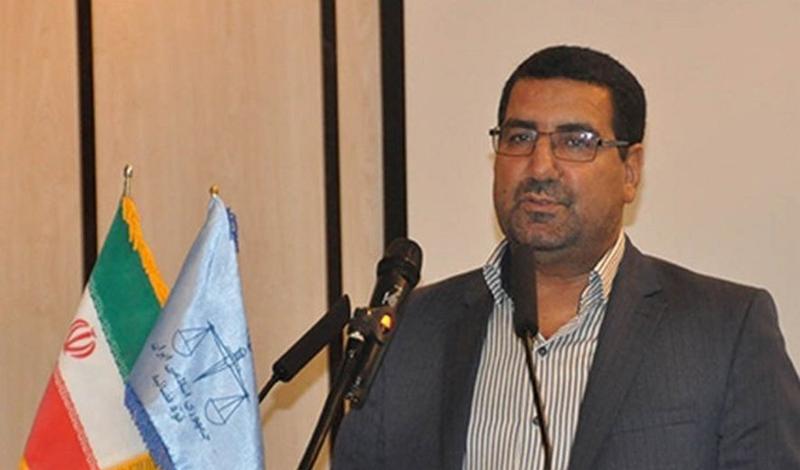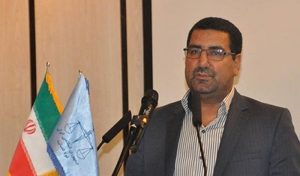 Iran Human Rights
Iran Human Rights (SEPT 22 2017): Yadollah Movahed, the head of the Judiciary in Kerman, has reported on five executions in Iran, including one in public.
According to the state-run news agency, Mehr, Yadollah Movahed announced the execution of five prisoners in the province of Kerman who are "agents of insecurity and evil".
"In the past several days, the execution sentences for five prisoners, who are agents of insecurity and evil, were carried out in the eastern and southern parts of the Kerman province for various charges, including Moharebeh, armed robbery, kidnapping, and murder. They were executed after they were convicted and the course of legal proceedings," says Yadollah Movahed.
Mr. Movahed did not indicate the exact dates of the executions, the exact charges of the prisoners, or the names of the prisoners. No other Iranian state-run news agencies have reported on these five executions.
The lack of transparency regarding executions in Iran and the closed space for human rights activists have raised concerns that the real number of executions in Iran are much higher than those recorded by human rights activists.
Workers Peacefully Demanding Unpaid Wages Beaten and Arrested by Anti-Riot Police in Iranian City of Arak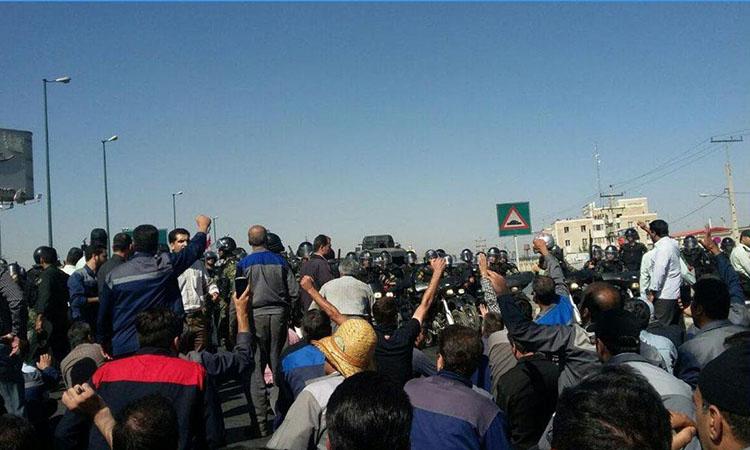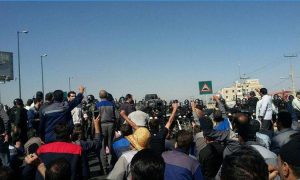 Center for Human Rights in Iran
Anti-riot police forces stormed peaceful protests by workers at two industrial units in Arak, the capital of Iran's Central Province, on September 19, 2017, and arrested several people, according to information received by the Center for Human Rights in Iran (CHRI).
A labor activist who asked not to be identified for security reasons told CHRI that day that several workers were detained during the protests against the Heavy Equipment Production Company (HEPCO) and the Azarab Industries Company.
"The police and anti-riot forces went on the attack and beat and arrested anyone they could and took them to the security police detention center [in Arak, 173 miles south of Tehran]," added the source. "We don't know how many are in detention or what they have been charged with. But we think there are 20 to 30 in custody."
The protesters are demanding several months of unpaid wages and benefits, added the source.
The state-funded Iranian Labor News Agency (ILNA) reported on the protests but omitted the use of force by the police.
Family of Man Shot by Iranian Border Guards: Authorities "Lying" About Victim's Identity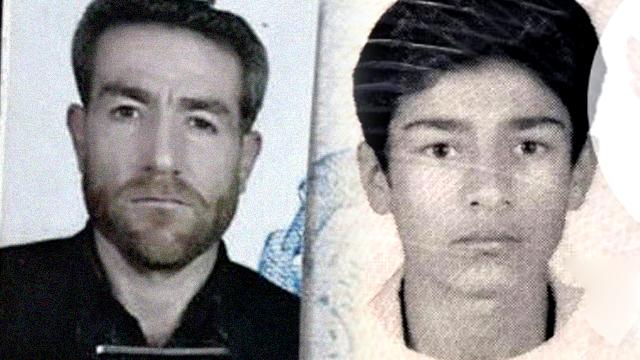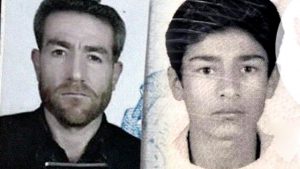 Center for Human Rights in Iran
The family member of one of two men shot to death by Iranian border guards near the city of Baneh in Kurdistan Province told the Center for Human Rights in Iran (CHRI) that the authorities are "lying" about what the victims were carrying before they were killed.
Heydar Faraji (21) and Ghader Bahrami (45) were killed by border guards near Iran's border with Iraq on September 4, 2017, ostensibly for working as "kulbars," the Persian word for border-crossing couriers carrying illegally trafficked goods.
However, a member of Faraji's family told CHRI that the men, who worked as kulbars, were not on the job at the time of the shooting and were shot without warning.
"The authorities are lying," said a relative who spoke on condition of anonymity. "They only had personal items, bread, cooking oil and water bottles in their backpacks. They were more than 500 to 600 yards away from the 'Do Not Enter' border sign in a cotton field."
Iran- Terrorism Activities (Middle-East)
Iran Halts Flights to Iraq's Kurdish Region in Retaliation for Independence Vote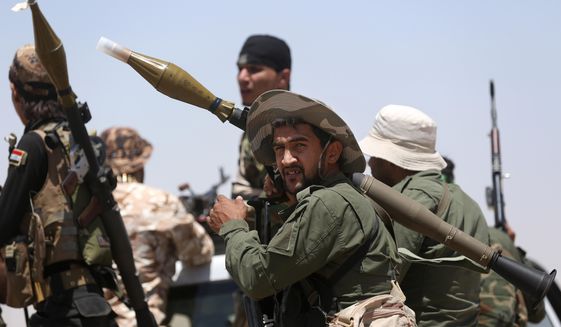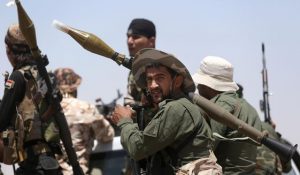 Reuters
DUBAI/ISTANBUL/ERBIL, Iraq (Reuters) – Iran halted flights to and from Kurdish regions in northern Iraq on Sunday in retaliation to a plan by the autonomous Kurdistan Regional Government (KRG) to hold a referendum on independence. It also started wargames at the Kurdish border.
The air embargo is the first concrete retaliatory measure against Monday's Kurdish referendum which is rejected by the government in Baghdad and by Iraq's powerful neighbors, Iran and Turkey.
Iranian authorities stopped air traffic to the international airports of Erbil and Sulaimaniya, in Iraqi Kurdistan, upon a request from Baghdad, Fars News Agency said.
Tehran and Ankara fear the spread of separatism to their own Kurds. Iran also supports Shi'ite groups who have been ruling or holding key security and government positions in Iraq since the 2003 U.S-led invasion which toppled Saddam Hussein.
The Iraqi militia helping Iran carve a road to Damascus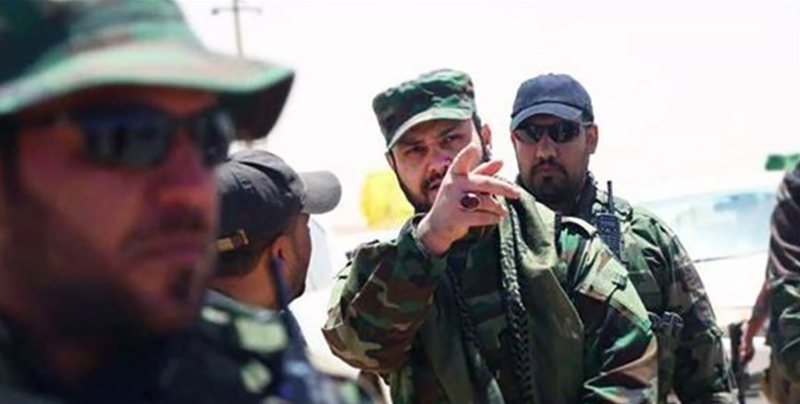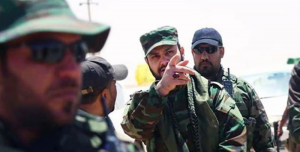 Reuters
BAGHDAD – In late May, an Iraqi cleric called Akram Kaabi visited militia fighters in a desolate Iraqi town near the Syrian border. Kaabi, who heads a Shi'ite Muslim militia named Harakat Hezbollah al Nujaba, was decked out in a camouflage uniform and led the fighters in prayer on mats laid on the dusty ground. A video of the session showed heavily armed militiamen standing guard.
The event took place in Qayrawan, a town the Nujaba militia had seized back from Islamic State, the radical Sunni Muslim group. Nujaba, whose name means 'the Virtuous,' have also fought across the border in Syria, where they have lent support to President Bashar al-Assad in the fight against Islamic State and others.
The Nujaba group, which has about 10,000 fighters, is now one of the most important militias in Iraq. Though made up of Iraqis, it is loyal to Iran and is helping Tehran create a supply route through Iraq to Damascus, according to Iraqi lawmaker Shakhwan Abdullah, retired Lebanese general Elias Farhat, and other current and former officials in Iraq. The route will run through a string of small cities including Qayrawan. To open it up, Iranian-backed militias are pushing into southeast Syria near the border with Iraq, where U.S. forces are based.
Trump Has Created Leverage Against Iran. Now He Needs a Closer.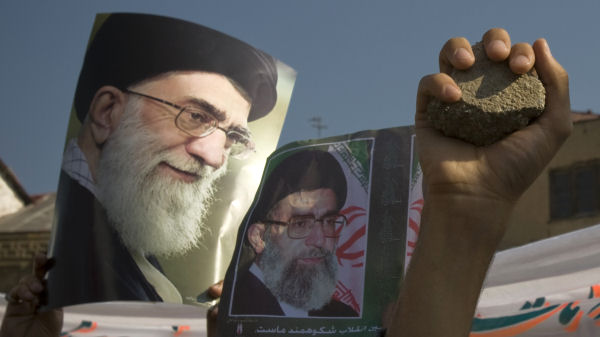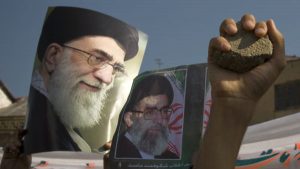 Bloomberg
Obama administration alumni are warning that President Donald Trump's threats to not certify Iranian compliance next month will unravel a bargain that makes the world safer. European leaders and Iranian envoys say the deal cannot be renegotiated. Quietly, many career State Department officials, according to administration sources, are trying to figure out a way to at least delay Trump's plan to throw the deal into turmoil.
The alarm is understandable. If Trump decertifies Iranian compliance with what is known as the Joint Comprehensive Plan of Action, then it will be up to Congress to vote to impose the crippling sanctions on Iran's banks and oil exports that President Barack Obama waived as part of the nuclear deal. If Congress does that, it really would blow up the nuclear deal.
Iran tests new missile after U.S. criticizes arms program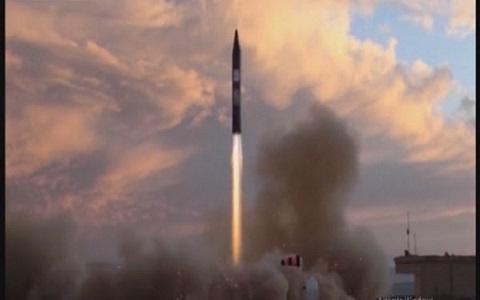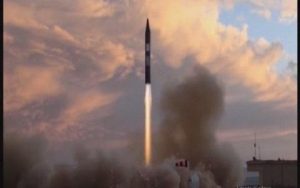 Reuters
DUBAI (Reuters) – Iran said on Saturday it had successfully tested a new ballistic missile with a range of 2,000 km (1,200 miles) and would keep developing its arsenal despite U.S. pressure to stop.
The United States has imposed unilateral sanctions on Iran, saying its missile tests violate a U.N. resolution, which calls on Tehran not to undertake activities related to missiles capable of delivering nuclear weapons. Iran says it has no such plans.
U.S. President Donald Trump said on Twitter the missile test illustrates the weakness of the Iran nuclear deal reached by his predecessor Barack Obama. He also linked the action to recent aggressive moves by North Korea.
Iran: Admission By the Mullahs' Regime of Exporting Terrorism and Fundamentalism to The Middle East and Africa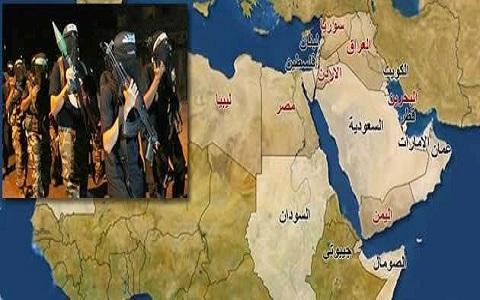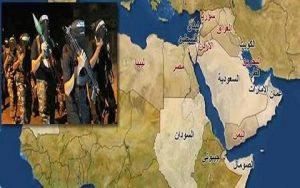 Iran Freedom
Mullah Kazem Sediqi once again acknowledged the widespread export of terrorism to the Middle East and Africa at the Friday prayer on September 22in Tehran. He said, 'We conducted a revolution in Iran, but today we are defending in Syria; today our reputation is heard all over Africa, an altar is set up in Nigeria'. He confessed to the hidden occupation of Iraq by the clerical regime and the imposition of influence on its political,
military and security organs, and said: 'Today, is Iraq our neighbor? No, it's ourselves. Today, Iraq's Hashd al-Sha'bi and the Iraqi government are fighting alongside us. Lebanese Hezbollah is one of the miracles of our revolution … our Islam [read extremism and fundamentalism] goes to bring the world under the flag of the Velayat-e fagiqh (Supreme Leader)!"
Iran- Nuclear Activities
A U.S. President Is Finally Speaking Up for the People of Iran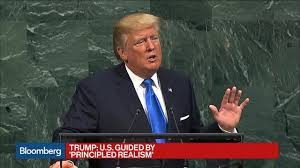 OIAC
A note about the Iran section of President Donald Trump's speech to the U.N. General Assembly. While his lambasting of the nuclear deal garnered the greatest attention, it would be a mistake to overlook his extended focus on the plight of the Iranian people. It's almost certainly significant – an important indicator of the administration's future direction when it comes to Iran policy.
By my count, in the speech's several paragraphs devoted to Iran, at least 11 of 17 sentences served to highlight specific ways that the regime has failed the Iranian people. Thus, the regime "masks a corrupt dictatorship behind the false guise of democracy." It "has turned a wealthy country with a rich history and culture into an economically depleted rogue state" whose "longest-suffering victims … are, in fact, its own people." Rather than using Iran's vast oil profits to "improve Iranian lives," the regime wastes this wealth – "which rightly belongs to the Iranian people" – on foreign adventures, from "fund[ing] Hezbollah and other terrorists that kill innocent Muslims" to "shor[ing] up Bashar al-Assad's criminal dictatorship, fuel[ing] Yemen's civil war, and undermin[ing] peace throughout the Middle East."
UAE FM: Iran violates 'letter and spirit' of nuclear deal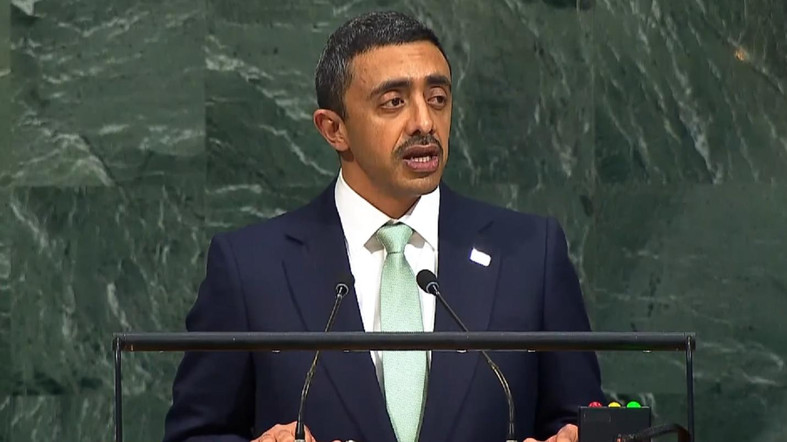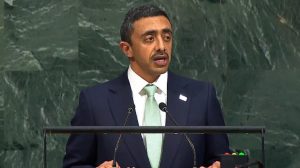 Al Arabiya
The United Arab Emirates said on Friday it considers that Iran violates both the "letter and spirit" of the 2015 nuclear deal agreed between the Islamic Republic and world powers.
"Two years have passed since Iran's nuclear agreement with no sign of change in its hostile behavior; it continues to develop its nuclear program and violates the letter and spirit of that agreement," UAE Foreign Minister Sheikh Abdullah bin Zayed al-Nahayan told the UN General Assembly.
"Therefore we support enhanced controls on Iran's nuclear program and continued assessment of the agreement and its provisions," he said. UAE Foreign minister affirmed his country's commitment and sovereign right to the three islands occupied by Iran. Regarding Qatar crisis, Sheikh Abdullah said that the anti-terror states have taken the necessary measures to stop Qatar 's support for terrorism.
The Nuclear Deal Is Iran's Legal Path to the Bomb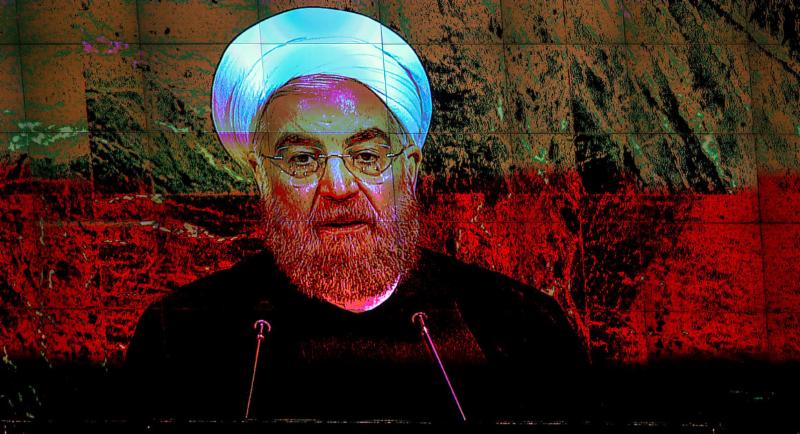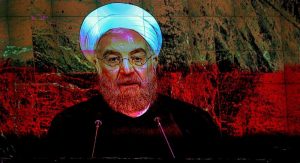 OIAC
President Donald Trump has sensibly insisted that the Iran nuclear deal-formally known as the Joint Comprehensive Plan of Action-has to be revised. The reaction in some quarters, mainly among many of the former Obama administration officials who negotiated this bad deal, has been horror. Unfortunately, the media have uncritically swallowed many of the false assumptions and naive arguments of the deal's supporters, and the elite consensus is that the agreement must be preserved lest the White House bumble us into a crisis-or worse, another war in the Middle East.
Please. The accord is riddled with problematic provisions that essentially put Iran on a legal glide path to the bomb. The agreement's various sunset clauses, its leaky inspection regime and Iran's growing missile arsenal have all been subject of much discussion. Yet, one of the most dangerous aspects of the JCPOA that allows Iran to design and construct advanced centrifuges has largely escaped notice. Given the JCPOA's permissive research and design provisions, Iran can effectively modernize its nuclear infrastructure while adhering to the agreement.
Trump and Rouhani each highlight the need for change in Iran, in very different ways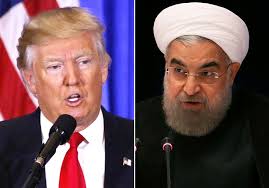 Fox News
On Wednesday, U.S. Ambassador to the United Nations Nikki Haley traveled overseas to Vienna and Austria, and arrived at the headquarters of the International Atomic Energy Agency (IAEA) on Wednesday. She is seeking to increase the Trump administration's understanding of Iran's compliance with the nuclear deal reached under President Obama, and to try and ratchet up pressure on Iran after its recent ballistic missile tests.
Trump railed against the agreement while still on the campaign trail, calling it "the worst deal ever negotiated." The nuclear deal, formally known as the JCPOA, lifted sanctions on Iran in exchange for a stop to its nuclear program. Still, Trump has allowed the deal to stay in place, but it seeking information to determine if Iran has violated its terms.
Please, 
Your donation will help OIAC advocates for a democratic, secular and non-nuclear government in Iran. Founded on the respect for human rights, gender equality, religious and ethnic tolerance, as wells as social, economic justice, and security for America. Our goal is to organize Iranian-American communities in the United States to promote these values.
Thank You,