Iran- Human Rights (Women, Minorities, Ethnics)
110 Death Row Prisoners in Zanjan Prison / 17 in Imminent Danger of Execution
Iran Human Rights
Among the 110 death row prisoners in Zanjan Prison are at least 17 prisoners who have had their death sentences confirmed by Iran's Supreme Court and sent for implementation
Iran Human Rights (JUNE 22 2017): Approximately half of the prisoners in Zanjan Prison are held on drug related charges. There are about 2,500 prisoners in Zanjan Prison, and about 110 of them are sentenced to death. This prison has a ward for juvenile offenders, and among the prisoners in this ward are eleven teenagers under the age of 18.
Among the 110 death row prisoners, at least 17 of them have had their death sentences confirmed by Iran's Supreme Court and sent for implementation. A close source tells Iran Human Rights: "It is highly likely that the execution sentences of these 17 prisoners will be carried out right after Ramadan."
Angry Protestors Force Rouhani to Flee Rally in Tehran
Center for Iran Human Rights
A few weeks after being elected for a second term as president, Hassan Rouhani had to be whisked away from a rally in Tehran on June 23 by his security forces after being encircled by angry chanting protestors.
The mob shouted slogans comparing Rouhani to Abolhassan Banisadr, Iran's first president who fled Iran in 1981 after falling out of favor with then Supreme Leader and Founder of the Islamic Republic, Ruhollah Khomeini, for his more moderate policies. In a video posted on social media, Rouhani's bodyguards are seen trying to control the mob while whisking him away to safety.
Prominent Civil Rights Activists Urge Iran's Parliament to Ban Use of Deadly Force Against Border Couriers
Center for Iran Human Rights
The killing, by border guards, of another kulbar-the Persian word for the border-crossing couriers who transport illegally imported goods into Iran-has prompted 250 Iranian civil rights activists to demand that Parliament implement measures to protect the downtrodden laborers.
"Shared widely on social media, images of an innocent young man's body on the ground next to his load of cigarette boxes are heart-wrenching for every human being," said the activists in a joint statement issued on June 18, 2017, a copy of which was obtained by the Center for Human Rights in Iran (CHRI).
"While deeply concerned and extremely sickened by the violent treatment against the kulbars, we call on the people, civil rights activists, and members of Parliament to end their indefensible silence and demand that the authorities be held accountable for their un-Islamic and unlawful actions," added the statement.
Iran Regime's Leader: It Is Naive to Think UNESCO 2030 Agenda Is Not Binding
WN News
Iranian regime's Supreme Leader Ali Khamenei on Wednesday lashed out at President Hassan Rouhani for accepting the terms of the UNESCO 2030 Agenda agreement.
"The fact that some people say this agreement is not binding is naïve. All aspects of this agreement are binding and if due action is not taken they will take action against us," he said.
"This is a very important issue, for some people to sit in the United Nations and establish an intellectual, cultural, scientific and practical system for all nations, to have the entire world think as they wish," Khamenei added.
The UNESCO 2030 Agenda for Sustainable Development agreement, known as the 2030 Agenda, oversees issues such as guaranteeing equal and comprehensive education, environment, gender equality and equal social opportunities for men and women, human rights, ending segregation of minorities, and encouraging peace and non-violence.
Iran: A Major River's Bed in Central Iran Dried out Again
NCRI
Zayandehrood river flow stopped and the river bed dried out. According to reports, Iranian regime's officials again decreased the output flow of Zayandehrood dam on June 10, 2017, without any explanation and this river's bed dried out in the city of Isfahan.
After much pressures from people of Isfahan, during the regime's sham election, the regime's officials increase the output flow of Zayandehrood dam on March 30, 2017, and water was flowing in its bed.
Drying out of this river and other similar ones that are called as water crisis in Iran, all are the results of predatory and plunder policies of government institutions.
This situation is the direct results of wasteful construction methods of dam structures and digging deep wells to bring vast areas of lands under cultivation by government institutions such as IRGC, or changing course of the rivers to bring water to factories owned by the same institutions. This is exactly the same situation that regime is calling them as security threats for their system nowadays, which is nothing else other than, extreme anger of fed up people with such policies, which regime is confessing to their presence.
Quote of the Week
Iran- Terrorism Activities (Middle-East)
Syrian warplane shot down by US jet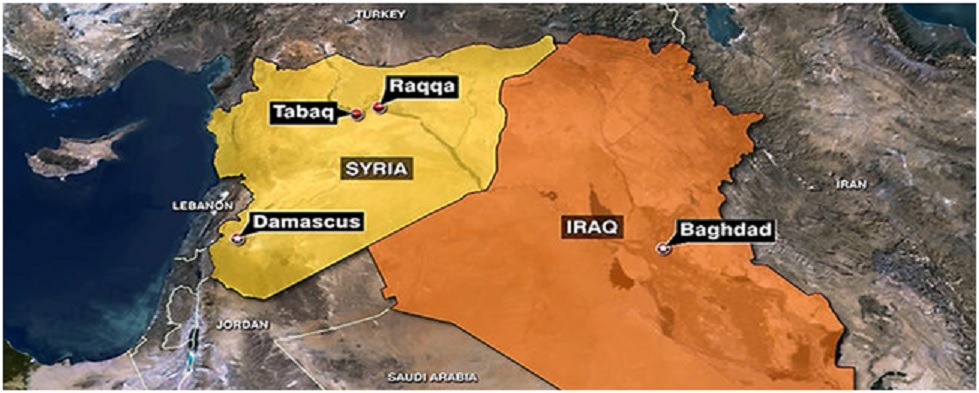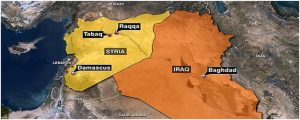 OIAC
CNN- A US Navy fighter jet shot down a Syrian warplane after the Syrian jet dropped bombs near Syrian Democratic Force (SDF) fighters on Sunday, the US military said in a statement.
The shootdown came a little more than two hours after forces allied with the Syrian regime of Bashar al-Assad attacked the north-central Syria town of Ja'Din, which was controlled by the SDF.
A number of SDF forces, who are backed by the US-led coalition, were wounded in the attack, the statement from the Combined Joint Task Force said. The attack drove the SDF from Ja'Din, which is west of Raqqa, the coalition statement said.
Iran Has Accelerated Its Missile Activities
Huffington Post
In a press conference in Washington DC on Tuesday, June 20, 2017, the US representative office of the National Council of Resistance of Iran revealed that on orders of Ali Khamenei, the Iran's supreme leader, Tehran has accelerated its missile activities and tests After the Iran Nuclear Deal, known as the Joint Comprehensive Plan of Actionof JCPOA.
Based on detailed intelligence obtained from inside the clerical establishment in Iran, specifically reports obtained from inside the Defense Ministry and the Islamic Revolutionary Guards Coprs (IRGC), by the People's Mojahedin Organization of Iran (PMOI/MEK), Khamenei has tasked the IRGC's Aerospace Force with executing this mandate.The Iranian opposition has been one of the main sources of exposing secret aspects of Iran's nuclear activities as well as the clerical establishment's Weapons of Mass Destruction program.
US Lawmaker Calls for More Sanctions on Iran Over Its Support for Terrorism
Iran Focus
London, 20 Jun – Democratic member of the House of Representative, Eliot Engel, has called for more sanctions against Iran and Qatar for their support of extremist groups like Hamas.
The representative from New York is sponsoring a bill with nine of members of Congress to bring about such sanctions.The bill, which was filed on May 25, condemns Iran for providing financial and military assistance to the Palestinian terrorist group.
It also refers to Qatar as a state sponsor for Hamas leaders, and accuses the Middle East country of providing financial and military support to the terror cell, citing their hosting of former Hamas politburo chief Khaled Mashal.
Iran is Sponsoring Centre for Terrorism Engel told Asharq Al-Awsat that Iran was a "sponsoring centre" for regional terrorism, citing the example of the Bashar Assad dictatorship in Syria. Engel pointed out that the dictatorship would have fallen long ago, if it wasn't for the interference of the Iranian Regime and Russia.
He emphasised the importance of not only bringing in more sanctions to punish Iran for its support of terrorism, its ballistic missile tests, and its egregious human rights abuses, but also enforcing the ones that we already have.
Understanding The Threats Of Iran
Forbes
US President Donald Trump's visit to Saudi Arabia and the Riyadh Summit, with leaders of over 50 Muslim nations taking part, was a major turning point in the Middle East's balance of power. This development also signaled the end of eight years of the Obama administration's unbridled appeasement vis-à-vis Iran. And Tehran has very specifically received the message.
For the first time in many years the world is taking steps to stand on the right side of history and alongside the Iranian people in their quest to realize their rightful demands of freedom, democracy and peace in the region.
The Iranian opposition National Council of Resistance of Iran (NCRI), led by Maryam Rajavi, welcomed the results of this conference. Mohammad Mohaddessin, Chairman of the NCRI Foreign Relations Committee and author of the book "Islamic Fundamentalism: The New Global Threat," shared his opinion and the Iranian opposition's stance in this regard.
Khamenei admits Syria war aimed at preventing popular uprisings
Iran Freedom
Iran regime's Supreme Leader on Sunday emphasized the fact that his regime's terrorist and criminal meddling in regional countries are aimed at preventing what he called war (uprisings) in Iran's cities.
"If the shrine defender martyrs had not existed, today we would have to be fighting the sedition elements in Iran's cities, as they intended to enter Iran through Iraq's borders…," he said in a visit with members of the families of such foot-soldiers killed in Iraq and Syria.
"The enemy attempted to take these values from the society and unfortunately some are writing in this framework," he added. Khamenei also described the new US administration as "rookie and inexperienced hooligans" who have not come to recognize the Iranian regime and don't understand what they are doing against Tehran.
Iran- Nuclear Activities
North Korea helping Iran grow its ballistic missile program, details revealed in report



OIAC
An Iranian opposition group has found 12 sites, not previously disclosed, where the Islamic government is developing ballistic missiles with the help of North Korean experts.
The disclosure, one of many in a lengthy and detailed report released Tuesday by the National Council of Resistance of Iran (NCRI), describes how Iran's missile program has accelerated since it signed an agreement on July 14, 2015, to limit its development of nuclear weapons. The report's material reflects intelligence gathered by the People's Mojahedin Organization of Iran.
"The findings show the first full picture of the missile program of the Iranian regime, which is very extensive and costly. It also shows a close tie between the nuclear weapons program and the missile program," Alireza Jafarzadeh, deputy director of the NCRI's U.S. office, said to Fox News.
What makes the new Iran sanctions significant?
American Thinker
After passing a bill by the US Senate on ballistic missile development by the Iranian regime, it looks like a new round of challenges is on track after Obama's administration. Amir Basir, analyst, has more about it.
Last week, the Senate passed a bill that outlines a new round of sanctions against the Iranian regime for its ballistic missile development, arms transfers, support for terrorism, and human rights violations.
With approval from the House of Representatives and President Trump's signature, the measure, titled the Countering Iran's Destabilizing Activities Act of 2017, will become law.
In the backdrop of the Trump administration's tougher stance toward Tehran and the foundation of a regional coalition against Tehran's mischief-making, the new sanctions will mark a major shift from Obama's hands-off approach to Iran's nefarious activities.
In Iran, Radio Liberty Doesn't Live Up to Its Name
The Wall Street Journal
The Persian-language service too often parrots state media and doesn't give Israel a fair shake.
President Trump is hiring a chief executive for the Broadcasting Board of Governors, the federal agency that oversees Voice of America and other media outlets charged with beaming light and liberty into closed societies world-wide. Politico reports the leading contender is Michael Pack, a conservative filmmaker and president of the Claremont Institute. Whoever gets the job faces an uphill battle to reform an agency that has lost its sense of mission. To get a feel for the dysfunction, consider Radio Farda, the…
Please, 
Your donation will help OIAC advocates for a democratic, secular and non-nuclear government in Iran. Founded on the respect for human rights, gender equality, religious and ethnic tolerance, as wells as social, economic justice, and security for America. Our goal is to organize Iranian-American communities in the United States to promote these values.
Thank You,